Acamar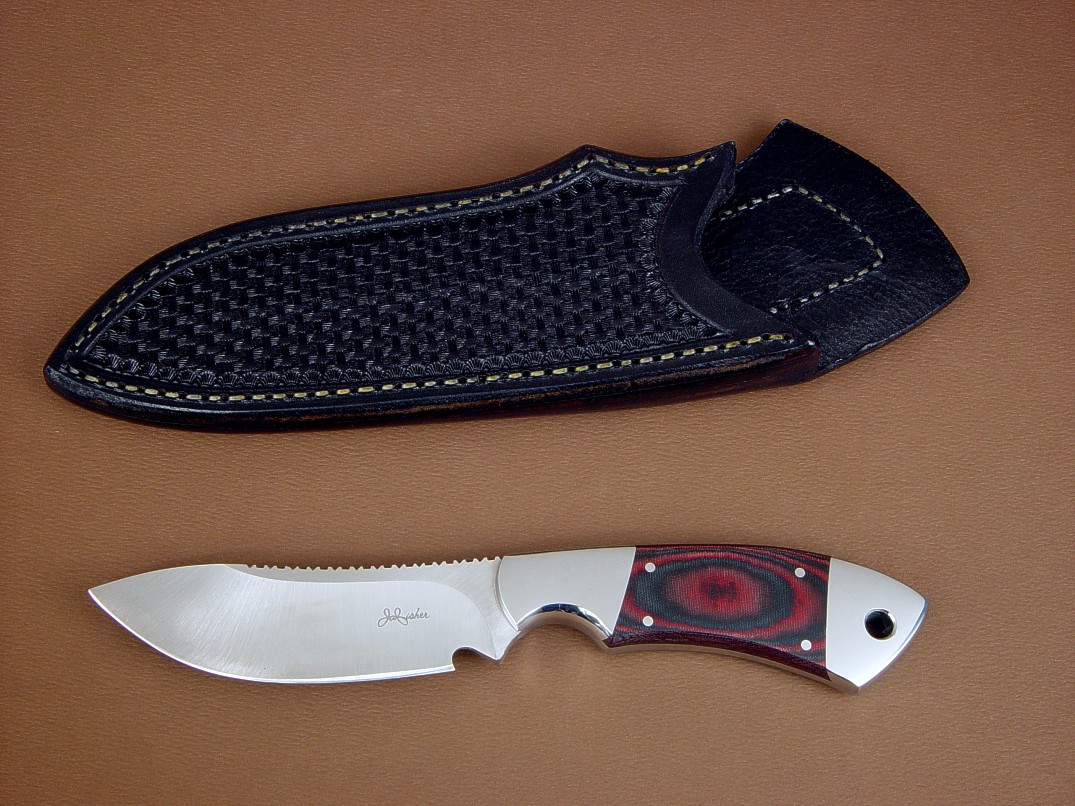 Acamar
Size: Length overall: 7.75" (19.7 cm), Blade Length: 3.75" (9.5 cm), Thickness: .200" (5 mm)
Weight: Blade: 5.8 oz. (164 grams) Sheath: 4.1 oz.(116 grams)
Blade: CPMS30V Martensitic High Vanadium Stainless Tool Steel, Hardened and Tempered to Rockwell C60, satin finished
Fittings/Bolsters: 304 Austenitic Stainless Steel, mirror polished
Handle: Polished Black, Red Canvas Micarta Phenolic
Sheath: Hand-Stamped Basketweave 9-10 oz. Leather Shoulder
Knife: The Acamar is named for a multiple star system in the constellation Eridanus, and means "the end of the river." The Acamar is a tight curved knife, with a Nessmuk style upswept and dropped point, a blade shape that is great for cutting, slicing, utility, skinning and everything a small to medium-sized knife could encounter. I made this knife in CPMS30V powder metal technology tool steel, a special steel formed from particles that have evenly distributed high alloy percentages, formed under tremendous heat and pressure for uniform and clean quality. This technology yields a steel that has superior wear resistance, due to 3 percent vanadium content forming super-hard vanadium carbides. This translates to high wear resistance, a very long lasting edge, one of the longest. Since this steel can not be mirror polished, I made the blade with a clean, evenly and deeply ground satin finish. The edge is hand-sharpened to a razor keen cutting edge that is terminated with a deep choil. I topped the spine with a full blade length of geometric and gripping filework, which helps with purchase on the spine and handle of the blade. The blade has a fully tapered tang for balance, and is bolstered with zero care, extremely tough 304 high chromium, high nickel austenitic stainless steel bolsters, which are mirror polished for easy cleaning. The rear bolster has a 5/16" through-tang lanyard hole for security, and the bolsters are dovetailed to bed a pair of red and black layered canvas reinforced Micarta phenolic handle scales. Micarta is a hard, durable and waterproof phenolic that is lightweight and tough. The scales are polished smoothly and are comfortable, sealed and pinned with 304 stainless steel through-tang pins for absolute security. This is a very tough, corrosion resistant, durable, keen, and handy knife that will last for generations.
Sheath: I knew the sheath needed to be tough and long lasting to keep up with the knife, so I made this one in hand-stamped and tooled 9-10 oz. leather shoulder, deep and protective of both the razor edge and the wearer. This is a high back style of sheath that allows a lower wear on the belt, while protecting the wearer from the handle butt. The pattern tooled is a small, intricate basketweave, elegant and complete, even on the sheath back and belt loop. The sheath is dyed black, hand-stitched with tough polyester sinew, lacquered and sealed.
A very fine, durable, and classy wide-spectrum working and tough knife.
Thanks, K.D.!
---
Hello Jay,
See the attached note from down under. The Acamar knife has been delivered to my friend and he is thrilled:

Gidday K.
Beautiful! I reckon the Acamar is the perfect hunting knife for NZ game, unless you are in to sticking pigs…. Which I am not. It is truly just beautiful, I am totally thrilled with it, it is just such a step up from the old Gerber or Kershaw which I have had in the past. The detail is incredible and even the sheath is a work of art, the only problem is I'll be so keen to pull it out when hunting I'll wind up doing all the gutting & skinning for everyone! The blade is terrific and the whole knife is superbly balanced and weighted, it is not so large that it gets in the way when on the belt, it is just perfect, thank you so much!!
Cherio,
T.
---
---