Alastor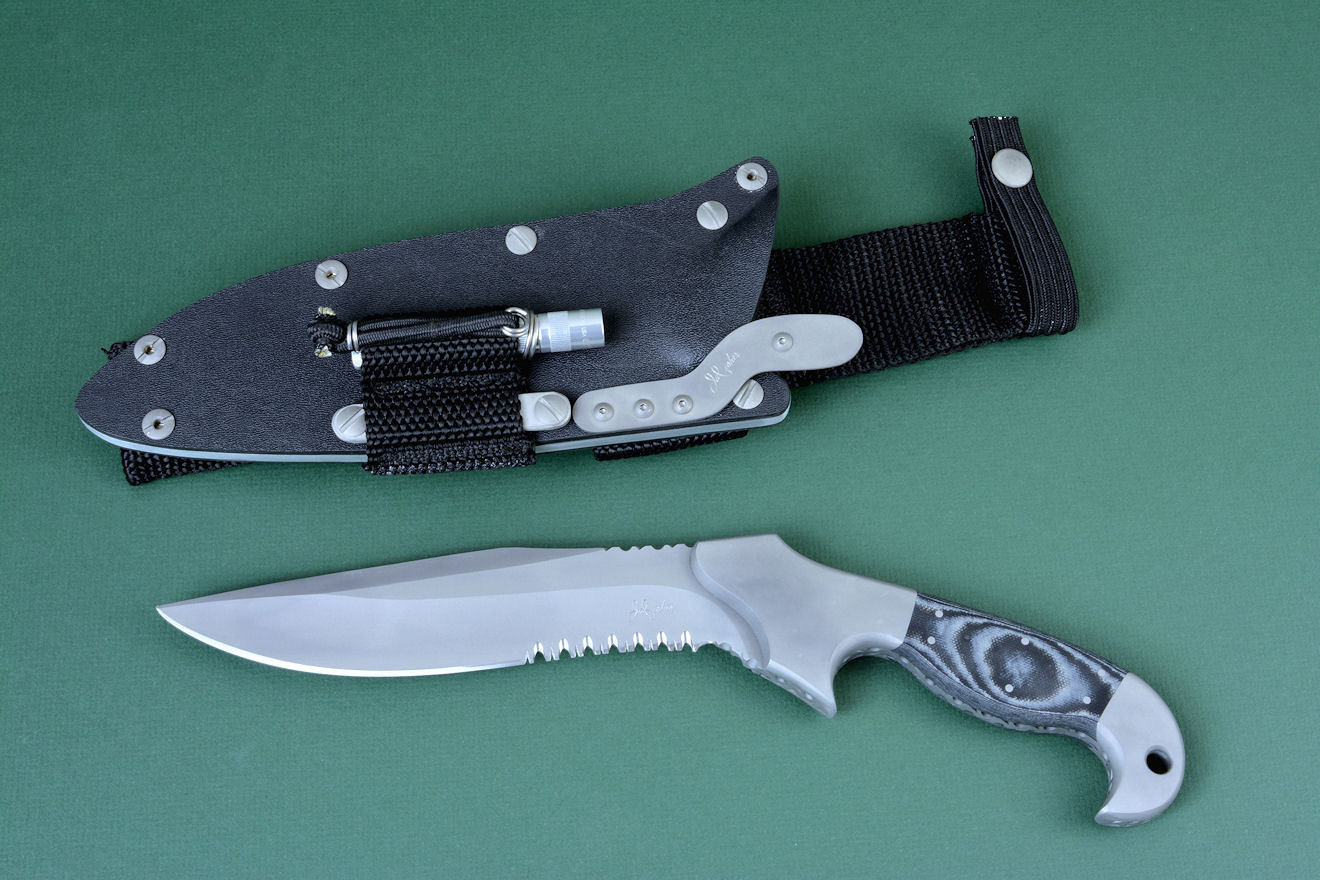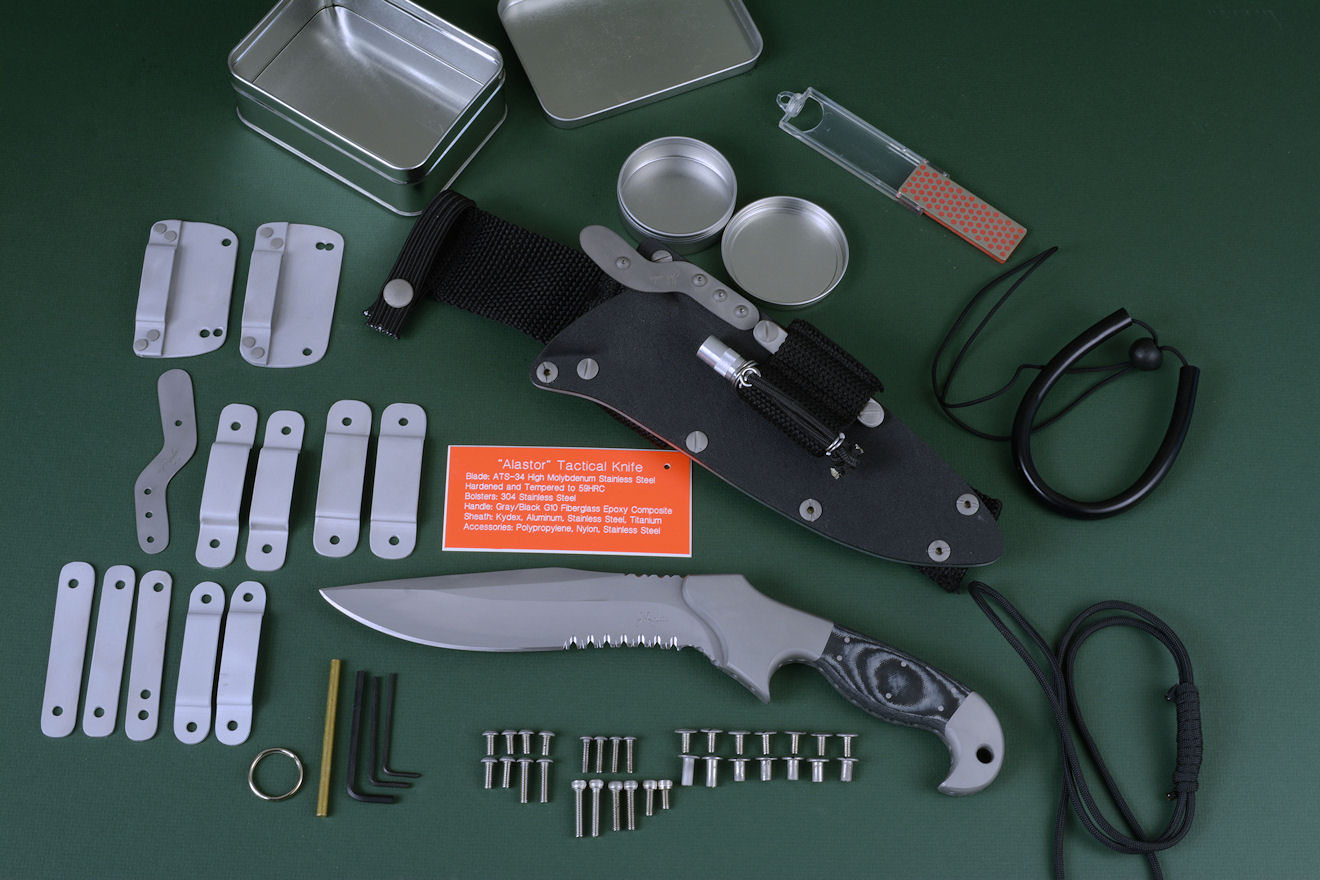 "Alastor" Israeli Defense Force Tactical Combat, Counterterrorism CSAR, Survival Knife
Size: Length overall: 13.0" (33.0 cm), Blade Length: 7.5" (19.1 cm), Thickness: .240" (6.1 mm)
Weight: Knife: 1 lb., 7.0 oz. (652 grams), Sheath (with extender, accessory package,LIMA, and Solitaire): 1 lb., 1 oz. (492 grams)
Blade: ATS-34 High Molybdenum Martensitic Stainless Tool Steel, Hardened and Tempered to Rockwell C59, Bead Blasted
Bolsters, Fittings: 304 Austenitic Stainless Steel, Bead Blasted
Handle: Gray and Black G10 Fiberglass/Epoxy Laminate Composite
Sheath: Hybrid Tension-Locking, Black Kydex, Aluminum, Stainless Steel, 6AL4V Titanium, Polypropylene and Nylon belt loop extender with Fine DMT diamond pad sharpener, LIMA with LED Solitaire
Knife: Alastor is an epithet for the Greek god Zeus, an avenger of evil deeds, specifically, familial bloodshed. It is appropriate for this fine, handmade tactical counterterrorism knife that was designed with the input of, and going to a man who serves in the Israeli Defense Forces. The Alastor has the proven blade on my Argiope design, a long, deeply hollow ground geometry with a thick and substantial spine to support it that widens close to the handle. The grinds support a razor keen cutting edge, with two inches of my large piranha serrations. These are radically ground serrations, with alternating profiles of rounded and squared flutes and flats razor sharpened for extremely aggressive cutting with minimal snagging. The blade I made from ATS-34, a high chromium, high molybdenum stainless steel known for extreme toughness (resistance to breakage) at high hardness (and high wear resistance). The steel is a trusted performer, and even has extremely high heat resistance, without changing temper unless heated over 1000°F (538°C)! This is a very durable blade, and resistant to corrosion with minimal care. My client requested an angled handle, with deep quillons rather than the typical finger ring of the Argiope, providing a more forward reaching and aggressive blade angle and improved grip. The tang is fully tapered for great balance, and full, deep vine filework graces the entire length, from spine to butt to choil. The handle is a study in deep curves, simply melding to the form of the hand, with all surfaces rounded, contoured, and finished for smooth comfort. The deep handle has plenty of belly, and feels great in either forward or reverse grip. The handle is bolstered with zero-care 304 high chromium, high nickel austenitic stainless steel, secured with numerous zero-clearance peened pins for permanence. The bolsters are wide and solid, giving hefty bearing surface for the hand, and the front bolster is entirely sculpted to extend up the spine and around the radiused grind terminations. The rear bolster has a chamfered and dressed through-tang lanyard hole 5/16" in diameter for easy threading when extra security is needed in active, elevated, or marine missions requirements. The bolsters are dovetailed and bed a pair of super-tough G10 fiberglass-epoxy composite laminate handle scales, sealed and bedded to the tang, secured with six 304 stainless steel pins. The knife feels imposing in the hand, a serious piece of weapon and tool, with substantial blade mass and the balance point right at the front quillon.
Sheath: The sheath is one of my hybrid tension-locking models, specially constructed for this fully bolstered and handled knife. This is a proprietary design, the best possible sheath of its type available in the world today. Actually, it is the ONLY type of this sheath available in the world today! The sheath is built of double thickness (.125" thick) kydex (methyl acrylate and polyvinyl chloride) over a welt-frame of 5052H32 corrosion resistant high strength aluminum alloy. The sheath is bonded with waterproof cement and bolted together with all 304 stainless steel Chicago screws for zero care and extreme corrosion resistance. The sheath (like most of my sheaths) has die-formed aluminum belt loops that are able to be moved to multiple locations as well as either side of the sheath frame. Because of the variation of belt styles, these sheaths are now furnished with several belt size options: one for thinner but wider belts, one for thicker belts standard in much tactical gear. On this particular knife, the belt loops have 6 different paired locations with multiple combinations for versatile wear. I've also included horizontal belt loop plates that allow the knife to be mounted in line with belts, and flat belt/strap clamps that allow the knife to be mounted in numerous positions, rigidly clamped to the gear, Pouch Attachment Ladder system, and external vests of body armor. All of the positions are reversible, as well. The knife retention in the sheath is base on my hybrid tension-locking mechanism. This device is custom made to fit each knife, and allows a lock pressure of 15-30 pounds to hold the knife in the sheath, with several different titanium springs available to suit the owner. The release can also be operated with thumb or finger pressure. There are two options to unsheathe:
1. placing your hand on the knife handle in forward (traditional) grip and use the finger or thumb to operate the release and unlock the knife for a controlled extraction of the knife.
OR
2. grabbing the knife handle and pulling hard, with at least 15-30 pounds of tension (depending on the spring chosen), the knife is unsheathed.

Simply put, the knife can be unlocked manually, or yanked hard and unsheathed. 15-30 pounds is quite a bit of force, so the knife is locked into the sheath unless it encounters 15-30 pounds of pull. This means that in most circumstances, the knife stays locked in the sheath, and the assembly can trustfully be mounted upside down or used in highly active movement with relative security. To be certain that the knife is locked in the sheath properly, it takes a thumb operation to re-engage the locking mechanism. All of the components in this proprietary system are corrosion resistant stainless steel or titanium, and the entire assembly is even reversible by the owner. It's simple, elegant, it's lightweight, it's fast, and it's clean, and it's all non-glare.
Accessories: This knife and sheath is made with critical accessories, and I included my Ultimate survival, counterterrorism, CSAR sheath belt loop extension. The polypropylene accessory is waterproof, durable, and extremely stout, and lowers the locking knife sheath to be worn in a more traditional belt position with the knife handle at the hip. The extension is mounted with counter bored and dressed 304 stainless steel straps and stainless steel socket head cap screws attached to the existing stainless Chicago screws, and the assembly is stiffened by multiple zigzag nylon stitching to prevent the extension from folding, bending, or collapsing when the knife is extracted from the sheath. The belt loop is 2.5 inches wide for the widest of belts, and has a top placement shock cord with snap retention to prevent the knife handle from flopping around during active movements. Even the dot snap assembly is all stainless steel. The shock cord is not for retention of the knife; this is done with the stainless steel and titanium sheath lock. At the lower back of the extension I've included a custom fit pocket for a DMT (Diamond Machining Technology) Mini-Sharp diamond-nickel abrasive hone, to bring up the cutting edge in the field with ease, even on this high alloy wear resistant blade. These are great tools that can re-sharpen or just touch up even the hardest tool steel edges, as they are surface-bonded with diamond abrasives.
LIMA back-up lamp accessory: The abbreviation LIMA stands for Lamp Independent Mount Assembly. This is a small but effective and critical accessory, and functions as a back-up for the main flashlight or lamp my client uses, should it fail, lose battery charge, or be lost. The LIMA is a holder made of polypropylene and nylon for great strength and light weight, and can be mounted in 12 different positions on the sheath body, and either inward or outward orientations, for a total of 24 mounting options! The mount is 304 stainless steel for zero corrosion and strength concerns, and the lamp is Maglite's single AAA-cell LED technology flashlight with special 304 stainless steel mount rings and replaceable shock cord retainer. As a back-up, I can't imagine a knife without this simple and effective lamp, which lights up the scene and path with 37 lumens for nearly two hours. For a lamp this small, it's quite a performer and the LIMA keeps it out of the way, lightweight, handy, and secure.
This is an extremely well designed and constructed professional grade knife and tool, with outstanding features and accessories, one of the absolute best available in the world today, an ultimate counterterrorism combat tool and weapon with a critical and essential accessory package.
Thanks, D. B.!
Hi Jay,
I came home yesterday, the knife was waiting for me since it arrived in Monday.
The knife and the sheath look great! The knife fits perfectly in my hand and the handle is very comfortable. The blade is sharp and looks very aggressive. The sheath looks strong and very durable. The locking mechanism is awesome! This is by far the best sheath I have ever had.
Jay, thank you for this great knife, it's definitely a knife that I can depend my life on.
--D. B.
---
---
---