Aldebaran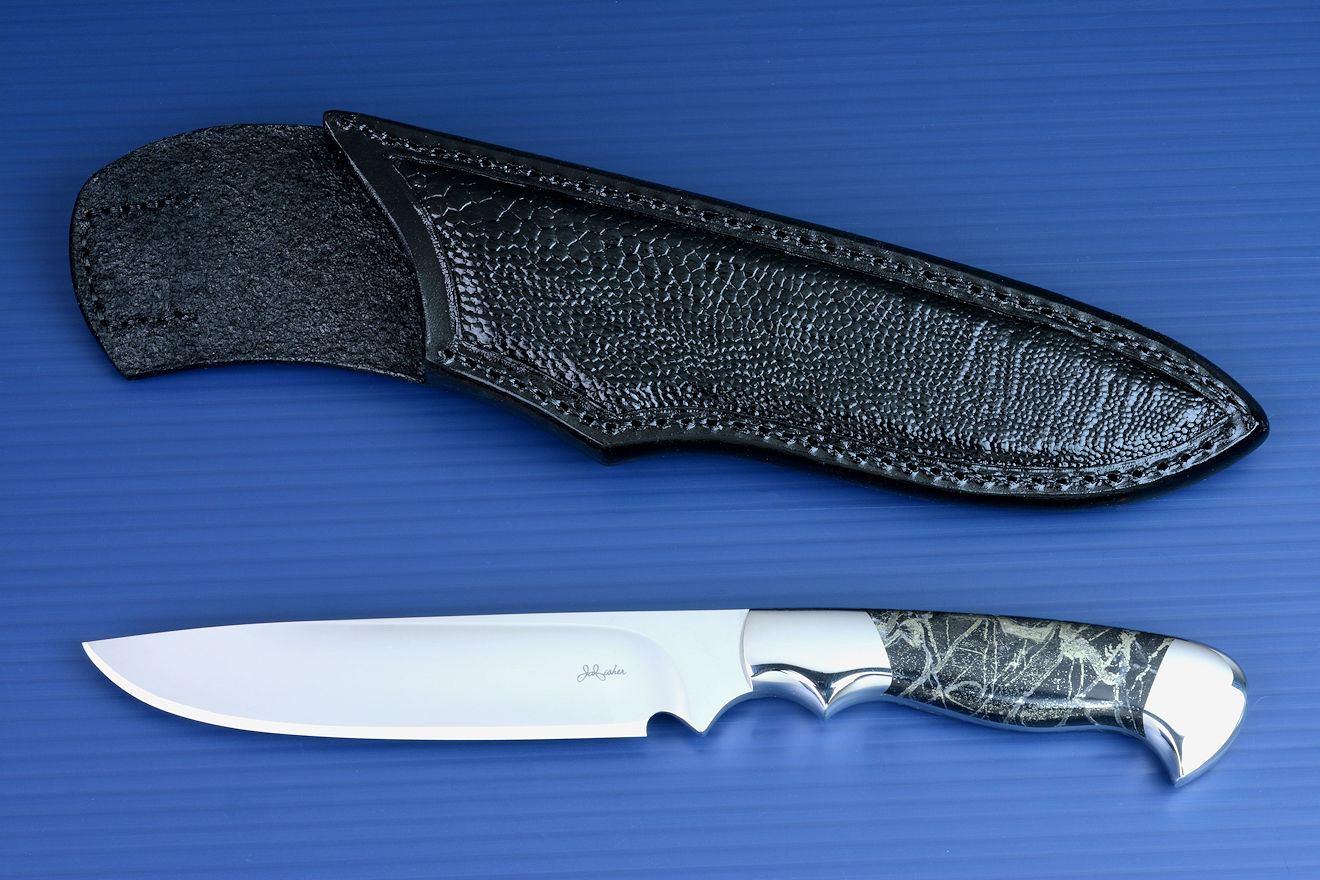 "Aldebaran"
Size: Length overall: 9.9" (25.2 cm), Blade Length: 5.6" (14.2 cm), Thickness: .200" (5.1 mm)
Weight: Knife: 8.6 oz. (244 grams) Sheath: 4.7 oz. (133 grams)
Blade: CPM154CM High Molybdenum Powder Metal Technology Martensitic Stainless Tool Steel, Cryogenically Treated, Hardened and Tempered to 61.5HRC
Bolsters, Fittings: 304 Austenitic Stainless Steel, mirror polished
Handle: Golden Midnight Agate Gemstone, Mexico
Sheath: Hand-carved leather shoulder inlaid with Ostrich Leg Skin
Knife: The Aldebaran is named for an orange giant star in the constellation Taurus. I wanted to make a very special Aldebaran, one as clean as possible to showcase the fantastic gemstone handle that I would use. This is a new gem for me, and an extremely rare one. In lapidary, you don't see much gold and black together. Most of it that you will encounter is called Apache Gold, which is a rock that is pyrite and slate. Apache gold is a great stone, and I've used it before, but it is particularly troublesome for several reasons. One, it is often full of vugs (holes) and fractures, making it a dicey stone to work with and one that has to be filled with a sealant. Also, Apache gold is a softer stone, not very hard and durable, so its use is somewhat limited to well-protected handles or handles that won't see a lot of abuse, stress, or pressure. Over the last several decades, Apache gold has become markedly worse, of lower quality, and not a lot of it is worth putting on a handle.
Early in 2016, a very old stock of this different and distinctive gemstone, Golden Midnight Agate, became available from a singular supplier. While it resembles Apache gold in basic appearance, it is not the same rock at all. This stock came from a now played out and abandoned mine in Mexico, and it's the first and only material I've seen like it. I've seen and worked with a lot of gem, and this rock was a real find, so I acted quickly and acquired what I believe is the last of this gem available in any substantial size the world. While you may see some small baroque cut and polished stones and some cabochons of this rock, you won't find any pieces large enough for a gemstone handle, something I'm always on the lookout for. And from what I've seen, those few small pieces don't compare to the pattern and beauty in what you'll see here. I think you'll agree that it's one of the most striking gemstones on earth. The material is agate, in a few whitish bands but also interspersed with hornfels (the black component). Hornfels are tough, prismatic, platy, and fine grained, so much so that they are used in whetstones to sharpen knife blades. The most striking component of this gem are the pyrite crystals, extremely small cubes of pyrite, flowing through the gem. This is a hard, tough gemstone, and well up to the use on a durable knife handle. And there is nothing that quite looks like it on earth! People who have seen it are awestruck at the beauty of this gemstone. Take a look at the enlargements, and then take a look at the extreme 30 power enlargement of the gemstone below to see the cubic crystals. This is fantastically beautiful stuff! I had to create a knife with this special gem in mind, and this is what I believe to be the first knife made ever to have this gem for a handle in the world. While I have more of this stone, and I'm sure people will request it, there is only one chance to make a first impression, and this is it!
I cut and polished the gemstone to a high luster, and the handle scales are mounted and bedded to the tang, secured with hidden rivets and dovetailed 304 high nickel, high chromium, zero-care austenitic stainless steel bolsters. The bolsters are mounted to the full tang by invisible 304 stainless steel through-tang pinned and peened rods. The entire handle is rounded, contoured, and polished throughout. I didn't want anything to overshadow the gemstone handle scales, so I chose to leave this blade smooth, clean, and polished.
II made the blade from CPM154CM high molybdenum martensitic stainless steel. This is a premium powder metal technology process steel that provides an extremely well-balanced alloy with unique properties not available in traditional foundry steels. With its high molybdenum and high chromium content, this is an extremely tough, wear-resistant tool steel. I've employed deep cryogenic treatment in the heat treating and tempering process with liquid nitrogen at -325°F and a 40 hour cryogenic aging for the maximum precipitation and distribution of hard carbide particles in the crystalline lattice of the steel. I used additional deep thermal cycling in the tempering cycles at -325°F for the ultimate in high wear resistance with high toughness this steel offers. This is an exquisite, clean blade, with a smooth, even, appearance with no visible grain and a bright mirror polish. The grinds are deep, with a nice lead-off at the grind terminations for plenty of spine strength, and the grinds are well-matched, and thin and durable at the cutting edge, with a fine, acute point, and a thicker edge near the ricasso. With the high hardness and increased toughness and cryogenic processing, this knife will hold its edge an extremely long time. The knife feels smooth and luscious in the hand, and the balance point is right behind the front bolster quillon at the location of the middle finger.
Sheath: I wanted a sheath to match, but not overtake the visual punch of the gemstone handle, so I made the sheath in 9-10 oz. leather shoulder, and hand-carved large inlay pockets in the front, back, and in the belt loop. I dyed the sheath black, and inlaid the panels in black glazed ostrich leg skin. The skin is smooth and glassy and clean, and the sheath is hand-stitched with black polyester and sealed with acrylic for longevity.
A unique, rare materials gemstone handle, with striking visual appeal and fantastic durability in a medium-sized drop point pattern.
Thanks, W. G.!
Received Aldebaran today, what a beautiful piece of work. It will be the jewel of my collection. You are a true craftsman, thank you.
--W. G.
---
---