Altair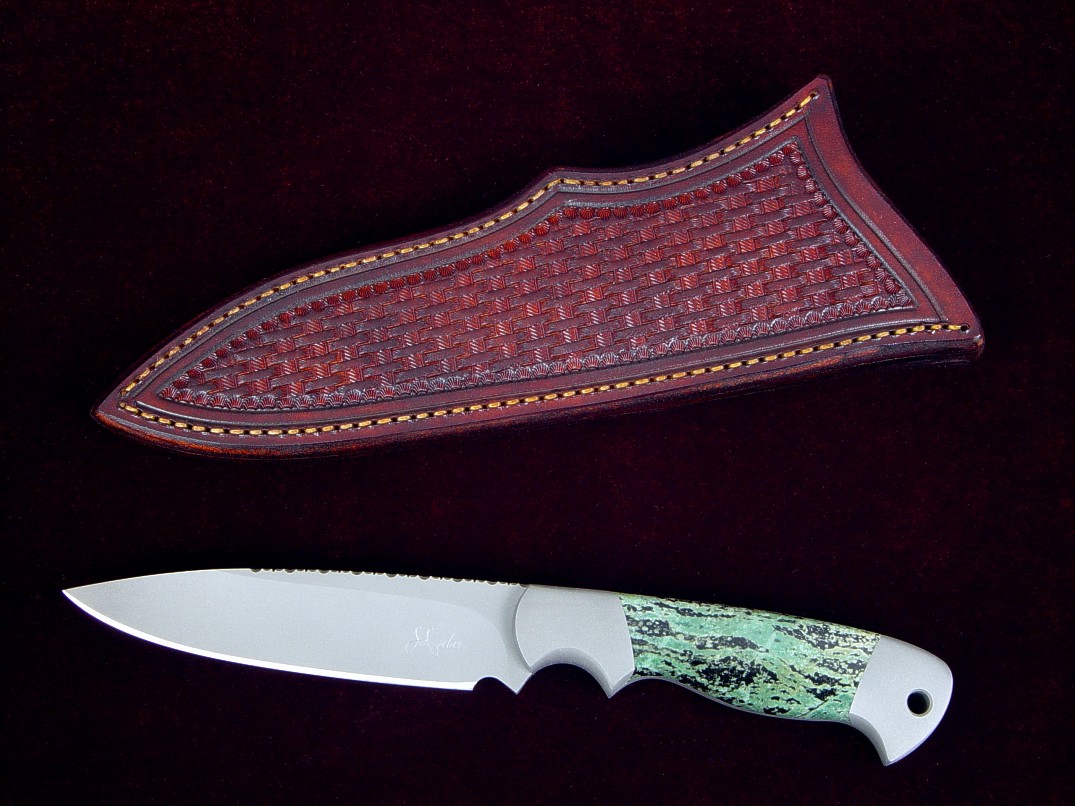 Altair Fine Custom Knife
Size: Length overall: 9.75" (24.8 cm), Blade Length: 5.0" (12.7 cm), Thickness: .212" (5.4 mm)
Weight: Knife: 10.1 oz. (286 grams) Sheath: 5.7 oz.(162 grams)
Blade: CPMS30V Martensitic High Vanadium Stainless Tool Steel, Hardened and Tempered to Rockwell C60, bead blasted
Fittings/Bolsters: 304 Austenitic Stainless Steel, bead blasted
Handle: Polished Green Zebra Jasper Gemstone
Sheath: Hand-Stamped Basketweave 9-10 oz. Leather Shoulder
Knife: The Altair is a great knife, with a clean and straightforward dropped point and a comfortable handle. With a substantial forefinger groove and a handle body with a nice belly, this knife is inviting to hold and use. The name comes from the stars: the brightest star in the constellation Aquila (the Eagle). This is a custom knife made for a great client, and he wanted a stout, versatile, and unique knife ready for work. The blade is CPMS30V, a high vanadium particle metal technology tool steel that boasts 3 percent of vanadium. This high vanadium content creates plenty of vanadium carbide particles in the cutting edge that are very hard, giving this steel some of the highest wear resistance and edge retention possible. It is a true chromium stainless tool steel, so will give my client decades of dependable corrosion resistance as well with minimal care. The blade has spine filework, a nice regimented pattern throughout the fully tapered tang, and a deep choil terminating the matched hollow grinds. The knife is bolstered with zero-care 304 high nickel, high chromium stainless steel and all the steel parts of the knife are bead blasted for a uniform, flat appearance. The bolsters are dovetailed and bed a pair of rich green zebra jasper gemstone handle scales, a very tough, hard and solid gemstone that will well outlast the blade. The jasper feels comfortable and smooth, and the tooth of the bead blasted bolsters along with the spine filework give the knife a good purchase in the hand.
Sheath: The sheath for this knife is hand-stamped and tooled 9-10 oz. leather shoulder, deep and protective of both the razor edge and the wearer. The pattern tooled is a clean basketweave, elegant and complete, even on the sheath back and belt loop. The sheath is dyed brown, hand-stitched with tough polyester sinew, lacquered and sealed.
A great and unique piece ready for use.
Thanks, J. K.!
Hi Jay,
The Altair is absolutely stunning! Well worth the wait. It fits my hand perfectly and is certainly a one of a kind, or only one of a very few. It will be a very nice addition to my collection. Thanks again for your craftsmanship and dedication to your art. The sheath is also very well made, sturdy and good looking. You are a true professional and one of the best in your field!
--J.
---
---