Altair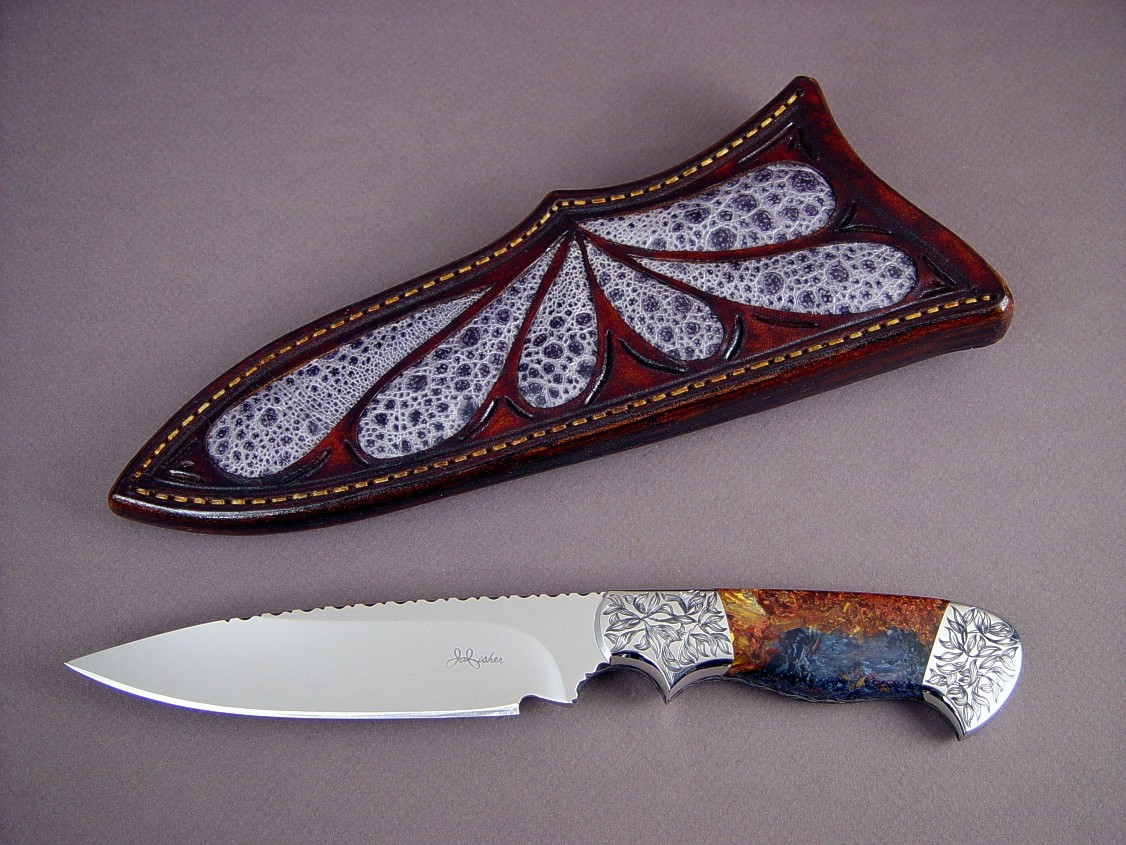 Altair
Size: Length overall: 9.8" (24.9 cm), Blade Length: 5.375" (13.6 cm), Edge Length: 4.6" (11.7 cm) Thickness: .209" (5.3 mm)
Weight: Knife: 10.0 oz. Sheath: 6.0 oz.
Blade: CPM154CM Powder Technology Martensitic Stainless Tool Steel, Hardened and Tempered to Rockwell HRC60, Mirror Polished
Bolsters, Fittings: 304 Austenitic Stainless Steel, Hand-engraved
Handle: Pietersite Agate Gemstone (China)
Sheath: Hand-carved Leather inlaid with Gray Frog skin
Knife: An absolutely stunning knife, this Altair has graceful, masculine lines, and is as tough as it is beautiful. I made this knife with a CPM154CM blade. CPM is the acronym for Crucible Particle Metallurgy which means this steel starts as a fine powder which is fused under tremendous heat and pressure into a billet, rather than being poured. The reason for this is a more uniform distribution of high alloy elements, and a more uniform crystalline structure in the steel. The high percentage of molybdenum (4%) and the crucible manufacturing process makes this a very tough steel at a fairly high hardness with good heat resistance and high corrosion resistance. You can see that I tempered it at 60HRC, which is very hard for supreme wear resistance, yet the grind is thin and accurate at the tip. This is a very beautiful (and pricey) steel, and with an extremely fine grain takes a magnificent polish, perhaps one of the best. I hollow ground the thick blade deeply, and applied a razor-thin single bevel edge. The blade has a fully tapered tang, and is fully fileworked with a deep choil terminating the cutting edge. Even the filework is special, with the entire length having hand-engraved accents in the deep vine design. The handle is bolstered with hand-engraved 304 high nickel, high chromium stainless steel, and by now, you probably know that this is my favorite for its toughness, hardness, and extreme corrosion resistance. I designed a fine leafy pattern to blend the vinework with the intricate pattern on the handle material. The handle material is rare Pietersite Agate gemstone from China. These are a book-matched pair of solid scales from some rough that I ordered directly out of China. I was lucky to get a little of what looks like the last of this Pietersite, as the mine location in China is played out. Though there are some very small pieces of this material around, the blocks large enough for knife handles can not be found. This material is actually a Brecciated tiger-eye, but in a very hard agatized form, with complex patterns and colors in gold, reds, and blues. The agate is chatoyant, with a cat's eye light play effect, with swirling bands in eddies and currents that are wonderful to explore, even under magnification. There are a few voids, inclusions, seams, and fissures in the material but it is very solid and smooth. I've included some super close-up macro photos below. This is an amazing geological material. The handle is beefy and thick to match the thick blade, with a balance point at the middle finger. The knife is comfortable and very solid in the hand.
Sheath: With all the features on the knife, I wanted a striking sheath for it, so I built one of 9-10 oz. dark brown leather shoulder, hand-carved and inlaid with real gray frog skin. The frog has a great texture, and the ten inlays extend to the back of the sheath and into the belt loop. The sheath is hand-stitched with polyester sinew, lacquered and sealed.
A rare knife of rare and unusual materials.
Thanks, P. K.!
Jay!
Received the art work today! One of the most beautiful I own. The gemstone is fantastic. I know it is extremely rare, but if you have extra, save it for one of my projects please. I can understand why it is so expensive! The steel is literally a mirror.
Yours truly,
--P.
---
---