Anzu Tactical Combat Knife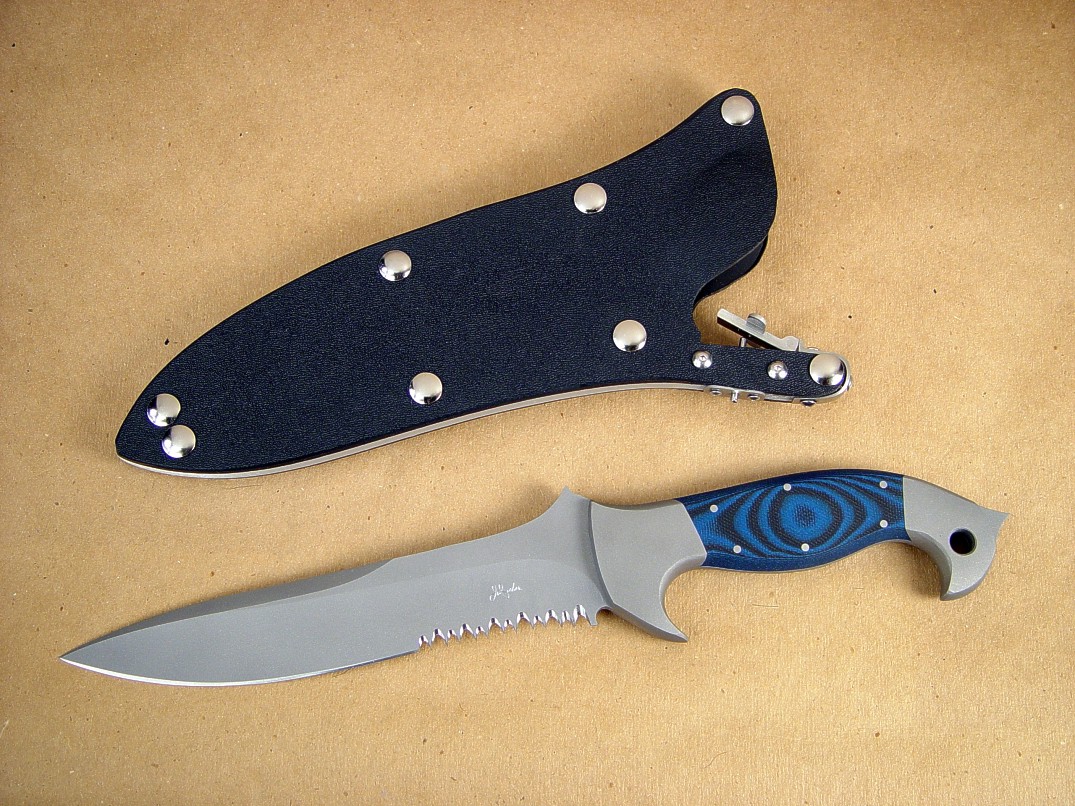 "Anzu" Tactical Combat Knife
Size: Length overall: 12.0" (30.5 cm), Blade Length: 6.75" (17.1 cm), Thickness: .227" (5.8 mm)
Weight: Knife: 14.6 oz. (414 grams) Sheath (with extender): 13.1 oz. (371 grams)
Blade: 440C High Chromium Martensitic Stainless Tool Steel, Hardened and Tempered to Rockwell C58, Bead Blasted
Bolsters, Fittings: 304 Austenitic Stainless Steel, Bead Blasted
Handle: Blue/Black G10 fiberglass-reinforced epoxy laminate
Sheath: Locking, Kydex, Aluminum, Stainless Steel, Nickel Plated Steel
Knife: Anzu was named for a Sumerian god, from An "heaven" and Zu "far" and was the son of the bird goddess, Sirius. The feather-like blade and rear persuader talon carry the name well. Though I had a bird-like inspiration for this blade, it is no featherweight when it comes to defensive tactical combat knives. This is a serious weapon and tool, designed for the theatre of conflict. Made of nearly quarter-inch thick 440C high chromium martensitic stainless steel, the blade is deeply hollow ground for substantial thinness at the cutting edge while maintaining a significantly thick spine for overall strength. The blade has a half-length swage for more acute point geometry, and 2" of my vampire rip teeth serrations. I've hardened and tempered it a 58HRC for great, serviceable wear resistance and corrosion resistance, and bead blasted the surface for low glare, low care utility. The fully tapered tang has sufficient thickness to support the rear skull crusher talon at the butt, which is large enough to do considerable damage, but small enough to not be a nuisance. This knife is designed with combat in mind, so if you're not familiar and comfortable with the talon, this is probably not the knife for you. It can be a devastating adjunct that many of my military and law enforcement clients request. The handle is contoured and shaped nicely, with a very deep front quillon to protect the hand and a substantial rear quillon. Add to that a 5/16" diameter through-tang lanyard hole and a deep belly, and the knife is secure. The thumb rise supports significant pressure, and the bolsters are 304 austenitic stainless steel for zero care and extremely high corrosion resistance. The bolsters are dovetailed and bed a pair of super-tough G10 fiberglass-reinforced epoxy laminate handle scales, bead-blasted for texture and control, and pinned with six 3/32" stainless steel pins. The thumb can be laid across the back of the talon-crusher in a defensive tactical grip style. The balance point on this knife is right at the forefinger when it is nested in the front quillon.
Sheath and Extender: I've made one of my fine locking, waterproof tactical models for this knife, probably the best tactical combat knife sheath style made anywhere. While most makers use a single thickness kydex (.060"), I use kydex that is (.125"), twice that thick for strength, durability, stability, and longevity. The kydex is hot-formed over a 5052H32 corrosion resistant, high strength aluminum welt frame, secured with nickel plated steel Chicago screws and waterproof cement. The sheath has all stainless steel locking components in 302, 304, and 316 austenitic stainless steel for low-care, high corrosion resistance, and durability while positively locking the knife in the sheath. Even the machine screws and reinforcements are stainless steel. 1.75" wide belt loops are die-formed in high strength aluminum, and are reversible for versatile wear in any position. Included with the combat sheath is my sheath extender, which lowers the knife for waist belt carry, and has a shock-cord retainer for anti-flop when highly active. This is a useful accessory, and I go into great detail about it on a special page on this site. It is reversible and removable also.
A substantial and serious knife for tactical combat and defensive carry and use, ready to go there.
Thanks, P. K.!
Jay!
The weapon arrived this afternoon as I was about to go to work. It is the most fear inspiring knife I have ever seen, a beautiful addition to my collection. Thank you for giving me the opportunity to buy this knife.
Yours truly:
P.
---
---