Aquila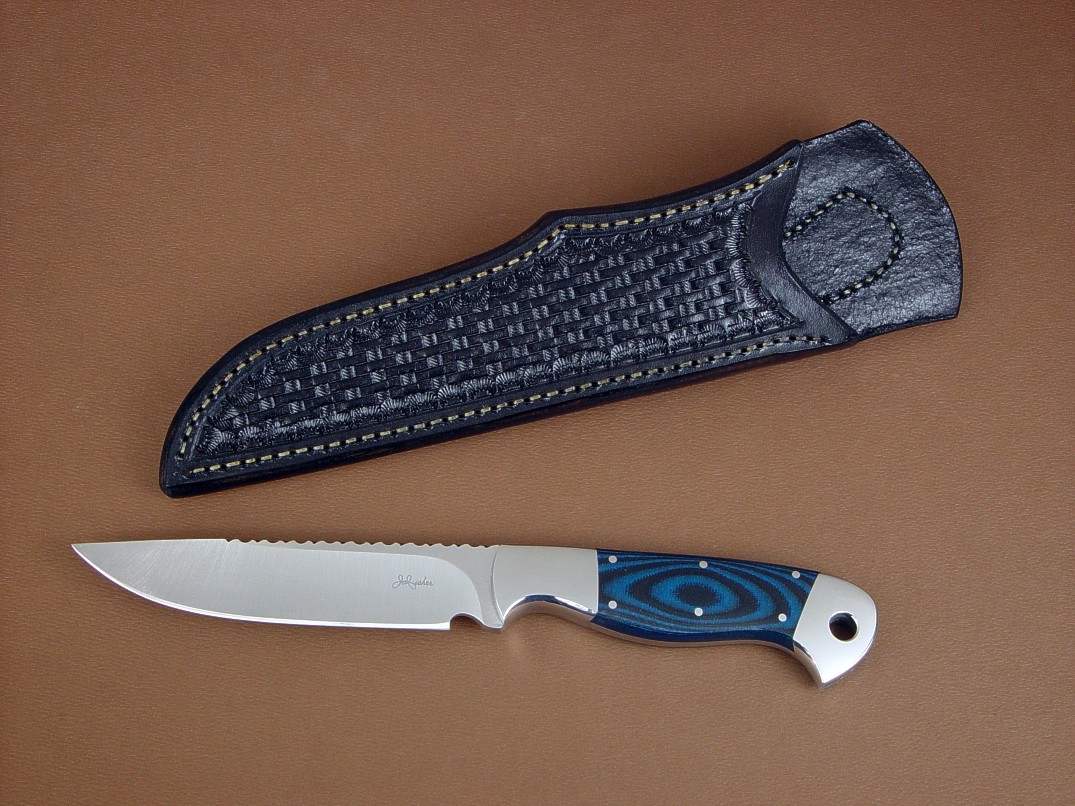 Aquila
Size: Length overall: 9.5" (24.1 cm), Blade Length: 5.0" (12.7 cm), Thickness: .202" (5.1 mm)
Weight: Knife: 7.5 oz. (213 grams) Sheath: 4.8 oz.(136 grams)
Blade: CPMS30V Martensitic High Vanadium Stainless Tool Steel, Hardened and Tempered to Rockwell C60, satin finished
Fittings/Bolsters: 304 Austenitic Stainless Steel, mirror polished
Handle: Polished Blue, Black G10 Fiberglass Epoxy Laminate
Sheath: Hand-Stamped Basketweave 9-10 oz. Leather Shoulder
Knife: The Aquila is named for a stellar constellation and also the Roman god Jupiter's eagle. The blade shape is straight and determined, and one can see why the eagle would be my inspiration for this pattern. I made this knife with a blade of CPMS30V, a three percent vanadium powder metal technology stainless tool steel, chosen for its extreme wear resistance. Since the powder steel high tech process yields plenty of vanadium carbides in the cutting edge, this steel offers one of the longest lasting cutting edges in the fine handmade knife world. Since this steel can not be mirror polished, I finished the blade with a smooth and clean satin finish that will be easy to care for. The hollow grinds are deep and well-matched, evenly and gently radiused for great strength at the blade-to-handle junction. The edge terminates with a deep and elegant choil and the blade is thinly ground for decades of service, even after many sharpenings. The geometry combined with the steel type creates a knife blade that will last generations with nominal care. This stainless steel is also very corrosion resistant and easy to clean and keep clean. The blade has spine filework through the fully tapered tang in a gentle vine pattern, and the blade is bolstered with zero-care 304 austenitic high nickel, high chromium stainless steel, simply the toughest, most corrosion resistant stainless steel fitting material. This is the same steel used to make tough stainless nuts, bolts, and fasteners. The bolsters are smooth, polished, radiused for comfort, and the rear bolster has a 5/16" chamfered lanyard hole through the tang for security if needed. The dovetailed bolsters bed a pair of pinned and secure G10 fiberglass-epoxy laminate waterproof handle scales, a very tough, hard and reinforced manmade material that will last indefinitely. The deep blue and black layers are distinctive and bold, and the G10 is smoothly polished for comfort. The knife is balanced just in front of the scale to front bolster union and feels great in the hand. This knife is an extremely useful and durable medium-sized tool that will be the first choice for most cutting chores, as well as being a finely made work of handmade art.
Sheath: The sheath had to be as tough and long lasting as the knife, so I made this one in hand-stamped and tooled 9-10 oz. leather shoulder, deep and protective of both the razor edge and the wearer. This is a high back style of sheath that allows a lower wear on the belt, while protecting the wearer from the handle butt. The pattern tooled is a clean and straightforward basketweave, elegant and complete, even on the sheath back. The sheath is dyed black, hand-stitched with tough polyester sinew, lacquered and sealed.
A very fine, tough and useful knife with tremendous wear resistance and high longevity.
Thanks, D. S.!
Hi Jay,
Finally got my knife. I had to pay another $270 customs duty. But it was still worth it as this knife is a thing of beauty, it fell into my hand as it was made for me. The file work is fantastic and it is perfectly balanced. Looks magnificent and feels great when I hold it. Also the sheath is spectacular, you are a true master of this and I look forward to working with you closely in the future on custom models for my collection.
Thank you.
Best Regards,
--D.
---
---