Bootes ST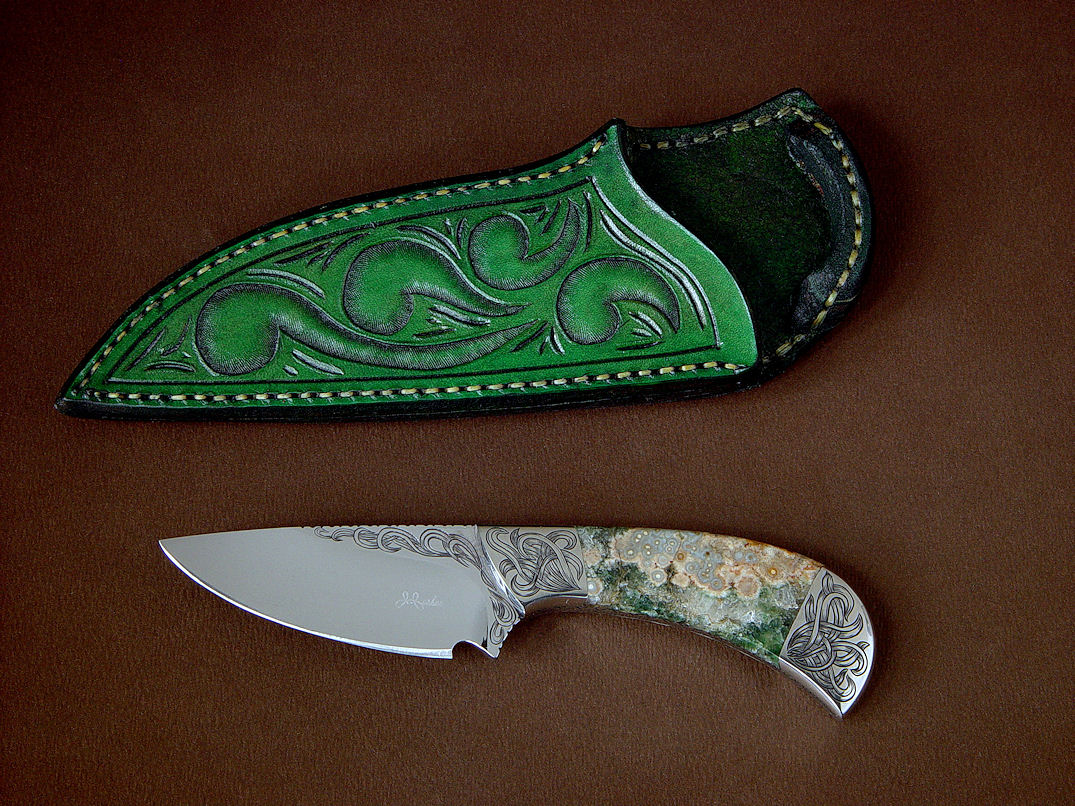 "Bootes ST" Fine Working, Collector's Custom Knife
Size: Length overall: 7.0" (17.8 cm), Blade Length: 3.0" (7.6 cm), Thickness: .223" (5.7 mm)
Weight: Knife: 7.0 oz. (198 grams) Sheath: 4.3 oz. (122 grams)
Blade: 440C High Chromium Martensitic Stainless Steel, Hardened and Tempered to Rockwell C58, hand-engraved, mirror polished
Bolsters, Fittings: 304 Austenitic Stainless Steel, hand-engraved, mirror polished
Handle: Polished Green Orbicular Jasper/Agate Gemstone
Sheath: Hand-carved Leather
Knife: Custom made for a great client, the Bootes ST is a short (ST) version of my original Bootes pattern, named for the constellation of The Herdsman in the northern sky. The ST has a shorter blade and comfortably proportioned handle. My client requested the full treatment for this very nice knife. It starts with tough and wear-resistant 440C high chromium martensitic stainless tool steel blade, hollow ground, mirror polished, and hand-engraved with an intersecting leaf blade pattern, which matches and fills the tight flat area on the blade nicely. The blade is fully fileworked in a graduated, proportional filework down the tapering tang, with a beautiful pattern that becomes microscopic on the butt of the handle, the narrowest part of the tang. This is one of the most complicated and difficult filework patterns to execute well. The knife is bolstered with zero-care 304 high nickel, high chromium austenitic stainless steel. This is the same stainless steel used to create high strength nuts, bolts and fasteners, and I've mirror polished and hand-engraved the bolsters with the elegant intersecting leaf blade pattern. Most makers would never attempt to engrave the super hard and tough 304 and 440C, but I strive for the very best. The bolsters are dovetailed and bed a pair of striking Green Orbicular Jasper gemstone handle scales. This is a very hard and tough jasper with clear areas of crystalline agate and complicated and fascinating visual interest for a striking and unique appeal. This hard gem is brightly polished to a glassy finish. The knife feels great in the hand, with a light blade that will be ready for any task asked of a small knife.
Sheath: My client requested a horizontal sheath, to be mounted on the left side for right hand draw. I made this one in 9-10 oz. leather shoulder, hand-carved and dyed to match the knife, hand-stitched with polyester sinew. The sheath has a deep and protective face that reveals a bit of the handle for show, with a retention welt that holds the knife in the sheath at the rear bolster. The belt loops will accommodate either a 1.5" belt through a single loop or a 1" belt through both loops. They will tightly hold the sheath against the body, essential on a horizontal sheath made for low profile.
This is a great knife, suitable for carry, yet beautiful enough for display and investment.
Thanks, S. E.!
Jay,
I just got home from out of town and finally got to see the knife. I have read the reviews that the other customers have written. No one can truly understand the craftsmanship and beautiful artwork that you do until they hold one of your works of art in their own hands. This is truly one of a kind. I'm sure this piece will be handed down from generation to generation.
Thank you Jay for such an amazing knife.
--S.
---
---