Funny and interesting knife emails, stories, scams, and comments, page four
jay i am looking for a custom sword to spark fire in my eyes every time I look at it.
Suzanne E.
--actual complete email received, 2007
Having a large and active web site since 1996 has, thankfully, brought me a lot of interest, business, partnership with patrons, and knife orders and purchases. Truly, I would not be able to do what I do without the support and contact of new and existing knife clients and people who are interested in fine custom and handmade knives. I am honored, humbled, and grateful to those people who contact me, start a conversation about their knife, and may ultimately become regular clients. That is what this web site is about, pure and simple: my knives, my clients, and my career.
As the web site traffic has grown, people have sent emails about everything related to knives in any way. I suppose that's because they see a large and meaty web site, so the answer or project they seek will be there, and all that has to happen is an email, so they send. During that time, the site has grown, developed, been refined, has had some areas restricted, and evolved. A great deal of that evolution has had to happen to limit the huge onslaught of incoming emails and inquiries.
They sent so many emails that were not related to this site (which is about my knives, knife clients, and career), I became overwhelmed, spending 4 or more hours a day answering their inquiries. I realized that this was time I was taking away from my clients who had ordered custom knives and clients who were watching the site waiting for new inventory knives to come up for sale. In order to limit the flood of email, I created the "What I do and don't do" page.
The "What I do and don't do" page was a hit. It made clear that I would not answer emails unless they were about ordering or purchasing a knife from me. I added some dry humor to it. I added topics as new emails were sent asking for more services. I added links to sites that would help those in need. Although the page reduced the amount of incoming emails tremendously, they still came in because people either ignored the page or didn't believe it applied to them. You can't miss the page; before you email me I specifically link it on the singular email link page on this site. Nowadays, if email still comes in that does not pertain to the knives or my clients, I simply ignore it. Some of it is priceless, so I've chosen to share it here, on the fourth page of funny emails and stories. Don't forget to look at the other funny pages linked at the top of this page.
Please keep your sense of humor when reading through this page. If you don't have a sense of humor, or don't understand satirical, hyperbolic, anecdotal, ironic, juvenile, mordant, or farcical humor, please feel free to browse to another site. Don't feel compelled to email me and tell me how awful I am for having a site that is just about my knives, my clients, and my career. If you do write to complain, I might post your comment here, and others can enjoy it, too!
For all of you who have written to thank me for posting this page and who have enjoyed the emails, letters, and comments, thank you. You are who I've built this for!
Some points about the page:
No full names have been used, only the initials of the senders
No addresses or email addresses have been included
No web site links have been included
I've removed all wild formatting, strange fonts, bizarre colors, because you don't need that in your computer any more than I want it in mine!
Removed data has been replaced by asterisks*.
I haven't corrected the spelling (if they don't care, why should I?)
I have removed all the extraneous non-breaking spaces, and cleaned up the XHTML coding. What a job!
Most of the comments are in an email text box format. You'll see my responses where applied, and my thoughts will be in bold italics.
If you don't like or don't understand my humor, please don't write and tell me how awful I am. Instead, write the president, and insist he shut down the whole internet because it's just a bad idea.
Please enjoy, and thanks for being here!
---
Here is another string of emails that various people have sent. They have ignored the big red and yellow warning box and text that is located exactly where they have clicked to send an email. The box tells them that I only answer inquires about knife orders, and to look at the list that tells what I do and do not do. All of these items are detailed on the "What I don't do" list, yet they send anyway.
---
I'd like to know if the deep grind work on this knife is purely aesthetic, or if it has another practical side to it? I'm wondering, partially because I'd like to make a similar knife for myself, partially because I enjoy learning new things. Thank you for your time, and your help.
Should I tell him it takes a decade or so to learn how to properly grind a fine knife blade? Should I warn him about kickback, pull down, burned fingers and thumbs, 90 mile per hour paper cuts deep into the hand? Should I mention all the intricacies of control, angle, material types, sensitivity and prepare him for the pile of ruined blades that it cost to learn all this? No, I wouldn't want to spoil his enjoyable experience.
---
Sir,
I wanted to contact and inform your company regarding the 14th Annual *name omitted* Run/Open House event held on *******, 2010. The *name omitted* hosts the *name omitted* 5K/15K Runs, 34K Bike Race, Duathalon, 15K Team Challenge and 1 Mile Fun Run. The Open House Event includes a static display, a *name omitted* in Action demonstration, Free-fall demonstration, and Vendor booths. All proceeds from the *name omitted* Run Association are given to various local charities and organizations in the *name omitted* area to foster a better relationship between the community and those who are less fortunate. Additionally, donations assist in the clean-up and repair of the first 250 kilometers of the *name omitted* Trail System in the *name omitted* National Forest. Some of the items that have been donated over the last several years have included misc. sporting goods, firearms, tactical gear, knives, flashlights, optics, apparel, and gift coupons. We average over 800 local, state and national competitors for the *name omitted* Run Series sanctioned races and 1,500-2,000 visitors for the *name omitted* Open House event. I have enclosed the Donation Request, Donation levels, and TIN information. The web link for our event is *name omitted* If your company is interested in contributing to a worthy cause please contact me at your earliest convenience. The cut off for donation approval/confirmation is ******* 2010. Thank you for your time and interest.
*name omitted*
I get this type of request quite frequently. While I do donate to causes and individuals I know, I never donate or respond to web-based emails because there is no way to know if the cause, event, or persons requesting donations are real or just the product of scammers. Also, I'd like to know why the "less fortunate" should be the recipient of a fine, handmade knife, weapon, or tool. If they are not the recipient, what part do these donations play? Sure, I could do a bunch of research to find out if they are valid causes, real events, and sanctioned by local and official authorities, but I only have so much time and so much donation in me! More details about donations.
---
Dear Mr. Fisher,
I have two 'red s****** si** wsk' knives and I am looking to get wooden handles made for both of them. Is this something that you could do for me please? I was looking to get the handles in any type of wood as long as it had a nice 'burl' to it. Do forgive this e-mail if you do not do handles for the red s****** s** wsk, but I found you site and think your work is outstanding. I am in L*******, S*****, England. Many thanks for your time in reading this All the best N. A.
---
I would like to order a custom black leather tactical sheath/light holster to accommodate a flashlight and a knife. The flashlight is a S****** and the knife is a C********** I The holster will be worn on a S********* belt that is 2.25" in width. Below are the items to be held in the holster and their dimensions. Is this something that you can do? Please let me know and feel free to call me on my cell ************ if that is easier than emailing. Best regards,
L.G., CBP Officer
---
Goodmorning, i am verry impresed of your work, its verry interesting for me,can you allow me to download your three cd? i believe it will help me a lot.
Please reply me. thanks
-- ???????
I didn't add or substitute one character in this email. This is exactly how it came to me, question marks included. I believe going back to elementary school would help him more-
---
I need to make a new handle and keep goofing up, what do, I do to make a good knife handle. Materials, tools, process. Email the steps at *********@gmail.com.
Wow. Demanding isn't he? I better get right on that! I think that was in my "Knife Maker's Oath," the part that says I'm required to help out anyone in need... now where did I put that framed parchment?
---
JAY,
I HAVE COME UP WITH A NEW DESIGN ON A KNIFE , JUST WONDERING IF YOU FILED A PATENT OR A COPYRIGHT TO PROTECT YOUR BLADE DESIGNS !
THANKS
A.S.
Nothing quite as charming as screaming caps panicked emails. Of course, the entire site is copyrighted, as are all the patterns and designs, if he just looked at the patterns page, he would see links all over the page to that information... oh, wait. He did look. Oh, I see now. He wants to legally protect his own designs. How hard is it to put in any search engine "Copyrights and Patents" to take him right to the US government's own web sites detailing this process?
---
Hi Jayfisher I am looking to by prologue design knives Please can help ware I can by or you sale this knives I am sending you file for you thanks
Abdul A. Outdoor Sales Manager T******-T****** FZE P.O. Box ******* Dubai United Arab Emirates
Not a clue what you are writing about Abdul, and I wouldn't dare open your file!
---
Hi Jay,
My husband has been wanting the knife that Brad Pitt has in the Movie "Legends of the Fall"! I know you do not do replicas but I was wondering if I could get a knife like that made. He wants the horn handle and the more I look at your site the more he might want a elk horn handle. I know that you are busy but I would be very greatful if you would look into this request for me. Thanks
C.
Seems like I get a few of these a month, about this very movie, and they are from wives and girlfriends. She even knows that I don't make replicas. Does he want the knife or do you want him to look like Brad holding the knife?
---
dear sir, kindly provide us your new delhi-india office address, so we can mutually work with them locally.
best regards- r. s.
I had to close my New Delhi office; the Punjabis were stealing all the staples from the office supply closet...
---
Please send catalog to:
T. P.
4*** M****** R**** Ave
M*******, Fl, *****
Thank you!
It's strange, but people ask for catalogs quite frequently. The web site is my catalog; if you can't get an idea of what I do from the 10,000 pictures on the site, then what will you get with a catalog?
---
Dear Mr. Jay Fisher,
My boss has a S** Specialty Knife. The blade is 6.75 inches long and resembles a M3 trench knife. He was a Navy Seal but uses his knife as a letter opener. I would like to find out what type of leather sheaths you offer in black with D.E.K. engraved on the front. Also, do you make single knife cases that can lie on a desk and opened easily? What can I get for about $60-80? Is this reasonable?
Sincerely,
K. M.
That's entirely reasonable: in China.
---
Mice have eaten some of the bone handles of a friend of mines' good knives and been told they are not replaceable and have to buy new ones at an antique shop. Do you repair them?
Yours
A. G.
Let me get this straight. You're buying new mice at an antique shop but you want me to repair them instead?
---
Hello Jay,
We are looking into getting about 3 custom made hunting knifes for Christmas gifts.
My questions are:
1) How long would it take
2) Do you ship across the border since we are in Canada wondering if there are any restriction on importing knifes.
3) Is it possible to engrave knifes with what ever we want it to say?
Regards,
K. P.
Reception
Western P******* A****** Inc. (Address deleted)
About three? Is that more or less than two or more or less than four?
To answer your questions,
1)Four to Five years, so it depends on which Christmas.
2)Yes and No and depends.
3)Yes! You could engrave: "The word is knives not knifes"
---
Hi Jay,
Which stays sharper longer Stainless steel or high carbon blade?
Kind Regards,
N. E. K** Account Manager **** Industries (Pty) Ltd.
Depends on what type of soft cheese you are slicing: Camembert or Forsterkase
---
I am a hand engraver, semi retired. I have 40 years experience. Had my own business for those years in Toronto, under the name of ******** Engravers, where among other things, I engraved many sets of Chef's Knives. If you have any need of my services, or are asked about the service from your purchaser's, I am more than capable of doing the job. I can be reached at my e-mail. **********@hotmail.com. Phone # *********** in O*******. I have a while u wait service.
Thank you
B. M.
This is wrong on so many levels. You engrave people's hands, while they wait? And B., I'm more than capable of doing that myself...after all, I have sharp blades lying around everywhere.
---
Please include me on your mail list.
Thank you.
A.
Did somebody here start a mailing list and not tell me about it? Why am I the last person to know about these things?
---
I have seen some of your knives and I would consider them average knives. I just wonderd how would you lke a kick in the balls?
Average? Why am I the last person to know about these things? And I'll probably pass on your kind offer, but I'm sure others would accommodate you if you just keep emailing anonymous letters of request. Good luck on your search!
This conversation needs it's own volume.
Dear Jay;
I have a understanding that the best knives have names to you, but have you always named them? And if you did, did they differ from the types of names you use now? Also, does anybody ever have trouble pronouncing them? Pronounciation is my concern with my own since I'm going to try to use Latin for them, which is why I asked.
-L.
Crapé follis, I think. I ignored him, -and there's more:
Dear Jay,
I should've asked this in my last e-mail but didn't think about it at the time. I know that your knife patterns are copyrighted but my question is, is your filework copyrighted? I noticed that the "Izanami, Izanagi" knives on the case and stand page shows the filework very cleary so would it be ok if try the same filework design?
L.
- and he won't stop:
Mr. Jay;
I would like to ask if your pattern copy rights includes filework as well. I noticed that the "Izanami, Izanagi" knives on the case and stand page shows the filework very cleary so would it be ok if try the same filework design?
I also have a understanding that the best knives have names, but have you always name them? And if you did, did they differ from the types of names you use now and anybody ever have trouble pronouncing them? Pronounciation is my concern with my own since I'm going to try to use Latin for them, which is why I asked.
Thanks in advanced
L.
Lack of an answer is no excuse; he's not going to stop until I respond!
Mr. Jay;
I would like to ask if your copy rights includes filework as well.
Thanks in advance;
Okay, I had enough and responded:
Hello, L.
I don't ordinarily answer questions from makers, as I'm swamped with orders and am very busy, but here goes: According to current copyright laws, any art, sculpture, form, or creation is copyright protected from the moment of inception, particularly if it is posted on a copyrighted site or publication. If a form has been in the public domain and common arena for a substantial time, then it is not protected. Protection is derived Under Section 102 of the Copyright Act which states that original designs are considered "pictorial, graphic, and sculptural works" and are protected by copyright law. The entire website is copyrighted, as are the patterns, forms, and original artworks.
For filework, then, it applies that common filework forms (like vine) which have been in the public realm for decades, are not usually protected, but more unusual forms that are not commonly reproduced are protected. I know this can be a bit confusing, but to be on the safe side, why not come up with your own original designs, and then you won't have to worry about violating anyone's copyrights, and you will have original work that you can be proud of.
Good luck in your works.
Jay
All I did is copy and paste the information from my Copyright and Knives page that was listed right where he was looking at the pattern names. People like this don't think, they just blast and blast and blast emails. I learned something here; I'll never answer a sender like this again. Why? He still didn't stop:
Mr Fisher;
I noticed on your sight that knife names are copyrighted as well. I went over to the "copyright and infringement" section to try to get more specific information about this; but couldn't find it or either overlooked it, so could you tell me more specifically how this applies to knife names? Does this mean that the name can't be used at all or does it mean that it can't be used on a knife with a similar pattern? For example, could I name a fillet knife pattern "Xiphias" (since I believe it to be latin for fish ) as long as it is of my own design and not similar to your "Xiphias" pattern?
The Scotts have a name for a guy like this: aegit! And he writes again:
Jay;
I know it's still a very long ways from being published or anything but I'm the type of person that likes finding out information well ahead of time. My question is, since you no longer sell the cd catalogs to the general public..will this knifebook only be available to your clients as well? Not related to this question is another one I have and I basically just want to know if I'm right or not. But is the misconception that stainless steels aren't suitable for swords because of those made by factories?
He continues his fusillade of endless questions:
Mr. Jay;
Not meaning to bother you or anything; but lately I've been debating with a person on rather or not stainles steels can be suitable for swords. With proper heat treatment and tempering I believe they can and I also point out the majority of stainless steel swords are factory made as you're the only person I know of that makes stainless swords. So can you tell me why people are so against it being used for large blades; is it because of the factory mades or another reason? I really don't consider it as being nearly as brittle as they claim and this person I've been debating with claims any steel with over 1% carbon isn't suitable yet D-2 has around a 1.55% carbon content and as far as I know it was specifically made for toughness and shock resistance.So surely, shouldn't people consider more then just carbon content?
This is the reason I don't respond to many of these emails. This guy thinks that because I answered once, so I'm on the hook for every question he could possibly have about knives. Once you open the door, you can't convince them you don't have time for this. Knives are an endless stream of questions and wonder, and this guy thinks I have endless time to answer his inquiries, which costs my client's and patron's time, my time, that they have paid for and he has not. He sends a few more emails, but I ignore them all and block his email address to prevent future hassle. Sigh...
Jay,
The e-mail pages are hilarious and are my end of day giggle. Love your comments and the eloquence of your written words add a great deal of spice your website. Do you have elves make your knives at night? Either that or you are working on a 36 hr. day what with knife design and production, site maintenance, e-mail answering, writing, photography and all the rest you do for your business, Your site is truly a stupendous piece of work.
Seann Alden
Abbotsford, BC
---
Some more tantalizing emails that I'm just too stubborn to answer:
---
I'm making a camp knife from 1/4" thick 5160 steel. It's 15" long with a 10" blade. I've flat ground just one side of the blade much like a chisel ground knife. Will this blade geometry hold up to abuse well.
Thanks,
L. B.
Ahh, another soft cheese question. Do you camp with Fromage de Meaux or prefer the chestnutty flavor of Banon de Chalais?
---
Hi Jay
I have a P****** D** automatic. 4 5/8 folder that does not have a locking safety. I would like to have a custom sheath made for it. Could you design a in the pocket sheath for that knife.
Thanks, J.
Yes! I'll design it and keep it all to myself so that you may accidentally open the knife in your pocket and receive a nasty wound. Then, I'll slyly laugh from very far away...
---
Do you have a showroom in Houston Texas Area? Understand the value and have a knife collection from the old days where gun / knife shows were not all military. I looked for some of the names that I remembered as a kid but could not find any of them. Looking for some gifts and do not want to go into the collection that are from my dad's friendship with J***** L****. Please call. J. P.
A showroom? What is this, a car dealership? Digging up old bones, isn't he? Reminiscing about when the old names made the old knives in the old ways. Before this dadgum internet stuff was all up in your face...
---
Here's an interesting email that had the title: "yo momma"
Hello jay!Ive been studying your work and lusting over it for the past few hours And i have a question.
By any chance could you make an "Entry level"combat knife"something maybe under 500 dollars preferably in the 300 dollar range? Look Im not looking for something special I just want a functional combat/utility knife that's made by your experienced hands with a few details here and there....Somthing with an osage orange handle,And a flat "Scandinavian" grind; these are featured in alot of "bush craft"knives but not on a combat Knife...i prefer that kind of grind because of its sharpness ,and ease of sharpening....I Would love to buy one of your top dollar knives but i simply don't have the money for it. :[
I know this is alot to ask but hey whats the worst you can do? Say no lol....Just asking.I really admire your work and as A very amateur blade smith who has produced a few crude,but sharp as hell knives...Not really comparable to your work....your work is very inspiring Im anxious to see what you can come up with
Thanks jay
Loki Steelheart
Okay, I left his name in the email because I didn't think he would mind. That is his real name, right? It's just perfect for a guy who wants an entry level combat knife. Wait! Entry level combat? I'm not sure that sounds very safe...especially if the blade is sharp as hell. How sharp is that anyway? I've never been to hell, but I have been to Mexico.
---
my mother just gave this knife to me and i was interested if the ivory.so i just that to ask somebody
if they know the price range for a blade of this nature. thank you for your time.
Wow. Looks like you scored a very early polychrome wharnton fistula gumbudget! Way to go, Mom!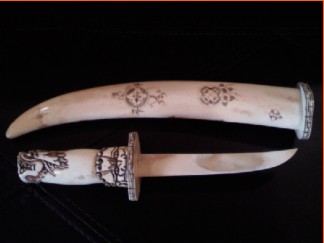 ---
Mr. Fisher,
I am trying to find actual research/studies as to the grip technique of a person who is attacking another person with a knife as opposed to somebody who is defending themselves against an attacker who has a knife.
In short, is it possible to argue someone's intent during a killing simply by the grip of the murder weapon. Can grip technique be used in determining murder 1 or manslaughter. If a hundred women picked up a large kitchen knife and stabbed their husbands in the chest, what would be the most common grip technique? I realize this is an usual request, but please offer your expertise into our little arguement.
Thank you in advance for your effort and time.
T. G.
Okay, "our" little argument wouldn't be in a court of law, would it? And why in the world would anyone think that I would know how a hundred women pick up a knife to stab their husbands in the chest? Good Lord, what kind of knives do you think I make here? Worse, what kind of women do you think buy my knives? Oh sure, the first 50 just wanted to cut up their girlfriend's faces in a jealous rage, and the next 25 wanted to pull a Lorena Bobbit on their cheating spouses, so I'm hardly up to the 100 that would qualify for a statistical value of reliable nature. Ask the Chinese; they make a lot more kitchen knives than I do.
---
JAY. You are a wonder, I must say.
Now ,WHY DOES YOUR SITE, PAGES, LAP OUT OF MY SCREEN AREA? I use windows XP pro. My Patent is http://www.google.com/patents & put in ********* I also have a trademark, F************ I cannot get them sold. I was a Mechanic for D****** in a CELLOPHANE PLANT. Did you know CELLOPHANE is made from wood? In essence, CELLOPHANE is solidified sap. The most interesting metal I ran across was INCONEL . IN-COO-NEEL It is used in heat exchangers & it transfers heat at a tremendous rate. I have many ideas on energy etc but I am sick & broke. Did U C the 12 Y/O that developed a better solar device. I do not know what they are called before they are combined into a SOLAR PANEL. He is here in *********** & went to W********* today Tue Sept. 15-2008 to get $25,000.oo reward. TAKE CARE & KEEP UP THE GREAT WORK. B.T.
If that email did not inspire a response, so he sends another:
JAY FISHER; I will send your site to all my friends, especially, my AIR FORCE FRIENDS. I did not see any SAC 'STRATEGIC AIR COMMAND' If I had the money I would order a knife with my brand on it, NOT REGISTERED, A CAPITAL **** across the top. Sort of like the ****** BRAND, I AM ******* a 73 Y/O dis. vet, PANIC DISORDER, P.T.S.D. KOREA, & THE COLD WAR. I would suggest you make some knives with some of the very old BRANDS, like the ROCKING 'A' ETC. My ENGINEERING OFFICER VVVVVVVICTORY AT ANY COST THANKS, B.T.
Uh... thanks to you, too!
---
Hi i was wondering if you could help me define what these points are on my knives. ive looked around and cant seem to find anything on them. they are teh holes and grooves right in front of the thumb grooves in the two attatched pictures. thank you very much for your time.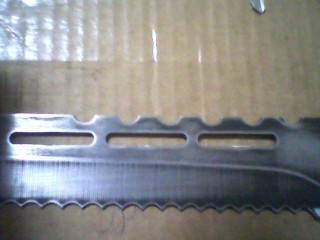 In this first photo, you can see the atrociously poor grind, the blackened and scuffed blade, the gigantic and clumsy notches. Could he mean the points of the serrations? What are they for? Why, cutting the less gooey softer cheeses, that's what!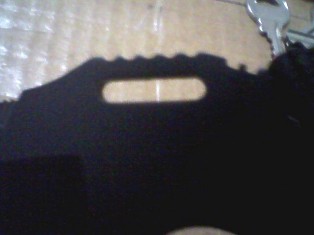 He thought it important to include a second, more sinister photo of his knife shadowing a pair of keys which are about to be challenged. The keys will win, as surely they are sharper and better designed than the speed bumps on the blade.
---
Hi Jay,
I have been making some custome knives lately and I had a quick question. Could you point me in the right direction for copy writing the knives I make. I know your busy and I understand if you cant reply. God Bless.
K.. G.
God Bless you, too, K. Would it help to note that you're on the internet and if you put the word "copyright" in any search engine, the first site at the top of the list will be the United States Copyright Office? But maybe this didn't work because you spelled it wrong. Sigh...
---
Mr. Fisher:
I just discovered your web site, and it is excellent!
For many years I have had a knife that was given to me when I was a teen-ager, by a family friend who had had it for years, and was tired of it. He passed it on to me because he knew I liked knives. Recently, I decided to try to find out more about the knife, with the object, perhaps, of selling it to a collector (if it is valuable). So far, I have found nothing. The knife is a dagger, about 12" or 13" long, with a straight blade. The full length of one side is sharp, and just half the length of the other side is sharp. It has a distinctive steel scabbard, which grips the blade tightly when inserted. The handle is made of some kind of plain, clear material. The scabbard has a spring-type device which looks like it is for fastening on a belt. What should help me in identifying it - but hasn't worked so far - is the manufacturer's mark on the end of the blade closest to the handle. It is a numeral 5 with two lines on each side, the lines are about 20 degrees from vertical, forming a tent-like shape. There is a thin line at the top with a very small figure kind of pointing to the left - it looks like it might be a bird. I read your well-written article on knife marks. It was comprehensive and interesting, but lacking a catalog of knife marks, I dont know where to turn next. Mr. Fisher, do you have any idea on how I can pursue this? You advice will be greatly appreciated.
Sincerely, B.
Not only do I need to show and tell thousands of my own knives, I need to know everyone else's, including all of the maker's marks that have been created throughout time. After all, this guy needs to cash in for some beer money. Who knows if this guy's mark was on 100,000, 100, or just one knife? And after his description, who cares? Just what is a knife handle made of it is "plain, clear material"? Next, he'll want me to give him the steel type and the hardness. Don't scoff, this happens often!
---
my name is M*** F****** and i was wondering what types of steels are best suited for a knife blade.
I want to know if inconell or hanes 214 would be a good blade matirial because of its toughness. Most of the commercial knives I've bought are some unknown stainless or in some cases an air hardened tool steel but none of them seem to hold an edge as long as I think they should. One more thing, what is your opinion on sharpening angles? do you recomend the use of multiple angels? Thanks for taking the time to read my Questions. M*** F******
Do you think he's read ANY of the material on my Blades page? And I like to use multiple angels myself; God knows I need all the spiritual help I can get!
---
jay--
i'm wanting one of you sheaths for this "killer knife" can you help-- i like the vespula on black cherry--want something of that nature that protects the handle--the measurements are on the add i bought the knife from,, if you have another idea please send me your thoughts---
thanks, t.
I don't make sheaths for killer knives anymore. Everyone who needed killing is gone.
---
Jay do buy knives as will I have a R** l*** for sale Au on one side l*** on the other side I will send u a pic if u want to see it
u typ 2much txt, tnx!
---
Hello my name is T** S*********. I am working on a project for my dads birthday. My dad received a knife while he was deployed in the Philippines in 1991 when i was born. I have attached 3 pictures to this email. 1 in a picture of just the knife, 2 is a picture comparing the knife to a 12 inch ruler, the 3rd is my design concept for the knife with the knife imposed in the picture for reference. i was wondering if you could give me an estimate on the cost it would be to get this sheath made out of brown leather. I can mail the drawing to you. If after the estimate i decide if it is in my price range. It will take a little while to get to you though because i am in Ohio. But, i think it is worth it after looking at your work on you web site.
Okay, this guy is not working on a project. He's trying to get me to work on his project. Suggestion? Get your dad registered on the "steak of the month" club; he'll appreciate it whole lot more.
---
Mr. Fisher,
My name is K*** A******. I'm 14 years old and I was wondering, despite what you said on your website about only emailing you as client, if you could give me any advice about becoming a knife-maker. As I am a member of the NRA, I've always had a strong interest in guns and knives and have always been fascinated with the blade. I think I recieved my first pocket knife at the age of 8 and I never leave the house, no matter where I'm going, without my K******. Anyway, I recently acquired the idea of knife making as a career when I was admiring the serating on a steak knife. Any advice you could give me would be would be greatly appriciated. -K*** A******
I know you are young, but obviously intelligent enough to get this: my most important advice is to listen to that little voice in your head that made you put the word "despite" in your first sentence. When you throw that in, it clearly states to you and everyone who reads your email (including me) that you ignore the wishes of your recipient. This is disrespectful and won't work for you. What will is reading the very page on the web site that answers your questions. By the way, you're not taking that knife to school, are you?
---
Do you have any Saddlers designs?
Cheers R.
Sure, just about any sharp knife can cut through your saddle.
---
Dear Mr.Fisher
hello my name is D**** L******, i was reading the articles on your web site and was very interested, you seemed very well educated as a knife smith. i thought that you might be able to help me in giving me some advise in my quest to find the "Excalibur" of knives (so to speak). every knife i have owned in the past could not keep up with my requirements, all i want is something that is; reliable, durable, holds a point, and is versatile. i have spent too much money on knives in the past only to be let down, and the only good i got from them is a few pieces of scrap metal, and now i know that the commercial knife world is not as excellent as they say they are, i believe you even mention that a few times on your web site. also i don't have the money to fork out for some custom made knife, and i would feel too bad if i messed up a piece of art. I'm thinking about making my own knife, but i have less than novice experience and would like a few pointers to send me in the right direction. if you decide to send me a reply my e mail address is d********@yahoo.com it would be greatly appreciated.
Thank you.
sincerely
D. L.
It's interesting to note that many makers start out like this guy. They eventually see through the hype in the commercial world, and are fed up with poorly performing knives. Rather than pay for an expensive and well-made custom knife, they decide to make their own. I wish him all the best, and give him all the information he needs on a special page on my site called "Knife Making Instruction." He didn't read it.
---
I have access to materials such as bone and hide. I read on the things you do and don't page that you would trade information on this topic. I'm not looking for information you may have about supplies, rather wondering if you would be willing to create a knife (optimally a dagger) out of supplies I provide you with. I'm looking for the knife to be one piece of bone with a hide wrapped handle. What type of organic materials are you willing to work with? I understand the volume of e-mails and work you must attend to and appreciate your time.
For all that appreciation of my time, he missed the mark by a mile. Where is it that I stated I'd trade information for for bone and hide? What? And under what topic do you classify a bone-bladed knife with a hide handle? Even prehistoric man knew that rocks were harder than bones. And how is it that this guy as access to bone and hide? Whose? This is just weird...
---
Hey, I'm very interested in knife making, and I was curious on exactly what/where you learned how. I'm finishing high school and I am seriously considering this as a career option.
This is all detailed on the site, on numerous pages. This is the reason I don't answer these mails. It's bad enough to be asked to do so many things that I don't do, but to have to repeat the same answers over and over and over in an endless stream is too much to expect any human to do. I hope, by now, if you've read all of these pages, you'll begin to understand the multitude of these inquiries.
This one deserves it's very own special email box. I will carefully insert my thoughts into this polite and friendly email. He titles the email "You Ass," and starts:
I was going to buy some products from you, but after reading your do's and don'ts I will not.
This is a rather juvenile way of trying to spank the knife maker. It reminds me of a small child who, at a knife show years ago, waved a pile of dollar bills in my face and told me he would not buy from me after I told him not to handle the sharp blades. Yes, we knifemakers are so desperate, a lost sale is a crushing blow...
I thought the page was humorous until I read the part about why you don't want to help anyone.
Here he has carelessly admitted his point of contention. He wants help. As I've detailed before, the root of most of the hate mail I get is from aspiring knife makers who want free and never ending advice, training, information, sources, and ideas.
You've made a rather large assumption that medical professionals don't get asked advice or offer it.
I will state soundly that a medical professional does not offer training, information, sources, ideas, and advice in a never ending stream of requests to thousands of viewers and hundreds of daily emailers. This guy's very email illustrates the ignorance of the power of the internet and the wide-reaching scope of my singular website. To compare: at three million hits a month, I know of no website where a physician sits all day, giving advice for free. Not only advice on medical issues, but how to become a doctor, how to pay for it, what clients to accept, what place to work, how do perform surgery, how to account for his pay, taxes, and business expenses. Add to his free duties detailing every surgery that has ever been performed, evaluations of all techniques, tools, and evaluations and recommendations of each of his peers. How hard is this to understand?
I am a flight paramedic and get asked advice all the time, and so do all my medical friends.
How many people does this person see in a week that ask for advice? 3? 10? 50? On this site, before I created my "What I do and don't do" page, I remember one week receiving nearly 400 emails that were not related to what I do, which is make and sell my own knives. It would be fascinating to see this guy in action, spending literally hundreds of hours, month after month, giving free advice while his family starves in the dark.
I always answer to the best of my knowledge and I love teaching. I do this because I have made an oath to help and teach people.
Really? What oath is it that you took to "teach?" I thought the oath was to "save lives and aid the injured." I was an active EMT and firefighter for decades and know plenty of Paramedics, and I know plenty of United States Air Force Paramedics in our top military rescue service. I know their oath, and the word "teach" is not in there. And where is it in the knifemaker's oath that I'm supposed to teach you? Oy vey, there is no knifemaker's oath. Perhaps this guy should become a teacher if teaching is his passion.
Doctors and nurses have also made an oath, however docs do have the legal right to charge people when they ask advice.
The physician's oath does not require him to teach, either. Look it up!
But, I've never heard of a doctor actually charging someone a service fee on the subway for simple advice.
Okay, this guy is veering way off course here, into the nether regions of debate. If I pass someone on the street here in our little town, and they ask me which steel is the most corrosion resistant for a fine knife blade, I'll be happy to let them know that it's mirror polished 440C. But this scenario is far different from the internet where three million people from 100 countries march relentlessly through this very web site monthly, demanding answers or services I don't provide. This very page (and the previous three) recounts a very small part of the inquiries. I doubt this guy would like to answer every question by every New Yorker who rode the subway every day, week after week, month after month, year after year without being paid one single penny for his efforts to feed, house, and clothe himself and his loved ones.
Any way, you don't have any obligation to help any one in your job field, you're just practicing capitalism.
Ahh, the evil capitalist argument. Only self-righteous fools like this guy have the right to earn a living how they see fit. If capitalism is bad, what does that make him? A socialist? A communist? That about covers the list, so he's one of those people who think that:
A) my (and your) blood, sweat, tears, and treasure belong to other people who haven't earned or paid for it, or
B) my (and your) blood, sweat, tears, and treasure belong to a despot or tyrant.
By his own argument, he has revealed his true self.
So, you are just an ass who doesn't like to share or when you open up you get overwhelmed by people because you're such and expert. I'm guessing its a little of both.
He claims that I don't like to share, yet he is reading the largest, most informative, coherent and meaningful website made by any individual knife maker in the world. I did not get paid to construct this; it is made from the passion of my heart. There simply is no other singular maker who has offered over 400 pages (at the time of this writing) and 10,000 photographs with hundreds of thousands of words that offer details, specifics, comparisons, illustrations, and knowledge about fine handmade custom knives based on over 30 years in the trade. From this huge offering, this idiot complains that it is somehow not enough. And when I refuse to donate ALL of my blood, sweat, tears, and treasure to answering his foolish questions, I'm an evil capitalist for not letting my family starve in the dark.
I hope that, as you're reading this, you begin to understand the cost of building a large and substantial web site, and the stupidity that you will encounter. I pray that this is not the guy who is in service when I need that lifesaving aircraft ride, and I'll bet you do, too! Let's just hope he doesn't vote.
Now for some lighter fare. Remember, these folks have blown right by my statement that says "Serious Knife Purchase Inquiries Only" and the What I do and Don't do page:
---
Jay,
I had some custom knifes made and was interested in your custom leather sheaths for them. They have a deer horn handle and are a skinning knife with a gut hook on them, so the blades are short and wide. Would you be interested in making me 3 sheaths?
Go back your custom knife maker and ask him to make a custom sheath for your custom knife since he didn't complete his custom job to your satisfaction. He'll be a better maker for it, and you'll be a happy customer!
---
Hi, my name is B. and I would like to know if you sell any of your knife blanks without handles. If you do, how much do you charge?
-B.
Sigh...
---
Jay,
Your web page is interesting. I do not make knives, I make canes. I have been working on stone handles which I mortise into a wood shaft. I am having a problems with the tenon breaking, the stone is brittle. I use what I call "black river stone" which is very dense fine grain and pretty tough. I find these stones here in S** C**** and out in the desert. When I find the stones I only use those that stand up to very rough testing by hammering then together. As I work them I drop them on the concrete floor and the surviving handles are used. The shafts are turned from old wood furniture and handles: rake, shovel, pick axe etc. Do you have any suggestions for rocks/minerals that are very tough and resilient? I offer my work free, only to people who use canes. An aquaintance of mine, knife maker C***** S***** suggested bone, ivory and horn but considering my budget free materials are best.
M******
Answer: use better rocks. Maybe put some on the end and in the middle, to help build muscle in those cane-users.
---
Hello jay my name is m*** b********
I work for a tool and die co. we have a client who wants us to make a die to cut ¾ in standard pvc pipe. We are experimenting with blade design and I found you website and was wondering what type of blade design you may suggest. Any help would be appreciated. The width of the blade would be 1 inch tall since the material is .850 od.
Thanks M*** b*******
M., my research has shown that PVC pipe is rarely found in the soft cheeses of the regions. When it does occur, perhaps in some carelessly processed Coulommiers, I like the 246 degree angle, and a double back bevel induced reverse convex edge for superior performance. Tool and die? Really? Sigh...
---
Hi Jay,
I took a look through your webpage. Beautiful variety. I've been making knife handles for stainless steel blades from a catalog for the past year or so. I've been interested in better quality blades, though do not have the resources or skill for those that I've seen on your site. Do you sell finished knife blades to those looking to add their own handles?
Regards,
C. G.
Yes, I do. They're called the suggestion to purchase a Wilton variable speed belt grinder and a heat treating oven with all of the accessories. Please take the time and learn how to use them, and it will be worth it!
---
Hello Mr. Fisher,
My name is S**** :D
Could you please tell me the cost of acid etching the blade on both sides of a V******** S***** as well as the cost to etch both sides of the tools as well (except for the Awl). I would like florentine or celtic etching to be done on both sides of the blade and tools.(no text on the design) This item is going to be a wedding present for a dear friend of mine. He has a taste for the finer things. Please return my email with a price quote.
I will need 2 such items to be acid etched. One for the bride one for the groom. For now I will just be needing a price quote so that I can factor the cost into my gift budget. If this service is not possible please let me know as well.
Thank you for your time and consideration.
Sincerly, S*****
Ahh, a taste for the finer things, has he? A $34.00 folding knife made by our Swiss friends... no etching is too fine for this big spender. And to acquire one also for his wife? I can see them on the alps now, cogitating on the splendor of their ornaments while cutting their Vacherin-style Flada.
---
Jay,
I'm looking for a present for my husband where I can utilize some elk ivory from an elk he killed last year. Can you call me to discuss options that you may have?
Thank you,
T**** G********
Perhaps a nice set of zipper pulls, or-- wait! I've got it. He can cap a few of his incisors with them and whistle for you when he is in an amorous mood.
---
Dear Sir,
We are a West African company into trade and exports of Raw Cow Horn for its various uses in large quantities from West Africa. We have more than 7000 pairs available MONTHLY for immediate supplies. We are interested in supplying this prestigious company Quality Raw Cow Horn for its various uses that suits your company. These Cow Horns have sizes btween 18-30cm and above. Packaging:BAGGED OR LOOSE IN CONTAINER OR ACCORDING TO BUYER REQUEST
I'm so glad I received this invitation to purchase. I want to see the look on my postman's face when he delivers 7000 pairs of cow horns to my studio. I'll have them delivered raw (is there any other way, like cooked or something?). I'll also request that they are shipped loose and in an inverted fedora or nice brown derby hat, just for fun!
---
Hello!
Dear Sir
How Are you? Very Long time To Not Come your . I am Worry. I hope All Are going Well. If you have Any Work Please Tell Me. I am every Time Want To Do your Work. If you have Any work For Me. Please Say Me. I Have may Item For you. I am Wait Your Reply Thanks
Best Regards
Ram l****
Dear Ram, I am. Tell no. Work some. Wait much.
Regards, Jay
---
Jay:
I'm looking to have this carbon fiber design I had created and make it into real steel. I have all the dimensions for the double edge blade. 'Protector' double-edged combat knife. Overall length 7 1/2 inches with a 3 and 3/8 inch, black oxidized steel to prevent reflections and a black polymer rubber or black nylon rope handle. I prefer to carry it at the back of my belt, allowing me to draw it easily and quickly in either forward or reverse grips. If and when I had to use it in hand combatives, I would always aim for the heart, throat, or axillary artery, and thus a single strike with the weapon always results in the immediate takedown of the target. I have some other ideas too..
Regards, C.
I have ideas too, only not so violently graphic. Perhaps you should lay off the video games and sadistic movies for a while, just to get a little more.... centered. Ahem.
---
I have this knife design that i have been trying to make, mostly it's just the grinding I can't do,it's not a difficult grind or anything I just don't have the skill to grind it to make it look decent, It is a 15" knife, I don't know of you offer maybe just grinding the knife blade, but if this is somthing you would do I can email the pattern to you,
D.
And now you know one of the most difficult and challenging parts of knife making. You can say that grinding is not difficult, yet somehow it is. This is why so many guys (and manufacturers) have poor or flat grinds. Good grinds are hard, difficult, and it's easy to notice if it doesn't look decent.
---
im making a knife that looks a bit like a khukri . do you have any hints on putting the fist edge on it. right now its a blank and all we have is a bench grinder or a belt sander. we used the sander on my throwing knives but i dont know how i would use it for my present knife. any hints would be helpful.
Thanks
P. M.
You know, I've heard that if you position that sander just right, it can throw a knife blade clean through a piece of 3/4 inch plywood. And just what, pray tell, is a "fist edge?'
---
Dear Jay,
we have bought two red stag handle knives in the last month when we got them they had a very visible crack in them is that normal to get two different handles with cracks from c*** knives.
Thank you m******
I didn't answer so she sent another:
Dear Jay,
We have bought a stag handle knive when we received it it had a a crack handle does this hurt the value of the knife to a collector or do we need to send it back and get another one.
Thank you
M******.
I don't know how you feel about the aesthetics, M., but perhaps you could send the knives back and ask that matching cracks be added to the blades. That way they would have flow.... Feng shui, if you will.
---
Hey Jay,
I have a knife question for you that I was hoping you could answer. I have a large knife that has a black coating on the blade. The sheath scratches the coating off when I take it out of the sheath. My question is, is there a way to take off the black coating from the blade so its just blade with no coating?
Thanks,
K.
Sure, that's easy. Just keep sheathing and unsheathing until you have a uniformly scratched blade. Kind of like hand-finishing, and you'll have something to do in front of the TV.
---
Good day
I would like to buy 2 pieces of micarta ivory for a small project.
I can pay with pay pal.
I found the site very complete and inspiring, but why say 440c is a favorite steel . its just to soft.
I am an electrician as well. would like to learn to make knifes but stock for making them is very difficult to import from overseas and expensive as well.
I bought a 440c knife but found the soft blade a nonsense needs constant sharpening.
then bought a AUS-8 temperd much better.
Do you sell billets of aus-8.
Thanks F. A.
F.A. has some issues with 440C (among other things). 440C can be as soft as mild steel 35HRC in the annealed and spheroidized condition, or harder than a metal cutting file at 63HRC. This is the job of the knife maker or manufacturer. Obviously, the maker of the knife he refers to missed the mark. Instead of blaming the maker, he blames the steel. He opts for a cheaper, lower alloy content, less wear resistant blade of AUS8. My suggestion? The site is indeed complete, and describes in detail the hardening and tempering process. Be inspired enough to read it and learn some!
Then, he shoots off another:
Good day
I have looked at a few 440c knifes even american ones that are well know names but they seem to be the same.
aus-8 has tungsten according to what i have read on web.
Is there a websites that can describe the tempering of all steels in detail on the web.
Thank you
F. A.
What? Huh? I don't know where he is going with the whole tungsten thing, as this is a fairly common alloy in tool steels. The inspiring thing is to know that without even answering him, he is on the right track, suspecting hardening and tempering is the important factor. Great!
Are you inspired yet?
You can use plastic scraps for handles on cheap knives, just don't try it on expensive ones.
No one will buy them.
Another one that deserves its own box:
Jay:
I was reading your reviews on composite handle materials and I was a little dissapointed at an aspect of it. For thousands of years great knifemakers have made great knives out of less than great materials. How can you say that you would not expect knifemakers to use these materials on high end knives?
This guy starts his email referring to my Manmade Knife Handle Materials page, which disregards homemade hardware store epoxy mixed with someone's old denim pants for handles... Sorry, I don't see that on high end knives, no matter what you write.
You may have a material that you like and that is great and I do like your work aswell, but there are many knifemakers out there looking for materials that work for them and there style. To make a bold claim as you have, discounts so many great artists work.
You can be a great artist and make a knife out of papier mache, if you like. Just don't expect it to be of high value, what knife makers call "high end." This starts with the concept that knives are first tools, and then works of art. So a knife handle must be durable first, in order stand the test of time and use. The value does not exist solely in the material's durability; there are a dozen other aspects that I'll go into in my book. He goes on:
I don't use 440c, I don't like it, but if a great knifemaker uses it he still can make a great knife, worthy of the highest end collector.
He hints at a slam on 440C, but this is an important point. The reason that 440C has been used and is still used on many extremely fine knives is because it is a great and proven martensitic tool steel. He does not say why he doesn't like it, perhaps he does not like its high corrosion resistance, high wear resistance and high long term value... or maybe he just can't make a knife from it! See, I can slam with inference, too!
You should make a knife out of all these materials and rate there workablility vs look vs fuctionallity instead of rating handmade knives in general. Basically painting a poor picture to any handmade knife made from these materails.
What the heck is this guy talking about? After making knives successfully for over 30 years, I've got it all wrong. I should use his narrow and badly spelled factors to rate knives... And let us look at those factors, shall we? The first is a dead giveaway: WORKABILIITY (at least I think that's how it's spelled). This shows that he thinks only easily workable materials should be used on knives. Darn that 440C, and all those other hard-to-machine modern stainless and high alloy tool steels! Darn that hard wood, hard plastic, and double-darn that rock, because he can't work with it. Ahh, but that makes it more rare and more valuable. The second word is (supposed to be) FUNCTIONALITY. Well, a butter knife functions great if you put an edge on it, so why bother with handmade knives at all?
I have dedicated my life to knifemaking. I have used rainforest wood , ivory, pearl you name it. I would love to find something to work with that doesn't mean another fallen tree or a fallen animal. Some of the materials you mentioned negatively, have a very minimal environmental impact and look absolutely amazing on a handle.
Okay, he's dedicated his life to knifemaking, so how about reading a little about it and getting educated before he goes flying off and shooting bloated and incoherent emails to successful knifemakers who have clearly dedicated themselves to the craft? He's obviously on the eco-terrorist fast track, flagellating himself for having murdered countless flora and fauna for his meager knife handles. These are his demons, not mine. Trees live and die, many of the exotic woods makers use are farmed just for wood products. I don't use many animal parts on knives, but most of the ones used (like horns and antlers) are shed yearly. Does he think that Giraffes are slaughtered so knife makers can use their leg bones for handles? Heck, I don't use bone anyway, so why is he writing me about this drivel? To top it off, I can think of no material that has less environmental impact than gemstone! No plants or animals have to die, and the butterflies can traipse around the rainforest in leisure and comfort knowing that Jay mostly uses rocks on his handles.
Not to mention who cares that corian gets soft at 300 degees or needs to be sealed? I don't know anyone that would take a handmade knife and stick it in the fire for any reason.
Ahhh. We have discovered the culprit. It wasn't the pants in epoxy he's grumbling about. He's made a knife handle in Corian, a kitchen countertop material, and he's embarrassed about it. He is hoping that high value investment knives fitted with acrylic thermoplastic that easily melts, scratches, and stains will be the new horizon for investment value. If I would just jump on board and support this effort to save the whales by using cut-offs and trims from kitchen remodels, all will be right with the world.
Most great collectors knives are never even used. The look, the feel, and the man who made it are the critiria for any great knife, not something as mundane as what it is made out of. I hope you take this in the spirit it is intended.
S****** T******
His comment that "Most great collector's knives are never even used" is testament to how little this man knows about fine handmade knives and the very art, craft, and trade that he claims to have dedicated his life to. One of the most significant factors of a fine collector's knife is that it must be of sound construction and design so that it yields a hardened and tempered blade and a well-made, useful, beautiful, and long lived handle. This is at the root of all knife making, and this is not something I made up; it is a clear and historic practice and requirement of our trade. Every successful maker knows this.
He then discounts what a knife is made from as mundane. WHAT? Are we supposed to ignore history in our art and trade and make handles from recycled Wal-Mart bags mixed with newspaper and fish glue?
His last passing comment is to "take this in the spirit it is intended." Just what spirit would that be? Confrontational? Derisive? An affront to history and our art and trade? The lesson here is: You can use cheap countertop scraps for handles on cheap knives, just don't try it on expensive ones. No one will buy them.
hey im w***** im only 16 and eager to learn but ill cut straight to the chase. Your site and knives are great and very diverse but i found one thing very disturbing in the "what i do and dont do" page or whatever page it was and you said you do not take on appretices and i heard your reasons and dont take any offense to this but i think your stupid and to a degree selfish in this regard not dumb stupid but not using your brain. because from what ive read and seen making knives is a real art and finding out how to make them and use the right materials and tools is incredibly hard unless you have alot of money or are very clue like you, and the main reason is that this 'trade' or craft whatever you want to call it is dying out (like whip making(im currently learning) and many other crafts, and the fact that your 'to busy' to train anyone i believe is a waste of knowledge because when you gone all the things you've learnt and figured out will die with you and i find this a great shame because if you really love what you do you should want to help this craft and its craftsmanship stay alive and if you do end up training someone that will be one extra person who can help you and you will have time for other things or more knives even if you train them to till they can work on there own and they can work with you mostly by themselves but come to you for the odd question, consider it an investment of well spent time and knowledge that they can carry on and teach others. remember that you will die and your knowledge will go with it if you do not train or help someone else out to make knives your knowledge may help hundreds in the years to come. if you ever read this and i hope you do, make your own decision or at least think about what i have said.
with all the respect, to you and your craft which i wish to do someday.
w.
p.s sorry if ive offended you i just believe it is a waste of knowledge and your lifes work it has happened to too many crafts. (as you can see im very opinionated ha ha ha.)
Remember when I wrote earlier on this very page that the most offensive emails I get are from people who insist I teach? Well, here we are again. Since this guy is 16, I'll cut him some slack, but not much, since, at 16, he's entering manhood and should learn how it all works.
First, if you think I'm stupid, why would you want to learn anything from me? And yes, I'm selfish. I'm keeping everything I know for the purpose of taking it to the grave with me. I'll stand at the feet of God and tell him "I can make a knife for you and no one else on earth can." Good grief.
To hint that I'm "too busy to teach" is another curious thing. He would have me spend all of my time teaching (because that is what it will take, based on the amount and scope of these requests) while my patrons wait forever for the knives they've ordered and my family starves and I lose my home and assets. But, he's 16 and has little knowledge of responsibility.
W. also has some problems with the whole "lost art" stuff. Whenever you read about lost arts, realize that the art is not lost, or it wouldn't even be presented. Lost means lost. Believe me, there are plenty of knife makers in the world, the art is not lost, and millions of knives are being made yearly. Millions. He also thinks that it takes some great amount of money or resources to learn, which is just ridiculous. I learned how to make knives by purchasing every book on the subject (at the time there were 5). Then I started making.
W. also has problems with my own personal legacy. I'm so glad that he is concerned about a stupid person's legacy; everybody should have one. I do have people who work and learn from me. It starts with my sons who work in the Studio. It extends to grandsons, and perhaps a granddaughter one day who have an interest in the arts. More importantly it extends to the very young man who is writing the email. He has access to hundreds of pages of information on this very site, for free, at any time. This is information backed up by example, something many instructors do not offer. This information is archived regularly in the Library of Congress of the United States of America, the world's largest and most important library, and will remain there for as long as our country survives. How's that for responsibility, eh?
My personal advice to him would be to learn about responsibility and how to provide for himself and eventually provide for a family, while leaving the whole "legacy to the future of mankind" to the dreamers who think the man of the future will somehow have less information than we do, which is, of course, preposterous.
Please exercise your sense of humor here!
---
Dear Sir!
I am not (at least, not know) intersted in purchasing your respectfully knife. But I want to try in future some patterms from "http://www.jayfisher.com/Custom_Knife_Patterns.htm". I'm going to make them from wood. I am not knife maker, not knife collector, I'm not going to make money from this. I just want to feel their balance. May I? By the word, here in Russia we don't care of your strange copyright laws. But you reccomend to ask permission first, so I do. Best regards, D.
Dear Sir! I care not for your strange email and your Russian practice of making wooden knives just to feel their balance. I will not make money from your email, but will use it anyway. I wish you to get respectfully splinters and nasty infection. Perestroika!
---
Occasionally, I receive emails from other businesses trying to run their business on my efforts. This can present in many ways. One of them is when one of their clients sees my site, and wants something I have to be used by the other company. Here's one from cheap jewelry company with "Mookaite Jasper knife handle" in the subject line:
Hi Jay,
this customer is interested in the subject line above, can you get back to me with a quote please. Also, your website emails and links aren't working. Thanks,
S. S.
I am certain my website links and emails are working fine, I just didn't answer her earlier emails. She thinks that by claiming some malfunction of my site, I'll answer her. She includes a copy of the email sent to her:
Hi, I am interested in this item. Please provide full description and pricing.
Thanks!
S. A.
Commit to the feeling and take the risk.
Oh, brother. These tag lines and personal statements are embarrassing. Commit to this feeling: you're a washed up hippie and the 60s are over. Take the risk of not sounding like a flake. Go find your own jasper.
---
I have a ton of ipe (south american) hardwood that I would like to either cut to size and sell,or another simular type application that would accomidate a company like yourself...can you help me
I appreciate offers like this, but don't know what I would do with a ton of wood. Ipe is a very hard and durable wood, but it is distinctly plain and very boring, with a peculiar yellowish colored resin between drab green grain. He can sell it to companies that make durable decks and planking, but if I tell him this, he'll want contacts, locations, numbers, amounts, and other specifics. He could just do a web search, but it's probably easier to have Jay do all that for him...
---
Jay Hello
My girlfriend has a kitchen knife that she has owned for years and doesn't want to part with. The knife is fine the handle is cracked and needs to be replaced. The handle seems to be made of some kind of yellow plastic material but I'm not sure.
Do you replace knife handles? The handle is approx 5" long The blade is approx 9"
Thanks,
S.
S., tell her the crack in the handle is hosting all kinds of bacteria, viruses, and contagions. Tell her she runs the risk of contracting incurable cootie madness if she does not part with the knife. Then, man up, and buy here a nice new knife.
---
Hello,
I have a pair of machetes they are 24" from hilt to tip of blade? They look like some kind of ceremony sword or machetes? Can you tell me anything about them?
Sincerely,
Mr. J. C.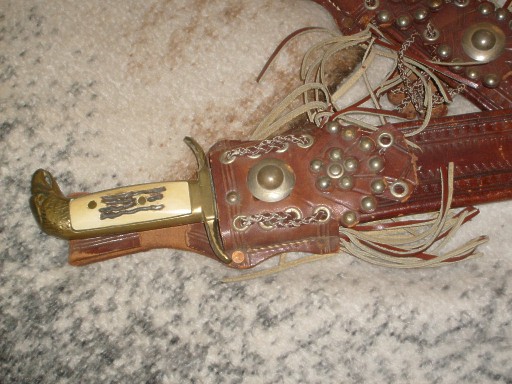 This is probably the most common type of knife or machete handle that people inquire about. It is the cheapest, most common and worthless tourist crap that comes from Mexico. You may find these with crude scratchings on the blade, often in Spanish, proclaiming they honor some great event or campaign, country or location. They are always recognized by the eagle head cast on the handle. The plastic handle scales with the burn gouges are a nice touch. The sheath has more leather and fringe than a 70 year old biker hag on a Harley, and they are more common than toast (which is, curiously similar to our biker hag's skin). Celebrate the ceremonia de motocicleta abuela!
---
Camo D****** ( *url deleted* ) is a quick and easy, do-it-yourself kit that lets you apply a variety of the world's most popular camouflage patterns to anything you like. Our patented water transfer process, also called hydrographics, is a way to transfer an image to a 3-D surface. Far easier than offset printing, vinyl decals, and similar covering methods and at a fraction of the cost The Camo D****** process can be applied to the surface of materials such as metals, wood, plastic, stone, bakelite, ceramic, etc The printed film is placed on the surface of the water, and the base begins to dissolve. A patented activator chemical is sprayed over the film causing the ink to remain floating in an oil-like state on top of the water. Next the properly prepared part is immersed into the water, and the upward pressure of the water causes the ink to wrap around and adhere to the item. After the entire item has been immersed, it is removed from the water, cleaned and then coated with a clear coat. Included in the kit is a link to a set of video instructions that walk you through all the stteps plus a 1 x 4 oz aerosol can of activator
This was the entire email. No invitation to join the Camo club, buy the Camo tee-shirt, or get on the weekly Camo newsletter. After reading it, I want to camo everything! Forget knives; we've got a new grandchild, and I want to see what he looks like all camo'ed up! That way, he'll match his Camo diaper and Camo stroller while gripping his Camo bottle. Oh, wait... we won't be able to see him and he'll just disappear into the background...
---
I want a knife sheath to go on my back so I can reach my knife from the collar of myshirt
as if scratching the back of my head I'ma fighter and recently a silat practioner. I work for a carpet cleaning company though and we work in bad neighborhoods where one of our techs got jumped. Please let me know if it'd be possible and how much it would be.
J**** "The Punisher" G*******
I've known a few bad-asses in my day, but only dreamed of an email from "The Punisher!" He's a legend among carpet techs, thrashing the soil right out of the worst Berber-Saxony blends. Having him conceal a razor-keen tanto gives a new meaning to "plush cut-loop" styles.
---
Good evening Jay,
Hope this is finding you well. I have been admiring you site for years now and really like what you've done with it. You have a great and extensive glossary on knife terms. I would like to submit to you a new knife term, it's B*** W****®. It's a revolutionary blade grind invented by myself. It's two diagonally opposed bevels converging to create a third cutting edge. You can see the info on my site. (*url deleted*) I would like to hear your thoughts on it.
Continued success,
B**** "Remi Velisque"
Mr. B. seems rather over-ambitious and does not want to hear my thoughts, he wants me to push his new invention. It takes a lot of gall (or a lack of sense) to write to a professional and insist that his "term" be inserted on the professional's web site.
What is this great discovery? It is a distinctly thick, blocky, and poorly executed way to shortcut actual grinding skill and effort. It is a mishmash of geometries that fall between a cold chisel and a screwdriver. That this guy is trying to push this as a viable blade grind is a cheap, lazy way to try to sell something it takes little effort and skill to make. The weird triangular profile blades can not be made sharp because the angles are too square, it can not be sharpened into any viable form one would call a knife, it can not slice, cut, or do any of the things a knife should do, but it can pierce, just like a screwdriver or pointed metal rod. Does he honestly think that this is somehow "revolutionary?" That in our lengthy and dedicated history of blade construction someone did not ever think of this? Perhaps they tried to sell it, but couldn't and there is a reason for this. If you want something just generally pointed, get an old screwdriver, ice pick, or sharpened stick in a pinch. A pry bar is just as effective, and a lot stronger. This is nothing but a cheap piece of metal hastily constructed with obvious lack of skill. He's trying to push this "revolution" with the same type of hype and misleading information that the worst mass marketing firms use, and undoubtedly he will find some sales, as people are always looking for something they perceive as new.
My advice is to look to history for the answers as to what makes a good blade. Proper geometry producing thin, long lived, low angle, sharp grinds made from durable, corrosion resistant high alloy materials have proven themselves for centuries. Mr. B. does not want to know this from me, but will probably learn it through the very site he claims to admire for years. Maybe he'll write me a nasty letter, chastising me for having an opinion he asked for.
The motto he includes is very revealing. It generally means "with oars and sails, full speed ahead and with all your might." I suggest looking to history, understanding that you must have a good boat first, and then put BOTH oars in the water before you row like hell.
---
Is it normal to have scratches on a knife bolster ordered over the internet? I collect Sunfish. I recently received one with nickel bolsters that have fine scratches. I don't think there should be any scratches but people say I'm being too picky.
Thanks
L.
L., this is something that I stay up all night worring about: your Sunfishies
---
Jay,
This is somewhat of a strange request, however, after much research on the 'net I decided to ask you for some help nailing down this blade design. It is a blade (blade to left against wall; blade only, no handle) made by H. D. in the early '80's (he died tragically in an airplane crash in '82) recently purchased the blade and was told it to be a type or Dirk, however, I can't find anything of a Dirk that is similar (especially the little ring near the choil). Can you help me identify the blade and it's use and or historical significance? Sorry for the poor photo but it is the only one I have at the moment. I will be getting the blade in a few days and will have professional quality photos soon. Let me know if you kneed a better pic.
Thanks in advance for any help and information.
By the way, your knives are absolutely INCREDIBLE!! I do a lot of rock hounding here in Montana and love the fact that you use such amazing stone in some of your handles. WOW! I specialize in Limb Casts and love agate very much. We have some world class specimens here.
Sincerely,
M. M.
It's actually very easy to nail down a blade design. I like to use galvanized 4-penny nails, hobbed to my drawing table which is a gum-maple blend. That way, when a stiff breeze pulls through the shop, they won't blow into any uncured and sticky epoxy hanging around.
---
Hi, Jey!
I'm A. L. from Ukraine distant shore. I'm a web-programmer by profession, but romantic-knifemaker by nature. Recently by chance via surfing through the web I came across your works. I was really dumfound by aesthetics, variety of your models and also delicate workmanship. I was astonished that unlike most of masters, you hand on your experience to the hipped on knifes. You strike a spark out of my heart, and I heart and hand start to do a site on knifes for benefits of all crazy for knifes in Russia and Ukraine. Here it is www.***********.com.ua my newly-born web-site. If you don't mind I can translate and publish your master-class on my site with the links on your original site. This way about 100 000 russian-speaking Internet users will have the possibility to know about you and your works. What do you say about such outlook?
Await your response,
With kind regards,
A.
Hey, my hipped and cooled brother from across the distant shore! Yes, I, too have Outlook, version 2007. Should I tell him about Google Translate? The 100,000 Russian-speaking internet users are already downloading and translating all of my pages, but thanks for the kind words!
---
Jay,
My name is S. A., I am in the Air Force currently in Afghanistan. We just built a forge and are currently building knives in our shop on our off duty time. We ran across your site and wow! Your work is an example of true craftsmanship that I didnt believe existed in America anymore. We are speechless. Your website has become an inspiration to us, thank you!!
We are curious if you would like some photos of us in action in our attempts to create a knife. Some attempts have turned our great, some not so good. We are currently attempting to fashion lapis into handles.
Thanks again Jay, your passion for your work is clearly evident. Refreshing to see that these days
Thanks, S.A.! It's pretty hard to understand why the best military in the world is not even offered the best knives, and why units are no longer issued knives, so guys are making them on their own in the field of combat. At least they have access to a lot of Lapis, Afghanistan's second biggest export, after heroin.
---
Hello Jay:
My name is K. B. and I would first like to offer up an apology for the context of this e-mail. I understand that you are very busy and any time you spend reading this message is time that could be spent on knife inquiries or filling of orders.
K., do you really, really understand? I don't think you do...
The reason I write is to ask you about your raptor kerambit knives. If I felt that there was an answer to this particular question on your site I would not feel it necessary to bother you with incidentals.
If you "felt" there was an answer? That is your justification to soak up my time? Yeah, it's all about you and your feelings.
I read on your site that you used that you use a combination hollow and taper grind for this model's blade. Where and why do you use this combination of grinds and how does it affect they way the knife cuts in comparison to one grind or the other?
Because I FELT LIKE IT.
Any information you may be willing to provide would be most welcome. Thank you for your time and keep up the great work.
I'm not willing; I don't feel like it. Thank you for your donation to this page.
---
Good day Jay
I am including a picture of an old family knife maybe you can tell by the picture below what it is made of because I think its a stag antler but the others I've seen are much darker in color. If you could be of any help, i would greatly appreciate it.-- T.
Ah, yes. This is the holy grail of knives, sought by the ancient Greeks, honoring the battle with the Etruscans at Battle of Alalia. While clearly no winner, the Exalted Ruler of Corsica, Demaratus, was the one who made this very knife! It is known in the archives as the Corsican Alalia Tyrrhenian Fearsome Maw. The video game came after 520 BC, and was based on the search for your very treasure. I am seething with envy at your precious find!
Hi jayfisher.com owner,
What a thoughtful, considerate, and kind way to introduce yourself. I feel personally touched by your generalized, non-specific, and nebulous way of contacting me. Could it be you never even looked at the site, just cut and pasted the URL into your mass-mailed email?
I'm the owner of the online retail store *********.com. I had the opportunity to visit your site today and believe your content could be of interest to our customers.
What? He had the opportunity? What a typical salesman's word choice. And he mentioned customers, which already has me signing up.
Would you like a free listing in my Outdoors Recreation and Personal Security Links Directory?
Oh, that's the bonanza! He's going to give me a FREE listing! Oh, such dreams were never anticipated. I'm slobbering.
I have already placed a link to your site along with a description at "http://www.*********.com/custom-knives.htm" for your review. If you need anything modified please let me know.
What? What did I do to deserve this generous and magnificent bonus? And I didn't even ask! He's anticipated my every desire; I'm stunned and humbled.
I would appreciate if you placed a link back to e*******.com using the title and description below [INSTRUCTIONS IN BRACKETS]::
What? Wait a minute-
[TITLE] B*** Knives [LINK THIS TITLE TO OUR HOMEPAGE AT WWW.********.COM] [DESCRIPTION] Free Shipping on All Orders of B*** Brand Outdoors Recreation& Personal Security Gear!
What? Wait! I thought this was about me!
If you are interested, simply reply to this email with your confirmation.
Confirmation? Of your assault on my person? Of your sneaky way of using my site to advertise your site? Of your attempt to milk away my customers while blowing smoke up my skirt?
Once our link is active in your directory we will upgrade your listing to preferred partner status, activating your link and adding a preferred partner checkmark to attract more traffic to your site.
Oh, yeah. Sure. Once I've complied and agreed to the assault, you will begrudgingly acknowledge that I've been used. Then, you'll lower yourself to accommodating my needs. Maybe you'll scrawl my telephone number on the bathroom wall at some sleazy rest stop.
Hope to hear from you soon,
Oh, sure; don't call me, I'll call you. Just like all the rest of the web-based pursuits. Use me and shake my keyboard. I feel so ... soiled.
D. E. - Owner of *********.com
D.E. just doesn't get it. The old "your URL for my URL" doesn't work. It's just a ploy to milk business away from my site with the empty promise of increased traffic. The truth is, his site was selling cheap factory knives and junky imports and wanted to piggyback on my efforts, traffic, and web notoriety. My site has been around since 1995, and is still going strong without this kind of ploy. His site? By the time I posted his email here, it was already gone. Plug in his URL and watch the local provider display the screen: "Website not found, possible web site suggestions." In web terms, he's dead. Thanks for the invite!
Hello Jay
Nice to meet you here below is what I have its a 1971 G****** MK 1 that my uncle left me, I would like to have it restored, also if I could get another sheath made for it 1. In light brown leather with a metal clip on the back, And another in a kydex version for it. Handle needs some fixing as paint has come off thru the years of use, also as you can see the last cutlery shop that sharpened the knife for him left scratches above the edge the sharpened edges. Jay this knife will be displayed in a case with my uncles Bio history in the war. Thank You for your time Jay hope to hear back from you soon.
Best Regards.
R.
Even painted knives are treasured for who owned them and where they have been. Like an antique, if you have an old knife like this, it's best to leave the scars and memories intact, not to have it refinished to looking "new."
---
Jay,
I came across a webpage of yours and understand you specialize in the production of high-quality blades and was wondering if you are presently using a diamond powder for the finishing of your blades. Diamond powder would allow you to give your blades a high shine and of course can be used in sharpening as well.
If this is interesting please let me know
Thanks
D. S.
He evidently thinks my blades are not finished and this stuff would allow me to give my blades a high shine. This is interesting, because I'm already known for having some of the best mirror polishes in the world of custom knife making.
Would it help him to know that diamond particle abrasives are actually destructive to the finish of high alloy tool steels, and will leave the surface scratched and deeply scarred? No, because then I'd have to detail the exact finishing process to him, all 15 steps including type of buffs, stitch spacing on the buffs, rotational speed of the buffer, pressure, directional application, and feed rates... sigh. Diamond abrasives have their place in finishing, but not on blades. Selling the dream, but not the result-
---
In this spot, I was going to insert an email I received from a service that sharpens knives. The email is quite literally pages long with several options for me to benefit by my posting links to their site... I got exhausted just reading their endless drivel, so I spared you some of your precious energy by deleting the whole thing!
---
My name is T. K. and i am a jeweler in S************, TX. I have been given a task of finding someone who can or knows who can etch a flat piece of Carnelian. I noticed on your website that you may have some experience with this. If you have any ideas they would be greatly appreciated.
Thank you
T. K.
And what a task that is; you must be very proud to have been chosen. Since I make knives, quite naturally, I would know just how to etch Carnelian. The last Carnelian blade I made was destroyed in the Shintu 465 galactic takeover by the Drulls. Though it was etched with a five dimensional starmap to Eisengraub, the shrine planet of the Estobobbins, the blade snapped in battle after slaying a Frolgostin. Alas, the fragment that had the critical information (deeply and beautifully etched, of course) remained in the festering giloblast of the Frol, so, quite naturally was irretrievable due to the overwhelming stench.
Such is the life of a knife maker...
Since I did not actually send this rather creative response, he sent another, with greater detail:
My name is T.K. and i am a jeweler in S************, TX. I have been given a task that I need some help on. We have a client who has a 18k yellow gold family crest stamp.(very very old). The family crest is etched onto a piece of Carnelian. I noticed that you may have some experience in etching gemstones. If you have any information you can share with me it would be greatly appreciated. Thankyou,
T. K.
L. Jewelers
Ahh, why did he not state this in the beginning? The only family crest that is very very old (vs. very old, with only one "very") would be the family crest of the early Truwarb Clan of Estobobbins themselves. Perhaps in that very crest lies the key to the five dimensional starmap that will lead the Estobobbins back to Eisengraub! Get it to me immediately, I'll even pay extra for overnight!
(Of course what he does not know is that I'll promptly sell the crest to the Drulls, since they have my grandfather imprisoned somewhere in the Shintu 465 galaxy, while they wait on me to etch some lepidolite with tourmaline crystal. Yes, that's the life of the knife maker, wheeling and dealing with lives on the line and paradise-planets in the lurch.)
---
Jay,
I have a C*** "Boot knife" that I would like to have plain Ivory handles made for. I have attached a picture of it to this email. Could/would you do this job? If so how much?
Sincerely, Dr. R. G.
A doctor? Really? You ought to be making more money! A cheap, throwaway Chinese knife with plastic handles and the inclusion of a raring horse makes you think this thing is good enough for ivory? Maybe you could acquire some cast-off horse bones from a French restaurant serving "saucisson de cheva." This would be a more appropriate realm of handle material.
---
Hi Jay
My name is Dora and im new to knife making. it is very difficult not to ask a question about your knives because they are beautiful. im writing to ask if you will be at the blade show in atlanta. i would love to walk by your table. thank you for all of the information that you provided. it is very helpful for newbies
I knew the day would come when Dora the Explorer would saunter by my table... wait. I don't do shows. She'll have to explore elsewhere.
Hold on to your hat; this is a good one.
If I describe what I want can you give me A rough Idea OF HOW MUCH IT WOULD COST to have this knife made? finished blank would be 10 " in length in high carbon steel or Damascus ( no stainless). Blade would be 5 1/2" long 1 1/2" width at widest point approx 1/4" thick / handle 4 1/4 long/ full tang ( this is up to your input as you are the expert-3/4" wide at narrow with outward curved lanyard attachment loop to 1 1/4' wide at end and A combination Pummel/ slot head screw driver tip center end of handle approx 7/8" thick with 3 rivets or screws in A leather or Micarta textured for gripping handle with A detent on left side for right hand thumb, A narrow light weight guard to keep hand and thumb from slipping on to blade .Aluminum or magnesium? Blade should have A straight back with shallow angle cutting edge about 4 millimeters from tip extending back 2 1/2" with about 2 millimeters before A 1 9/16" long on of staggered angle saw teeth approx 3/16' deep, 4 millimeter flat space then A thick topped notch AROX 3/16" DEEP And 10/16" long to act as bottle opener and parachute cord/wire cutting notch then flat topped to Hilt. Main cutting edge comes down from curved tip with no ground for Approx 4 Millimeters then starting narrow A hollow ground edge that widens so blade section not ground will have A tanto like shape with slight curve at bottom of grind approx 3 1/2" in from tip to deep hollow grind main cutting edge approx 3 1/@" long by 1/2" deep that will then angle up at about A steep but not lat angle where the blade will now be approx 1"wide , at this area A 14/15" long serrated like A steak knife section that ends approx 6 millimeters from where blade meets the hand guard and at A 90 degree angle narrows it width to me with (top to bottom) of part of blank for handle approx 3/4' or what ever handle size for average hand. use for knife is combo thrower /hunter/fighter / utility. A leather or kydex sheath with belt strap , and leg ties strap slots would work well with this knife would be blued or dark rust protective coatings on all non cutting surfaces.
How much do you think it should cost to make such A knife? Please reply with estimate and if we decide , and you agree I will send you A copy of my drawing. Please note Pummel and slot head blade is not an absolute necessity and having the loop for the lanyard attachment takes up the back end of the handle is good too good too maybe A flat ground section to act as A slot screw driver edge on the loop would work too. To be honest IF you like this design and since I am NOT in the life making business you would be welcome to include the design in your offerings. If this is something you do not do, or would not do can you refer me to someone who would , who's quality of work you respect and would recommend?
Sincerely
G. E.
This is a good example of how not to start your email conversation with the knife maker. This one is such a confusing jumble that I had to first put it in toto so you experience specifically what the writer intended. Just for educational purposes, we're going to dissect this complex code to try to get to the heart of why I can't answer this type of email. In keeping with the educational direction of the website, perhaps others will learn something of value. Though I like to hear people's ideas about knives, it would be best if they first learned how to express themselves in short, clear, bursts of information rather than lengthy, rambling, scattered thoughts.
Please refer to the points below which are presented roughly in the same order as they occur for the reader of the email.
If I describe what I want can you give me A rough Idea OF HOW MUCH IT WOULD COST to have this knife made? finished blank would be 10 " in length in high carbon steel or Damascus ( no stainless).
Capitalization should be at the beginning of sentences, and no where else. If the writer had the intention of SCREAMING (the casually accepted email purpose for capitalized strings), why would he scream about the cost? Perhaps his objective is to scare away the possibility of a high quote, keeping his budget intact.
Blade would be 5 1/2" long 1 1/2" width at widest point approx 1/4" thick / handle 4 1/4 long/ full tang ( this is up to your input as you are the expert-3/4" wide at narrow with outward curved lanyard attachment loop to 1 1/4' wide at end and A combination Pummel/ slot head screw driver tip center end of handle approx 7/8" thick with 3 rivets or screws in
Prepositions should be used to start sentences. Though omission of prepositions could be conceived as a way to speed the description along by omitting that pesky "a'" and "the" and such, these one-word (or one letter) prepositions are really not that much effort to include, particularly when the entire email reads like a ridiculously lengthy and confusing muddle of thoughts.
Punctuation would be nice; this helps the knife maker understand the logical thought when bedded in the accepted structure of a sentence. Though email and texting has become somewhat casual, there is a difference between casual and chaos. I'll ignore the abbreviated word "approximately," because I'm not a tyrant.
Parentheses should enclose clarifying words or figures, and should not be placed open-ended, anywhere in the text. This means you need the second half of the parentheses to complete the idea. Otherwise, the reader might assume that the thought itself was never completed in the mind of the writer; that, in essence, a feeble mind was distracted mid-idea into another incoherent and unrelated realm...unless that is the reality. Ahem.
Consistent use of measurement methods (the double prime " for inches and the prime ' for feet) or the random omission of these prime symbols is bound to confuse any reader. For instance, is that a 4 1/2 fish long tang that is over a foot wide? Huh?
There is no "Pummel" in a knife. There is a pommel in certain types, and perhaps it could be used to pummel the English teacher who has miserably failed to educate her student, and there is no pommel on a full tang knife, anyway.
A leather or Micarta textured for gripping handle with A detent on left side for right hand thumb, A narrow light weight guard to keep hand and thumb from slipping on to blade .
Leather or Micarta what? Oh, I see; the subject (handle) is introduced after the adjective in a confusing order. The next sentence is really not a sentence and is more of a list of uncertain features. In what direction or orientation is the guard to be narrow? And since a full tang knife has no guard, where shall I presume to put it?
Aluminum or magnesium?
This is an eternal question. Both are lightweight, one has more electrons than the other. One may be healthful to have in limited amounts in the body, one can cause dementia in high amounts. Has the writer been inhaling aluminum at a detrimental rate?
Sentences can not exist with just a subject. That's a title.
Blade should have A straight back with shallow angle cutting edge about 4 millimeters from tip extending back 2 1/2" with about 2 millimeters before...
Alternating between inches and millimeters is more than confusing. Pick one of these: Imperial Units or International Units. Of course, you could choose to use the Australian and United Kingdom standard of hat sizes, but uniformity is what is key here, whether describing a Gat or Jaapi.
What is a shallow angle cutting edge? Shallow would mean not very deep, but how are angles deep or shallow? Perhaps the writer is wading in acute, obtuse, reflex, or right water.
... before A 1 9/16" long on of staggered angle saw teeth approx 3/16' deep, 4 millimeter flat space then A thick topped notch AROX 3/16" DEEP And 10/16" long to act as bottle opener and parachute cord/wire cutting notch then flat topped to Hilt.
How much is three-sixteenths of a foot?
"AROX" is the acronym for what, exactly?
A bottle opener and parachute cord cutter? So you can pop a cold one while plunging at terminal velocity toward Earth?
"Flat topped to hilt?" That sounds like a German haircut, or perhaps a patrol cap with a built in balaclava.
Main cutting edge comes down from curved tip with no ground for Approx 4 Millimeters then starting narrow A hollow ground edge that widens so blade section not ground will have A tanto like shape with slight curve at bottom of grind approx 3 1/2" in from tip to deep hollow grind main cutting edge approx 3 1/@" long by 1/2" deep that will then angle up at about A steep but not lat angle where the blade will now be approx 1"wide , at this area A 14/15" long serrated like A steak knife section that ends approx 6 millimeters from where blade meets the hand guard and at A 90 degree angle narrows it width to me with (top to bottom) of part of blank for handle approx 3/4' or what ever handle size for average hand.
Wow. Where do I start? Excessively long and strung-out words do not a sentence make. It's just gibberish.
He keeps referring to "no ground." Why the lofty transcendence into the atmosphere? Keep in grounded, please!
How much is 3 1/@" Is that less or more than two and seven sixteenths "at?" Is it the length of an email address, a single ampersat, or at the rate of some unknown accounting term?
What is a lat angle? Is that short for latent, latex, or latte?
14/15"? This is not an Imperial measurement. Nothing I know if is measured in 15ths of an inch, meter, or hat size. This must be some alien-based measure originating from the Falowarfs, who have 15 fingers on each tentacle.
"Narrows it width to me?" Just where are you? Saturn? Blank for handle? I'm so lost...
use for knife is combo thrower /hunter/fighter / utility
He left out pruning. This knife could be a great pruning knife. Pruning. And fillet.
To be honest IF you like this design and since I am NOT in the life making business you would be welcome to include the design in your offerings. If this is something you do not do, or would not do can you refer me to someone who would , who's quality of work you respect and would recommend?
What? You're not in the business? That explains why I had a rather difficult time with the email. It is my fault for not understanding.
Include your design? Man, I can't even begin to understand what you are trying to describe! I'm seeing a convoluted piece of metal, twisted somewhere between a pretzel and seven fifteenths of a fish long. It's made of confusion, drafted in pandemonium, and inspired by illiteracy. Forgive me, but your disorder has overwhelmed my capacity to interpret reality. Now you ask me to refer? Why, there is no demon of Hell that deserves the frenzied mess you have spawned at your keyboard. Please do not email. Ever. Never, ever, ever. I hope my truncated sentences can be understood. Just go buy a knife somewhere. Please.
Okay, I'm exhausted now... must sleep... Tequila first... sigh.
Please remember that every one of these people ignored completely the very specific and clear list of "What I Do and Don't Do" to write their email about something I clearly do not do.
---
Hi my name is S. S. Im a hobby knife maker, nothing big. I was wondering if i could use a pattern or 2 of your's once i get my shop set up. I do not have an idea yet on which one, but if you would like i could send you that info later when im set back up. It would be just for personal experience on makeing new knife types. I would not be planning on selling or trading for any reason. just personal satisfaction of making a high quality knife.
Thank you for your time. S. S.
Possessing and using a well-designed pattern (or 2) does not a high quality knife make. There is that whole pesky "making" thing that first stands in the way. The part that requires a shop, and tools, and the skills to use them both. Though it may just be an inconvenience to you, for the rest of us, the whole designing, tuning, creating, using, feedback, improving, recreating, and making is represented in the pattern you simply want to use. Did it occur to you that perhaps someone who has struggled to do all that which is represented in the pattern would rather not see it hastily constructed with lack of skill, soiling the original idea? Did it occur to you that the creation of some of those patterns represents many hours of skill, work, creativity, research, and feedback? Did it occur that this is the reason that they are copyrighted? Please start by designing your own knife. You don't even need a shop to start designing, so you can begin right away!
---
I am looking for the company that bought C*** trapper knives and then put them in c*** collector cases and etched the words Vietnam Commemorative on one blade and the other has an m16 rifle on it. Was it your company and if not could you give me any Idea who it might have been, it was not WR C*** and it was not S***** M******* K**** works other than that I don't know who it was but I can not find any of the knives any where. I bought one of them in a local hardware store the knife is the year 2001 and that's all I know about.
If you can help me I would be grateful
A.F.
Yes, that would be in my years of living in China and working for the Chinese. Cookie cutter knives like these are made in China. You may be surprised how many "American" knife interests are manufactured in China. My suggestion: brush up on your Mandarin.
---
Good day .
I've recently became interested in making custom knives After many long hours of surfing the web to get information on the subject I'm still not sure where and how to get decent information on knives designs .I'm very impress with your site and work , it is the only site I could find that gives photos of the deferent knife shapes and sizes .I'm just not sure what you mean by public domain . Could you please let me know what designs is copy righted .I don't want to step on your toe's and close door for myself before I have even started . Thanks for your time and I hope to hear from you soon .
Regards
H.S.
Simple. Avoid the confusion. Design your own knives. You'll learn more than you will by copying.
---
Dear Jay,
'Interesting to come across your Web-site while searching for information regarding a J***** R****** & Sons, Bowie Knife Hand Forged carbon Steel For " His majesty" King George. These Knives ( two of them) were my fathers; and for years were stored in a leather sheath; but still have a good Steel colour , greyed in certain areas, but no rust or Dark red rust colour is visible . I am learning more about the care and collection of Knives from your web-site. Thank you!
The real reason for this E-mail is to ask: if you, or any one you know, might be able to put on a Handle to a G***** Knife that was made for Military Use in Viet Nam , serial # *******; "made in P******* O******"; ' blade is dull, and its edge slightly chipped; Blade/Knife has no handle. Still, it seem the blade is in really good condition and worth restoration to its original condition, or with a new Handle that would render it Functional/Collectable in a Style Suitable to it design purpose.
Roughly-estimative, how much would that cost? If you can answer , thanks, but no worries if naught. I found this G***** Blade while Rummaging through the attack of My house, a few years or so after I bought this house in the early 1990s Recently, did call G******,Corp. and they returned my call, and said that they were not able to restore this Knife to is original Condition.
Hence this E-mail.
Respectfully yours,
L.M.
Okay, this is just absurd. First, you tempt me with the delicious vision of greyed steel bowie knives of majestic provenance, then throw me a ravaged and dry bone of a thirty dollar knife that the manufacturer would not even touch! Look, I'm sorry your house was attacked, but I can not be responsible for your chipped, dull, handle-less cheap commemorative. It was not I who attacked your house! Perhaps you should contact King George (or his heirs) about this transgression.
---
Hi my name is P., im 15 years old and ive been blacksmithing for a while now, a couple months back I got into blade smithing but it hasent worked out too well for me because I don't have much money and it takes me a while to get coal and metal. So my question is, Although you are a self-taught incredible artist, and you don't teach people online, you didn't specify that you don't teach people at all. So I was wondering , if maybe, I could be your apprentice and or maybe keep in touch is someway if I need help with this art because after I saw your site ( which is what got me blade smithing) ive set my goal to be as good as you. The reason I say apprentice is because I have a LOT of questions and it would be kind of annoying, I would say, to have 500 messages from me a day :). So that is my question. God bless you
At 15, you're bound to have a LOT of questions about a LOT of things. My advice is stay in school, learn about reading, writing, and arithmetic, and you'll be able to learn much more in any field you choose. God Bless You, too!
---
I want the most pirate looking dagger ever made! Im not sure what it looks like, but if you were a kid and pirates were your fantasy, what would this dagger look like to you? Can you make it...? Do you have any examples of such a knife - we'd love to see them. Thanks D. D.
Cool! I could make a dagger with a bicorn hat, and a Jolly Rodger flag, held in a skeleton's teeth! It could be shaped like a big wooden ship, with cannons firing from the blade! It could drink rum, and pillage, and steal, and rape, and murder... wait a minute-
---
Do you make gem stone handles for knives other than the knives that you make . I have a P**-T*** G***** model that I have been trying to find replacement handle inlays for . I have been looking for over 2 years now with no luck . The handles that I have are G-10 and I would like to replace them . I could ship them to you to make copies of them if you are interested . Thank you for your time .
B. P.
---
Hi, I have a folding knife I want to give as a gift. I would like to have the person's name etched in the blade. (Dr. M*****). If you would do it, how much would it cost?
Thanks,
B. G.
---
Dear Jay,
I'm T******... from Indonesia and the maker knife too. I'm very like your knife with handle knife with stone. I need your help to teach me, how put the stone to knife handle. please..... I make handle knife, pls check at atthcment. forgiveness, if my Ianguage of inggris is bad. :) Thank before all Rdgs, J. T.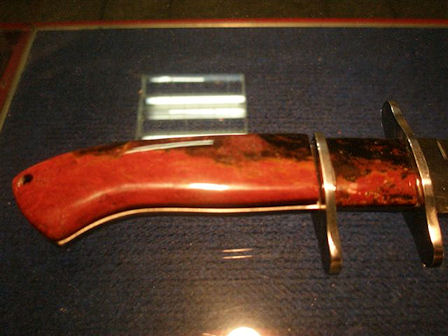 Yep, he actually wrote "inggris." And that looks like a rather loose fit on the handle. What, pray tell, is the strange translucent protrusion on the spine?
---
Mr. Fisher, I have some antiques Middle Eastern knives that I believe have silver blades, but the handles are exquisite filled with semi-precious stones, bone or tusks, and capped at the bottom with brass. Do you do evaluations or estimates of values? Do you charge for that service? Are you interested in purchasing them (there are 14 knives) . If so, I can get a photo to send you. Thank you for your help.
L. S.
---
Mr. Fisher your talent is amazing. How long have you honed this skill? I have been designing and making knives for7 years. I have the opportunity to sell a set of five original designs to an interested company. How much is it worth??? I've only ever made them for the love but i've fallen on hard times. How would i determine a far cost when this company is going to mass produce them? Have you ever done something like this before? I'd accept any answer you could provide.
Thanks~ N.
"Honed my skill?" Like I've never heard that one before...
---
Dear Mr Fisher,
my name is L*** B***** and I'm an Italian engraver, I engrave only by hand using the typical thecniques of Gardone Val Trompia, the place where I live. This is my blog: www.*******************.blogspot.com here you can see some of my works. I work for customers from Italy, Europe, U.S.A. and Asia. I hope You could be interested in a future cooperation, I thank you and I always stay at your disposal for further information. Best Regards.
L. B.
Brescia - Italy
Well, aren't you special! I also engrave only by hand using the typical techniques of Garden of Clovis, New Mexico, the place where I live. We feast in the green chile, offer "bienvenidos" and have many dairies. I will eat a chile relleno for you and toast your successes with Land of Enchantment wine.
I'm working on it! Much more coming! It just won't stop!
---