Heracles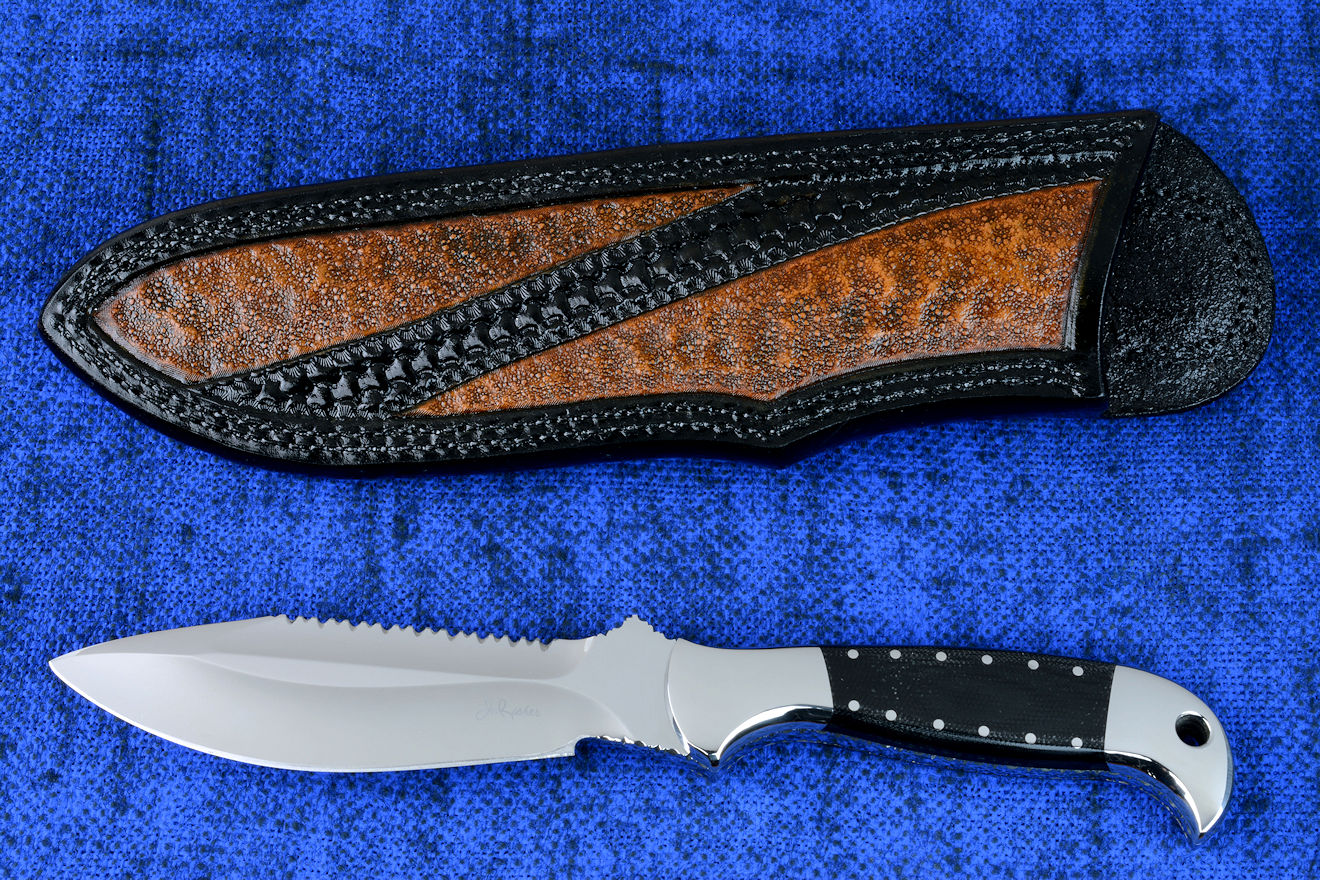 "Heracles" Working, Tactical, Collector's Knife
Size: Length overall: 10.75" (27.3 cm), Blade Length: 5.6" (14.2 cm), Blade Width (Max at belly): 1.5" (3.8 cm), Thickness: .266" (6.8 mm)
Weight: Knife: 15.8 oz. (448 grams) Sheath: 7.6 oz. (215 grams)
Blade: 440C High Chromium Martensitic Stainless Tool Steel, Hardened and Tempered to59HRC
Bolsters, Fittings: 304 Austenitic Stainless Steel
Handle: Polished Black G10 fiberglass/epoxy composite
Sheath: Hand-tooled, hand-dyed leather shoulder
Knife: The Heracles is named for the divine hero in Greek mythology, the son of Zeus. This is a unique style of knife, one that crosses over between utility and tactical, between working and refinement. I thought it would be great to offer one that has the tactical styling and function, but have a beautiful finish of a fine working tool, since this knife crosses so many realms from use to defense, to collection. Truly, it's a hybrid style made to function in many realms. I made the blade in 440C high chromium stainless steel, my most requested steel for a reason. The knife has the best corrosion resistance possible in all the martensite hypereutectoid tool steel blades and with 18 percent chromium, plenty of chromium carbides for great wear resistance. This particular knife is very strong and tough, with a unique grind you won't see on any other knife. The blade shape is a leaf-teardrop combination, which provides a very strong point with a substantial thickness for great strength. This is maximized by the quarter-length top swage that reduces the point profile angles but leaves plenty of spine for support. Another enhanced feature is the differential grind. I don't do this often, because it's a difficult challenge to do well. The main grind is done with an 8" diameter contact wheel for a thin, serviceable geometry, and the top grind of this double-edged knife is accomplished with a 3" diameter contact wheel. The top grind is then provided with my "microblade" serrations, that are small and tight, while providing a very aggressive cutting action with little snagging or hang-up in cutting tough materials. The advance between the swage and the serrations is gradual for minimal resistance to motion. The differential grind allows an incredibly strong spine to continue through middle of the blade, giving it tremendous strength. The edges are honed to razor sharpness, and the grinds are matched, accurate, crisp and clean, difficult to execute on this complicated grind. The finish is impeccable; mirror polish of this steel means the ultimate in easy cleaning and extremely high corrosion resistance. The blade is very thick at the ricasso, the area between the handle and blade (see specs!), with a robust, tapering tang for great balance and extreme durability. I created a complex filework pattern on the spine and a different pattern on the inside tang for contrast and increased purchase while clearly demonstrating fine handmade distinction. The knife is bolstered with my zero-care, high nickel, high chromium 304 austenitic stainless steel bolsters, contoured, rounded, smoothed, and polished for comfortable feel. The rear bolster has a 5/16" diameter chamfered, polished, and smoothed lanyard hole for extra security if desired. The bolsters are dovetailed and bed a pair of extremely tough G10 fiberglass/epoxy composite handle scales with a non-traditional look. I mounted these scales with 12 through-tang handle pins, .0938" in diameter, made of 304 stainless steel for a distinguished look and great strength, and the handle is completely polished throughout. This means a very easy-to-clean surface, and with the tremendous toughness of the G10, this is a true working beast. The balance point of the knife is right at the forefinger location, and the knife feels meaty and formidable in the hand with a compact and reasonable length.
Sheath: I wanted a distinctive working sheath for this knife, not the usual fare, so I made the sheath in 9-10 oz. hardened leather shoulder, and hand-tooled a bold design in the surface, front, and back, and belt loop, and selectively hand-dyed and highlighted the color for the look I wanted. This is reversible sheath: either a left side cross draw/right side reverse grip sheath, or it can also be worn on the right side in the traditional right-handed fashion. The wearer doesn't even have to orient the knife at all when sheathing since it's reversible. The high back and double-row polyester stitching throughout means this is a knife for serious, professional use. The dyes are colorfast and permanent, and the surface is sealed with acrylic against exposure and the elements.
A bold departure, a new design, a unique and tremendously tough knife that crosses the frontiers of working tool, tactical weapon, and collector's piece in a functional work of art.
Thanks, D. C.!
Jay,
You a are for sure the best knife maker in the world.
I am very excited to be the owner of a Jay Fisher knife. 
Thank you very much for the extra sheath and for everything.
I wish you all the best Jay!!!
--D. C.
---
---