Hooded Warrior Tactical Combat Knife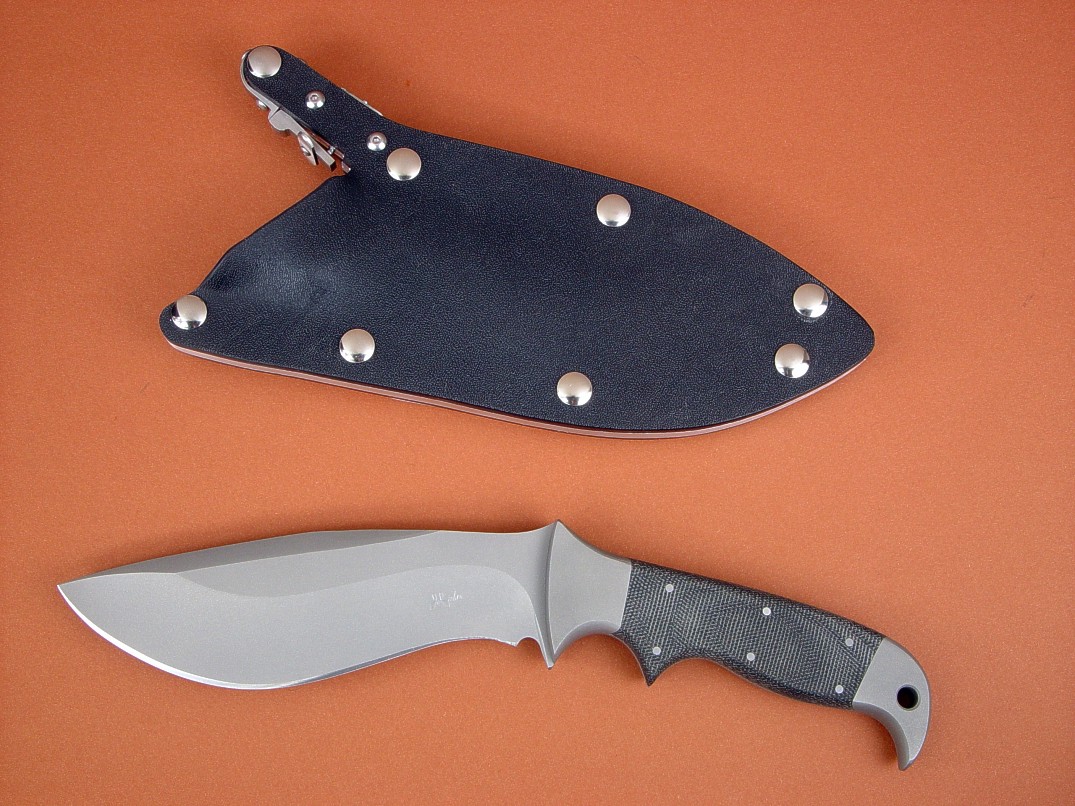 "Hooded Warrior" Tactical Custom Knife
Size: Length overall: 10.5" (26.7 cm), Blade Length: 5.8" (14.7 cm), Thickness: .244" (6.2 mm)
Weight: Knife: 13.5 oz. (383 grams) Sheath: 10.5 oz. (298 grams)
Blade: ATS-34 High Molybdenum Martensitic Stainless Tool Steel, Hardened and Tempered to Rockwell C60, Bead Blasted
Bolsters, Fittings: 304 Austenitic Stainless Steel, Bead Blasted
Handle: Canvas Reinforced Micarta Phenolic
Sheath: Locking, Kydex, Aluminum, Stainless Steel, Nickel Plated Steel
Knife: The Hooded Warrior was originally created as a 101st Airborne sniper's adjunct for his use and carry in multiple tours of duty in Operation Iraqi Freedom. The design has found its way into the wide tactical knife field, as a tough, durable, and extremely useful and unique tactical, service duty, custom knife. This particular custom knife is made in ATS-34 high molybdenum martensitic stainless tool steel blade, chosen for its very tough nature (resistance to breakage) at a high hardness. I tempered this knife at 60HRC for great wear resistance, and the ATS-34 is specially suited to be thinly and accurately ground yet maintain the high hardness necessary for great wear resistance. The deep and accurately matched hollow grinds offer a very thin belly for slicing, a tight recurve and a stout point that is reduced in cross-sectional area by a two-thirds length top swage. The knife blade has no filework, and is clean and smooth throughout the spine and fully tapered tang. The bolsters are zero-care 304 austenitic high nickel, high chromium stainless steel and are dovetailed and mounted with zero-clearance stainless pins for permanence. The bolsters bed a pair of canvas reinforced Micarta phenolic handle scales for high durability, secured with six 304 stainless steel pins. The bolsters are contoured for a comfortable feel, and the rear bolster has a .250" chamfered lanyard hole for extra security. The balance point of the knife is at the front of the forefinger position, and the knife feels great in either forward or reverse grip style. The wide bolster placement at the thumb ramp allows heavy pressure to be applied to the blade, and the heel drop assures the handle won't dig into the hand. This is a very comfortable, durable, and useful knife for tactical or survival situations.
Sheath: My client ordered one of my fine locking, waterproof tactical sheaths for this knife, probably the best tactical combat knife sheath style made anywhere. The sheath is made of kydex that is (.125") thick for strength, durability, stability, and longevity, and is then hot-formed over a 5052H32 corrosion resistant, high strength aluminum welt frame, secured with nickel plated steel Chicago screws and waterproof cement. The sheath has all stainless steel locking components in 302, 304, and 316 austenitic stainless steel for low-care, high corrosion resistance, and durability while positively locking the knife in the sheath. Even the machine screws and reinforcements are stainless steel. 1.75" wide belt loops are die-formed in high strength aluminum, and are reversible for versatile wear in any position.
A durable and proven knife for tactical, combat, survival, and defensive carry and use, custom made for a special client.
Thanks, J. K.!
I received the knife and it is superb! Excellent craftsmanship and finish. Very unique design to say the least. It is everything you described and more. What surprised me the most was the sheath. I wasn't expecting it to be as heavy duty and well constructed as it is. The photos on your website do not do justice to your sheaths. All-in-all a most professional job.
You are certainly a world class craftsman, and well deserving of your reputation. Many thanks for the long hours you put into creating my handmade masterpiece.
--J. K.
---
---