Horrocks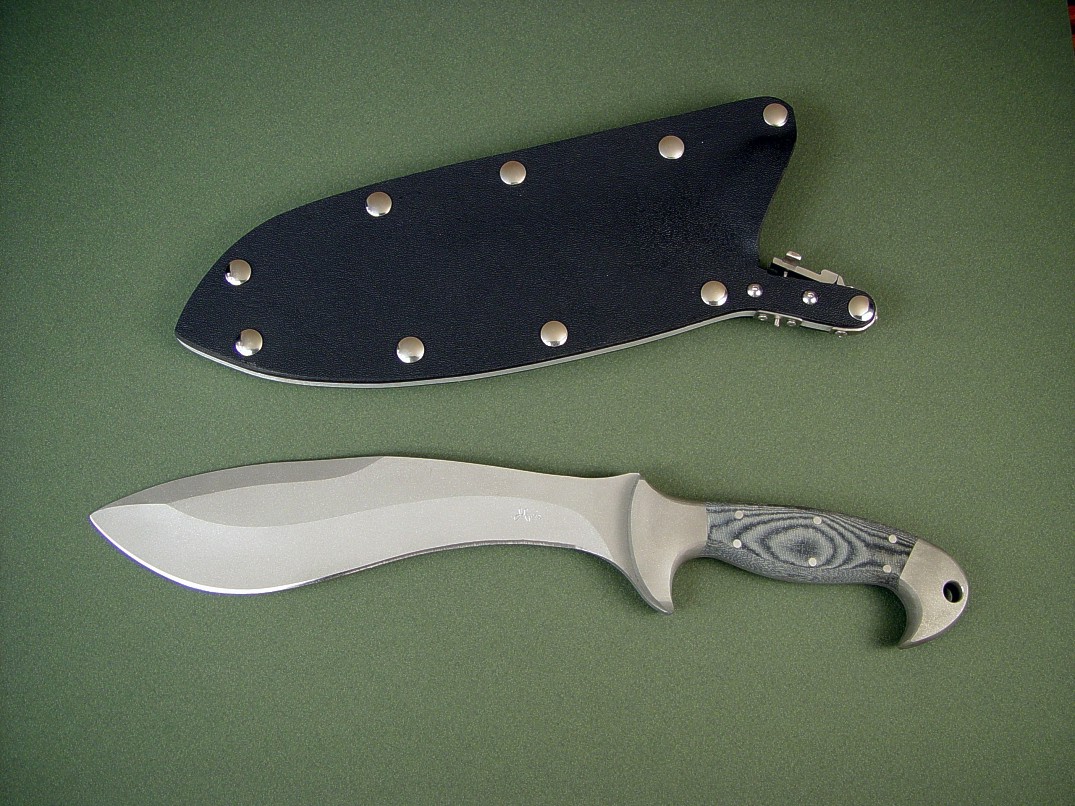 "Horrocks" - Tactical Combat Knife
Size: Knife: Length overall: 13.6" (34.5 cm), Blade Length: 8.4" (21.3 cm), Thickness: .260" 6.6 mm)
Weight: Knife: 1 lb. 4.5 oz. Sheath: 14.0 oz.
Blade: 440C high chromium martensitic tool steel, hardened and tempered to Rockwell C58, hollow ground, bead blasted
Bolsters, Fittings: 304 austenitic high chromium, high nickel stainless steel, bead blasted
Handle: Canvas Micarta Phenolic, bead blasted
Sheath: Kydex, Aluminum, Stainless Steel, Nickel Plated Steel, locking
Knife: Made for a great client, this custom Horrocks is a combat-proven knife design, made for and used by infantrymen in battle. Weighing in at over a pound, Horrocks is a significant piece of tactical steel. The blade is 440C high chromium martensitic stainless steel, highly corrosion resistant, tough and well hardened and tempered. The blade has a great hollow grind, left plenty thick behind the point and cutting edge for excellent durability. The thick spine (over 1/4") makes a rigid framework to support the sharp, sweeping blade, reminiscent of a forward swept khukri. This is a graceful recurve that leaves plenty of weight at the belly, and plenty of thin, keen edge at the inside curve. The top of the spine is ground with a half-length tapered top swage to reduce point profile without sacrificing strength. The spine and the tang of the knife are clean, with no filework, and a fully tapered tang for good weight distribution. The thick tang has triple-pinned dovetailed bolsters of zero-care 304 high chromium, high nickel stainless steel, and the large quillons lock the hand into the full and comfortable handle. The six 1/8" 304 stainless steel pins secure the dovetailed and bedded black canvas micarta phenolic to the tang permanently. The entire knife is bead-blasted for a non-glare tactical finish, and plenty of tooth and texture for the hand at the handle. This knife is formidable in either the traditional or tactical grip style.
Sheath: The client requested one of my waterproof, combat-grade locking sheaths, so that's what I made. The sheath has double thickness (.125") kydex panels, thermoformed over a 5052H32 corrosion-resistant aluminum welt frame. The frame houses the locking mechanism, made of 302, 304, and 316 stainless steels. Even the machine screws used in the locking mechanism are stainless steel for longevity and corrosion resistance. The belt loops are corrosion-resistant aluminum, accommodating a 2" wide belt, and the entire assembly is secured with ten 1/4" shank nickel-plated steel Chicago screws.
Optional Accessories: With great input from military engineers, this knife is shown with a few optional accessories for the sheath and versatile wear. The sheath extender allows a lower overall ride of the knife on the belt line, and the sternum harness allows the knife to be worn across the chest in an upside down position for quickest access. Both items are made of 2" wide polypropylene webbing, thick and strong, with multiple stitching of upholstery grade nylon in triple zigzag runs. Buckles are ABS plastic, Velcro security closures, nickel-plated steel snaps, and .750" wide shock cord anti-flop retainers. Learn more about these accessories on a special new page here.
A serious tactical combat knife for a great client.
Thanks, M.S.!
Hello, Jay,
The knife looks absolutely fantastic! Definitely well worth the wait! Again, fantastic work!
--M.
---
---