Kapteyn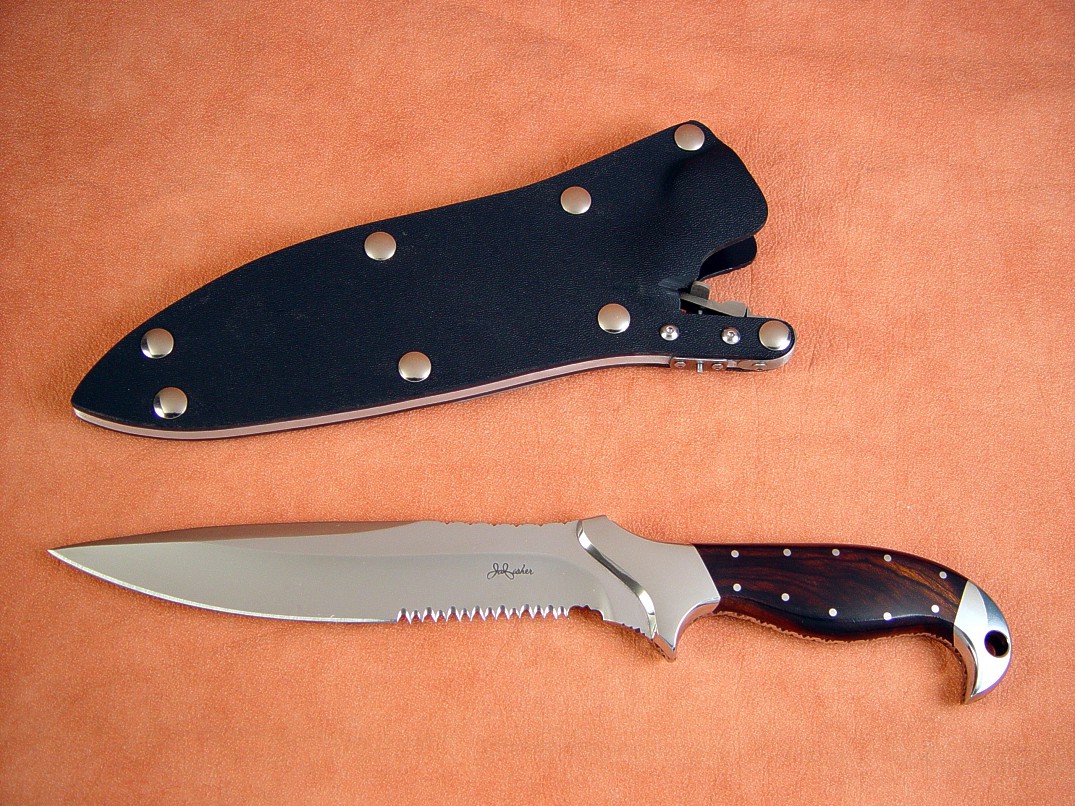 "Kapteyn" Tactical Combat Knife
Size: Length overall: 12.25" (31.1 cm), Blade Length: 7.5" (19.0 cm), Thickness: .208" (5.2 mm)
Weight: Knife: 13.8 oz. Sheath: 10.5 oz.
Blade: 440C High Chromium Martensitic Stainless Tool Steel, Hardened and Tempered to Rockwell C59, hollow ground and mirror polished, custom etched
Fittings/Bolsters: 304 Austenitic Stainless Steel, mirror polished
Handle: Polished Desert Ironwood Hardwood
Sheath: Kydex, Aluminum, Stainless Steel, Nickel Plated Steel
Knife: This is a custom professional combat tactical knife made for one of our US Army Rangers, headed into the theatre of combat. The Kapteyn is a tough, sharp, and serious tool, with plenty of beefy thick stock in the spine to support the deeply hollow ground and razor sharp blade, custom etched with the owner's initials. The top half length blade swage offers reduced point geometry for a very sharp point without sacrificing spine strength. This Ranger's knife has over 2" of my vicious "vampire" teeth serrations for cutting tough textiles, and the fully tapered tang has punchy, striking, complex zig-zag filework, for increased purchase in grip with an artistic flair. The handle has deep quillons bolstered with high chromium, high nickel 304 austenitic stainless steel bolsters, pinned and permanently mounted, dovetailed, sculpted and polished. They bolsters frame a beautiful pair of hard Desert Ironwood hardwood scales, and I matched the curve of the handle with the sloping figure of this rich wood, to concentrate the figure at the neck of the handle. The hardwood scales are bedded and secured with ten 304 stainless steel pins.
Sheath: The sheath for this knife is one of my waterproof, locking combat models, made of double thick kydex, 5052H32 corrosion resistant aluminum, all stainless steel locking mechanism and machine screws, and nickel plated steel Chicago screws; the toughest, most secure combat sheath made.
A powerful knife, ready for combat.
Thanks, H. L.!
Jay,
Thanks so much! The knife is gorgeous! I couldn't have asked for a better result.
As my son-in-law said when he saw the pictures, "It's a gift for a lifetime."
Thanks for the beautiful work.
-H.
---
---