Rio Grande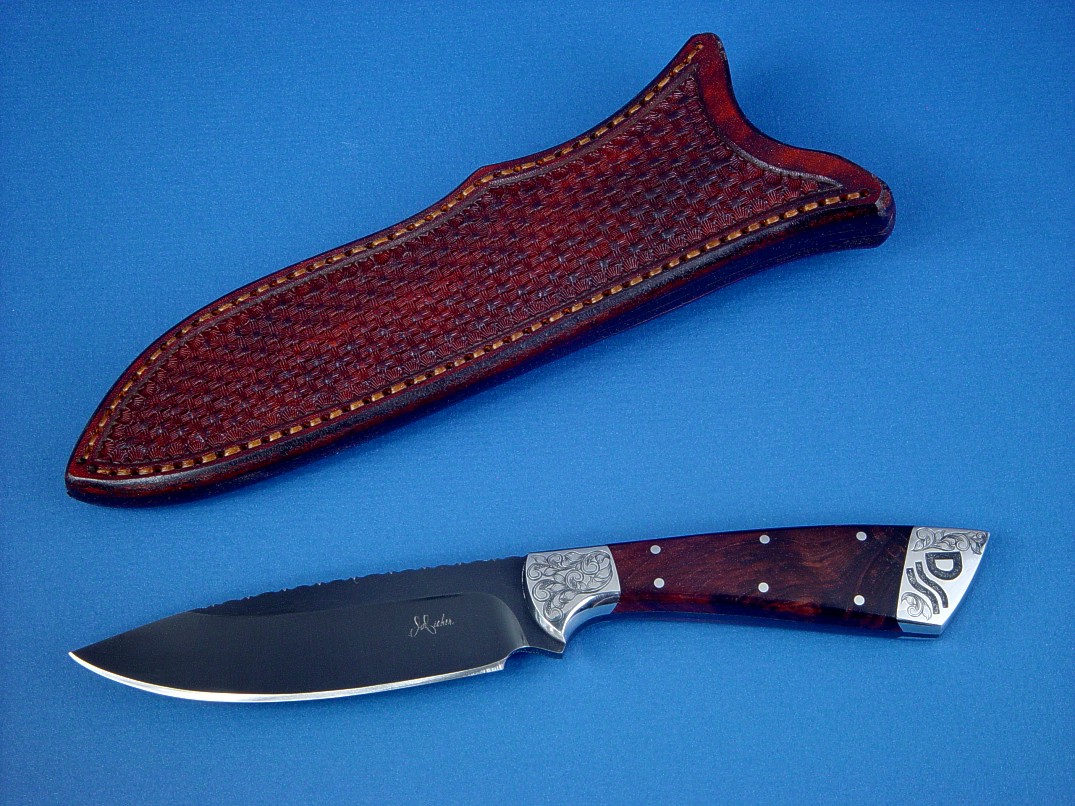 "Rio Grande" Custom Knife
Size: Length overall: 8.75" (22.2 cm), Blade Length: 4.25" (10.8 cm), Thickness: .176" (4.5 mm)
Weight: Knife: 6.6 oz. (187 grams) Sheath: 4.4 oz. (125 grams)
Blade: O1 High Carbon Tungsten-Vanadium Tool Steel, Hardened and Tempered to Rockwell C59
Bolsters, Fittings: Hand-Engraved 304 Austenitic Stainless Steel
Handle: Honduras Rosewood Burl Hardwood
Sheath: Hand-Stamped Basket Weave Leather Shoulder
Knife: The Rio Grande is one of my earliest designs, and it was a great pleasure to custom make this one for a special client. The Rio Grande was originally designed as an overall utility knife, capable of many knife chores and uses. This one has a satin finished O1 high carbon tungsten-vanadium tool steel alloy blade, and I hot blued the blade for corrosion resistance and a beautiful dark look. The blade has a deep hollow grind, a simple choil, nicely radiused grind terminations, and an extremely sharp single angle bevel cutting edge that is easy to maintain. The knife blade has top spine filework, and a fully tapered tang for balance which is right at the forefinger in a forward grip style. The spine and tang are cold blued for easy maintenance and a matched look. The knife is bolstered with zero-care high chromium, high nickel 304 austenitic stainless steel that I hand-engraved with a traditional scroll pattern and the owner's own personal brand in deep relief. I oriented the engraving so that it is straight up when the knife is worn in the sheath. The dovetailed bolsters bed a pair of book-matched rich and dark Honduras Rosewood Burl hardwood scales, which are pinned with six 304 stainless steel through-tang pins for great longevity and durability. The knife is simply comfortable and extremely useful, a traditional drop point form that is prime for any cutting task, yet beautiful enough for investment.
Sheath: My client requested a straightforward sheath of heavy 9-10 oz. leather shoulder, and I hand-stamped a tight and close basket weave pattern on the face, the back, and even on the belt loop. The sheath is hand-stitched with polyester sinew, the toughest binder on the market, dyed medium brown, lacquered and sealed.
A great traditional knife form that I'm still honored to make!
Thanks, D. T.!
The Double D Rio Grande is the absolute perfection of our agreed to style finish, Double D carving, and Honduras Rosewood burl. The sheath for the knife is drop dead gorgeous....you somehow came within pennies of our agreed-to price-
As a patron, I am grateful to own my Jay Fisher Collection at these prices!
Best regards,
D. T.
---
---