Thuban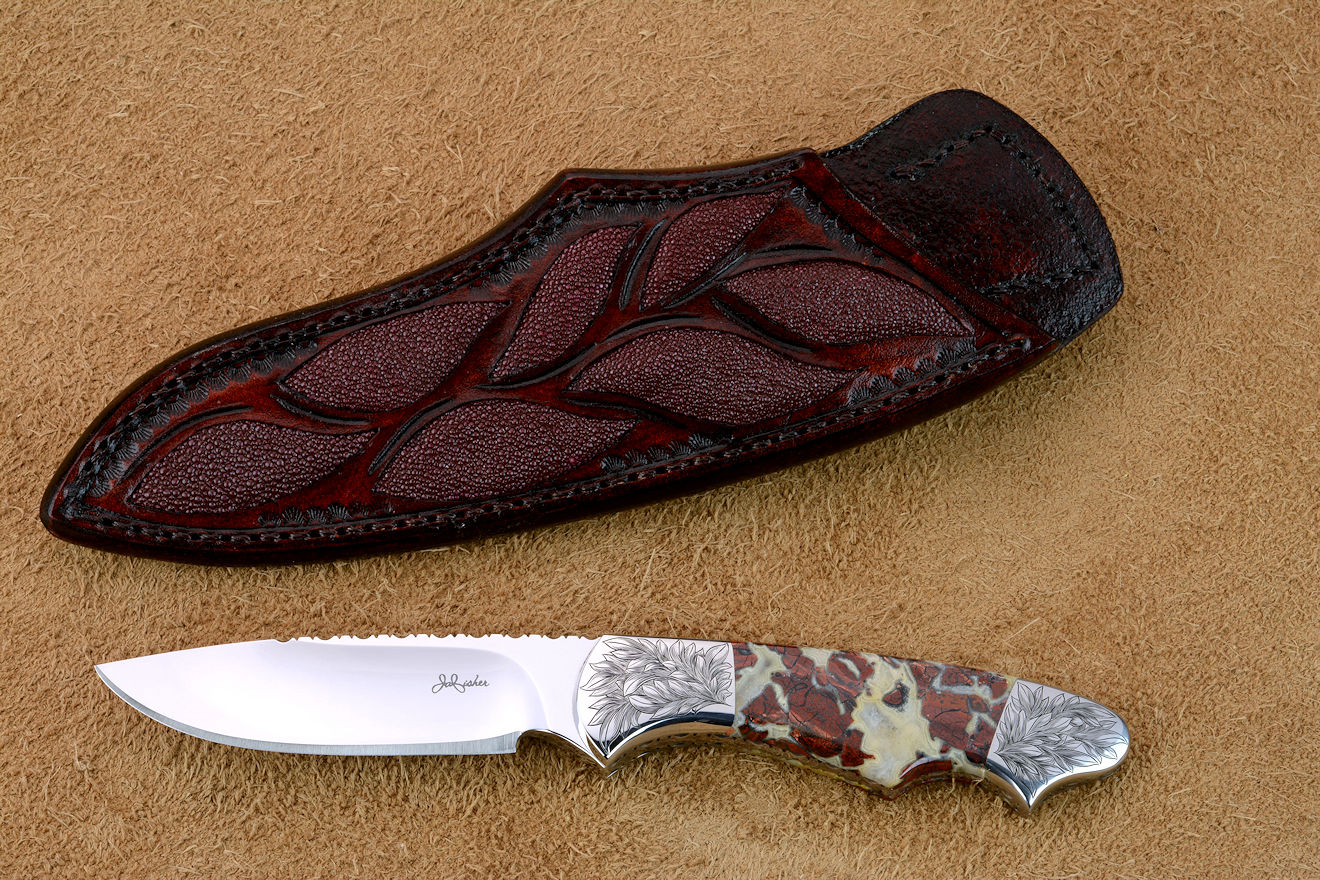 "Thuban" Custom Knife
Size: Length overall: 7.6" (19.3 cm), Blade Length: 3.5" (8.9 cm), Thickness: .192" (4.9 mm)
Weight: Knife: 6.0 oz. (170 grams) Sheath: 3.7 oz. (105 grams)
Blade: CPM154CM High Molybdenum Powder Metal Technology Martensitic Stainless Tool Steel, Cryogenically Treated, Hardened and Tempered to 61.5HRC
Bolsters, Fittings: 304 Austenitic Stainless Steel, hand-engraved
Handle: Golden-Red Brecciated Jasper Gemstone, Africa
Sheath: Hand-carved leather shoulder inlaid with Ray Skin
Knife: The Thuban is named for a star in the constellation Draco. This custom handmade knife is made with a beautifully hollow ground and mirror polished CPM154CM high molybdenum martensitic stainless steel blade. This is a very special steel, made with powder metal technology process that creates an extremely well balanced alloy with unique properties not available in traditionally foundry steels. The steel is created as a finely powdered mass, with excellent and accurate alloy distribution, then fused into a solid bar with no segregation or density movement of the alloy components. I've then employed deep cryogenic treatment with additional deep thermal cycling at -325°F for the ultimate in high wear resistance with high toughness this steel offers. This is a very beautiful blade, with a smooth, even, appearance with no visible grain. The grinds are deep, with a nice lead-off at the grind terminations for plenty of spine strength, and the grinds are well-matched, and thin and durable at the cutting edge. With the high hardness and increased toughness, and cryogenic processing, this knife will hold its edge an extremely long time. The blade is fully fileworked throughout the tapered tang with a regimented and detailed filework. The filework extends completely through the underside of the handle tang to the choil. The knife is bolstered in zero-care, high nickel, high chromium austenitic stainless steel, mounted with zero-clearance pins for absolute permanence. I hand-engraved the bolsters with a meticulous Victorian leaf design that echoes the intricacy of the knife, filework, and handle. The handle scales are complex Golden-Red African Brecciated Jasper gemstone, a stone that has been broken apart millions (or perhaps billions) of years ago and then re-formed under the tremendous heat and pressure beneath the earth's crust to become a uniformly solid gem of red jasper, and golden-hued and white quartz. This gem is very hard and durable, and will easily outlast the knife. The handle rests in the hand comfortably, nesting in the ring finger groove. The balance point is exactly at the front bolster-to-handle scale junction.
Sheath: The sheath for this Thuban is simple and matches the pattern of the engraving, with inlaid leaves of red ray skin in 9-10 oz. red-black wash dyed hand-carved leather shoulder. I hand-stitched the sheath with brown polyester sinew, it's sealed with acrylic sealer for longevity.
A beautiful knife for a special client.
Thanks, J. K.!
---
Hello Jay,
I am now able to write these lines thanking you again for your Art. Both knives are amazing!
My son was very moved with his special gift and really appreciated the unique piece his Thuban really is :)
I was also delighted with my Aldebaran and cannot stop looking at the Sunset Jasper and all the details this beautiful knife offers every time I hold it in my hand.
I do look forward to talking about a future khukri order at some point mid-summer as you suggest.
Meanwhile I send many blessings to you and all your family.
Cheers!
--J. K.
---
---