Vega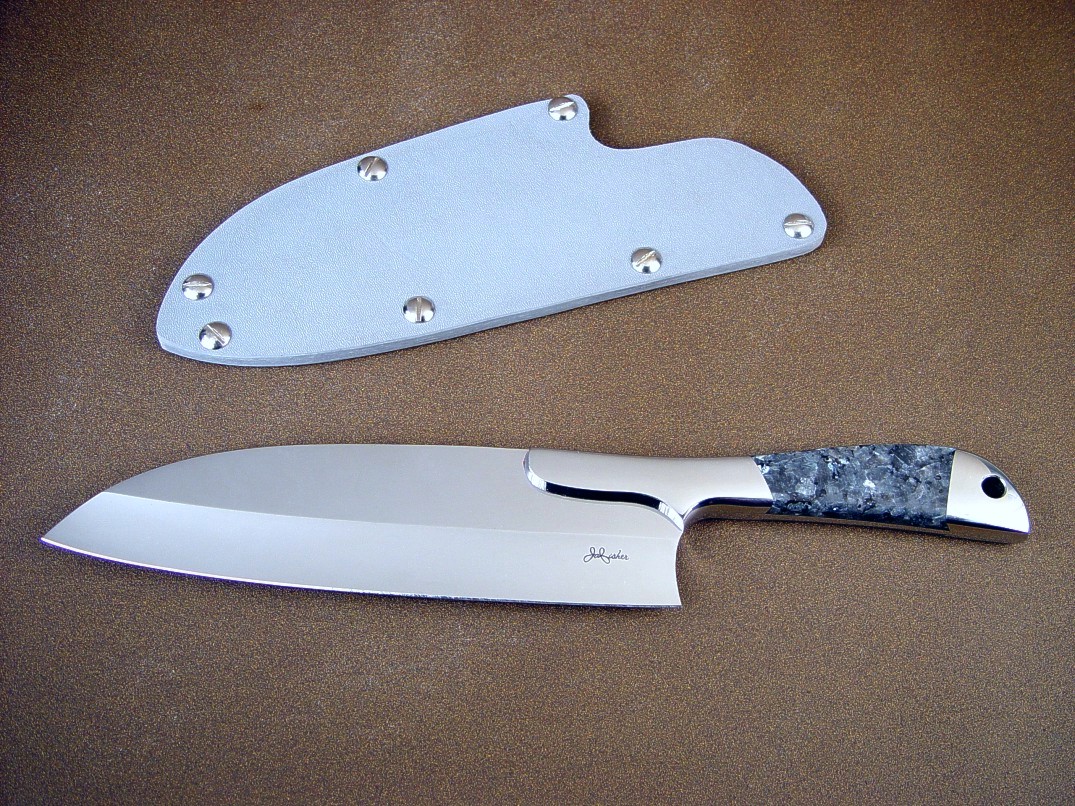 "Vega" Master Chef's Knife
Type: A master grade professional chef's knife
Size: Length overall: 13.0" (33.0 cm), Blade Length: 8.3" (21.1 cm), Thickness: .190" (4.8 mm)
Weight: Blade: 1 lb. 3.0 oz. Sheath: 4.2 oz.
Blade: 440C High Chromium Stainless Tool Steel, Hardened and Tempered to Rockwell C58, mirror polished
Fittings/Bolsters: 304 Stainless Steel, mirror polished
Handle: Polished Larvikite Gemstone
Sheath: Kydex, Nickel Plated Steel
Knife: Vega is one of my fine large and heavy duty chef's knives, suitable for serious professional use. This blade is made of highly corrosion resistant 440C high chromium martensitic stainless steel, for great wear characteristics, longevity, and beauty. I started with surface ground stock, reduced it to a thick yet serviceable width, and deeply hollow ground it with a 10" contact wheel for a deep, thin and useful grind. The cutting edge is very keen and thin for many years of use. There is a slight curve to the blade for light rocking on the board. The blade is full tang, with no filework that could hold food or debris. The clean and smooth spine is bolstered with a thick pair of front bolsters that extend over the spine of the knife to accommodate a top grasp (pinch-type) grip. The rear bolster has a 5/16" lanyard hole through the bolsters and tang for hanging the knife. Both bolsters are multiple zero-clearance pinned 304 high chromium, high nickel austenitic stainless steel for zero care and great toughness. The dovetailed bolsters bed a pair of beautiful Larvikite (Blue Pearl Granite) gemstone scales, with glistening plays of light in blues, grays, and silvery facets on the internal crystalline cleavage faces. A photograph alone does not do them justice. The stone is tough and hard, a very durable and beautiful syenite with abundant feldspar crystals that display a beautiful schiller and shimmer in silvery blue. With the smooth, polished finish throughout the knife blade and handle, this will be a breeze to use and keep clean.
Sheath: For this knife, I made a gray kydex slip sheath to protect the knife in transport or storage. The lightweight sheath has all kydex welts and sides, is essentially waterproof, and is secured with nickel plated steel Chicago screws.
A fine knife for the professional chef!
Thanks, T.S.!
Jay,
All I can say is WOW! The knife look awesome. Once again, you have exceeded my expectations. Many thanks.
--T.
---
---