Viper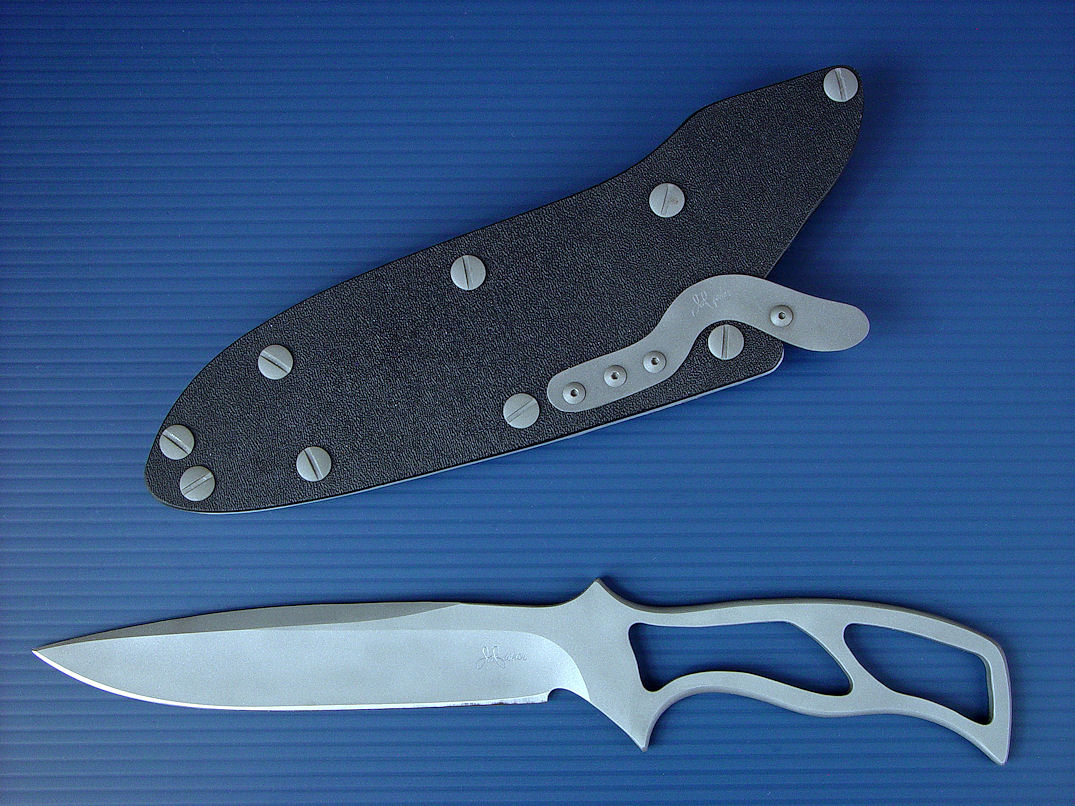 "Viper" Skeletonized Tactical Combat Knife
Size: Length overall: 11.6" (29.5 cm), Blade Length: 6.2" (15.6 cm), Thickness: .240" (6.1 mm)
Weight: Knife: 7.9 oz. (224 grams), Sheath: 10.6 oz. (301 grams)
Blade: ATS-34 High Molybdenum Martensitic Stainless Tool Steel, Hardened and Tempered to Rockwell C59, Bead Blasted
Sheath: Hybrid Tension-Locking in Black Kydex, Aluminum, Stainless Steel, Titanium
Knife: Answering requests for an ultra light, yet ultra strong and functional tactical combat knife, the Viper is the latest evolution of my fine tactical combat knives. When some Navy SEAL team members requested a speedy, quick, yet formidable knife capable of quick and lethal function, they also asked me to do everything I could to lighten the weight while preserving functionality and durability I'm known for. The Viper series is a great example of the cooperation between warrior and weapons maker, and I offer these same knives to my clients so that they, too, can benefit from this refinement, when in need of a lightweight, small footprint, and thin knife and sheath combination. I'm certain that these knives will be highly desirable and sought after by many branches of service and professional users of tactical equipment as well as civilians who need a lightweight yet extremely durable knife capable of a variety of cutting tasks.
I started with a steel that could offer great toughness (resistance to breakage) at a high hardness and high wear-resistance, while being corrosion resistant enough for harsh, marine (salt water), and corrosive exposures. This knife is made of ATS-34 a high molybdenum, high chromium (chrome-moly) tool steel that has a long-proven reputation for its tough character. The blade is a design derived from my other combat and Principle Security Detail blades, with a hollow ground blade and half-length top swage that offers a devastating point for piercing. The blade has a full razor-keen cutting edge without serrations, deeply hollow ground and smoothly sharp for slashing cuts and point penetration. The spine and blade stock is very thick for this size of knife, and I used a special new pattern milling process that removes most of the handle weight while leaving a stout and substantial spine to support the handle-to-blade junction. This milling is done by hand, not with a CNC machine, which makes it easier to create many custom handmade designs and patterns at a reasonable cost and time frame, keeping the knives completely handmade. For the knife user, it means a skeletonized knife that is substantially robust and tough, yet light, quick, and sharp. All of the surfaces in contact with the hand are rounded, contoured, radiused and dressed so that the handle is as comfortable as possible with such a thin knife. The inside cuts of this handle have a strong mid-handle cross support built in while remaining lightweight. The handle milling is lightly chamfered so there are no sharp or abrasive corners to contact the user's hands. The thumb rise and the forward quillon is substantial enough to keep a sure grip, while the spine flat is heavy enough for impact such as in aided cuts used in survival (example: using a tree limb to lightly tap the cutting edge through wood to make kindling). The entire knife blade is media-blasted for zero glare, and my maker's mark is deeply diamond-engraved for permanence. A nice feature of the skeletonized knives is cleanliness, as there is absolutely no area for dirt, chemicals, or debris to remain, and the knife can be dropped into a dive rinse tank with detergent cleaners for a thorough scrubbing when needed. The gentle slope of the knife butt accommodates the thick area of the palm, and the rear quillon can double as a persuader or talon if needed. Of course, a lanyard is an easy option. The knife feels extremely light and effective in forward or reverse grip, and the balance point is exactly at the thumb rise. More about skeletonized knives on this special page.
Sheath: The sheath is very special, a new and exciting development made just for my skeletonized knives, and an example of my commitment to the entire knife experience, from design to working service. This is a proprietary design, and without giving away the exact details of the build, I will claim that (like my other sheaths) it is the best possible sheath of its type available in the world today. Actually, it is the ONLY type of this sheath available in the world today! The sheath is built of double thickness (.125" thick) kydex (methyl acrylate and polyvinyl chloride) over a welt-frame of 5052H32 corrosion resistant high strength aluminum alloy. The sheath is bonded with waterproof cement and bolted together with all 304 stainless steel Chicago screws for zero care and extreme corrosion resistance. The sheath (like most of my sheaths) has die-formed aluminum belt loops that are able to be moved to multiple locations as well as either side of the sheath frame. On this particular knife, the belt loops have 16 optional locations for versatile wear.

My newest and most exciting development is my hybrid tension-locking mechanism. This device is custom made to fit each knife, and allows a lock pressure of 15 pounds to hold the knife in the sheath, with an optional thumb or finger release. There are two options to unsheathe:
1. placing your hand on the knife handle in forward (traditional) grip and use the finger or thumb to operate the release and unlock the knife for a slow, controlled, or quiet extraction of the knife.
OR
2. grabbing the knife handle and pulling hard, with at least 15 pounds of tension, the knife is unsheathed.

Simply put, the knife can be unlocked manually, or yanked hard and unsheathed. 15 pounds is quite a bit of force, so the knife is locked into the sheath unless it encounters 15 pounds of pull. This means that in most circumstances, the knife stays locked in the sheath, and the assembly can trustfully be mounted upside down or used in highly active movement with relative security. To be certain that the knife is locked in the sheath properly, it takes a thumb operation to re-engage the locking mechanism. All of the components in this proprietary system are corrosion resistant stainless steel or titanium, and the entire assembly is even reversible by the owner! It's simple, it's lightweight, it's fast, and it's clean, and it's all non-glare. I'm certain that it will be a leading sheath for the skeletonized knife made for our tactical combat professionals for many years to come.

Accessories: Since the bolt pattern of the sheath matches our 2.5" bolt pattern for our accessories, most of our accessories can be used on this sheath, including any new ones we develop. While heavy and bulky accessories like our extenders and HULAs are not practical, accessories like the horizontal belt plate adapters may be a useful adjunct.
This knife defines quick, light, useful, and substantially large and lethal. It has a very flat profile, with the assembly weighing less than half of comparably sized knives, and brings wonderful sheath options to the forefront. This is a knife that begs to be worn and used where speed and light weight are critical. My thanks to G.T., US Navy SEAL Team member, for this suggestion and direction for the Viper line!
Thanks, J. S.!
---
It's already on my SWAT belt, bro. I love the new lock!
--J.
---
---