Antheia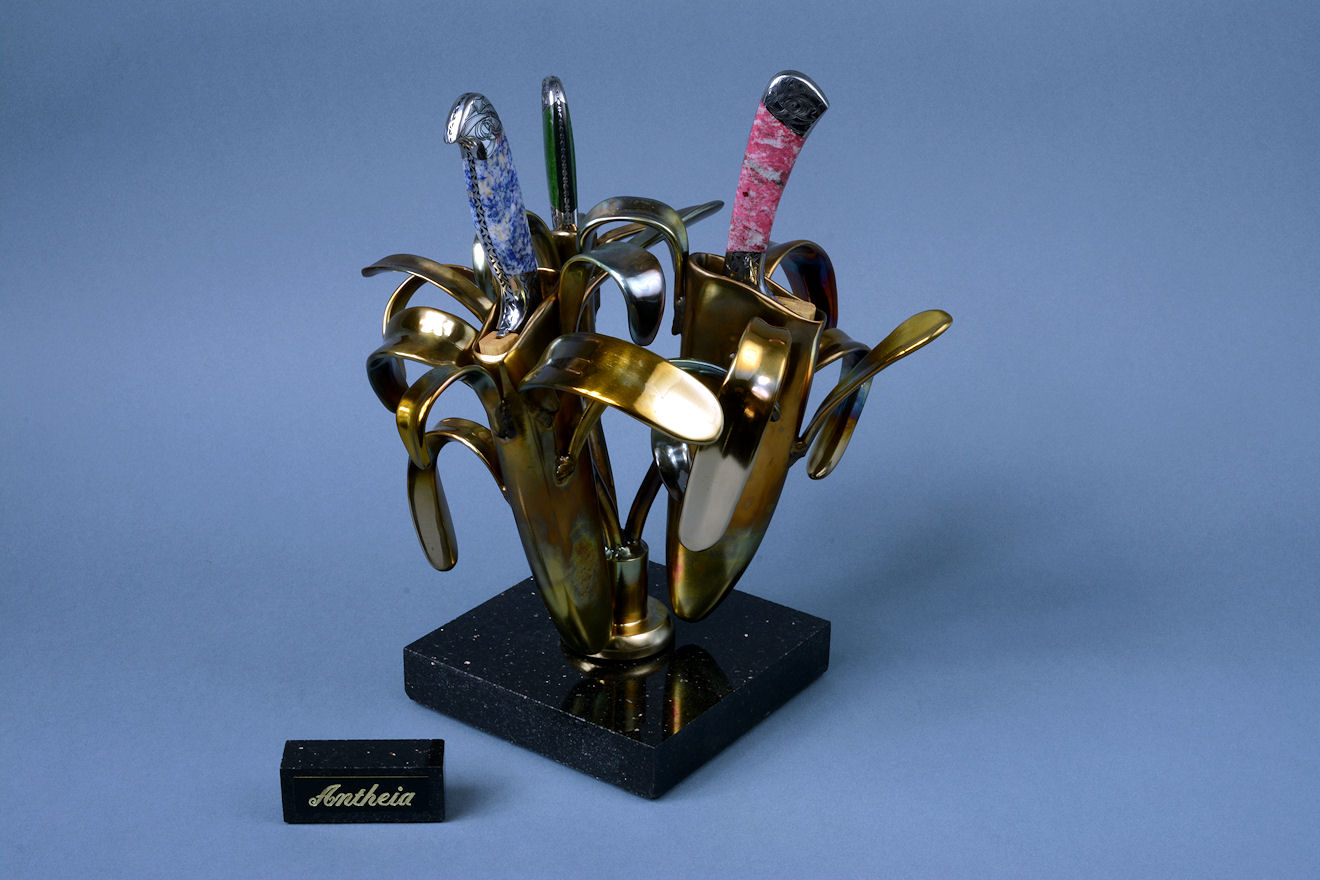 "Antheia" Custom Knife Sculpture/Chef's Set
One of the Graces or Charities of ancient Greek mythology was the goddess of flowers and wreaths. Her name was Antheia. She was also the goddess of blossoms, gardens, and vegetation, and of human love. This piece is named for her.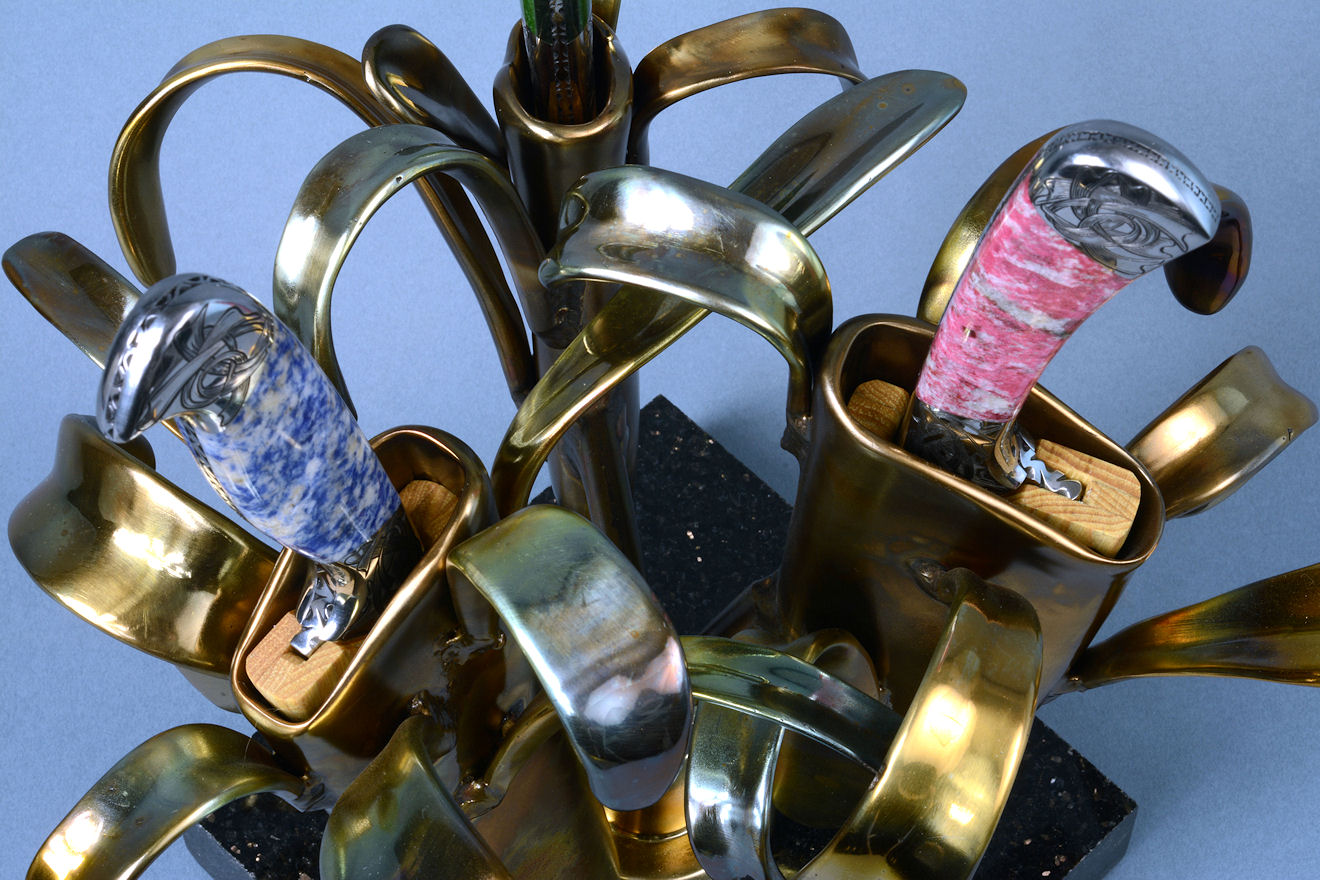 I was inspired for this piece because my client allowed me the opportunity to make a small set that I had wanted to; a chef's set of various gemstone handled knives with the handles set as the pistils of a trio of blooms, with bright flashes of color over a casting of bronze.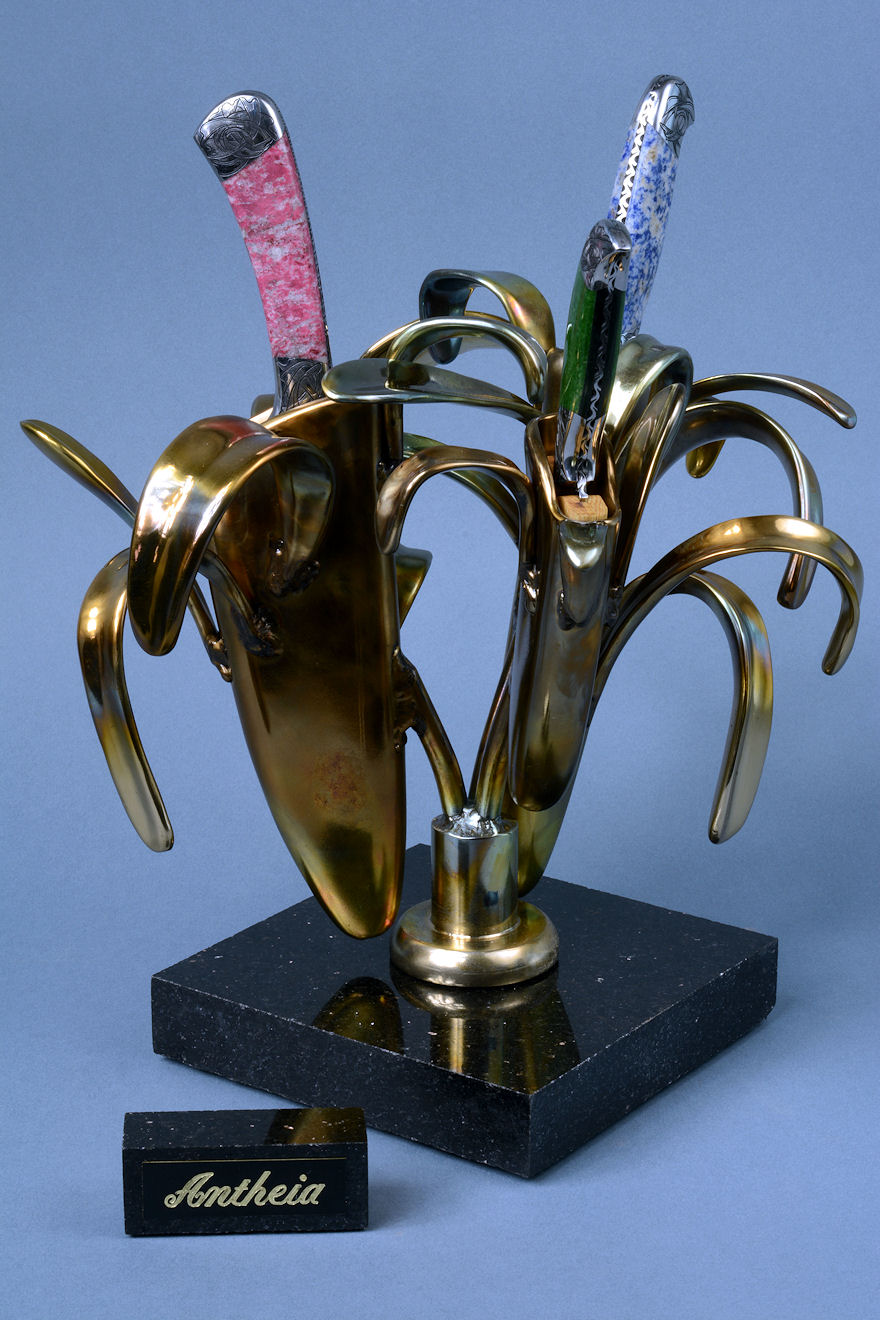 For the knives, I chose three important styles that are critical in most kitchens. The Sabatier-style, a boning and trim knife, and a paring knife. The patterns are my Cygnus, Eridanus, and Corymbus, respectively. The Cygnus is a large, broad-bladed Sabatier used most frequently, the Eridanus a more slender boning and trim knife that's also great for breads, and the Corymbus is a new paring knife design. The handles are all similarly styled; the designs are matched and compatible.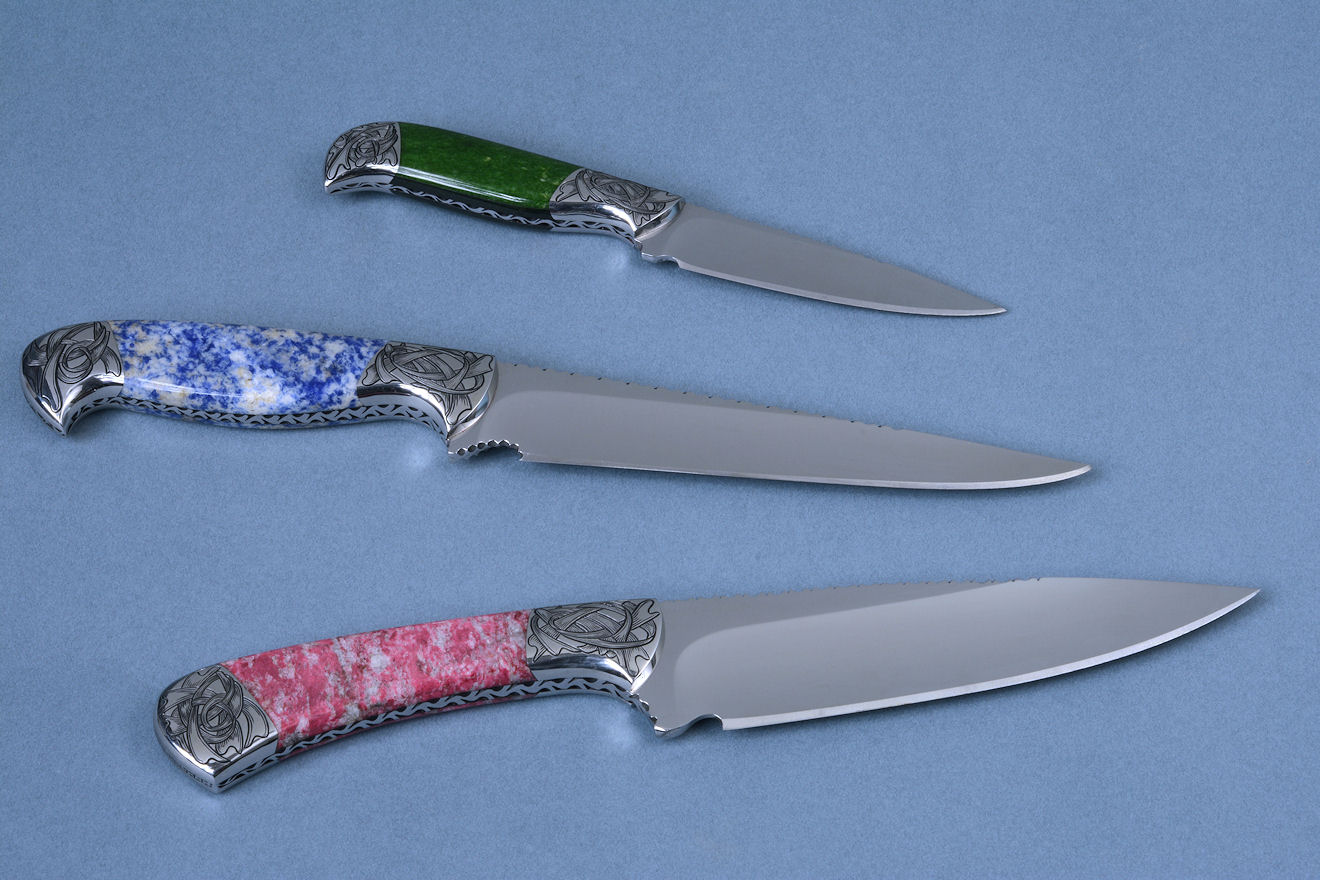 The blades I made from 440C high chromium stainless steel, accurately hollow ground and mirror polished. This is an extremely corrosion resistant tool steel, with great wear characteristics and high toughness. The hollow grinds are very thin and the edges critically sharp. The grinds are matched and finished to a high polish for easy cleaning and low maintenance. The knives are full tang, a solid piece of steel from tip to end, and the tangs are fully tapered for good balance. They are comfortable, smoothed, rounded and completely finished for a great feel.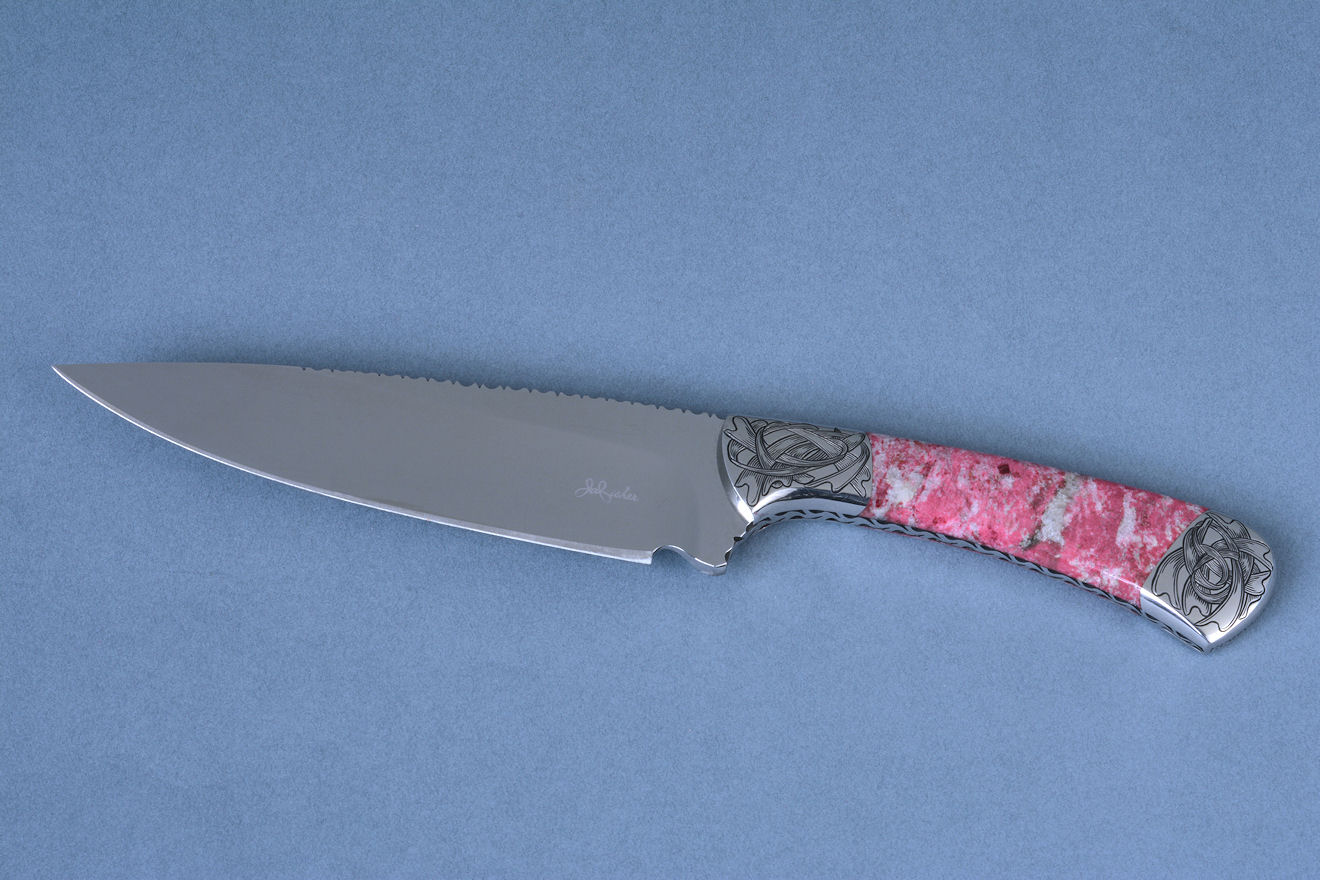 Though the three knives are part of the same theme and piece of art, they are individual performers and individual works with their own flair and tempo. Each has individual and distinctive full filework, suiting the pattern and profile, and each has a distinctive and unique gemstone handle.
The Cygnus pattern Sabatier has Thulite gemstone, which is a manganese-bearing zoisite, named for the mythical island Thule, believed to be in Norway. The natural bright pink color is stable and striking, and the knife balances well in the hand right at the forefinger location.
The Eridanus is handled with Blue Willow Sodalite, a beautiful royal blue and white gemstone that is a sodium aluminum silicate, and has the contrast of blues and whites that is reminiscent of willow pattern ceramic plates and dishes popular since the late 1700s. The knife feels great, with a full width handle and balance exactly at the forefinger location.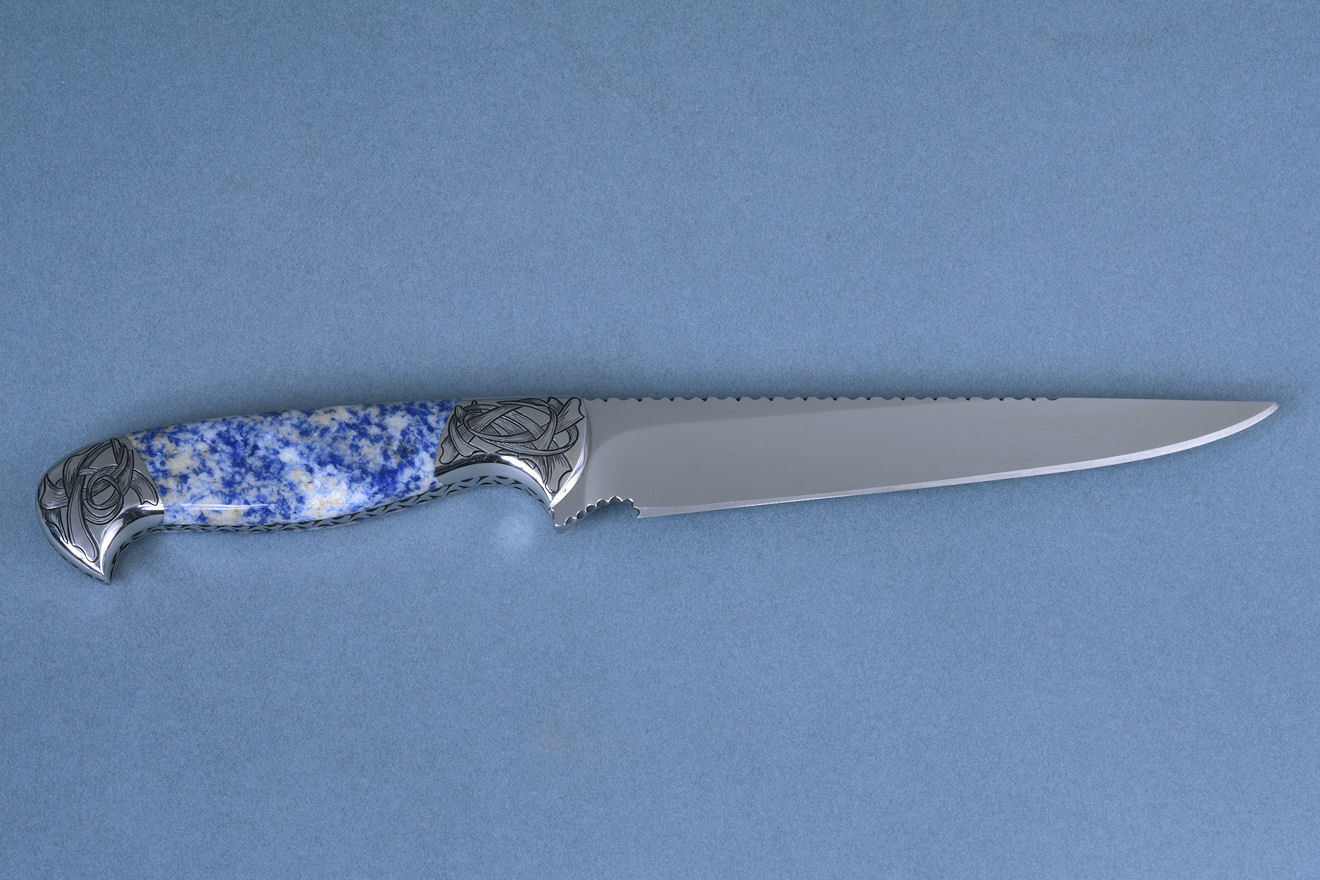 The paring knife is a new style, matching handles in profile with the two larger knives. For this knife, I made a very accurate and smaller radius grind for a strong spine yet a very thin cutting edge necessary for paring, and a fuller handle for comfortable grip on this smaller knife. I handled the knife with a doublet mount of two striking gemstones, a bright green Nephrite jade from California, mounted with jet black Nephrite jade from Australia. The blade feels light in the hand, and comfortably maneuverable for smaller work. The gemstone feels smooth and the polish is lustrous.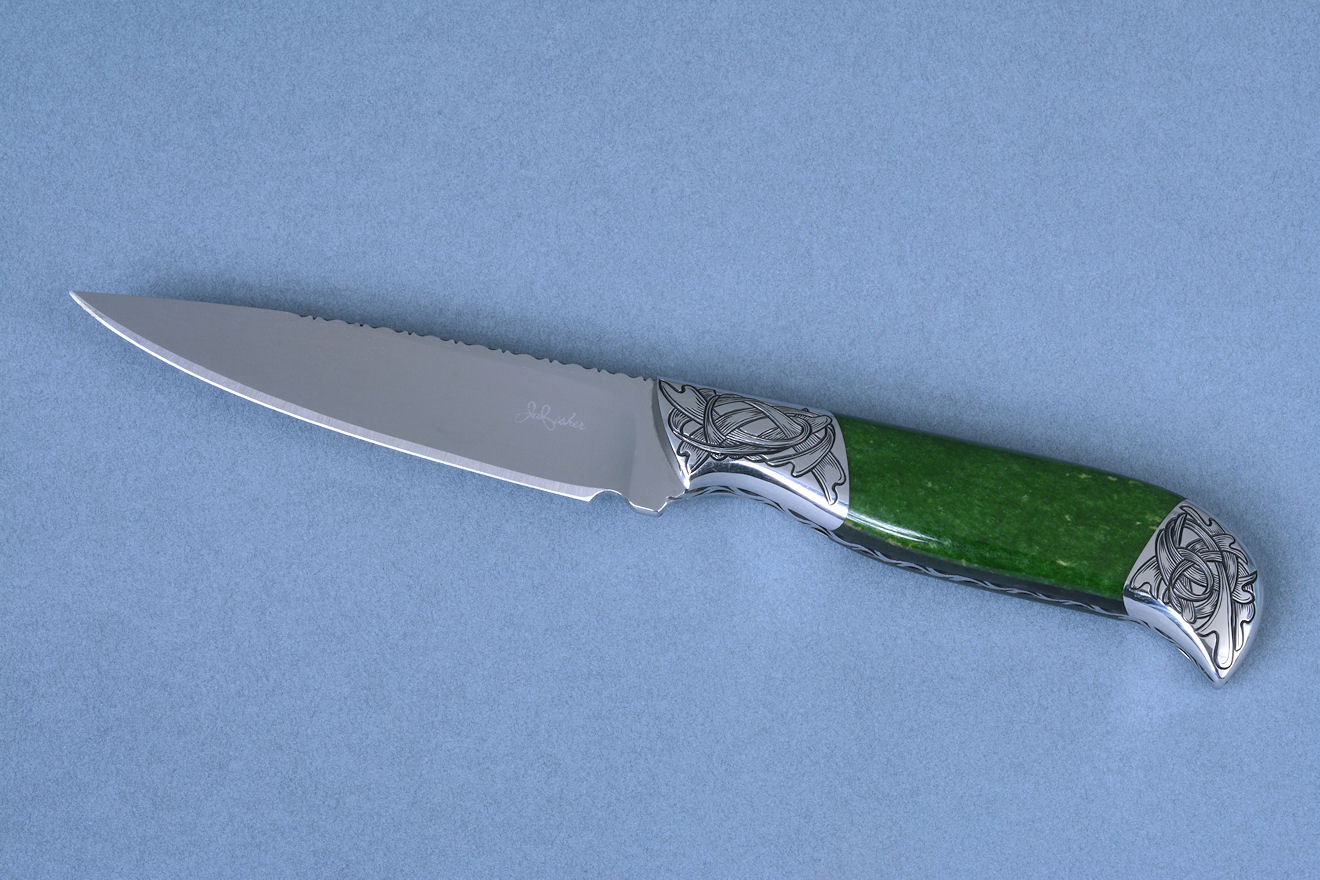 I wanted all three knives to blend with embellishment, so I chose an interwoven petal pattern reflected in the bronze casting to engrave on the bolsters. The bolsters are zero-care 304 high nickel, high chromium austenitic stainless steel, and are mounted with zero clearance peened pins for permanent mechanical fitting to the full-tang blades. The bolsters are dovetailed to lock in the gemstone handle scales, which are fully bedded and sealed with rounded, contoured smoothed and polished surfaces for comfort and easy cleaning. I'm quite taken with the floral engraving pattern, a flowing and lively graceful play of lines and forms.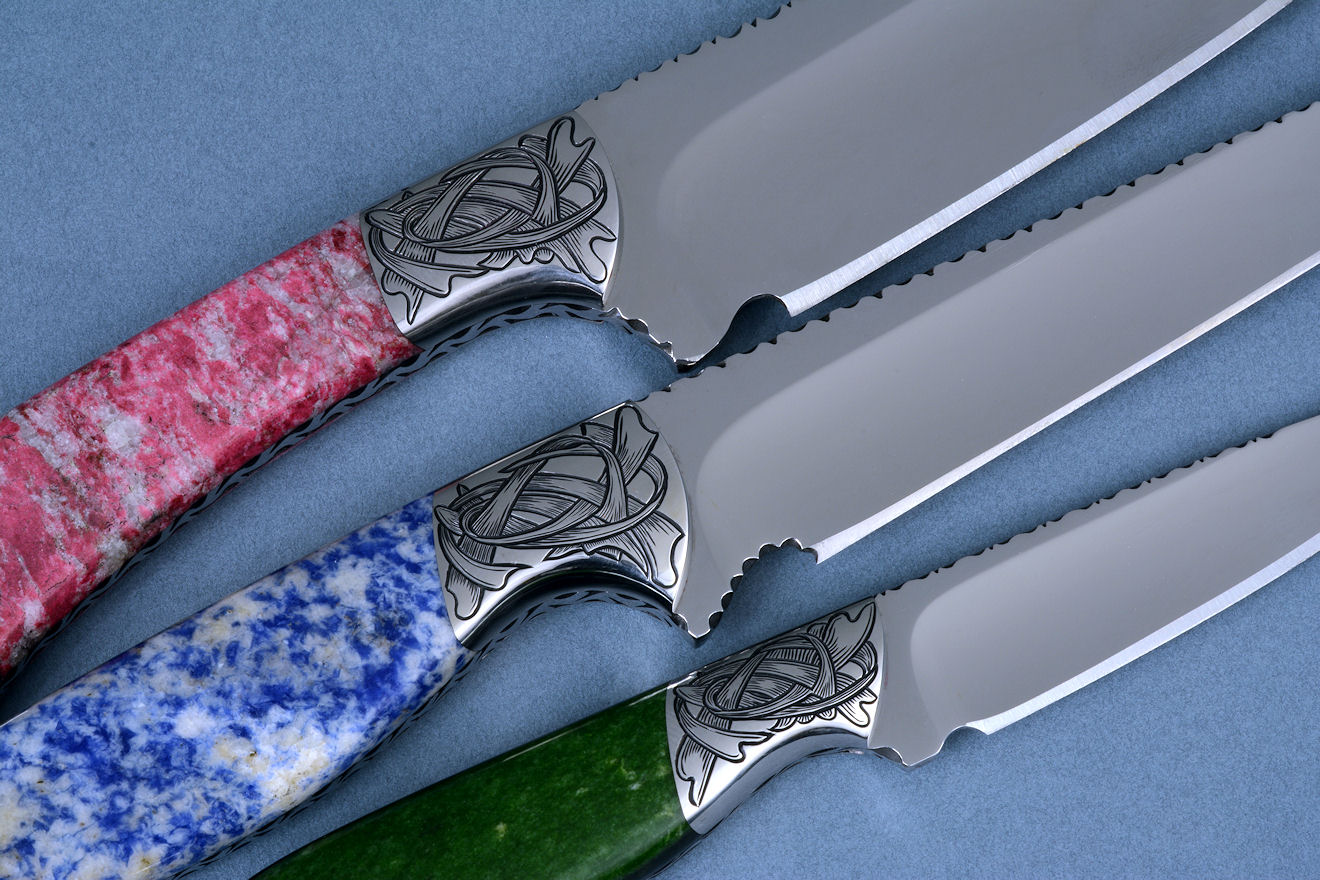 A knife set this striking had to have a very special form of display, and my client was kind enough to allow me to indulge in silicon bronze, a favorite of sculptural artists. I invested many hours in the hand-carving of wax, the burnout of the investment took nearly three days. In all, I cast over 18 pounds of bronze to yield just over 11 pounds of the finished form. The trimming, fettling, finishing, and reconstructing was quite laborious, but I was after a certain look. This look was a blossoming form with the knife handles elevated for easy reach, a piece of sculptural art that would grace any table or kitchen. The piece is entirely and completely unique; there is no other like it in the world, nor will there ever be, as no molds were made, and all was painstakingly hand-made.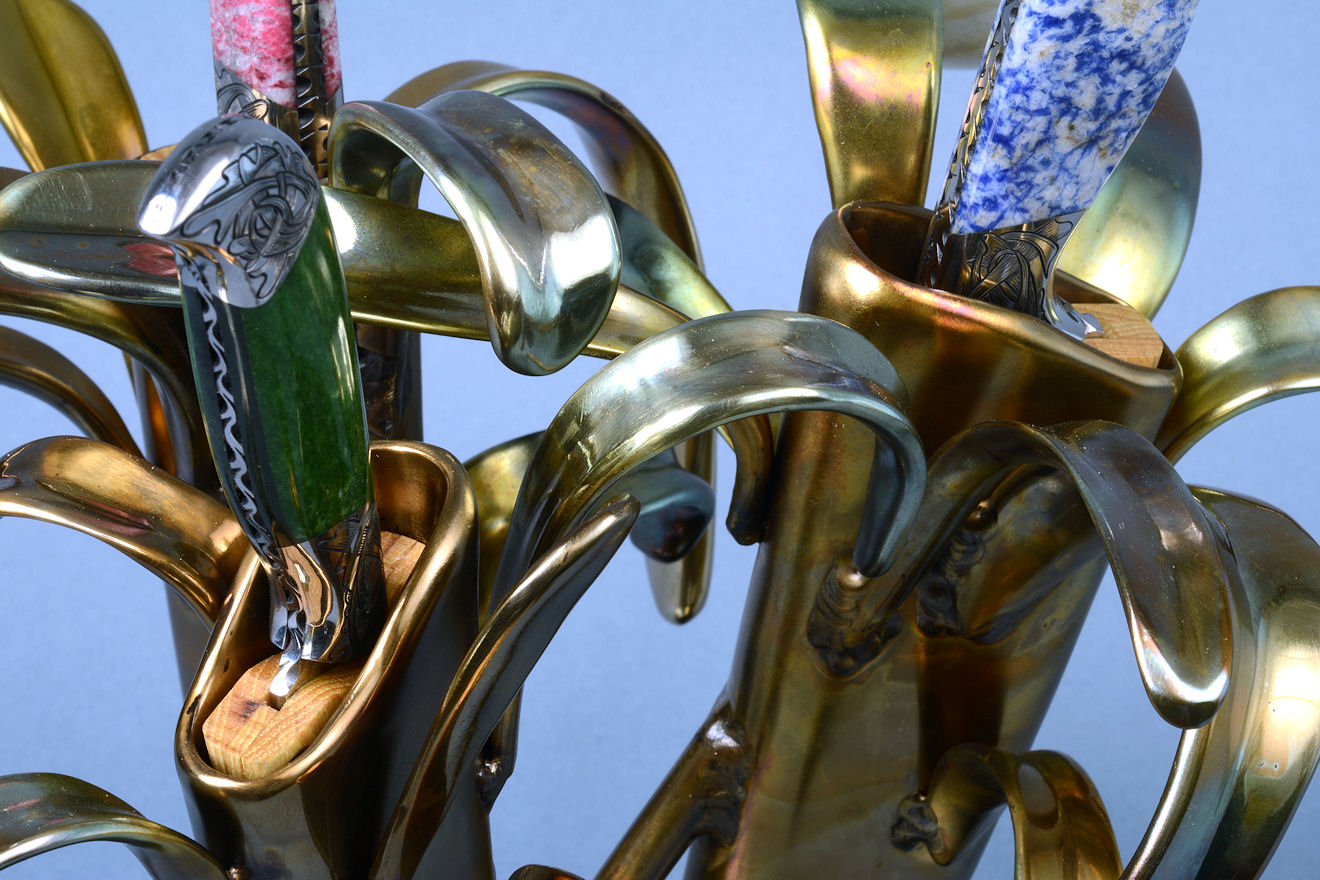 While the idea was clear, the construction was not. This was not a simple form that could be carved in wax and simply cast in metal and finished; I had to deconstruct it in my mind, create the many pieces and reconstruct it with a high purity weld process. In all, the cast bronze pieces numbered 27. The knives could not contact the bronze in use, so I created special heavy pockets of bronze into which I mounted individual liners of Pecan hardwood. The Pecan is incredibly strong and hard, it is a close relative of Hickory wood, so the blades can remain clean and sharp, held rigidly, tight and secure with just the right tension. Looking closely at the photos, you can see the Pecan hardwood liners held by compression only in the bronze casting.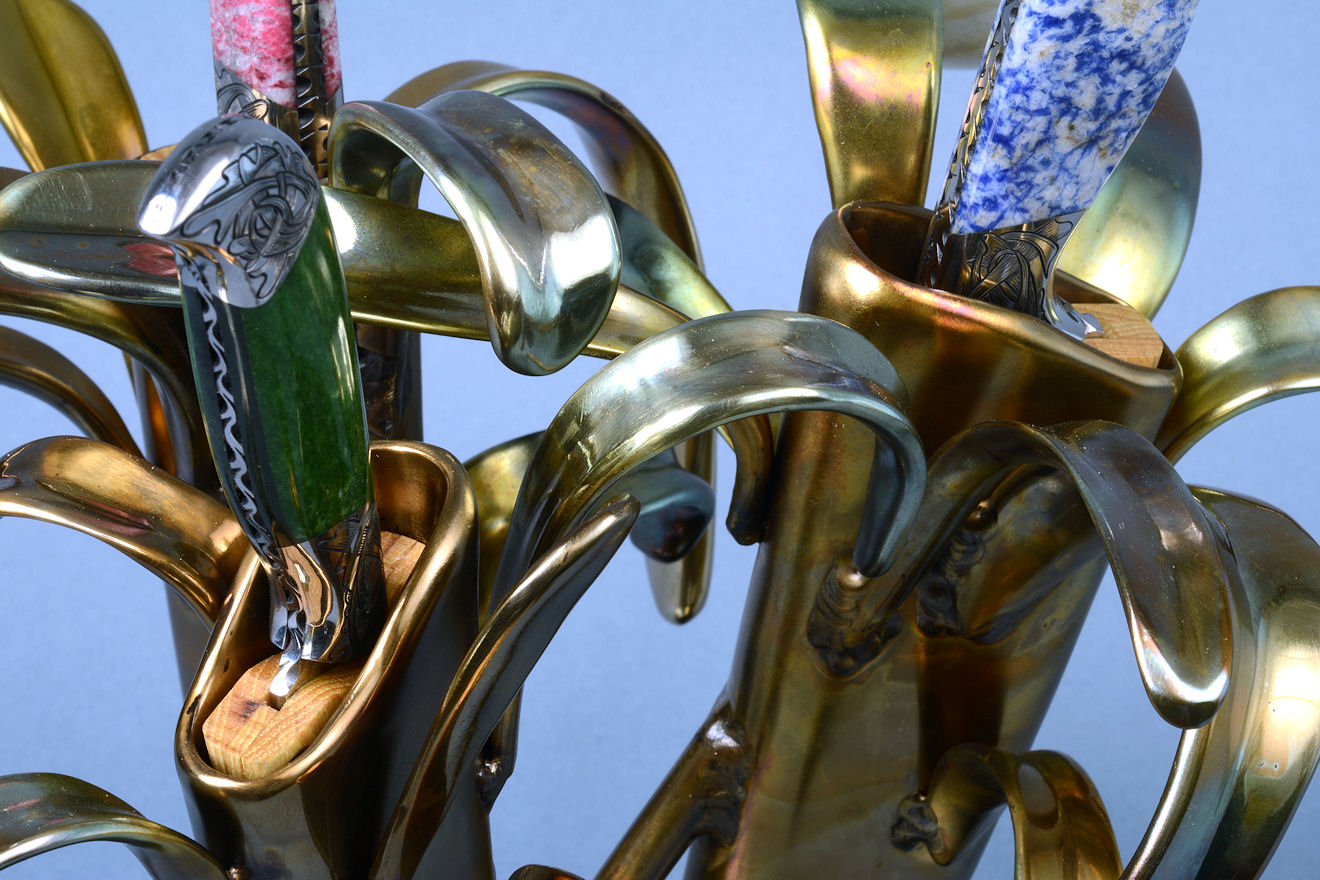 I wanted the bronze to have an older, slightly weathered look, but wanted it to be smooth and silky. A bright polish wouldn't do; it looks too shiny and overshadows the knives, so I used a carefully applied heated patina to tone the colors of the bronze in different areas. The leaf tops have a bluish blush, some areas have a reddish cast. The entire casting is coated and sealed with clear acrylic, so that any splashes on the metal will not leave a mark. It's interesting that when you thump the bronze sculpture with your finger, it rings like a multi-toned bell, and is solid and dense.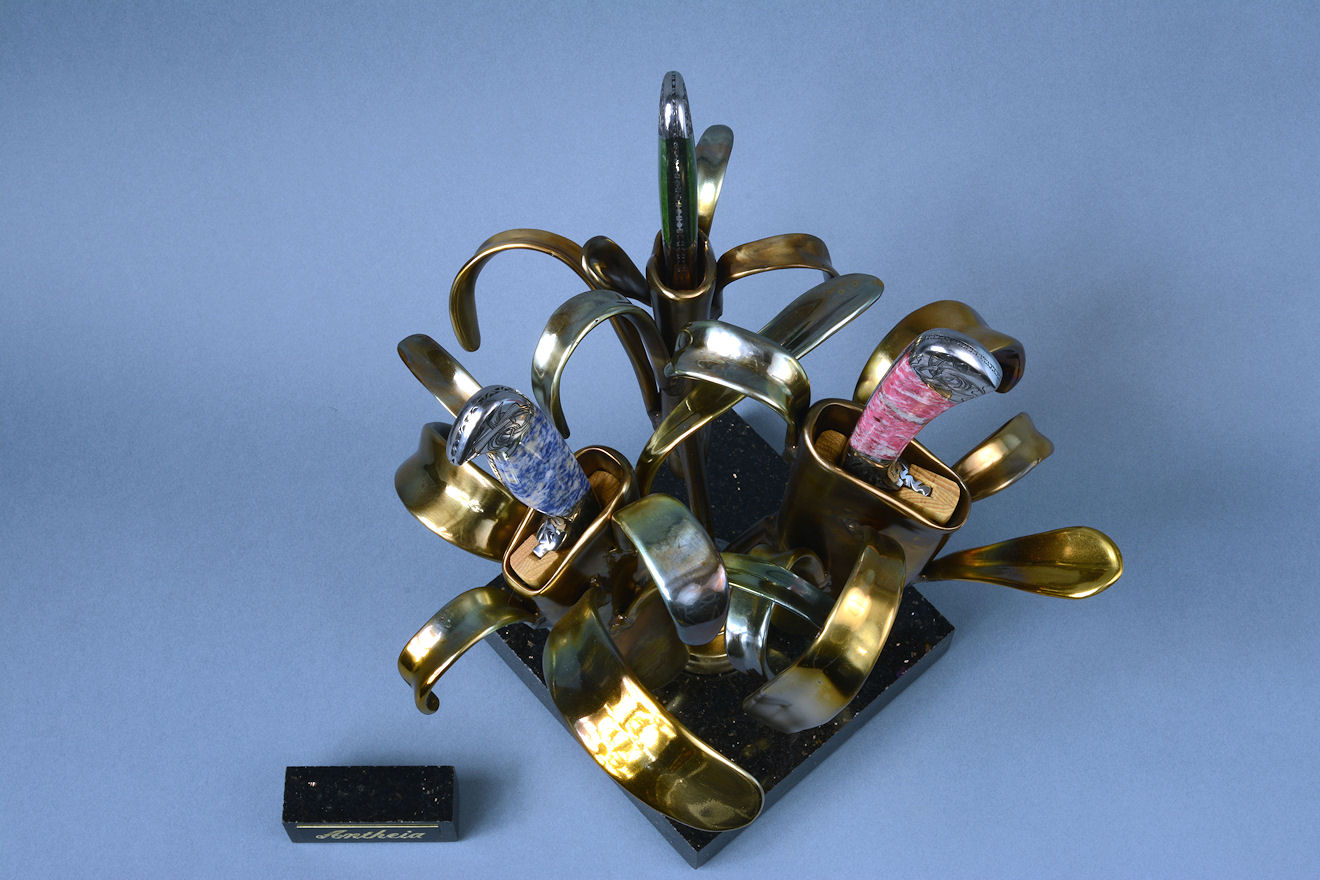 I tried to think of everything everlasting on this sculptural project, so made the Pecan liners removable. They are removed by unbolting the bronze from the granite base (a large 7/16" bolt through the bottom), and using a small dowel of wood to tap out the Pecan liners from the bottom holes. Then the Pecan liners can be unscrewed and cleaned, so that any debris that may find its way there can be removed. The Pecan is sealed with a mixture of mineral oil and beeswax.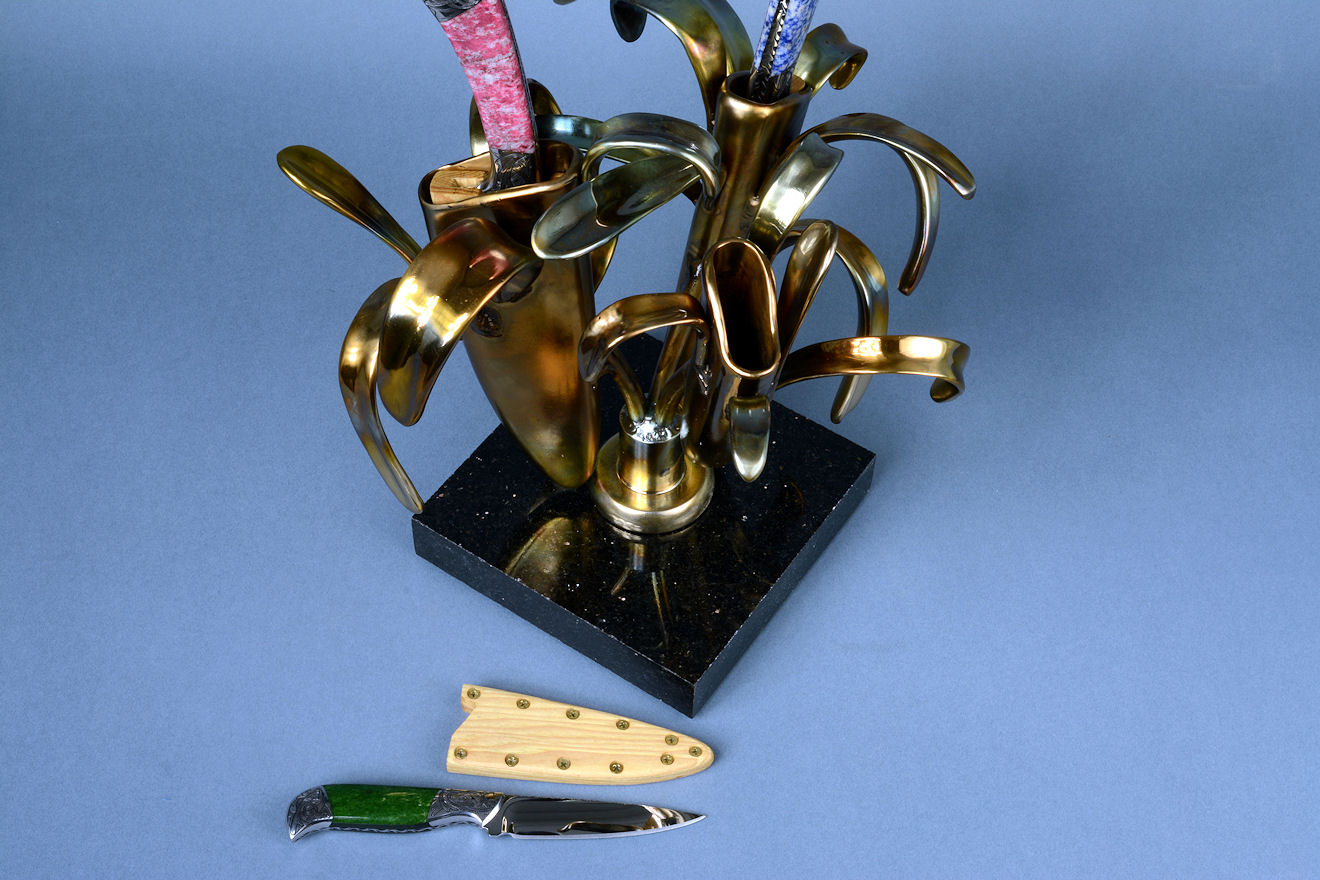 I wanted a heavy, strong, and completely durable base, one that would accent the bronze while offering stability and longevity. I made this one of Black Galaxy Granite from India, a dark, natural material with copper flecks like stars in the night sky. The granite is polished and smooth, reflecting the bronze with warm tones of color. The base has neoprene feet that protect any surface it rests on, and is accented with an engraved black lacquered brass two-sided nameplate.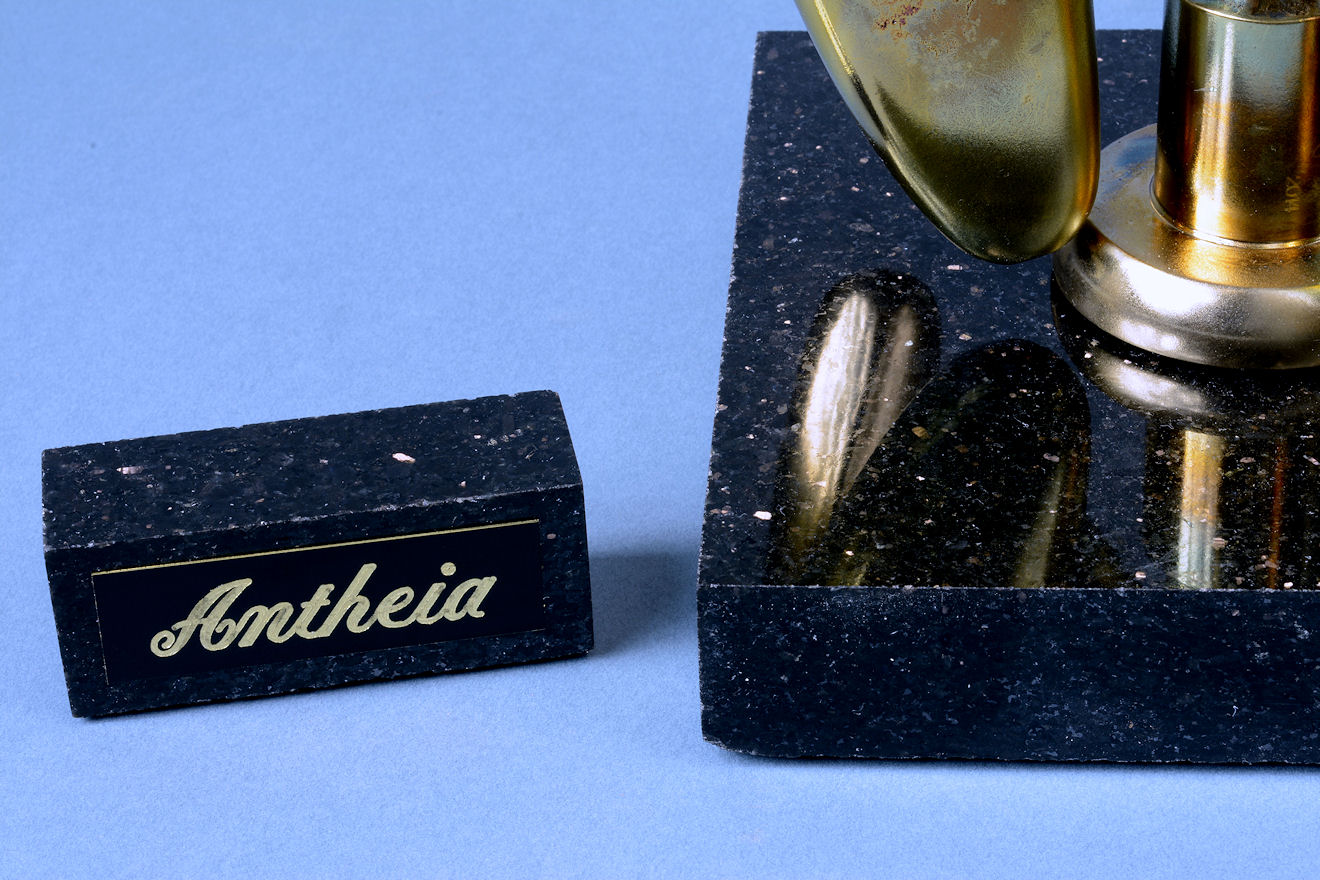 There are lots of photos of this piece; I'm very proud of it and very happy the way it came out! My deepest thanks to my client who accepted my vision for his piece, and my prayers that his family will enjoy it for many generations to come!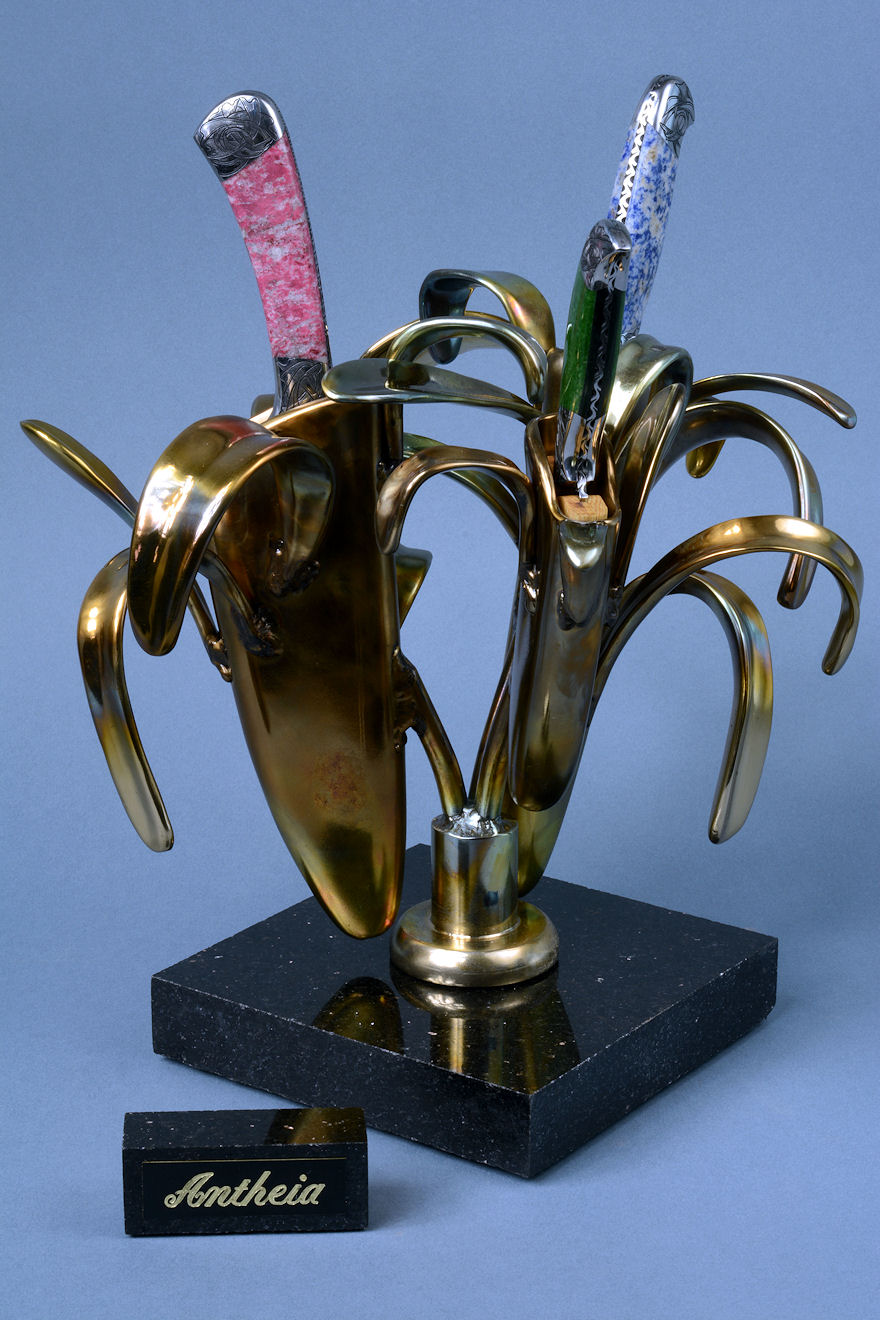 "Antheia" Knife Sculpture/Chef's Set Specifications, Materials
Size

Overall Sculpture: 13.3" (33.8 cm) height x 11.5" (29.2 cm) wide x 11.5" (29.2 cm) depth

Knives:

Cygnus: Length Overall: 10.5" (26.7 cm), Blade Length: 6.0" (15.2 cm), Thickness: .204" (5.2 mm), Weight: 10.0 oz. (284 grams)
Eridanus: Length Overall: 10.75" (27.3 cm), Blade Length: 6" (15.2 cm), Thickness: .190" (4.8 mm), Weight: 8.7 oz. (247 grams)
Corymbus: Length Overall: 7.25" (18.4 cm), Blade Length: 3.5" (8.9 cm), Thickness: .116" (3.0 mm), Weight: 4.3 (122 grams)

Weight

Sculpture with Knives: 16 lbs., 11 oz. (7.57 kg.)

Blades: 440C high chromium martensitic stainless steel, hollow ground, mirror polished
Hardness:

Cygnus: Rockwell C59
Eridanus: Rockwell C58
Corymbus: Rockwell C56

Bolsters, Fittings: 304 high nickel, high chromium austenitic stainless steel, hand-engraved
Handles:

Cygnus: Thulite Gemstone
Eridanus: Blue Willow Sodalite Gemstone
Corymbus: Green Nephrite Jade/Black Nephrite Jade

Sheaths: Pecan Hardwood, brass plated steel screws
Stand/Sculpture: Silicon Bronze hand-cast by lost wax process, heat pattern patina, acrylic seal
Base: Polished Black Galaxy Granite, neoprene, engraved black lacquered brass nameplate
Thanks, L. B.!
Jay,
First, MERRY CHRISTMAS!
K. absolutely loves the knives and sculpture! She marveled at the balance and said each knife felt like a part of her hand and wished she had them for use preparing Christmas dinner last night. She recognized it immediately as an incredible work of art.
We both thank you from the bottom of our hearts for your "Labor of Love" – it shows in every detail.
Jay, you know I am a knife collector and have large collections of Loveless and Moran knives among many others. I have told many of the people in the knife world I deal with that you are the finest working knife maker in America. So many today are "Copycats" trying in vain to make a Drop Point Hunter or Damascus Fighter, rather than create from within themselves as you do. Keep it up and continue to be true to yourself.
With our warmest wishes,
K. and L. B. and Family
---
---