Skeletonized Knives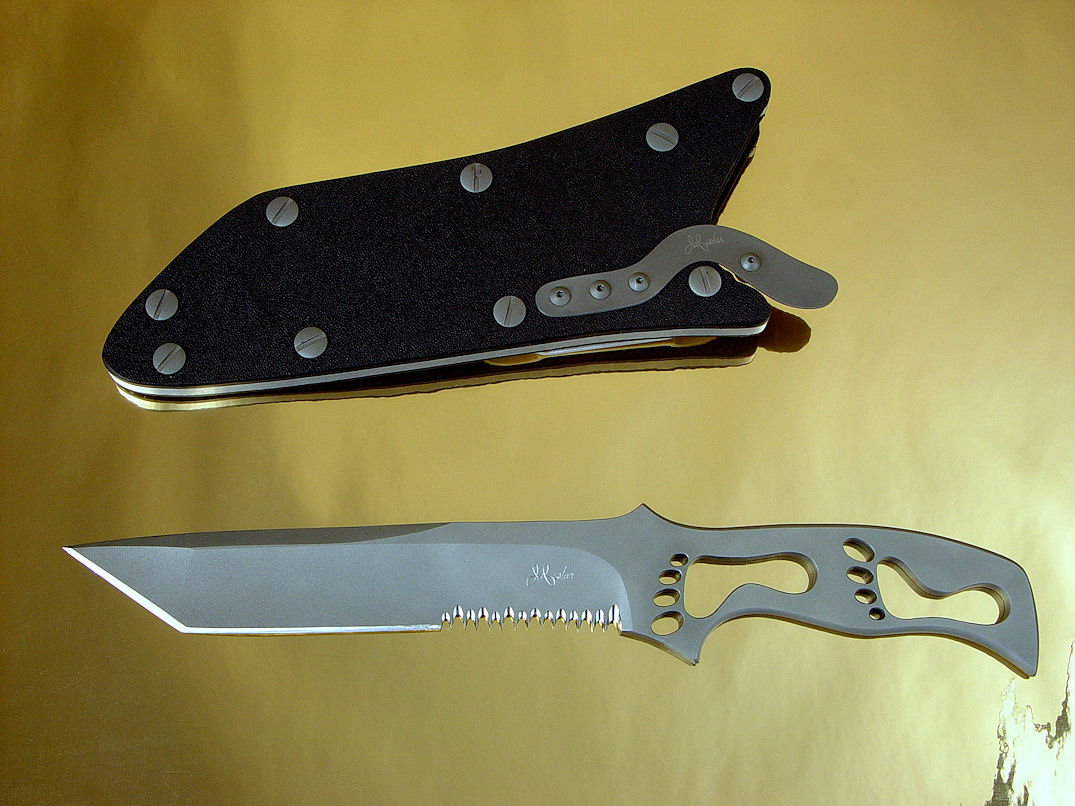 More
about this PJSK Viper
Jay,
This is Jared Lay; my family has bought several knives from you. I bought my brother, Jeremiah Lay, a PJLT Shank knife for him when he graduated the fire academy. Well, long story short, my brother uses the knife all the time and just had it with him in the Philippines, after the destruction. He went into some areas for rescue that were the first rescue people in. Just wanted you to know we love the knives you have made and that they are doing great work across the world.
--Jared Lay
---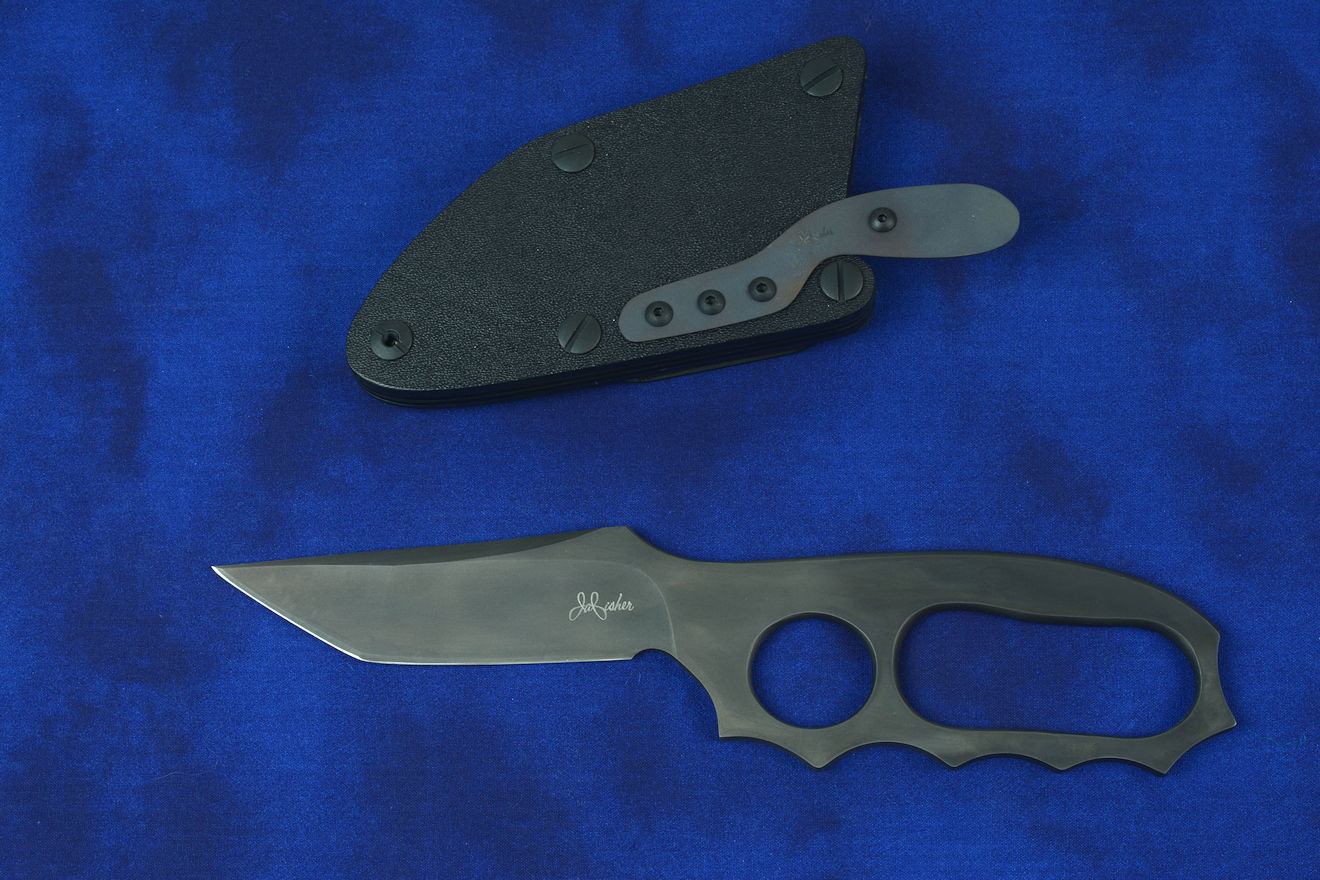 More
about this "Velox"
---
A skeleton is the bones forming the frame of a body, and in skeletonized knives, there is only the frame. Usually, this refers to only the handle, which does not typically have any fittings, bolsters, guards, scales or other material attached. Skeletonized knives are special knives, made this way for very specific reasons:
Weight reduction: Light weight is the most important reason to make a skeletonized knife. Because the knife does not have handle material or fittings, the overall mass of the knife can be reduced. This is important to specialized knife users, such as military, survivalists, and law enforcement knife users who must travel fast and light. By keeping the overall knife weight down, other essentials can be packed, mounted, or carried. A skeletonized knife is (and should be) about half the weight of a similar-sized knife with full handle materials and fittings.
Profile reduction: Thinness is important in mounting and wearing a knife, and in certain cases, a thick handle may be detrimental to mounting other equipment, and can possibly restrict movement in tight areas, such as vehicles, aircraft, shipboard, and maneuvering in tight places. The skeletonized knife is thin, so does not protrude as much as handled knives, so there's less chance of bumping into, hanging onto, or possibly snagging equipment, machinery, and other people or personnel. With some arrangements, skeletonized knives and sheaths can even be mounted between the body and other gear or equipment, yet be easily accessible.
Exposures/Cleanliness: A skeletonized knife typically has no other materials mounted or attached, so all areas of the blade and handle can be easily seen, accessed, inspected and cleaned. This may be critical in certain highly corrosive exposures or continuous marine environments. In contact with possible contaminants such as blood, fluids, and chemicals, the skeletonized knife can then be completely immersion-cleaned, including even autoclaving and sterilizing for disinfecting. All areas of the blade, handle, and frame can be accessed, all can be inspected for any signs of corrosion.
Gas/Water Absorption: This one is not often considered, but very important to hazardous materials exposures responders and marine divers particularly. Most materials, even manmade thermosets like phenolics and G10 composites can absorb water, chemicals and gasses. This is because, although they appear solid, plastics and other thermosets will have small voids, and many of them are reinforced for toughness with canvas, paper, or fiberglass cloth which contribute to more microscopic voids, pockets or spaces. All of these materials can absorb water in prolonged exposure, as well as gasses, particularly under higher pressures such as that encountered on a dive. This may lead to swelling and movement in the case of a dive knife, and contamination in the case of a knife used in hazardous materials emergencies. By eliminating the handle material altogether, as well as all attached devices and features such as bolsters, guards, pommels and reinforcement, the monolithic blade has no area for moisture or gasses to hide, and thus no propensity for corrosion, swelling, loosening, or weakening of the handle or mounting fixtures.
Maneuverability: A narrow, light, and thin knife can be more easily maneuvered in some places where space and motion is limited. Since the skeletonized knife does not have a bulky, wide, or long handle, it may be able to work in tight spots that larger knives and handles can not reach.
Cost/Expense: A skeletonized knife is typically less expensive than a full tang knife with fittings and handle material. This is because there is less material in the knife, but more important, a lot less labor working with and making the full handle material set. Though there may be significant labor in complicated and detailed milling operations to reduce the handle weight, balance the knife overall, and create an interesting and useable handle design, this typically takes less time for the knife maker than a full handle. The sheath is also thinner and lighter, and this helps to make a less expensive knife.
Delivery time: in our studio, the skeletonized knife can deliver quicker than full handle models, because it is faster to make. Each knife is handmade, and custom orders are quoted individually.
From these reasons, you can see why a skeletonized knife may be the type of knife needed. Here are some more skeletonized knives that I've made over the years in several different forms:
Please click on thumbnail knife photos and links for more information
---
Just as with every type of knife, the skeletonized knife also has limitations as well as advantages. Please remember that if there were one universal, superior knife, all other knives would be discarded. Since this is an impossibility, the choice of any knife type, style, pattern, material set, and maker is based on the knife clients own specific needs. Some important considerations about skeletonized knives are:
Strength: this is probably the most important concern for skeletonized knives to be considered by the knifemaker. Because they have less material, less reinforcement, and less mass overall, they are not as strong as a bolstered and handled knife. However, the knife maker can do his best to increase the strength as much as possible by using strong modern materials, using thick stock, properly hardening and tempering the blade and handle, and designing the knife so that strength between the handle and blade is substantial enough for use.
Comfort: this is probably the most significant detriment to skeletonized knives considered by the knife user, and it is very important. Because the handles are thin by design, they can be uncomfortable for continuous use, as there is less bearing surface along the edge of the handle. These knives, consequently, are not recommended for aggressive daily use. You can imagine a chef, for instance, gripping the narrow handle of the skeletonized knife for hours a day, and it's easy to see why this is not the application for this type of knife. Narrow handles can also cause cramping and chafing, but gloves help and many military clients who use these knives wear them. The knife maker can help quite a bit with thse limitations by carefully radiusing, contouring, rounding, and smoothing all of the exterior surfaces and edges of the handle so that there are no sharp corners or angles for the hand to contact. He can also use thicker stock (1/4", .025" or 6.4 mm or thicker) to help prevent cramping. Width of the stock is important as well, for narrow skeletonized handles can be small and uncomfortable. Another critical step is to chamfer the cuts or milled holes through the handle, so that there is no sharp corner that can chafe, abrade, or cut the hand.
Grip Certainty/Force Transfer: this is seldom considered or discussed by people who make and sell so-called tactical knives, but it should be. This is the ability to transfer great force from the handle of the knife to the blade while keeping a secure grip. You can imagine how much energy it takes to handle a knife in a combat situation, and how a smaller, narrower handle may limit the grip strength necessary to transfer that energy. A full, rounded handle with adequate reinforcement in the quillon and bolster area will allow much more surface area to contact the hand, thus more certain a grip can be maintained. Since it is the handle shape (not the surface finish) that maintains grip certainty, it is critical that the skeletonized knife is designed with enough mass, width, and thickness to enable this energy transfer. This is up to the knife maker and designer, depending on the expected use of the knife. More about handle shape and grip certainty on my Tactical and Combat Knives page at this link.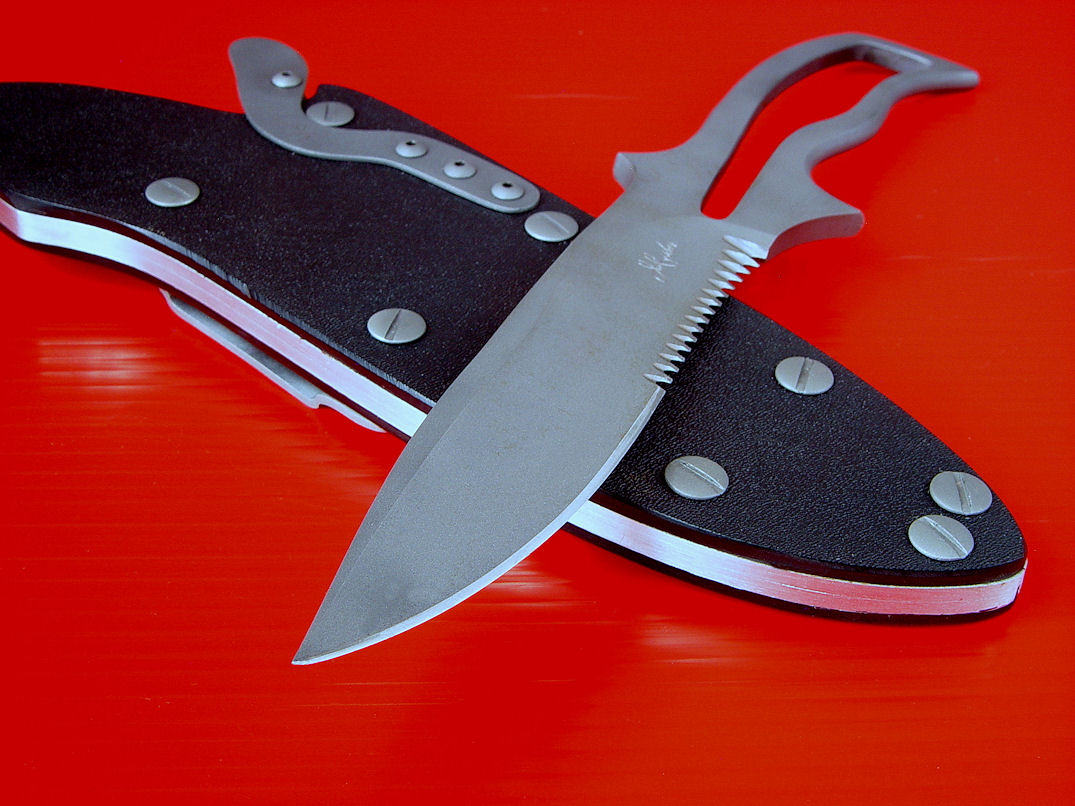 More
about this Viper
---
Considering the advantages and limitations listed above, the choice of a skeletonized knife is up to the knife client. If you think that the light weight, small profile, cleanliness, and low mass is the most important aspect of your knife choice, then a skeletonized knife may be your best bet. Your custom knife maker should be able to work with you to make sure you are satisfied with the knife, understand the advantages and limitations, and create a custom work that meets your needs.
In this studio,; you can rest assured that we will do just that. If you are considering a skeletonized knife and do not see the exact form you desire, please remember that we can design new skeletonized knives based on the existing 400+ designs you can see on my Custom Knife Patterns page, as well as create hybrid knife designs based on the handle of one knife and the blade of another. We also work with new designs continually and will be glad to consider your individual needs and requirements.
Customization is another option for a skeletonized knife; we can cut or mill any appropriate visual design through a knife handle or blade, depending on the complexity and arrangement that will still support a strong handle, blade, and junction. This is an exciting customization that can include bold graphics, personal initials, and insignia of our clients.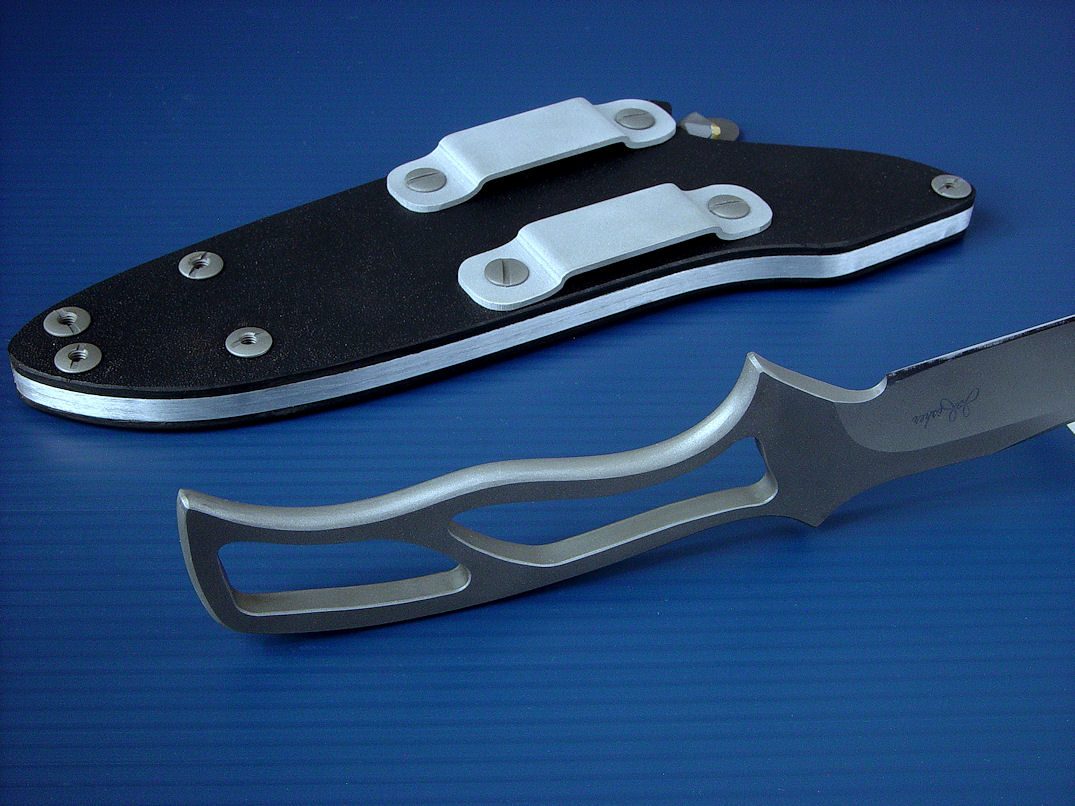 More
about this Viper
---