Shipping Knife Orders
---
I now ship only by FedEx. The reason for that is because I've had some expensive knives and artwork stolen when shipping USPS and I must do my best to protect my labor and your investment, and I can no longer trust the United States Postal Service. What this means is a bit more expensive shipping charge, but when a knife of $1000, $3000, or $6000 is lost, there really is no shipping fee to expensive to locate, track, and keep account of that knife or artwork. With FedEx, you'll get accurate tracking and guaranteed delivery.
Here is an email typical of the example of why I no longer ship United States Postal Service:
Jay,
I figured I ought to update you on the status of the knife you sent off for my son-in-law. Despite your best efforts to get it to him, it did not arrive before he deployed. It got to the bulk mail center in Federal Way, WA on the 21st, was sent to Austin, returned to Federal Way, was sent to Dallas and was back in Federal Way on the 3rd of April. I spoke to several folks at the bulk mail facility and they characterized the knife as being "loose in the mail." As of Friday, they were relatively confident based upon the scanner data they had that it had actually gone out to the Dupont, WA post office for delivery on Sat, 5 Apr. Unfortunately, my daughter is coming home tomorrow for the time of her husband's deployment, and had put in a change of address with the local post office, effective 5 Apr. So...I guess we will wait another week or so to see if it actually gets redirected here. I'm not sure if the tracking data will still allow it to be tracked since it ostensibly was released to delivery. If it does arrive here, I won't trust the mail to get it to him in Afghanistan; I'll hold it until he returns home in July. He already knows he'll have another opportunity to take it with him when he deploys again in December. That's the update. I'm still hopeful it will show up.
This is why I now ship exclusively with FedEx.
FedEx shipping charges will have to be detailed on an individual basis. The weight, dimensions, and type of shipment must be known before the charges can be figured. Currently, I'll pay for the boxes, packing materials, and travel to the drop off destination (handling), and I'll expect the client to pay for the FedEx shipping. When the knife is complete, I'll pack it, detail the shipping type and time, and let you know the cost. Then, you can add shipping to your final knife payment, and the package will be ready to go.
A big advantage is that FedEx offers some additional services, like specific delivery times, arranged delivery, and Saturday delivery. The delivery can be rushed, held until its convenient, and tracked along the way. The delivery can be signed for by anyone at the address, someone in the area, or it can be released to the location if it's a safe area. You can even make sure someone over 21 signs for the package. For my international clients, you can get customs-cleared door to door delivery. FedEx can deliver to any place except a P.O. box. If you have a P.O. box only, let me know and we'll work that out.
By having FedEx handle shipping, I hope to never lose another knife to pilferage or theft or to have any unreasonable delays that are typical of the bureaucratic mis-function that is our postal service.
Page Topics



---
Unfortunately, no, as there are fools everywhere. Take the TSA. Yes, our fantastic Transportation Security Authority run by our federal government. I've discovered that they have the propensity and inclination to protect your family's safety during travel from any dangerous knives that may be hiding in the cargo hold with the rest of the FedEx packages, so they are allowed to scan, X-ray, and then (apparently) open the packages, and handle, molest, and even damage knives or sheaths. So, also, are customs officials in both the sender's country (ours) and the recipient's country (yours). Yes, this has happened to knives I've shipped.
The knives are hard to damage, though the monkeys do leave greasy fingerprints on the blades, but they have damaged leather sheaths while carelessly handling and re-sheathing the knives, in a hurry, no doubt, before their boss finds out they are shopping for Christmas presents. Okay, I'm being a bit facetious here (just a tiny bit), but it's happened to my clients. Look, I understand the panic that occurs when the silhouette of a menacing-looking knife pops up in an X-ray scanner, but really, that sheathed and bagged knife packed in brown paper and taped up inside a heavy cardboard box won't harm anyone. The best I can hope for is that they get a nasty cut drooling over the workmanship...
The truth is, the TSA and customs officials have the authority (so does any shipper or carrier) to open any package in their care. They do. I can't stop it, but at least FedEx lets me know where the package is. Know that if your knife arrives disheveled, with fingerprints on the blade, or shows signs of mishandling, this is NOT how it was shipped. I ship the knives clean, properly sheathed, carefully wrapped, and tidy because that is how I would want to receive them. Unfortunately, goons in polyester don't care, and there is nothing I can do about it.
So, here's the shipping disclaimer: I can't be responsible for the knife package once it's shipped and has left my hands. If there is damage to the package, item, or contents caused by careless handling, it is the recipient's responsibility to file a claim with the shipper, TSA, or other authority that has caused the damage. I'll help with what information and record I have (the photo set and description page is a good reference for condition), but I can't be responsible for anything they do.
Thankfully, this is rare. If you are seriously concerned about the knife's condition, know that you are invited by the studio to pick it up in person! I always love meeting my clients face to face, and I'll put a cup of coffee on for you.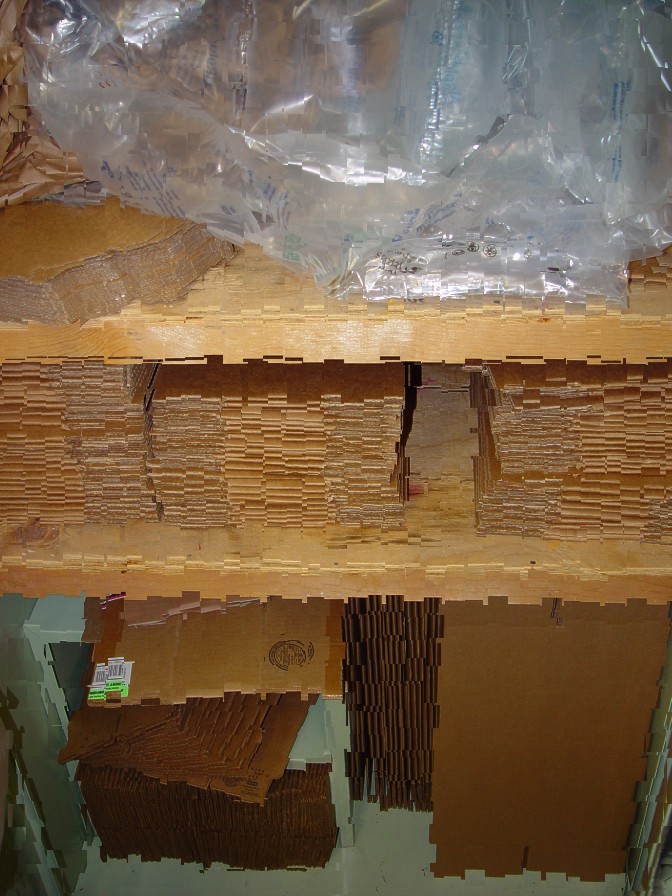 ---