This Website
What It's About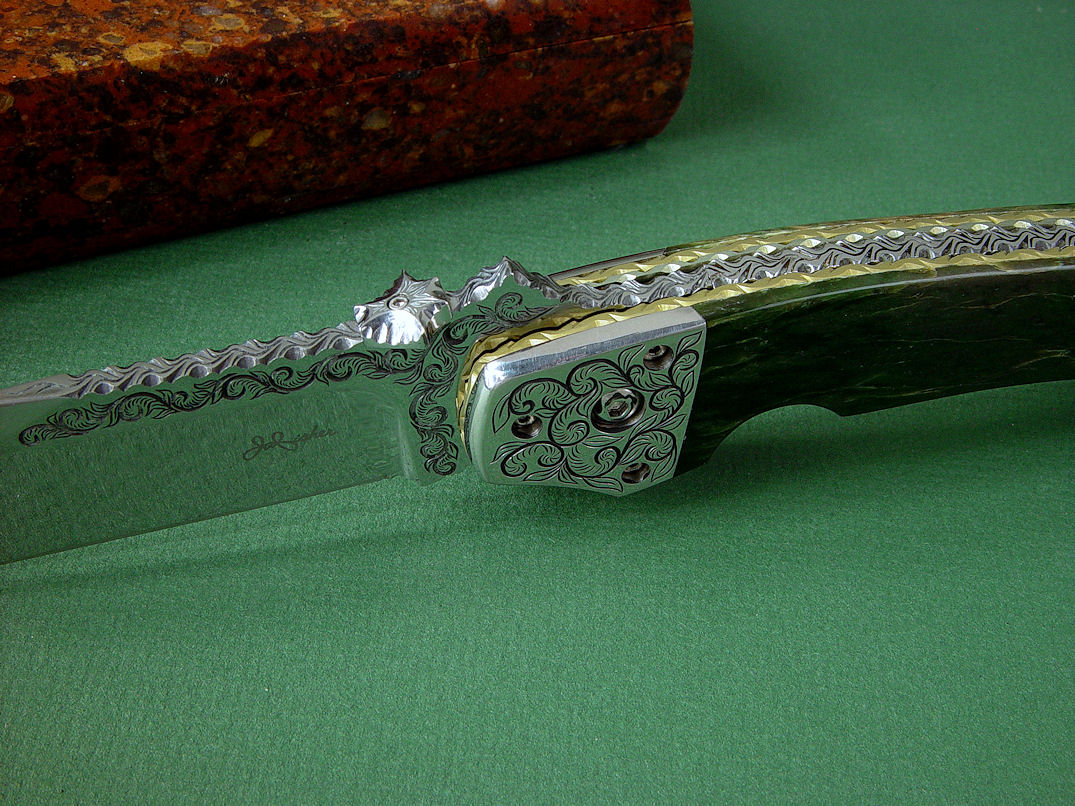 More
about this Procyon
---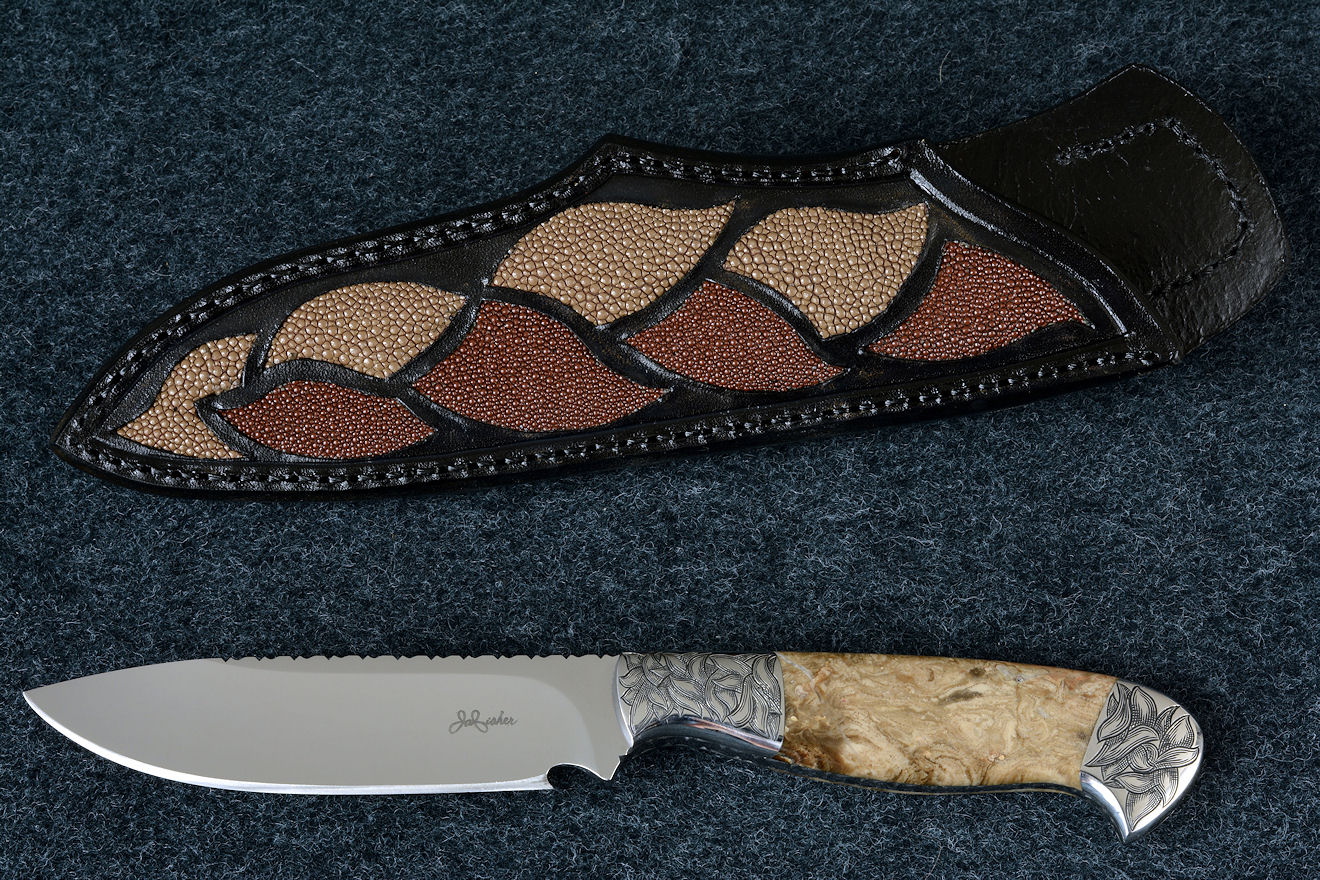 More
about this Vulpecula
---
I make knives. I've made knives for decades, and I make what I believe are some of the finest, most durable, most attractive, and most useful knives in the world. How can I say that? Take some time here, look around, and you'll understand. I make real combat knives for some of the top military combat and counterterrorism units in the world, and I make knives for very successful professional restaurant chefs. I make knives for every kind of person, from ranchers to astronomers, from survivalists to artists. A great many knives I make are for collectors, simply because the value of my working knives reaches into the collector's investment range and potential. I've made knives from several inches long to pieces weighing over 400 pounds. I've attended knife shows and exhibitions all over the world, and even have a piece in one of the world's top armament museums, the Tower of London.
What you see in my knives is rarely seen in most other knifemaker's, artists, and professional tool and weapon's maker's work. I don't make what many people think is a common, typical knife made by a modern machinist, lapidary, leatherworker, carpenter, computer technician, photographer, writer, and artist.
Oh, and everything you see here that has my own name on it is all my work. Every piece, every word, every photograph, every engraved cut or blade finish or cutting edge, or sheath tooling. Everything.
Thanks for being here!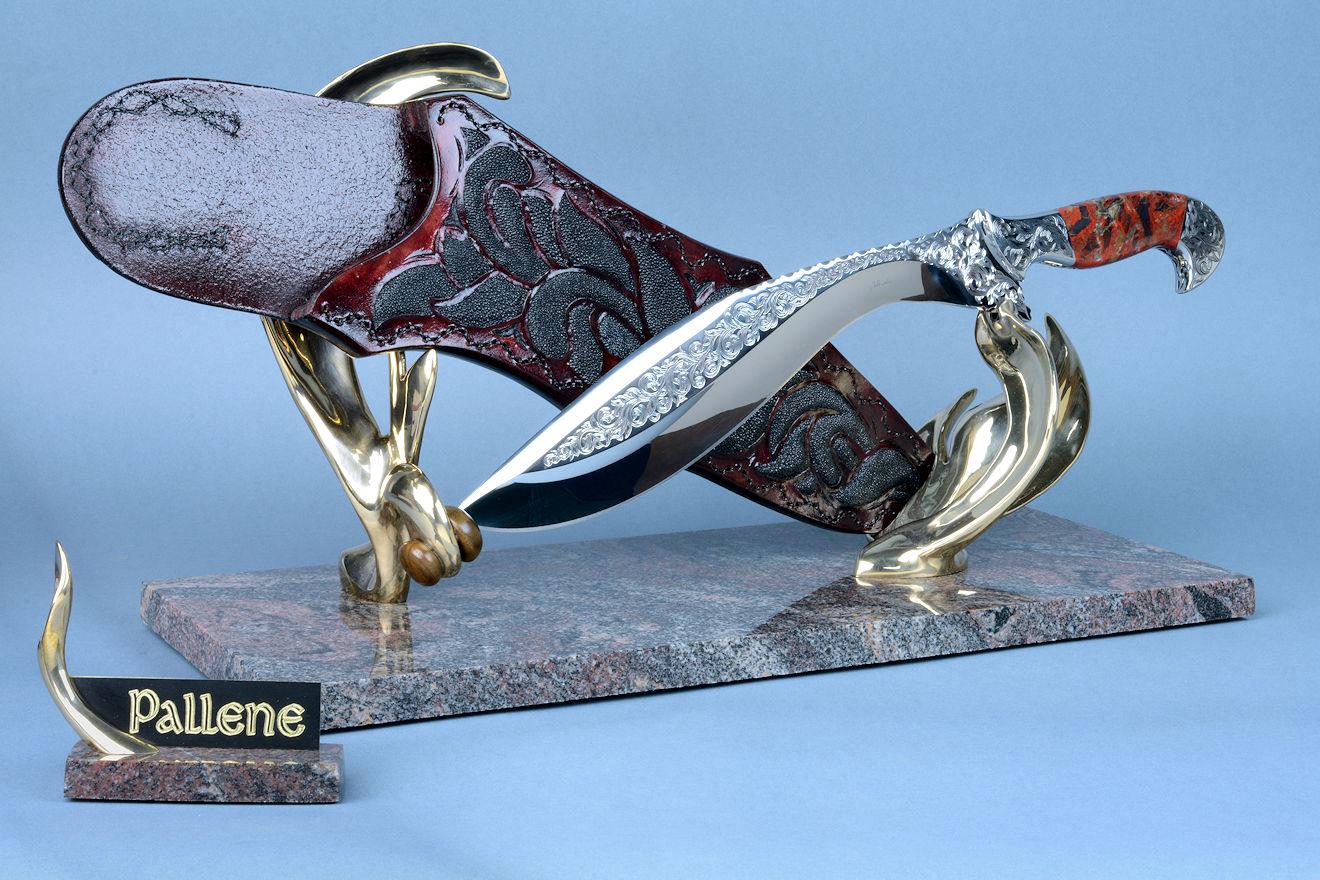 More
about "Pallene"
---
Welcome!
-My Clients, Patrons, and Fellow Enthusiasts
This site is about my clients, patrons, and fellow knife and art enthusiasts. That includes my past clients, present clients, and future clients and patrons, and all of those interested in fine handmade knives. The site is about my work, creations, directions, and ideas. My name is Jay Fisher; the site is named "jayfisher.com" and the site is about my career and life interest making knives professionally for all those clients who have supported me for decades and will be my future patrons, enthusiasts, and friends.
If you could post your life's work on one website, how would that look? These days, a curriculum vitae is commonplace for all modern artists, and this is mine. In the future, most professionals' life's work will be able to be seen, cataloged, and verified on the internet and copyrighted, as this one is, in the Library of Congress, our world's top library and source of record. Many professional jobs today require a related web site for details of that professional's work, his achievements, history, education, and even his attitude and beliefs. It is, simply, the new and best current medium of information, resource, and exchange.
The site is about selling my knives, too. Unless you find someone else who is willing to part with his Jay Fisher Knife, this is the only place you can purchase one. You'll see that I don't have many knives available at any given time, because when I post them for sale, they may not last long before being purchased. Why? Because I do my best to make very fine knives, the best knives I can possibly make, and I offer a great product, tool, and art. A lot of people want the knives, and this is because I work very hard on every one. Many of the knives that are in production in my studio are sold before being finished, and my custom order list is substantial. Since the site gets about 100,000 hits a day, and over 95% of the visitors add it to their favorites list in their browsers, they keep a pretty good eye on what is new. I derive all my income from this website and its referrals. As a professional, this is my full time job and I love it.
The site is not just about selling my knives. I've tried to share some of what I know and think about knives, craftsmanship, art, and other related information. That's why I have over 15,000 pictures and over 500 pages of information here. If a person comes to the site and they stay a while, it's because they've found something useful or interesting. I'm constantly adding to the site, updating the pictures and information, clarifying and editing, and writing the code, words, and adding pictures and ideas.
If you want to see, order, and buy some of the finest handmade knives available in the world today, you are in the right place. If you want to know more about modern knife making as a profession and art, you are in the right place. If you have an interest in knives, are enthusiastic about knives, or have an idea about a modern knife that you would like to see, you are in the right place.
Welcome!
Hello Jay –
I cannot add to what compliments already appear on your website– therefore I am parroting……….
You have the best artist's/craftsman's website compared to all I have seen in my many years and your writing is superb.
I am 67, a dual citizen, and at one time posted to the 18th Airborne Corps at Ft. Bragg back in the 60's and 70's, so I know how pleased ANY soldier would be to carry and trust your final pieces.
Very fine, very fine.
All the best to you.
--Bryce O.
Edmonton, Alberta
---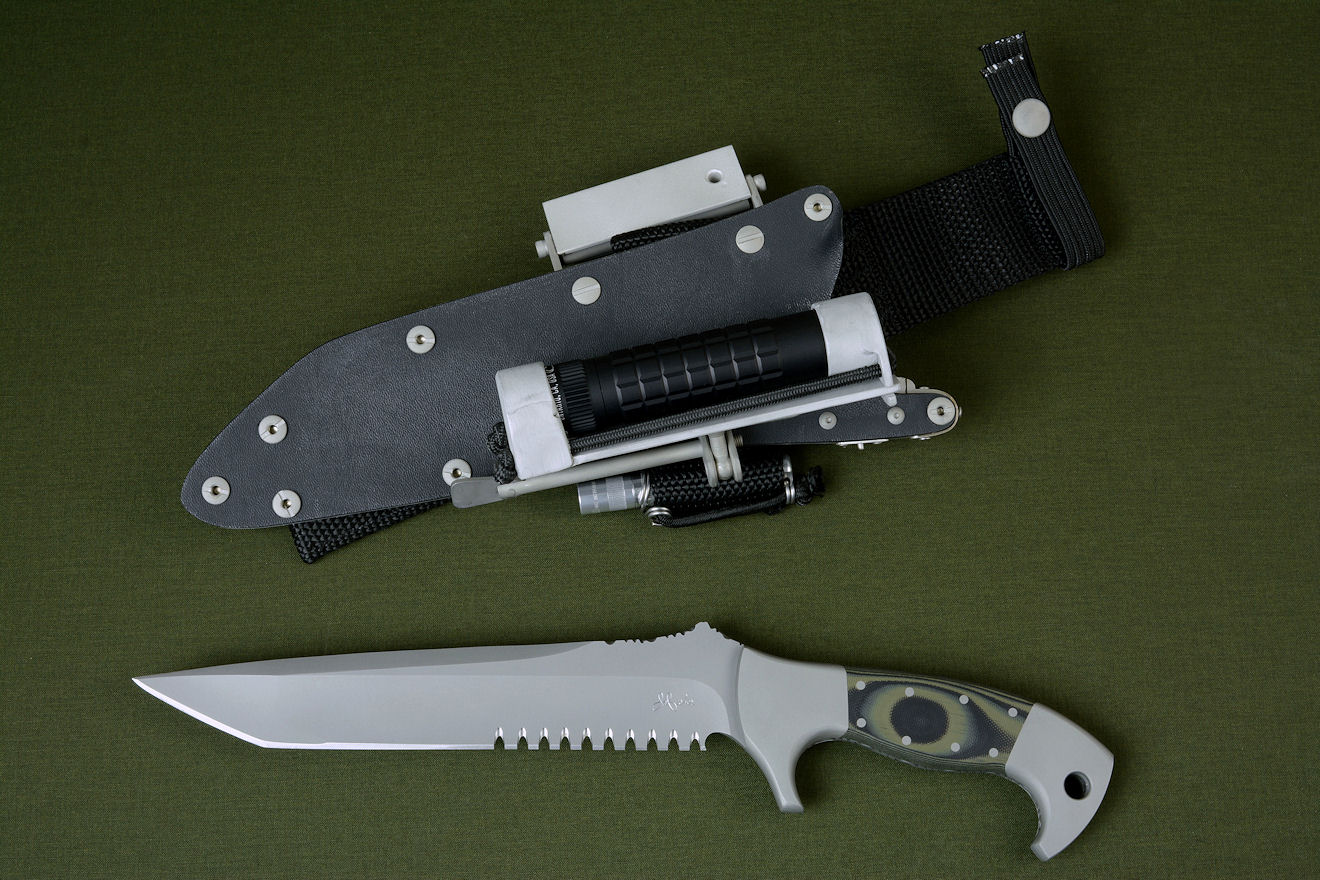 More
about this Taranis Tactical Combat, Counterterrorism, CSAR knife
---
Having an information-rich website demonstrates that I have a lot to say about knives. That's because I am passionate about the very ancient and honorable tradecraft, art, and profession of making knives. I've studied, learned, and grown tremendously since I made my first knife over three decades ago. I'll continue to grow and learn; this is the nature of life itself. I'm grateful to have had the experiences involving knives that I've had, and I've met some of the finest people one could ever meet in the world because of knives.
What I want you to know is all about modern handmade and custom knives. While I also want you to purchase my knives, I realize that for many people, my work is not within their reach either by budget or time. Still, I want to share what I've learned about knives, so that anyone visiting this website may make a very well-informed decision in their own knife interests, ideas, and goals, no matter who they purchase from or commission to make their own knives. It is my goal to educate, above all, anyone who wants to learn about modern knives, right here on this site, for free, available any time, through any device that can access the internet. You won't find a larger, more comprehensive and detailed website by any other singular knifemaker in the world.
I want you to know about hand knives, their use, their purposes. I want you to know about modern steels, blade design, balance, fittings, handles, and materials. I want you to know about finishes, mechanical construction, forces, and wear. I want you to know about sheaths, devices, and accessories. I want you to know about art in knives, the direction, concepts, and nature of the knife and how it is infused into our reality. And I want you to enjoy it, have fun, get a laugh, be impressed, and I want you to come back.
It is a constant source of amazement to me (and most everybody who has a passion for this art) how much there is to know about what seems to be a simple form and tool. While the internet does offer some limited sources of knife information, most of it does not come from someone who has spent his entire adult life making, learning, and improving the profession of knife making. Most internet information about knives is provided in the advertisements of businesses that manufacture knives in large scale, and the feedback and discussion of those who own and use these factory knives. Other sources of knife discussion are forums and bulletin boards, but they are mostly frequented by beginners, hobbyists, and part time knifemakers. Unfortunately, they are rife with misinformation. Frankly, after all these years, it still amazes me how little is actually known about modern, finely handmade knives. It is my goal to combat the overwhelming amount of misinformation, hyperbole, wives' tales, and outright falsehoods available on the internet and in other resources. I do that continually on this site, with pages and pages of clearly presented facts and examples.
Knifemaking is a serious profession for those of us who wish to take it on, full time, without any other source of income. This is not how most knifemakers work, and because of the hobby aspect of knifemaking, many doubt the significance of our tradecraft. Ask one of the members of the world's top counterterrorism teams if they want a hobbyist to make their combat knife. Ask a USAF Pararescueman if he wants a small factory to make the knife he carries into a combat rescue. Ask a world class explorer what brand of knife he wants to carry in his next three month excursion up the Uaso Nyrio River to Lake Turkana in Kenya. Ask the internationally known chef in New York city what manufacturer he wants to make his next custom cleaver for his restaurant. Ask any educated collector what Chinese knife company he wants to make his next investment knife that will increase in value over the decades. The reason I cited all of these kinds of people is because they are the people I'm currently making knives for. None of them want a novice, part-timer, factory, boutique shop, small knife manufacturer, foreign knife manufacturer, or large knife business interest to make their knives. They want the skill, attention, experience, and results available only through a maker who has a reputation, history, and success at making fine handmade and custom knives by hand for some of the best clients in the world.
For me, this is not a hobby or part-time endeavor. This is as serious as it gets. I have knives performing some of the most dangerous tasks in the world, and it's not something I take lightly. I take myself lightly: laugh a lot, enjoy the company of my family and friends, and enjoy learning and sharing. But the knives, well, that's serious professional stuff.
I was at a museum one day in our area, and a local engineer visiting there heard I was a knifemaker. I emphasized the word because to most people, the word knifemaker conjures up an image of a grizzled, fat, middle-aged hick wearing dirty bib overalls with blackened hands gripping a hammer over cherry-red stump of iron parked on an anvil. He looked at me with distrustful eyes, because I didn't fit the image in his mind (okay, I could afford to lose a few pounds, but there are no bib overalls). He thought he would immediately put me in my place by asking what type of steel I use for my blades. He most certainly was hoping for a flummoxed stare, perhaps embarrassment or humiliation while he planned to educate me on just what alloys needed my consideration for my own trade. After all, he was an educated engineer. You can imagine his surprise when I told him it would depend on what purpose the knife would serve: a high chromium type would be required for high corrosion resistance and good toughness, while a thicker geometry of blade would accommodate a higher hardness and increased wear resistance of vanadium in the alloy. Of course, if extreme wear resistance was necessary, perhaps a tungsten-bearing alloy would be needed if the other factors, toughness, care, service, and shock were not in play. I went on to give him the numbers, in alloy content, typical applications, and manufacturers' designations and AISI types. I threw the question right back at him, asking what type of knife was desired (there are literally hundreds) and what he was expecting to do with it. I told him I alone currently have over 450 patterns. He nervously fidgeted and said that he really didn't know; he just wanted to know if I was "the real thing." I just smiled.
I'm confident that I'm the real thing, and confident that I have something to share with you, the reader who is visiting this website. Thanks for being here!
Dear Jay,
Your knife site is frankly dangerous. I have lost myself for countless hours reading and ogling your website and learned more about knives and knife making in the process than I thought possible. I especially love your simple, clean and extremely verbose technical style.
In the world of knife making your site should be listed as a cultural treasure.
Regardless, thank you from the bottom of my heart for one of the best websites on the internet.
Sincerely,
Aaron Young
---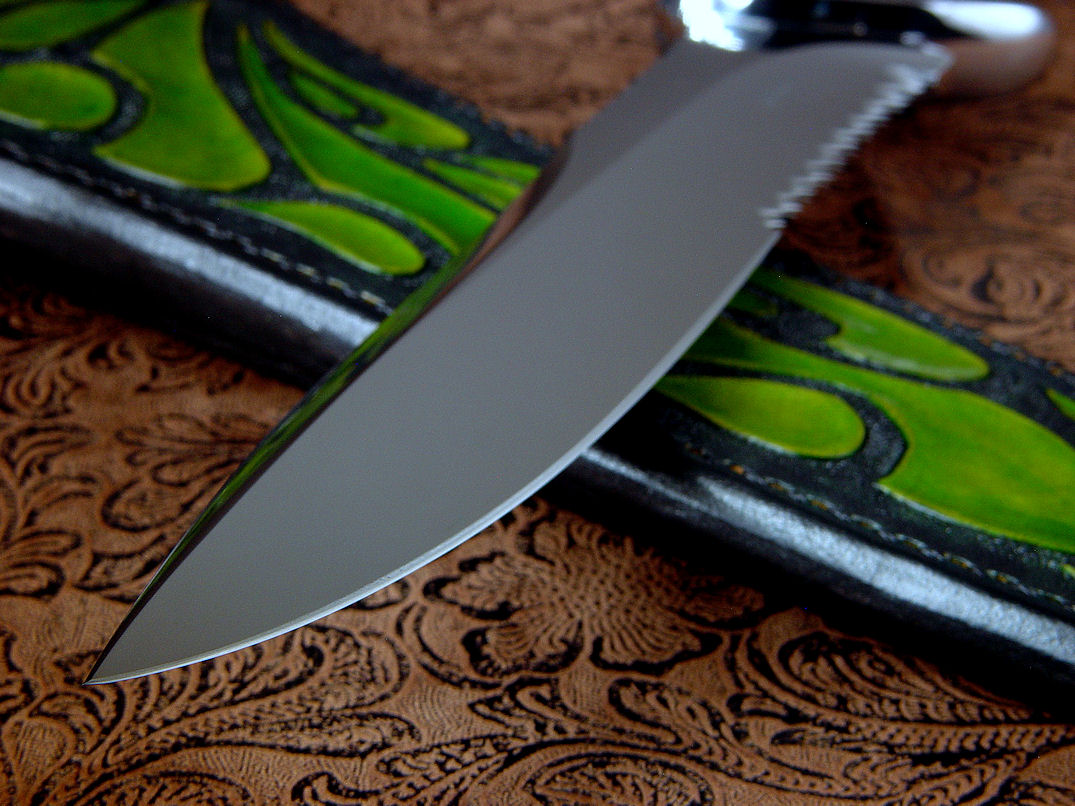 More
about this Macha Navigator EL
---
The critics: always fun to talk about; and oh, how they complain!
I saw a lot of traffic coming from a social networking and bulletin board site. They were in awe of a labradorite gemstone handled knife I made years ago. They simply didn't know about gemstone handles, blade steels, finishes, and all the intricacies of modern knifemaking. While they were kind about the knives, they were simply horrified about my web site. To them, it looked dated, flat, and some even suggested I hadn't updated it since I built it. (Ahem, I update about every 3-6 days). The issue is that this site, as flat, plain and boring (to them) it is, it's not what they typically encounter. Where do they go to see the catalog price of the labradorite-handled knife? Where are all the ads? Where are all the nested applets? Where were the scripts, the sub-programs, the mess? Where are the drop-down menus, the scrolling pictures, the mouse-over redirects and confusing links? After all, how could I be successful with such a simple website. Yet... it keeps me deep in continual orders making some of the best knives in the world for the best clients. And the site they frequent? A simple bulletin board open source plain text posting site from 2005. Okay, it's newer than mine; I've been around since 1996. The complaints are welcome too; they drive plenty of traffic and ultimately clients my way.
Welcome to the successful dinosaur. Even though, at the time of this writing, I have over 500 pages on this site and 15,000 photos, this is what you might call a simple website. I found out long ago that complicated websites with web bots, nested programs, misleading redirects, popups, embedded applets, dysfunctional and failing scripts, complicated graphics and display arrangements, confusing side frames, and tricks, gimmicks, and ploys all have a cost. You didn't come here to see a bunch of junk advertising obscuring your view, trying to lure you away and get your business. All those distractions prevent you from finding out what you want to. The fact is you are here because you seek information. That's it. You want photos and words; you want to find out about knives, order a knife, purchase a knife, or have a knife related query, idea, or interest.
I don't answer questions about knives unless they are about an available or custom order from me. This isn't because I'm trying to be a jerk; it's because I get hundreds of this type of inquiry every week, and I simply don't have time to answer them. I do have most of those answers on the site, and if you'll take some time to read the links and topics, you'll probably find your answer and perhaps even more than you expect! The services I do offer and what I do not are detailed on this page.
I don't use any of the complicated stuff that you'll find on many other sites. That's because I don't want you to be distracted, confused or overwhelmed. So every page on the site has a simple top header with some of the main and featured pages, and a bottom footer that has all of the major links. On every page, these are the same, your browser should easily indicate what pages you've visited, and you can always use your back button to return to where you were previously. Above all, in both header and footer you will see the link for the Table of Contents page that links to every public page of the site.
Public pages? Yes, not all pages on my website can be viewed by everyone: some are new or under construction, some are only for certain types of knives and knife clients, some are archived, some are for knives that are not available for public purchase, and some are unlisted. Unlisted? What? When you are inducted into the exclusive dark-robed secret society of knife professionals, you'll be presented with a magical key that will allow you into extraterrestrial dimensions of knife knowledge hidden in my server's tomb. Just kidding.
The page titles are pretty self-explanatory, but on some pages (like the Business of Knifemaking page) the topic titles are purposefully descriptive of technical or emotive reactions. These are all mine; I've typed every word on this site except the testimonials. As a writer, I've done this to make it interesting and give you a good hard look into my knifemaking experiences over the decades. I try not to be a dry writer, but to exhibit the passion for my art and trade that I think is appropriate. Knifemaking is very hard and difficult work, and I've put the major part of my life into it, so it's only reasonable that I have passion about the profession. You have some powerful interest in it yourself, or you wouldn't be reading these very words!
This is not a catalog site, and that seems to throw a lot of people. They just want to go to a page and see what I have available, and what the price is. I even have people send emails and postal letters requesting full color catalogs of every knife I offer. This would be voluminous indeed, as I've made and offer literally thousands of different knives! This is not that type of website; I don't make generic knives, and this web site is my catalog. No one could afford to produce a printed catalog of over 15,000 photos and 500 pages in this (and most other) trades, yet that is what you will see here. The knives I currently have for sale are only two pages on this site, my Current Knives for Sale, and my Tactical Knives for Sale page. And on those pages, you'll rarely see more than a few knives, as they just don't last. Much of my work is custom, detailed by the individual client or patron, and I actively pursue custom orders.
I get lots of offers from web developers that want to "improve" my website. They have a business, and see that I have a successful one, and I could probably pay for their services. They see that I don't have a shopping cart, a catalog, an online ordering form. They want my site to look like every other website around, and they are determined that I "fix" it. Would it help to let them know that this is one of the most efficient, productive and successful websites in the world? Tens of thousands of visitors, millions and millions of hits every month, and somehow my site needs "fixed." More on that on my Business of Knifemaking page at this bookmark.
I don't have a course of direction on this site that many sites have, that is, I don't direct you to a certain purchase page or move you on to achieve a goal dictated by search engine optimization. I don't have dollar campaigns, directed traffic, or link advertising, though I could, as JayFisher.com is in the top 10 percent of sites in the entire world. When you consider that in 2014, there will be over a billion websites, it's pretty nice (even though it's one of 100 million others in the top 10%). To understand the magnitude of this, know that there are 3-5 websites created every second!
I want you to have a leisurely, fun visit here; your time is valuable. I want you to bookmark the site, come back often, learn, share what you have learned, and discover that there are many facets to man's oldest and first tool and what is perhaps truly his oldest profession. I'll do my best to keep the site current, functional, simple, clean, and informative. Even if you never buy or order a custom knife from me or any other knifemaker in the world, you are welcome here to look, examine, and learn more than you will in any other knifemaking related site created by a singular knifemaker in the world.
Your Web Site-

Dear Sir,
I am impressed; you are the epitome of a professional.
--Alan
---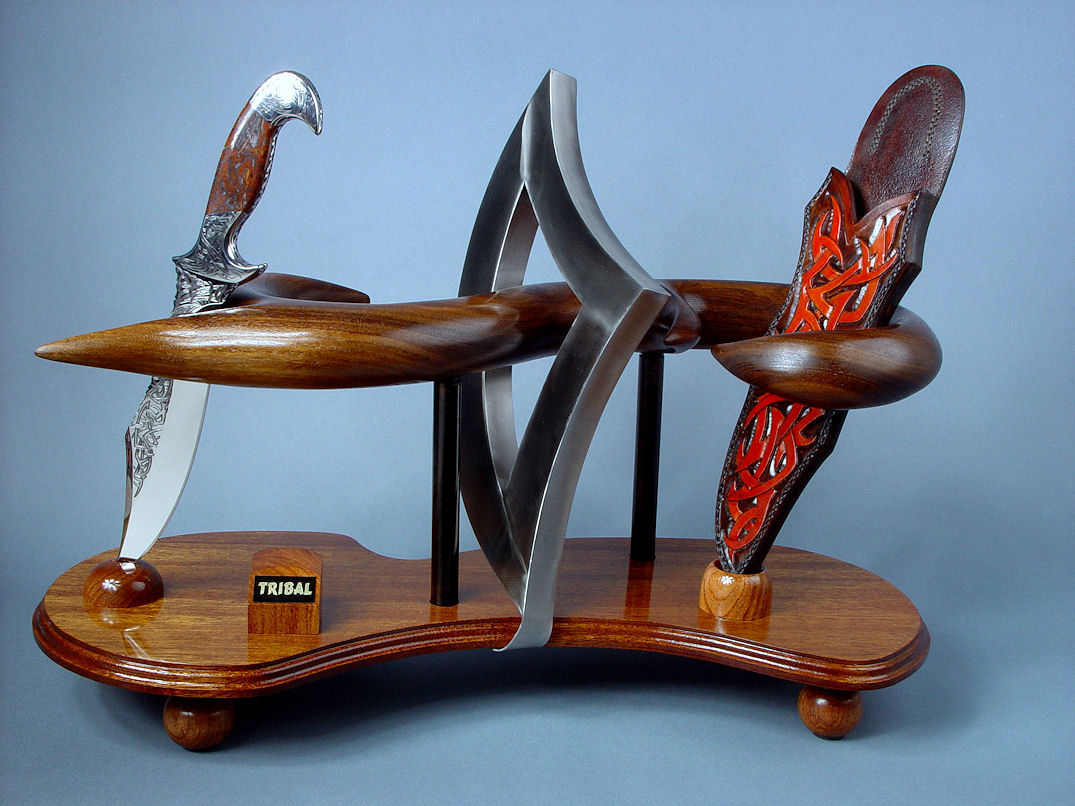 More
about Tribal
---
Want to know some more about this website? Want do dig a little deeper and get a bit more logic and clarity about how this all works? Please take some time to visit my "How to Use This Website" page. There, you'll read how to navigate, move around, and digest what is probably the best, largest, most comprehensive website about fine handmade custom knives by a singular knifemaker in the world. You deserve to know what is presented here!
---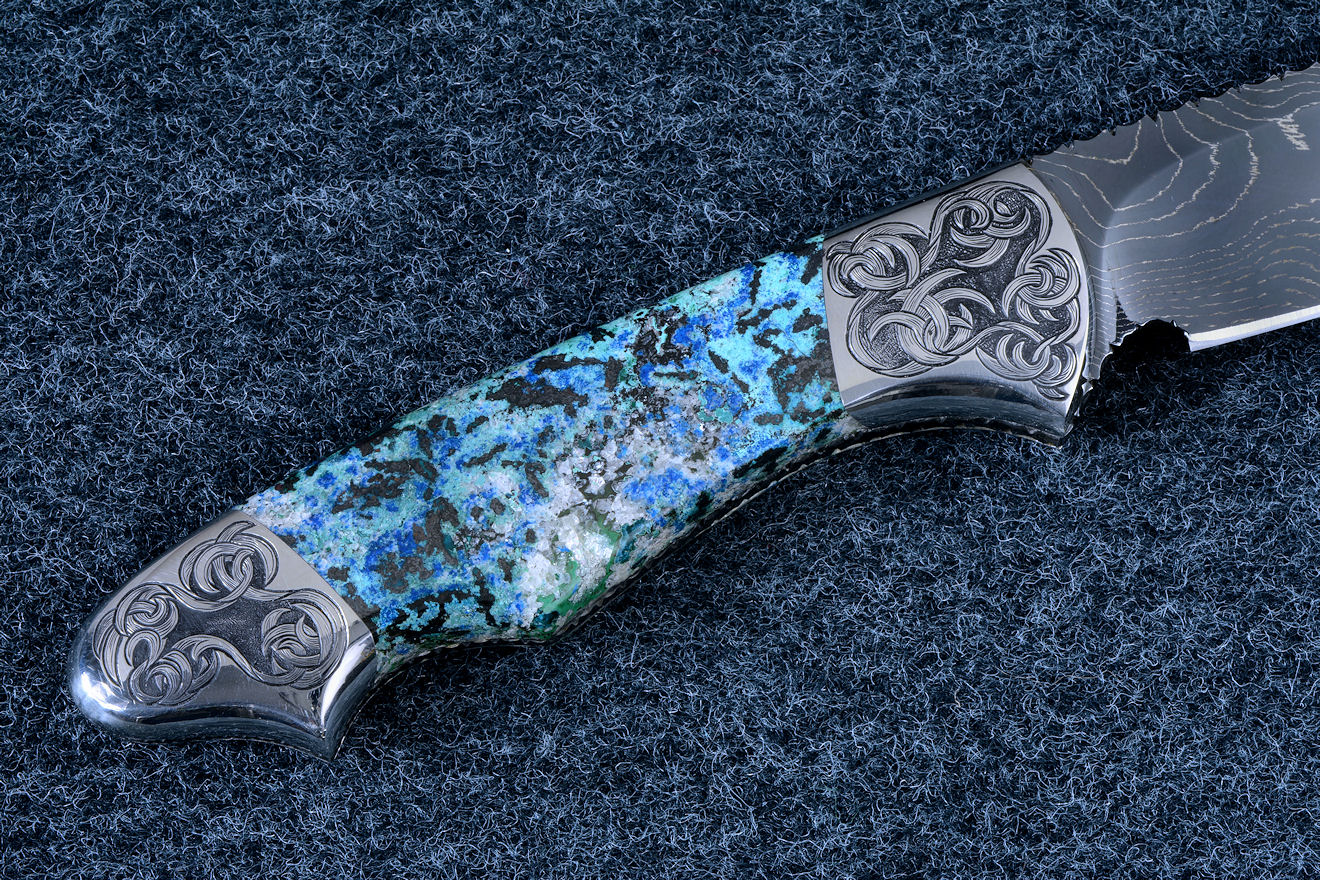 Striking color and texture of this "
Thuban
"
---