Funny and interesting knife emails, stories, scams, and comments, Page One
jay i am looking for a custom sword to spark fire in my eyes every time I look at it.
Suzanne E.
--actual complete email received, 2007
Having a large and active web site since 1996 has, thankfully, brought me a lot of interest, business, partnership with patrons, and knife orders and purchases. Truly, I would not be able to do what I do without the support and contact of new and existing knife clients and people who are interested in fine custom and handmade knives. I am honored, humbled, and grateful to those people who contact me, start a conversation about their knife, and may ultimately become regular clients. That is what this web site is about, pure and simple: my knives, my clients, and my career.
As the web site traffic has grown, people have sent emails about everything related to knives in any way. I suppose that's because they see a large and meaty web site, so the answer or project they seek will be there, and all that has to happen is an email, so they send. During that time, the site has grown, developed, been refined, has had some areas restricted, and evolved. A great deal of that evolution has had to happen to limit the huge onslaught of incoming emails and inquiries.
They sent so many emails that were not related to this site (which is about my knives, knife clients, and career), I became overwhelmed, spending 4 or more hours a day answering their inquiries. I realized that this was time I was taking away from my clients who had ordered custom knives and clients who were watching the site waiting for new inventory knives to come up for sale. In order to limit the flood of email, I created the "What I do and don't do" page.
The "What I do and don't do" page was a hit. It made clear that I would not answer emails unless they were about ordering or purchasing a knife from me. I added some dry humor to it. I added topics as new emails were sent asking for more services. I added links to sites that would help those in need. Although the page reduced the amount of incoming emails tremendously, they still came in because people either ignored the page or didn't believe it applied to them. You can't miss the page; before you email me I specifically link it on the singular email link page on this site. Nowadays, if email still comes in that does not pertain to the knives or my clients, I simply ignore it. Some of it is priceless, so I've chosen to share it here. Don't forget to look at the other funny pages linked at the top of this page.
Please keep your sense of humor when reading through this page. If you don't have a sense of humor, or don't understand satirical, hyperbolic, anecdotal, ironic, juvenile, mordant, or farcical humor, please feel free to browse to another site. Don't feel compelled to email me and tell me how awful I am for having a site that is just about my knives, my clients, and my career. If you do write to complain, I might post your comment here, and others can enjoy it, too!
For all of you who have written to thank me for posting this page and who have enjoyed the emails, letters, and comments, thank you. You are who I've built this for!
Some points about the page:
No full names have been used, only the initials of the senders
No addresses or email addresses have been included
No web site links have been included
I've removed all wild formatting, strange fonts, bizarre colors, because you don't need that in your computer any more than I want it in mine!
Removed data has been replaced by asterisks*.
I haven't corrected the spelling (if they don't care, why should I?)
I have removed all the extraneous non-breaking spaces, and cleaned up the XHTML coding. What a job!
Most of the comments are in an email text box format. You'll see my responses where applied, and my thoughts will be in bold italics.
Please enjoy, and thanks for being here!
---
Here's a typical email that I received from an overseas company: I'll asterisk out the important information, so they don't sue me! There was so much bad formatting, extra spaces, font sizes and colors, and confusing formatting that it took quite a while to get this to a readable document!
B*****A TRADING CORPORATION
PHONE: - +9*-05*2-3****98, MUJAHID ROAD P.O.BOX-***, Fax No: -+9*-0*2-4****40
Established-1950, 5***0-SIALKOT,
Distributors, swords, knives, cuttlery
PL visit our website http://a*******.en.ec21.com/company_info.html
1, we being the iso-9002, certified manufacturers & exporters of all kinds of swords, knives, cuttlery & ancient weapons.
2, all our prices are round about fob us$.5-10 euro, freight not included.,
3, air freight on each sword will be approximatly from 3-5 euro.
4, our minimum order quantity for new custofmer is 10-25-pcs of each quality
5, trial order of diffierent shapes, sizes & qualaties, will take 20-30 days, from the date of receipt of
7, our skilled workers have the capabiliyt to make any of your special items at worlds best prices exclusivly for you , if you send its photo, description or sample, which will be returned to you with 2-counter samples for your evaluation, however if we have to make some special dyes/moulds then price will be little bit high,
SPECIFICATIONS
8, we have two types of quality each has different material composition, & prices,
9, 1st quality is made of importerd japani stainless steel, J-2, (NEVER RUSTED), temper goes upto 420 rock well hard.temper, using cold technology, while 2nd quality is made of local stainless steel, & temper is 200,
10,1st qty swords covers are made of new aluminuim with mettalic colours, while 2nd qty is made of recycled aluminium,
11,1st qty metal or die casted parts of swords are made of new pewter, dully plated of 24-karat gold, having 2-3-years guarantee period, while in 2nd quality all parts are made of re-cycled pewter, & brass plated, having 3-months guarantee,
12, 1st qty swords stands are made with genuine shisham/diyar wood, dully hand engraved, & lakh polished, while in 2nd qty stands are mae of artificial wood, plain winboard, the same applies to knives covers, 1st in real leather, 2nd in artificial leather.
hoping to receive your positive responce untill then by
abid mughal
What happened to number 6? Must be unlucky. Just what does Abid mean by "a little bit high?" Japani steel? 420 Rockwell? (knives are typically 56-60 Rockwell) Cold technology? What is J2? 200 temper? Metallic colors of aluminum covers? Pewter? Dully plated? Shisham wood? Lakh polished? Does that mean lacquer? Artificial wood? Winboard? Artificial leather?
Abid is still waiting for my response.
Hello Jay,
I was just wondering if you can smelt a steel alloy for use in a custom sword? I still need to do more research about what style of sword I want, but I know I want it to be insanly strong.
Later, K.
My response:
Hello, K., thanks for writing.
Though I don't usually answer "how to" letters, I just wanted you to know that the best steels are made professionally, in vacuum furnaces where the steel alloy elements are closely controlled for maximum purity. There are some guys that are smelting their own ore, making what our industry calls "primitive" blades by old methods, and there is a following for those types of work. But it is a far cry from metals that are made for professional use as cutting tools for industry, machine shops, or the military industrial complex. Fortunately, these steels are available for use in custom knives and swords, if the client desires to pay for such quality.
When you use the term "insanely strong," I think I understand what you're interested in. The reality is that "strong" is not a word that is clearly and usefully used in describing steel properties, as there are many more considerations such as toughness, hardness, wear resistance, and machining workability. Other terms used are corrosion resistance, surface treatments, specific applications and cost. There is a lot of hype on the internet about what constitutes the "right" blade steel, and all I can tell you is that it depends on many factors that must be considered. There is no super steel, just good, reasonable choices. Please read my FAQ page here and my Blades page here for more information.
Thanks, Jay Fisher
I will be in South Africa and Nimibia next year if I have time I would love to see your knives. In the meantime a brochure would be nice.
M. E., New Albany, IN.
PS. directions would be great.
My response:
Hello, M. Thanks for writing. From your text, I'm wondering if you had intended to send this email to me, not some other maker. That is because I live in Clovis, New Mexico, USA, not in Africa. ??? If you are still interested in knives, please let me know.
Thanks,
Jay Fisher
I love this! Directions would be great inside Namibia (from Indiana!) Is NM short for Namibia? Or maybe there's a new state named Namibia-- and no one told me!
This is R. from WV, I am looking for a professional sword maker, and I readed your profile on the site, and I think you can make a sword for me. I don't care how much money take to make it, but I just needed to made the sword. The sword is original designed by me, and I also send you a drawing of it. I know its not really detail but hopefully you get what I mean. And if you want more information on how the sword are supposed to look like, send me an e-mail, and I will be right with you.
PS this is just an e-mail to ask you if you're interesting to making a sword for me or not.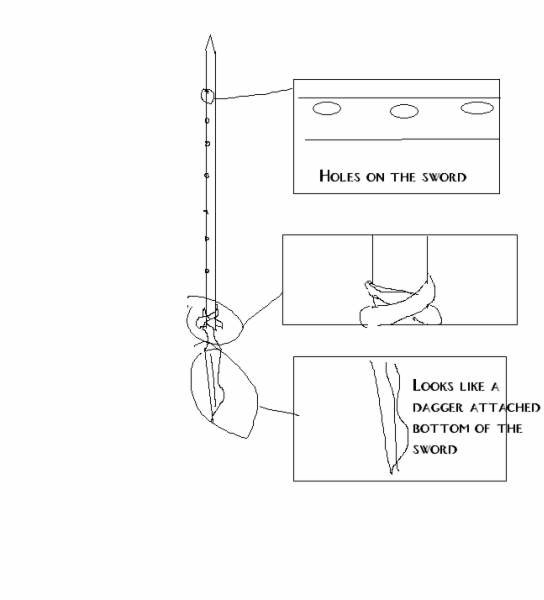 Above: This is the actual drawing the client sent to me for consideration (I'm not kidding!)
Jay,
heres a little bit of the detail of the sword: Sword Legnth: 32"Dagger: 17.5" Sword are single-edged Dagger are double-edged Handle Materia: leather Scabbard: (I will send you a picture of it) Please send me your mailing address, because I want to send you a few very detail sword script pictures. And it includes the drawing of the sword, dagger, scabbard, and the whole thing. And plesae note that the picture I sent you yesterday its just an idea, and please don't start to making the sword until I send you the pictures, and of course, don't forget to tell me how much its gonna cost and I'll send you the first deposit(or one payement) whenever you start the sword.
Thanks~ R.
Okay so the guy's not an artist. That's okay, I'm still trying...
Dear R.,
Wow. The dagger is a short sword in itself! You can send information to:
Jay Fisher
1405 Edwards
Clovis, NM 88101.
Please send copies, not originals. Once we figure out the details, I'll quote you a price, then you can decide if that is acceptable. If you do accept, I'll require half down before I start the project.
Thank you,
Jay
Jay,
do you think you can give me more ideas about the swords? hey, why don't change sword legnth to 40"? and dagger...? I don't know how regular dagger length should be... you know what kind of sword I'm want right, sword with dagger attached to it...!
Stupid me, I should know what kind of sword he wants!
R.,
It is unusual to see a dagger as part of a sword handle. The reason is that when the sword is held, the dagger blade will be pointed toward you, not your opponent. But as an artistic piece, it is occasionally done, and can be quite beautiful. As far as dagger length, that depends on the design. A very long dagger blade will mean that the sword would be held farther away from the body, and may not even be possible. So you have an idea of the kind of work you will be investing in, I want you to know that my sword prices start at $2400, and are typically $3000-6000, some much higher. I make only real swords, and they require a lot of work and time. Each piece is quoted individually, and is one of a kind. If you wish, send me copies of your drawings and we can discuss details.
Thank you,
Jay
Evidently, I was out of his price range; I never heard from him again. Sigh... I was looking forward to seeing that baby in the drawing.
Here's a typical scam letter. These guys are overseas, and have in their possession some stolen credit card numbers (identity theft) and want me to send them knives. When I do, I'll later find out the cc number is invalid, and my knives are gone... it's happened to a lot of makers. I included the fake name, too, as I'm certain this is a scam. I get a couple of these a month.
I Mr phillips will like to know if you have recieved a mailsent from me to you dated 03/05/05.I do have a problem with my computer so i need to re-sent this mail as written below to you.I so much apologise for the inconviniences i might hve cuased you.
Mail dated 03/05/05 is given below:
Hello Sales,
I have an order supply for the purchase of handmade Knife which will be delivered to a client of mine.your email was forwarded to me by some admires of your good job.I will want you to give me the list of the handmade knife you have in stock with their unit prices so as to forward the needed quantities to you.to prepare a preforma invoice for the order. I awaits your urgent response as soon as possible. Thanks.
Regards,
MR. PHILLIPS MORINHO.
My response:
Dear Mr. Morinho,
Current available knives and prices are posted here: Current Knives for Sale. I accept money orders or cashiers checks with first time customers. Thank you for your inquiry.
Jay Fisher
Of course, I never hear from them again, as they're only interested in credit card scams
Hi,
I will want to order from you, so i will want to inquire about you humble services
a: Do you accept credit card
b: Do you ship to
Nigeria
so get back to me as soon as possible so that we can proceed.
Yours Faithfully.
Tunde Micheal
This is a typical Nigerian internet scam. By the way, the email address was from Italy. Despite his poor attempt at humility (whose humble services? I'm not humble!), there are some blatant things missing from his email. First he doesn't care what knife he gets, just any knife shipped will do. Sometimes, these letters request dozens of knives. And he's tipped his hand by asking for a credit card purchase. This means he has committed identity theft, and obtained enough information about an individual to either obtain a credit card in his name, or has the cc info already. What he wants me to do is take the bait, accept his credit card (which will initially go through as a purchase, then weeks later be denied), and send him knives. By the time I find out the cc is invalid, he's long gone with my knives. There are lots of makers who've been taken by this scam. I used to answer these letters telling them that I only accept direct wire transfers, or admonish them for their sins, hoping to embarrass them into a relenting, but I realize this is useless, so I just delete the email.
At the head of this email was a "signature" graphic included: a face with some background and some post modern text, all in rather ugly shade of brown. Probably something created in a community college graphics design class.
Jay,
I was just wondering what it would cost for a dagger and a stand for it that was completely custom? I don't know much about daggers, but am looking at getting one for symbolic purposes. If I presented an artisit design, could you do it? Is your skill level able to pull off something from paper?
Thanks in advance,
Great website and very informative. I would consider a resign though for display. The average person wouldn't have strained so much to find what they are looking for on the site. The content is good.
--S.C.
My response:
Hello, S. Thanks for writing.
The price of an art dagger completely depends on the components of the dagger. Also, the finish must be considered, and embellishment, tooling, stand, case, or sheath. There are a lot of options when one chooses a complete custom knife. You can read about these individually on my Custom knife Quote and order page here. I can and do work with clients' designs, but because this entails a lot of drawing, tuning, consideration for geometry, steel types, and general design work, it still requires the design deposit. You can read about the details of the design fee here.
Thank you for your comments about my site. The site is complex; it's a very complex field of artistry that I'm in. I'm not worried about the "average person" finding their way through my site, my site is geared toward knife aficionados and professionals, and they are very happy with the content and layout. Ah, if this field were only simple enough to have a simple site, with a couple pictures, and about three prices for knives… (smile).
May I be so bold as to offer you some advice, in kind? When you include your graphic with your email, nearly every firewall and modern email program stops your email cold, because of the possibility of the graphic containing malicious code. I had to retrieve your email from beyond my firewall. I almost deleted it… just a head's up.
Thanks for your interest, and I'd love to see your design.
--Jay Fisher
I must have upset them, because I never heard from them again! Oh, well...
Here's one that came from a forum posting: a response to a knife picture and description I posted. There's more here than initially meets the eye.
i don't know man, you've got some nice knives on your site, you may be a very good knifemaker, sorry that i'm saying it, but none of your knives really amazed me, and i felt really confused bout your topic what I don't do..that article on your site sounds really arogant, I'm sorry, it's probably only my opinion...
This flamer had then erased his email after he'd thought about it. But it was too late, his posting went right into my inbox, because I had subscribed to my own post. So I looked him up and sent an email directly to him asking if he had authored the post. He was emailing from the Czeck Republic.
His reply:
yes, it was, but after a few minutes, i deleted it and was going to write you via e-mail, there's no need to take my personal opinion to public, it was my (very) honest opinion, i'm sorry if you feel insulted, but the part i was talking about really made me little confused, you know.
O.B.
I answered.
Mr. B.,
Thank you for answering my query. I understand that my style of knives are not appealing to everyone, just as your knives are certainly not. As a professional, I will refrain from evaluating your work with my own very honest opinion, after having seen it.
His knives were not just a beginner's work, they were poor beginner's work on kit knives.
There should be no confusion about the part of my website called "What I do and don't do." I tried to put in clear and sometimes humorous terms what it is I do, to help those who are looking for services I do not offer.
I simply did a user name search and found out that he had wanted someone to help him make multi-bladed folders, and he evidently took exception to my clear refusal to offer a service he wanted.
You are entitled to your personal opinion, just as I am. The opinions posted on my website are my own, based on my own 27 years of knife making and thousands of knives. If someone does not agree with my views, and does not find answers there, then he may look for opinions elsewhere.
He felt the need to slam my work, because of his own frustration by not being able to find anyone to help him.
I also do not post pictures and information on knife forums for the approval and evaluation of other knifemakers, or those who try to be. I post because friends and clients are genuinely interested in what I am doing, and they have asked me to post.
Yeah, like I was waiting on his opinion and approval after 2000 sold knives.
In doing so, I do not court or invite flaming emails, and I do not send these types of comments to others, and I appreciate that same respect from others.
Thank you,
Jay Fisher
He felt the need to respond further.
ok, I'm sorry to make you feel insulted, that's never going to happen again Have a nice day
O. B.
Mr. B. does not have the power to make me feel anything, though he thinks he does. He was, however, insulting, for no other reason than I don't offer a service that he wanted. He claims in his profile that he is a law student, and unfortunately, he will be an ultimate failure at any endeavor he tries, because he doesn't understand that insulting someone will not help you get what you want. The world is full of these people. They go through life in misery, trying to bring others down to their level, in order to feel better about themselves. I'm sure, dear reader, that you can list several that you know and have to deal with...
Here's another one from a fine foreign manufacturer. I sometimes wonder what American companies they are making knives for.
Dear Sirs,
We, J***I DEVELOPMENT CO., LTD., specialize in knives, like hunting knives, pocket knives or decorate knives even Parts for gun.
Which gun?
We use fine blanking way to fabricate knives.
Ah, yes, grasshopper, the rare and mysterious "blanking way." I've heard of it, but I thought it was only a myth-
That is why our quality is the best.
no doubt, with all that blanking going on
We do not have low end knives except quality ones. Like some famous brands are our customers. Except knives, we also can offer any parts for knives.
What famous brands? Some major knife manufacturers?
Also, you can visit our website www.j******h.com and you will know more about us.
Okay, the website does not exist. But have no fear, your favorite knifemaker has located the company and discovered that they do indeed make knife blades, parts, and components for US factories! This junk might just be in that factory knife you bought! They're located, of course, in Taiwan, Republic of China. How about that? And they do talk about the mysterious blanking way. What it appears is that they use saws to cut out material rather than a plasma cutter.
If you have any question about knives, just advise us. Also, your custom design is welcome. Have a nice day !!!!
And I did!
This came in via an email. Though this guy had to read my specific request to read "What I do and don't do" on my site before emailing, he was sure he was special and I would make the handles he wants for his knives, which I specifically do NOT do.
Jay,
I like your work. I found your site while doing a google search for orbicular jasper. I read a lot of your material about gemstone knife material. I have been a rock hound for decades, a mineral dealer for a few years and for a short while, a seller of meteorite Damascus. Shortly, I will come into possession of two or three full tang, ground meteorite Damascus knife blanks. I have also acquired some very nice chrysoprase, Morgan Hill Poppy Jasper (orbicular) and Big Sur Jade that I would like to fashion into knife handles for this Damascus. Unfortunately I do not have the equipment or skills to accomplish this task. I would like to send you the knife blanks and precut lengths of gemstones for you to fashion into knives. You would have to add bolsters and grind and polish the handles. All you need to tell me are the dimensions of the gem blanks you need for the handle material. I do have a highland park to cut the gem material with. If you can help me with this, I will display the knives at the Blade show in Atlanta this June giving you full credit for the handles. Some idea pf pricing will be nice also.
Thanks, V.P.
I emailed him back my list of what I do and don't do. It's a very clear professional list; it starts with an apology from me for not being able to do what he wants. I highlight the exact part of the list (that he ignored) so it would be clear to him that I cannot perform the service (putting handles on his blades) that he wants. He then responded:
thanks for the reply. I failed to read what you don't do before I sent the email. Yes, I have found most knife makers to have egos that will not allow them to work on other peoples stuff. Thanks anyway and have a nice day
I could not let the abrasive tone of his comment stand. Who do these guys think they are, that because I won't work for him on his pet project it's because of my big ego? What, I don't have the right to say no? I replied:
Hello, V.
I don't ordinarily respond to letters such as yours, but I feel you deserved a more detailed explanation, as obviously you're a bit miffed about it. It is not an EGO that prohibits me from working on other people's stuff, it's mainly the fact that it would devalue all my previous and future work for my clients. You see, they have invested in my work because it is exclusive, and they intend for the value of the pieces to appreciate over the years, which will happen if I don't farm out other work to or from projects other than my own. Once a maker starts doing this, the investment value of his pieces drops. It's really that simple. That's not fair to previous clients, and I do have a duty to them, as they have invested a great deal of actual money and trust in what I do.
I'm sorry that you have not found a maker to work on your pieces, but I'm confident that you will find one if you just keep looking. Good luck and I wish you all the best.
Jay Fisher
He had to have the last word:
Jay,
life is too short to be miffed.
And yet somehow he was...
And another nice company from India. They are very careful on their website to state that they do not use child labor. It's interesting that their clients in the west are promoting that attitude, and hopefully, that practice
Dear Sir,
we are doing dealing with the email for many times.But we are sorry that we have not got any response from to you. And we dont know what are the causes for the same.
He is upset that he doesn't know why I don't answer. By the way, this is the first email I've ever received from these guys.
But I want to say to you if you given us chance to serve in your organisation. we will do our work with best satisfaction. If you have any requirement for any order. Then given an opportunity for the bone and horn or sample anything else.
Thanks with regards
Prop
R.Malik
Is that an abbreviation for proprietor? I rarely use any kind of bone, so I'm afraid I wont' be doing business with Mr. Malik. Years ago, I got a request from a guy to use a human bone on a knife handle. No kidding! He didn't say whose bone it was, and I didn't ask, and our conversation was very short. Makes you wonder, doesn't it? And NO, I didn't take him up on his idea.
Here's another nice company from Pakistan. This letter was titled "Damascus Kitchen Knife" to lure me into thinking it was an actual inquiry to order a custom knife. Clever, weren't they? They figured that once I opened their email, I would be hooked, and have to use their services. I originally tried to include the letter in the original font styles, but they were so mixed and varied and rare that it crashed my web site developing program! I had to convert the typeface to a standard font, so the email looses some of its .... glamour.
Dear Sir,
We have pleasure to introducing you ourselves as Manufacturers & Exporters of all sorts of Damascus Knives & Hunting knives, Swords, Cutlery Kitchen knives & Axes, Full Wooden Sword, Leather and Stainless Steel Helmet, Scissors & more new designs of all above
One wooden sword and a leather and stainless steel helmet?
Items which are specialized of the best selected durable materials under the skilled workmanship and an expert supervision in our own FACTORY. We guarantee for our quality as every Pieces thoroughly checked at every stage. Our product are fine in quality and the prices are most attractive. We sincerely hope that we could establish business relations with you.
Please visit our website:-
URL removed. I'm jealous of them and their selected durable materials
We would have the pleased to receive your inquires for our products. We pray for you and your company.
That's nice. I could use all the help I can get. I wonder who they pray to...
Awaiting your prompt reply
Don't hold your breath, Naveed
Best wishes,
Naveed
Export Manager
FULL SERVICE ENTERPRISES
Factory: G.T Road, Opp. Grid Station,
Wazirabad,52000. Pakistan
They included several links in the email to their website, but none of them worked, I guess because the font was so bizarre. I did hand-type the website address, because I just had to see. It was the worst sort of cheap junky crappy imported knives that you could imagine. I'm tempted to include a link just so you can laugh, but that wouldn't be very professional. Okay, if you want to look at them, drop me an email for a giggle. Oh, no! don't drop me that email. They've folded up their tents and are already gone...
Even though I've gone to great lengths to clearly state what I do and don't do, I constantly get letters and emails from folks who just need a little something. In the past, I've answered these, but at over 40,000 hits a day on this site at the time of this writing, I just can't afford the time to answer every request, inquiry, or question. I'll post some of them here, just to give you an idea of what people are asking. Remember that the people who've written have ignored my statement that says I don't answer questions or do research for other people, they've ignored my page clearly stating what I do. They feel they are special, and they deserve my attention and service.... for free. Okay, I'll forgive the kids... but if you look at every one of these, you'll notice that they are directly addressed on my "What I do and Don't Do page." But remember these folks are special! I haven't bothered to correct their spelling; if they don't care then neither do I!
---
Mr. Fisher: We are looking for someone in Albuquerque, New Mexico to hand-engrave an aluminum lamp. Where are you located? And could you do this? I look forward to hearing back from you. Thank you.
from a lawyers office! Must be too dark in there to read the website... wait, they would have to have a monitor-
---
I have a custom knife that I left in the sheath too long and the sheath is a bit stained from the brass hilt. Is there any way to clean the sheath stain?
Thanks. Weldon
I like Bright and Brighter Sheath Stain Cleaner. It removes the stain but leaves the frame, with a bright refrain. Everybody sing now...
---
Hi Jay...... This is a shot in the dark, but i am trying to find out about a custom knife maker named red royal. I have a few of his knives and cant find any info on them. I know he must be deceased by now, (too much grinding gave him lung problems). He used to do shows which is where I met him......... any help would be greatly appreciated...........Thanks........... Richard
Could this be Eric the Red? I saw him last frozen in a block of ice at the Curry County Carnival in 1974. Though the barker claimed he had been there for a thousand years, his face looked as fresh as a mannequin. Amazing.
---
I was wondering if you have a catalog and a price sheet fo different sizes of wood pieces you have for sale, use for knives and gun grip sizes? If you do have a printed catalog , please send to R. B. (*deleted*)Florida 33541 .I can also be contacted at (*deleted*) Thank you for your time and patience. Sincerely R. B.
It needs to be a printed catalog, because the computer monitor is hard to use to swat flies while parked on the throne. And a smartphone or a tablet just doesn't have the speed of #5 grade three-color magazine print stock.
---
Dear Mr. Fisher,
my name is Stelios and I am writing to you from Greece. I am a collector of historical swords and swords from the Lord of the Rings. I would like you to tell me if you are able to manufacture for me a Byzantine paramyrion. It looks like a scimitar however, it has a slight curve in comparison to Arabian scimitars alghough Arabs had something similar to it. I would also like you to tell me how much it would cost and I would also like to tell you that I want it to be battle ready and what I mean by that is that I want it to have flexibility and hardness at the same time. It is very important for me as a collector to have such a piece in my collection due to the fact that allor most of the swords which are being sold at the time by various companies are not battle ready and are not made by hand. Finally, I have not found any company that sells the particular weapon which I request.
Stelios C.
"Historical Swords and Swords from the Lord of the Rings?" You do know that it was just a movie, don't you? And you don't need one nowadays to be battle ready, as the last actual sword battle with the Byzantines was in 1204 AD when Constantinople was sacked. Maybe that was when the Hobbits were finally freed to return to the Shire. Did you know that Constantinople is now Istanbul? I learned that from "They Might Be Giants" on their album "Flood" back in 1990. We didn't bother to tell you.
---
Jay, I just wanted a quote on a Zebra Wood knife HANDLE, not the blade! Thanks again, R. M.
This was unusual, because I never gave this guy a quote for anything: knife, blade, sheath, or handle. Anyway, he's quite excited and screaming the word "handle" to me in his email makes certain that he is now the focus of attention on this very page.
---
i have a friend who also likes daggers and swords. id like to get another cd for him. by the way, the pictures are really good. i collect swords and daggers from bud k. i have the dark demon slayer, dark demon dagger, hell guardian, and the crystal dragon. i also bought some from a convienience store. im working on 2 more swords.the address is: (*deleted*)
Thnx, Shadow
Ruler of the Darkness and Shadows. Master of the Night. Hater of the Daylight. Lover of the Blood Red Moon.
Whoah! A nod from the dark master himself. I'd better comply else he'll set the demons of hell through my gossamer floor length sheers into my parlor whilst I repose on my Victorian velvet coaster.
---
I purchased an expensive very high quality Schrade knife 4 years ago and now the handle is broken. I understand that you are the designated person to honor the lifetime guarantee. I know that you must be very busy, so I'll follow up with a call. --J. A. L.
Little Rock, Arkansas
Why did I leave this knife manufacturer's name? That's because these knives are made in China. This company had a great beginning in the USA, but the name was bought out by Taylor brands and none of their stuff is made in the USA. They simply bought the name "Schrade," in order to make money from it; the actual cutlery company is no more. Perhaps someday, the Chinese will buy the name "Jay Fisher" to sell their crap. Then, these requests will be non-stop, and I'll have to change my name.
---
Hi my name is R. P. I have been looking for the master sword, Legend of Zelda Ocarina of time. At this time I can't send pics of the sword because the scanner doesn't work, so when it does I'll send some. I have a lot good pics for you to go by and a pic of the hilt that I hand drawn my self. I just got finished reading most of your web page and I'm flabbergasted at the prices but being a kid so to speak I think I might be able to pay (I hope) although I'm at making money I'm afraid it may take awhile hmmmm. I'll send the details as soon as I can .I'm using my dad E-mail so E-mail him and I'll get it. Thanks for your time
Don't take Zelda seriously, kid. Miyamoto and Tezuka didn't bother to finish their swordmaking classes, and instead focused on programming, which paid off for Nintendo in a grand way. I hope those guys got their royalties; but probably not. My advice is to get with the real world; where Zelda is the hot chick that works at the diner around the corner. She's a legend alright, and she has her own email and not her dad's.
---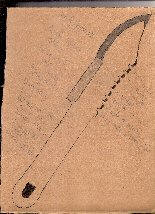 I was wondering if you could give me a quote for this knife design here are the specs
Knife thickness 1/4in knife length 161/2 in knife steel 1095 high carbon alloy steel RC58 --first blade-- (dark gray) Grind flat thickness 1/4in length 31/2 in --second lade-- (light gray) grind convex length 3 in thickness 3/16 in --double milled Saw back blade-- length 4 in --handle-- length 6in material thin layer of hardwood
Here's a quote for you:
"To invent, you need a good imagination and a pile of junk."
--Thomas Alva Edison
---
hi, i'm nobody i'm not going to say that i'm the metal king of metals. even know this has little to do with metals ... ok let me start over.
i'm "nobody" this is a question about a sword ... kind of. you see i'm makeing one a japanese looking one the only problem is the handle they told me $275.00 for a rayskin handle with the 2 metal ends ( iron would be nice ) and the hand guard. now the sword is 1/2 in. thick by a 1 in. It normal steel i made as thick as possible with out being to heavy. any how the handle please tell me you can make a rayskin handle of some type for less. Its a home made sword it should cost that much. i ask because the link said u could when i looked up sword handle.
please reply, thank u,
"nobody"
He's not "nobody;" he has a name on his email...sigh
---
Good Morning: I have a knife as follows:
Case 16 1/2" x 6 1/2"
Knife 13" long with two blades
Blade 8 1/2" x 1 3/4" Hnadle 5 1/2"
Man - In - The - Sea Sealab II Commemorating 20 years August 1965- 1985
Could you indicate your interest and value.
Thank you
D. P.
Interest: insignificant
Value: pitiable
Guten Morgen!
---
Cleaning out my dad's closet I came upon a knife made by the Sidney R. Baxter & Co. of Boston. Carbon steel, rusty and corroded. How can I best clean and get in good condition. I see you want me to use silicone car wax, but what will first stop the rusting? Thanks for your time and expert advice.
Rmb
"I want you to use?"-
Have we had a conversation? I think not! You are referring to my knife care page for preservation of my works. Perhaps for your special knife, you could use the entire car, carelessly driven over your knife again and again. The abrasion of the asphalt on the carbon steel will eventually remove the rust. Don't forget to invert your knife occasionally so that both sides are able to benefit from the gritty abrasion. Multi-ply steel belted radials can ensure that this will work for years to come.
---
This is not a knife I have but I do have some that are similar. My question is what are the ridges on the top of the knife and what are they for. They don't seem sharp enough for a saw but so many knives have them like this. If you could tell me what the heck those ridges are, I would greatly appreciate it.
-db
Back in my day, Rrrrufles had rrrridges, not knives. Quite tasty, too, they were!
---
I will be recieving an elk horn and plan on using it for a full tang bowie. How do you prepare a horn for use as scales. I have never worked with that type of material before so I would appericiate any advice you can give. I was planning on splitting the bone into and do it as I would wood. Will I have to fill the inner pours or stabilize it? Really lost on this one Jay. Thank you,
T.
Ahh, an important topic. Elk horn has a delicious flavor when steeped in Thunderbird wine for 3-4 days. You can also slurp up the wine through the pores in the center of the horn, just like a peppermint stick in an orange. The girl scouts taught me that while we were all sitting around the campfire with elk horns, wine, oranges, and peppermint sticks.
---
Good Morning Jay, I am contacting in hopes of getting some information of a large knife collection that I am going to sell for an estate. The man's name was R.F*** he passed away and his wife is wanting to sell his vast collection...all purchased through the K. G. The person that I am trying to contact is J. W*** her last address was Utah. The phone number that I have at the present is out of service. She is an engraver that has engraved a number of the knives that we have to sell. I thank you for your time and hope that you can help me with my search. I can send you pictures of the knives that I have to sell if you wish. Thanks so much.
P.
Just what information does this person think I have? Oh, I forgot; part of my service to this industry is to be a clearinghouse and reference for all things knives. Here's a scoop for you; I heard a rumor that the flouncy engraver took up with a knifemaker and and broke up his marriage. After numerous bouts of binge drinking, a couple DWIs, and court mandated community service work, Utah got even. It's a good story, anyway.
---
Hello,I read through your "What I do and Don't Do" page, and I didn't see my question listed. I am in the process of leaning to make knives and swords, but have hit a snag. I bought some 2" thick steel to make my own pommel, but my bandsaw wants nothing to do with cutting that. Would you make a pommel if I provided a sketch with dimensions? Thanks so much,
C. G.
I have pommels for sale on my pommel page here on the site. I've got them made of polyester/spandex blend, metallic ribbon and hot glue, with ric-rak stitching around the base. I've also got plenty of toories, bobbles, and floggers to accentuate motion, attract the attention of spectators, add sparkle, and attract the opposing team so they make a mistake! The French navy would be very proud of my selection and flair!
---
hello JAY,I wanted to know if you have a paper catalog of the swords you make,If you have one could you send it to me?and one more thing,do you know where can I study or learn how to work as a swordsmith like you?well,that's all what I wanted to ask you.thank you.
G.C.
What is this fascination with paper? I heard back in the 1970s that we were going to a paperless society! You can't have my paper, I'm hoarding it all for the apocalypse. I store it in my spider hole hidden in the mountains.
---
dear jay:
Absolutely amazing work you do................I can't say that I am into knives all that much but I was wondering if maybe you could help me with a question I have . Nepherite from B.C. The dark green and real heavy kind.......Well I have a piece it weighs approx 80-100 lbs do you have any idea what it would be worth? This piece came from Ogden mountain. Well I just thought that i would ask as I really have no idea......................................sincerely yours
k. c.
Wow, that's some really old nepherite, way back in B.C. What is that anyway, the egg of the nepher? Anyway, I can't be expected to know the value unless it's incubated and the little nepher is crawling around your feet. Send pictures of him doing funny things: watching the TV, staring down the dog, and splashing in your kiddie pool, and I'll post them for everyone to enjoy.
---
Hello, I am a french studient and I would like to ask you how and where I can learn the art of making knives...Do I have to learn with an artisant or can I learn it in a school ?
Thank you very much for your answer
Shouldn't you be asking this question in French? That's what our Spanish teacher told us to do: practice, practice, practice; use the language to become familiar. That way, you'll know the difference between a Laguiole and a Sabatier.
---
hey my names matthew and i am 15 i just started really getting into knife building and i admire your work as in mine is not as great. i only have a benchgrinder and one inch belt sander to make and sharpin my knives but i would like to upgrade tools i really like making knives for people. all my friends have at least one knife i have made but the only way i can make knives now is grinding every single blade out by hand do you have any sugestions for me about what to use and what i might try. also i was wondering if i could use some of your knife patterns to make knives with.
matt
It is truly sad that most high schools have suspended or cancelled their shop classes. When I was a kid, you could make your own knife project in school, with the guidance and oversight of a big shop teacher named Rufus McCoy who wielded a custom-made paddle if you got out of line. You could hear the wind whistling through the holes in the plank just before terminal contact... anyway, he would be able to tell you that a bench grinder is not the machine to make a knife with; it's dangerous, and it's the wrong tool. I suppose one good thing is that modern schools still allow you to read books on shop safety. But I'd bet they would ban a book on making knives...sigh.
Mr. Fisher,
I just wanted to tell you that your work is quite exceptional. I found your site when I was doing a search for embellished knives. I am just learning to engrave and carve and it is always interesting to see what others are doing along those lines. My husband makes knives occasionally and we enjoy the beauty of a well made blade.
I started reading your first page of funny emails you posted and decided after reading the first page I should stop as I was laughing too much.
Your knives are quite beautiful and I really like the engraving you do. Not everyone likes the 'flowers and scrolls' and that doesn't always fit the weapon anyway.
Anyway, just wanted to let you know that I will use your pictures as inspiration to do my own kind of work. Thanks for sharing your work.
Sincerely,
Sue Schroerlucke
Sidney OH
---
This one deserves its own dissection and analysis, since it covers so many subjects that I don't have time for, instead of just one or two that I don't have time for:
Hi Jay. I've been cutting stone for quite a few years and about 4 years ago I decided to learn silver casting.
This is somehow important, since I'm the source of all things cast in silver. Sigh.
I don't want to make swords.
I don't want to make beaver tophats, myself, so I can understand your predilections.
I used to cut opals, but right now I'm satisfied with pendants, broaches, and rings, plus bracelets have dominated my jewelry thinking for the last several years.
I don't castrate young bulls, though I used to when I worked on a ranch as a child. I also picked corn, pulled careless weeds, and helped de-horn the stock. Right now I'm satisfied with simply having a good steak now and then, and that has dominated my farm and ranch thinking for the last several years. Why are you sending me this email?
I have a Grobet vacuum casting machine, and although it works okay for outgassing investment and RTV molds, the casting side is a nightmare. Almost 4 years of wrestling with it and I still can't reliably cast. I saw your page on Rodger's Sword while I was investigating centrifugal casting machines. I've used a centrifuge a few times in the past, but I wanted to ask you if they could *really* handle a 4 x 6 flask, which it looks like you are using.
Oh, I get it! You saw some familiar piece of equipment that you recognized, so we must therefore be brothers in blood. Would you like to know my brand of television, the toothpaste I use, or the grocery I shop at? Then, if they are the same, we will have a greater bond than identical twins separated at birth!
It also looks like you are using the Rio Grande centrifuge, and that's the one I was thinking of buying.
Seriously, dude, I get paid big for my endorsements. I can't offer one for free; my agent would freak.
About your Werewolf carving, I wondered if you have gotten into 3D modeling and 3D (CNC) printing? Computers in general are such a pain in the etc. that I don't really recommend them, but if you are already into computers it might be something to investigate. You can create a model in a 3D graphics program (I use Poser version 4, which is ancient) and send the data file to a company that has a 3D printer (such as stereolithography). A few years ago prices were something like $100 per inch, but since so many people have 3D printers now, I'm sure it's cheaper. They send you a 3D plastic part that looks like what you created in the program. You could then make a mold of that part and have lots of wax copies to modify and experiment with. It would be a huge time saver if you were going to use the same part a number of times in the same design, or over time. I'm attaching a gif of the Poser wolf. Of course, in Poser, this is a true 3D object. You can move its head, eyes, neck, paws, etc. I think the Poser program is now up to version 8, so they probably have a better looking wolf.
Just what every artist wants: a computer-resident model of someone else's artwork. That way, you don't have to actually create; it's like clip art, you just point and click. The great masters never had it so good! Dude, your tediously detailed explanation takes longer than it would take to sculpt it myself! Maybe they'll make a brain scanning machine so powerful and versatile one day, that all you'll have to do is think of something and it will be created! Wait, what about all those bad things people think of... maybe that's not such a great idea.
If I ever get a digital camera, I will take some pictures of my opal inventory and maybe you will trade me a nice knife for a nice opal. -D.
If I ever get a pencil, I'll draw you a map to logical reasoning. Your train of thought seems to have left the station. I'm glad we're wrapping this up with a solid idea, plan, goal, or inquiry. Sigh.
Hello,
my name is sarah H. Right now i am studying at unitec, it's my first year and i am doing the 'certificate in design skills'.
One of the feilds that we are studying is product design. in product we have a final assignment, which is to re-design any knife of our choice. i have chosen a cheese knife( the kind that has the folk type end.)In this assignment we are required to write a report on the manufacturing processes and materials used to produse our selected knife. I have searched the internet as far as my paiteints will take me, and haven't found anything of any use to me. So if you could please send me as much(the more the better) information on the processes and materials of a knife it would be greatly appretiated. Thank you,
Please write back, ASAP
sarah
Really, Sarah? Studying at a higher level institute of technology ? You should be studying English first, or minimally, using your tech skills to invest in a spell checker for your email. And the project (redesigning a cheese knife)? How fascinating. Like cheese can't be cut with just about any knife including a dull butter knife. The reason you haven't found any information on details of cheese knife design is because the whole world is bored with cheese knives. And to focus on their manufacture? Well, I can't think of anything more boring. The topper is that you want me to provide all of the information possible for your pet project. I'm disappointed. You're young; you need to get out more.
---
Hello Mr. Fisher,
I hope you do not mind me putting you a question. My name is K. K. I am a hobbyist knifemaker in Czech Republic. The other hobby I have is collecting minerals and semiprecious stones. This is the reason I immediately started admire your work when I first saw it on your webpage.I have a little project in mind and would like to ask you for advice.I would be very glad if you can share your experience with me.I am doing a knife for myself. I have a damascus scandi type blade. Ihave been thinking about using flat piece of red jasper for a bolster on this knife. My first question - do you think this is generally a good idea? I think about possibility of chiping the bolster, but I am not sure about it. Second question - can you give me some clue how to make square hole for the tang in the stone plate? Which toos you use. I have a dremel and some diamond cutting wheels. and some diamond dental attachments. But the tang hole is a tricky work as it has to sit flush on the tang and ricasso. Moreover there is small radius where the blade goes to tang. I would like to make the hole in the bolster perfect. How you did the handle on your "New Orleans" Dagger with the Green Aventurine, Rare Blue Aventurine spacers? I have a friend who cuts stones with diamond wheel and polishes them. He can make me the plate of jasper. Sorry if this email is going to bother you. Thank you in advance,
K.K.
I don't mind answering questions from hobbyists, look over this very page; you get the idea. To make a square hole in a stone plate, the "toos" I use are Tovax 100 water gel explosives with #6 blasting caps. Use plenty of precautions, because it will leave a smoking crater about half a meter in your garage floor, and you'll have a hard time parking your Škoda.
---
Remember, in order to email me, these people have completely ignored the page detailing what I do and don't do. They can't email me without seeing the page link. The scary thing is (as one friend reminded me), these people might vote!
---
Hello sir, my name is J.M. I am 24 yrs old and have always enjoyed the art of creation since I was a young boy. Iv always been interested in the beauty high polished rock and minerals, metals, and even glass. But lately Iv been really involved in the creation of knives, and has developed as my dream to start a knife business.I am currently taking scrap metal from an arbor shop I work at to make knives. I'd like to thank you most of all for the freedom of your work to the public and info you've provided on your website for all the knife hounds out there. you've been a great inspiration to the beginning of my new legacy in knife making. So to get to what I've been waiting ask you is, as a beginner in knife making, I was hoping you could spare me any of your knowledge as to how I could get started cheep. At the moment all I have is a 4 1/2" right angle grinder and a 16" bench grinder. What do I need. Id also really appreciate it if you could send me your brochure.
p.s. your distant student j.
My humble thanks for your glowing encomiums. I don't know how you could get started cheep, because my cheep may be different than yours. For instance, I think the Silver Laced Polish chickens look regal in their gray beards and muffs, but the Salmon Faverolles are quite spiffy trotting around the shop in their fuzzy little boots. For a beginner like yourself, I would suggest a small clutch of Silver Duckwing Yokohomas. Their long tails will grow as they mature, and clean up all the swarf and dust coming from those grinders. Just never mention the word "Colonel," even in jest, as they are quite sensitive.
---
Jay,
I am wanting to make my first high quality knife. My question is what type of steel would you recomend to make the blade. I will be using this knife for skinning animals (Elk,Deer). I would most likely do some whittlin of sorts with it. I obviously want the blade to hold an edge for a while. I am thinking of 3/16" thick D2 tool steel. Is this something you would recomend? Do you have any thoughts on Titanium? Also I would like to know what you would use to attach the scales to the full tang blade (Pins, ect.).
Thank's in advance, Charlie
High quality whittlin and skinninin of sorts. Back inninun the woods. Yup.
---
Dear Jay Fisher:
My name is T. M. I attend Douglas Anderson school of the arts. I am doing a research paper on sword/swordsmithing,and l need professional to interview. If you could answer a few question for me, l would greatly appreciate it. And if all possible, could you respond by 03/01/04. Thank you very much.
*In your opinion, which part of a basic sword is the hardest to make ( the blade, hilt, cross-guard, or pommel)?
*Which part of the blade is the hardest to make ( the edge, fuller, ricasso, or squared-off back)?
*Which is harder to make a double-edged sword or a sword with one edge and a squared-off back, and why?
*The forte is said to be the strongest part of the blade,it this true and are swords with large forte stronger than ones with small forte?
*It is said that swordsmith are fond of the ricasso, is this true and why?
*Which do you think is better visually and structurally better a sword with a short or long ricasso?
*The fuller is sometimes called the blood channel, but l have heard that is has nothing to do with blood. What is it real prepose, and how did it get the name blood channel?
Thank you very much for your time.
T. M.
PS. May l quote you in my report? thank you very much.
Why not just have me write all your course reports, essays, and perhaps a thesis? That way, you wouldn't have to do any research whatever, just turn in the reams of paper I create for you and go back to skateboarding, video games, or whatever else you do when you should be in school! Seriously, and then include a deadline? What kind of young people are we raising?
---
Mr. Fisher, Hello my name is B.N. and I am a 17 year old Missouri native that is just getting into knife making. I have made a knife out of an old lawnmower blade and enjoyed it a great deal. I am about 70 percent positive that I am going to go into the military after I graduate high school with aspirations of becoming a Green Beret. Therefore I would like to try to make a knife that I can carry into battle with me. If you would not mind could you give me ideas of what type of a knife would be best, what materials to use from start to finish and where to get them? Being a novice at this trade and knowing that my life may very well rest in the quality of the materials and shape of the knife I don't feel comfortable making these decisions. Thank you for your time and I hope to be hearing from you soon.
I think you should continue on with the mower and adapt it for combat. Maybe you could stand it up so the Briggs and Stratton is whirling those knife edges forward, toward the enemy. You could initiate the "BS Brigade," with self-propelled, auto-primed, mulching sickle-flails devastating the fields of battle. And in your spare time, you could earn a few extra bucks cleaning up the neighborhood.
---
I'm a student at k. midlle school in Eugene, Oregon. I am researching knifemaking as a career and I am hoping that you can take the time to answer a few questions for me. If that's OK you can just reply to Mr. N., my teacher, whose computer I am using. If you don't have the time that's OK.
1 Why is this career important to our society?
2 What kinds of people do you work with when you do this career?
3 How do you work with them?
4 what are the most important tools?
5 What is the most fun about knifemaking?
6 What is not fun about knifemaking?
7 What is your favorite thing in the job?
8 Did you have formal training if so what?
9 How did you learn your skills?
10 What kind of materials do you need?
11 What kinds of knives do you make?
12 How do you make really strong swords and knives?
13 Which do you prefer to make, sheath knives or folding knives? Why?
14 What are your favorite handle designs?
15 What are the basic steps in making a knife?
Thank you vary much from K.B..
Sure, K.B., I'd be glad to write your essay for you. Please give me a detailed reference list including journal articles, conference proceedings, books, dissertations, company reports, web references, and any personal communication and experiences that relate to your subject. Don't skimp on the details, I'll need dates, locations, and a complete bibliography of references.
---
Hello Jay, I have not had the opportunity to own one of your knives but would certainly like a catalog if you provide them. The reason for this email is that I have purchased 2 Randall knives that I got through eBay. Although they advertise they were in mint condition I have found it is rarely the case. Anyway one has signs of pitting from what I think is rust then it was cleaned up and a heavy coat of oil was put over the blades so the blemishes could not be seen by the photos. Regardless I am happy to own the knifes but I need your advice in how to clean the blades up, both have scratches from improper sharpening and as I said before some pitting. I am hoping you may know a trick or two on how I can remove these scratches etc and get them in a much better condition, it bothers me that a great tool and a work of art has been treated badly considering the work put into them by professionals like yourself. I do not know much about knives, just that I enjoy a very good quality tool that is dependable and I like taking care of them also. I have not much experience making knifes just a little stock removal from planner blade that I know are very high carbon due to not even being able to get any drill to get a hole in it. I know ,I have to get the temper out first but I should of thought about that before trying and breaking a couple expensive bits. One more question. I just bought an 2x8 EZE LAP diamond stone, is this a proper stone to use on all my knives?
Thanks Jay D.
P. Post Falls, Id
Not knowing all of the knives you have, I cannot recommend any stone for them. Please give me a detailed list of every knife you've ever encountered, seen, or even thought about. I'll need specific measurements, types of materials, condition and exposures, and a complete folder of provenance with all the addresses intact. Most important is the measure of each scratch, no matter how small. Please describe each one, its location, depth (in microns), width (in hundred thousands of an inch) and length (in road apples from the Cayuse Indian Pony breed).
---
Dear sir
Staghorn is prohibited as per Wildlife Protection Act in India. What about united states. please give your comment.
Thank you,
Satish p.
Grups! Bonk, bonk on the head, bonk, bonk!
---
Remember, in order to email me, these people have completely ignored the page detailing what I do and don't do. They can't email me without seeing the page link. The scary thing is (as one friend reminded me), these people might vote!
---
Wich is harder rwl-34 or damascus? And wich would make a better knife that keeps an edge and will last longer? Thank you.
Wich wich is a sandwich, and wich wich is a Wiccan wich?
---
Dear Jay, I am sorry to bother you, but you seem to "know it all" I found a website that showed about four or five ready-made hidden tang handles, like jigged bone, wood, etc.but I have spent a few hours over the past few days, trying to re-find it. I have found several that I have seen before, Northcoast, Jantz, TKS (one of my favorite places to buy materials from), Alpha, Crow, "Jagermeister" (sp?), Track of the Wolf, and I still will be danged if I can find it, they had an excellent supply of guards and pommels, most sell handle scales, but this one had hidden tang handles any ideas of which website I am seeking, which company?
Lewis
I recommend buying from Blockbuster, Hollywood Video, 4Kids Entertainment, or Hostess for a modern look. Perhaps you should buy from Montgomery Ward, Home Base, Polaroid, Pets.com, or PanAm. What did all these companies have in common? They all failed because they called me a "know it all."
---
I am wondering how to identify two swords I have acquired that have been in my family for many years. Is there a good source you can recommend?
Vicki
Your eyes are the most useful, just look for a long blade and a short handle.
---
Mr. fisher i was found this dagger during the reconstruction of my house. Dagger was burried deep into the ground. I wonder if he has some value or it is just piece of junk. Sorry for bad english.
M.
You didn't say whether or not it was near that recently poured slab in your basement with the hand sticking out. It might be worth quite a bit to your local CSI or Crimestoppers.
Dr. Mr. Fisher,
Hi. I inherited from my father several very interesting edged weapons. I have minor knowledge of this sort of thing. I thought just maybe you could help me. Do you know German? Neither do I, but I tried to translate what is on this one weapon.
Why would you ask if I know German and then claim "neither do I," as if you already know that I don't know German? Are you having an assumed conversation with me in your head? Dumme verrückte person!
I am an Artist and amatuer photographer. I seem to collect just about anything that interests me.. from fishing lures to all this WW2 stuff my Dad gave me thru the years. Dad passed away last April at the age of 90. Dad inherited these things from his 2nd wife (my stepmother) whose first husband was a surgeon (he died in 1971 at the age of 77) and also in WW1 and WW2.
I smell a hoarder.
I tend to believe this one dagger (and I am not sure it is even a dagger but don't know what else to call it) could have been the Dr's father's. Are you with me so far?
Nope. I got lost in all the clutter and tedious details.
There is so much engraving on it for such a little thing you just wouldn't believe it! I did take photo's of it and the others. Can you help me? Such a mystery! May I send you the photo's.???
I've really tried, but I just can't experience your level of excitement. Yawn.
I send Jpeg and everything goes thru my NOrton internet security and if you can enlarge to see them- ?? I could send large but won't do that unless you say I can. The other 2 weapons I have are a captured Nazi dagger and a Werth looonnnggggg sword. Also photos.
Never got it; don't want to see it. However, I would like to hear the story of how the Nazi was captured.
Plus would you please tell me if you get this email? Thank you.
Sincerely,
K.C.
No, I don't want to encourage you to send pictures of your questionable war booty.
Dear Mr. Fisher,
I am writing a book on Thomas Jefferson, and in one of the family letters there is a reference to a large hawksbill knife.This was in 1819. Can you tell me what such a knife would have been used for, what one might have looked like then, what would have distinguished it from other knives? Thank you,
A. C. Richmond, VA
Will I get a portion of your royalties, or are you just going to use my historical reference services and then toss me out like an old shoe? You could at least offer me some Jeffersons for the reference work. About 50 would be nice.
---
ill like to ask where can i perchase s30v steel so i could shape my own knife... do you know if i could buy them in texas? tnx...
---
Jay,
I was wondering if you may be able to answer a question for me. My husbands father was in the military during WW II 1944. He was presented with a gift from a man in his barracks. It is a double sided dagger and was handmade by, this boys dad, a fellow with the last name of Perez. We cannot make out the first initial. ( ? P. Perez )This dagger is 70 + yrs. old. It also has a leather sheath that covers it. The sheath has Mexico pressed in it. The handle of the dagger appears to be some sort of metal that doesn't tarnish, possibly nickel with a bone, ivory or agate insert. It also has an indian carved head at the end of the handle. I'm not sure what tribe it represents. I would appreciate any information that you may have.
Sincerely,
J. H.
This is the most common sort of tourist trash that comes out of Mexico. People actually ask about this a lot, and you'll see this type of knife mentioned on nearly every one of my funny pages. Go to Juarez, and you'll see hundreds of this type of knife, each selling for pennies. It's not even worth what the email cost to write and send, and that's free! Except for your time and mine. Maybe we will help someone else who has this tourista crap and thinks it's worth something.
---
Hello Mr. Fisher...I am hoping that you can help identify a knife that I have recently aquired, or perhaps point me in the right direction. I've attached a pic of the knife. Thanks in advance.
Steve
---
While searhing for information on steels and the qualities to look for in knife blades I happened upon your sight. COOL, I like what I see and was wondering if you have ever made a knife with a gut hook or just a gut hook? I have yet to find a gut hook worth a dime. When field dressing a moose it would be nice to find one that works. thanks for your time:
Last time I field dressed a moose, I did it with a sharpened toothpick. That was after I wrestled him to the ground while wearing my Dorfman hunter plaid hat, my rubber camo waders, and my tee shirt that says, "I have a big rack."
---
Mr Fisher I am a young man that has always been interested in the making of the sword. I have no background in the art, but I would like to know if there are class that one should take. I have never seen one at the school's high school or collage's. What should one do if there wanted to make a life of making swords. In your opinion who is the best sword maker(now or in the past.) thank you for your time
K. T.
The making, the art, the collage, it's all so culturally rich. I'm getting out my glue and scissors. Do you have any string?
---
attached is the pic of a dagger found in a vacant land in the coastal regiond(west) of puerto rico it was found 25 years ago by my friends dad, maybe you can help me with this . is about 12 inches long and it appears to have a cat (jaguar type) handle .any kind of info wold be greatly apprecciated .
Thank you
E. T.
No, E.T.! Not the tourista crap from Mexico... again!
---
To: Technical Staff Hello Jay I have worked as a Journeyman Industrial Blacksmith as well as a Historic Blacksmith. Unfortunately I entered the field in the late 70's. By then, Industrial Blacksmiths were just about extinct in the U. S. The Master Smith retired from the foundry that I worked in due to poor health and I was not blessed with his instruction when I started. My question is: How were the old fashion Wood Saws formed, heat-treated and tempered? The good ones were hardened through the entire blade: Yet; there was no warp, twist or 'dimpling'. If you could research your heat-treat information and share the information with me I would greatly appreciate it.
Sincerely;
V. R.
Since you addressed this to our "Technical Staff," I'll put on my bright blue polo shirt that is embroidered "Technical Staff," and answer this email in methodological, scientific, and specialized clarity. This conversation is actually a good example of why the very best high performance knives are NOT hand-forged. He says that "industrial blacksmiths are just about extinct." Why do you think that is? In modern industrial settings, the steels and their processing are done by machinists, not blacksmiths. Blacksmithing is a generalized craft, and an open forge cannot specifically control alloying elements that are resident in the highest quality modern tool and die steels. These steels must be treated in high purity, or at the very least, controlled environments. The open forge allows contamination, decarburization, and uncertainty of critical exposures, therefore, is not used with the very best modern steels. Industrial demands are high for quality, certainty of process, and verifiable results that are specified in modern machinery needs. The blacksmith can not supply any of these. This is why there are no hand-forged ball bearings, hand-forged shear blades, hand-forged industrial machine dies, hand-forged shafts, races, gears, or fasteners. When was the last time you heard of a hand-forged turbine blade? A hand-forged car axle? A hand-forged pressure vessel? Come on, folks, what does it take to understand? The very best metals are not and can not be hand-forged! Look up blacksmiths and you'll see many wonderful products they supply, like small craft items, architectural railings, guards and balconies, tools for other craftspeople, artwork, and decorative knife blades. Just don't ask the blacksmith to produce industrial quality high wear, corrosion resistant, or extreme use parts for machines. I even use hand-forged pattern-welded damascus steels for knife blades on occasion, but make it clear that their value lies mostly in their appearance, not their function. Okay, sorry, that wasn't funny, but I needed a touch of reality.
---
Was just reading over your sight; the part about not storing knives in their sheaths. I heard the tannin in leather interacts with the stainless steel to form "pitting" in knives. I've seen this . I also can understand the idea of knives needing to breathe and therefore would rust..
I recently purchased some knives from a company in Finland. Their sheaths are lined with a stiff plastic liner and the manufacturer says, always store your knife in this sheath.Have you ever thought of cementing a plastic liner into your sheaths? Apparently it works. If you already heard of this, do you have any idea where one could purchase plastic liners?
Your sheathes by the way are beautiful examples of craftsmanship. I was looking for a simple sheath for a dagger. I can't afford yours although I'm sure they are worth it.
Do you know what those trendy car bras were for? To keep your garage from getting pregnant.
---
Hello, my name is R.C.
I'm hoping I came to the right place for this. For years, I have been fascinated w/ a sword from my childhood. I have always wanted a replica of He-man's power sword, like the one used in theoriginal 1980's cartoon classics. I searched online for someone that has either made one, or someone that could custom make one. I did find a sword, but it's modeled like the one used in the new He-man series. So I was a little disappointed!!
Here is a picture of the sword.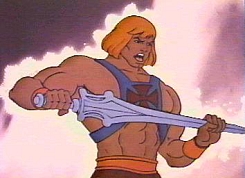 I have more pictures of it, if needed to show more of the dimensions, and even cartoon footage that really shows the depth. Now the true size of the sword, I really can't say how big it should be. I guess you'll have to compare him to a real, person, and start from there!! Also I'd like to custom make She-ra's sword. It's basically identical to He-man's except hers has a jewel in the middle of it. It's like a clear or very light blue jewel that goes through the center and is visible on both sides of the sword. I do have pictures of it too. Well I hope you can help me w/ this. If not, maybe you know someone that can. I've searched for a long time for a master sword smith that can bring this great legend to life!!! I knoww there are a lot of people that wopuld love to own this sword!!!
Thanks for your time,
R.
---
jay i am looking for a custom sword to spark fire in my eyes every time I look at it.
Suzanne E.
---
Hi, Just a quick question. I'm looking to make my own custom knife, but have no experience at bladework. I dont need any of the wood or gems, just the metal. In essence just the sharp metal. I'm looking for 440c, 3 inch blade with a 4 inch tang. A quick price estimate would be appreicated.
Thanks
Here's another credit card scam inquiry. They want whatever products I'm stupid enough to send to them, they have a stolen credit card, and are ready to rip off the stupid American knife maker. To address me as Dear turns my stomach-
Dear,
We are from Singapore. We have a plan to order some products from you. Can you ship to Singapore via FedEx, UPS ? If you can, we would like pay my order with credit card, are you accept credit card ? Please confirm us as soon as possible.
Best Regard
Here's yet another credit card scam inquiry. Do you suppose I get lots of these? Yes, I do, and they're all pretty much the same. They don't know or care who I am, or even what I sell. They simply mass email to web and email addresses hoping to snag some prey on their hooks. The questions alone give them away. "Just send anything, we'll be happy to give you a stolen credit card number and get anything we can to sell on the black market." I left the guy's name on this one, but it's probably an alias...
Dear Sir or Madam,
I am looking for website and i want to order your Product, But Before I continue my order, I have some question below :
1. Can you Ship to Singapore ?
2. Do you accept major credit card as the payment ?
3. Do you use shipping method for FedEx or UPS freight service?
I'm waiting for your confirmation as soon as possible.
Looking forwards to doing bussines with you. Thank's in advance.
Best Regards,
Dennis Jocelyn
Singapore
they don't want to bother with a lot of email and back and forth information or details about their order; they just want to know if you'll be gullible enough to send them some stuff
Here's another block of emails from folks who have completely ignored the page detailing what I do and don't do. They can't email me without seeing the page link. They either don't care enough to read it, or don't think it applies to them.
---
Hi Jay,
I'm gonna take a chance, and I'm a woman, so I guess the "be a man" doesn't apply. I have made Cabochons for a while. I do have a complete shop, or so I thought until I tried making a handle for an existing blade. Your knife on page 1 #2 (brazillian agate) has an inside curve. How do you do that? I have a trim saw, (I can only make straight cuts) and I have a Diamond Pacific 6 wheel cabbing machine. I even tried my husbands Fordham with "some" diamond blades, but even if I could get the inside curve cut correctly, how do you shape and polish an inside curve? I have other equipment I'll list in case it will help, but I at least can't figure this out. I have a 16" Covington slab saw, a Covington flat lap polisher, Sphere maker (covington, I think).
Thanks if you have time.
Carole F.
I really feel for Carole. She's working hard, trying to finish those pesky gemstone handles, but she just can't get those inside curves. If I would only just give her the secret recipe of technique, results would happen. It's taken me decades to learn how to do this. Practice, practice, practice. Read and study lapidary carving books. Practice some more. But leaning on your femininity to be given the answers? Say it isn't so...
---
Dear Mr. Fisher
My name is L. M. I am a student at T. university studying art, specifically art dealing with metal, such as jewelry, decorative blacksmithing, and of course art in your field. This year I will be allowed to do something that I have loved since I was young, to make blades as art. Unfortinately, thought I have read many books and have tried many times on my own, I have never really done anything hat I would consider well crafted. I was wondering if you would be willing to allow me to visit you for a couple of hours and chat about what it is that you do? I would also like to, if you don't mind, take a look around your shop and possibly ask questions about how you do your work. I will understand if you are too busy, or unable to do this. Just know that I would very much appreciate learning more about the logistics involved and any other advice you could offer. I greatly admire your work and appreciate your time.
Thank You, L.M.
My response:
Hello, Mr. M.
I'm sorry, as quoted on the web site, I do not teach knife making. Due to liability issues and the extent of ongoing projects, I also cannot accommodate visitors in the studio. Also, you'll find most of the answers you seek on my website, more than I could convey verbally in a few hours. Your best bet is to acquire some of the many books on custom knife making available, and study and make knives. It sounds like you are in the right courses to become a fine metals artist.
Good luck on your journey!
Jay Fisher
At least Mr. M. is polite. A few hours of my time taken away from clients who've paid for my time is a small price to pay for educating a metals arts student. Wait a minute. Isn't the university he's attending getting paid for that? Why aren't they answering his questions about a metal arts career? What does the university professor get paid for, anyway? And doesn't that prof get paid more than I do? Much more, with benefits? Evidently, the university has no real world information on what is one of the oldest professions known to man: making knives and cutting tools. Not to worry, I'll be answering a lot of his questions in my coming book. Oh, no, I just reread his email. He hasn't had any luck with books. How will a "visit" help him create something "well crafted" on his own? That one has me stumped.
---
I have a 6" / 16 oz walrus tusk that I would like to sell. I had a verbal appraisal several years ago and was told that this piece is over 50 yrs old. I found this in my grandmother's possessions which I received after her death.
Thanks, L. T.
Walrus tusk is a tricky item, mostly illegal all across the country. The only people who can be legally in possession of non-fossil or partially fossilized walrus tusk are Native Americans. Though her piece of tusk may be over 50 years old, how do you prove it? Possession of this material opens one up of all kinds of liability issues.
---
Hi Jay .
Greetings from New Zealand Great site ! I realize you time is precious , but just a query. Bought a knife Recently (Pic attatched )Rather Heavier than I wanted ,, but so well made couldn't resist and it has a Copper filet at the base of the spine , Why ?
All I could think was to hit if trying to cleave a bone or the like.
Regards Bill
---
I know it's a stretch to say this has to do with your knife making, but you showed up on Google when I went looking for people who make knives out of sawzall blades. I started making knives out of them last year, but given the hardness of the steel, I can't find anything that will actually put a fine edge on them. Now I'm up to cutting blanks out of circular saw blades, but the steel doesn't seem a whole lot softer. I like knowing that whatever edge I do put on them is going to last, but that doesn't really help if the edge isn't worth having. I was wondering if you remembered what you used.
E.P.
What? Sawzall blades? Oh, I get it. He's talking about when I just started making knives back in the late 1970's when I was still a teenager. Whew. Had me concerned there for a bit associating me with making knives out of sawzall blades.
---
Dear Sir, We hope you are well as us. We are the real manufacturer of camel bone and buffalo horn knife handle. We have sent many e malis But you did not any reply. We will give you offer with best prieces. If you like any samples it.Please tell me. I will send. Please confirm
Best Regards Rashid m.
I had no idea that bones were manufactured. Wonder what kind of machine is used to make bone? And I do want the best prieces...
---
What a self involved dick.
Yes, I get these emails too. Anonymous addresses, sometimes threatening. Why, of course I'm "self-involved" on the website domain www.jayfisher.com that is about me and my work... what, I should be writing about ... you?
---
Sir Me and a buddy have made 7 knives to send to a combate unite at guam andersen afb would like to cold blue the blades any help would be graet . what kind and best way of doing it thanks D. K.; My son is in the unit
---
Hi Jay, I am just learning knife making, and right now working with deer antler for handles. Can you give me any info on suppliers for - Stick Fast glue, antler/ horns, leather, and knife blanks, and guards etc. The only catalog I have so far is Jantz supply. Any info is greatly appreciated. Thanks, Fred, Your knifes look beautiful, but out of my league right now. Perhaps one day I can learn how to make one with a gem handle. Thanks Again. Fred. I will be reading more of your site on my days off from my regular job.
---
Hello,
Could you tell me where i can go in florida to learn the art of sharpening knives etc. Thank You,
W.W.
---
HI, nice work. I have a question about quenching a 17 kukri blade that I am making. I know that some people use water and pour it on just the edge, or you could use clay and put it on the back of the knife to harden just the blade. I guess I am wondering what you would recamend to a first timer? So how to quench the blade to a hardness of 59 over the whole curve of the blade.
thank you for any help you can give,
Steve
---
Mr. Fisher,
I came across your page while searching for custom sheaths and scabbards. Your page is wonderfully executed... and your work is amazing. All I can say is that I envy your position of being able to build or create anything with an edge or without and even, in so doing, take all aspects and processes under your own two hands. At first, in all honesty, reading some of the text on your page, i found it to be prideful. I took a look at your work and also at the techincal aspects you've posted on your page, and I must say, I feel you validate the claims, thus far. "Best on the planet," and such, I'm sure is the most constant opinion of any of your previous customers. I guess all I really mean to say is that your work is wonderful and your site isnt too shabby either, but most of all... I wish I had half the skill.
Thanks, sir, and fare well,
J.
Yes, I'm proud of my work. So are my clients. Okay, NOWHERE on my site does it say "Best on the planet, and such." The recognition of "Best Living Knife Maker" was an honor by The Best of the West magazine. I did not solicit them for this recognition, it came out of the blue. Their judgment is their committee's own subjective opinion, and other makers have been so honored over the years. They clearly state why they recognized my work. Gees, am I supposed to ignore the recognition? At least this guy thinks my work is decent.... sigh.
---
hey jay i want a curved knife you know the shape of a throat with a black rubber handle and a full tang how much would it cost i dont have any money now but i still want to know please
p.s. you are the best knife craftsman ive ever seen!
sincerely j.c.
Shape of a throat? Uh, some people shouldn't have knives.
There was a posting on one of the knife forums, where a new maker was trying to find out how to use gemstone on a knife handle. Someone suggested my work. Another member cut and pasted this text from my "What I do and Don't do" page: "This is not a tutorial site, no matter what you may see here. There are a never ending amount of questions people have, and they figure that since I have such a voluminous site, I'm bound to know the answer to their technical knife questions. I probably do, but if I answer any of those emails, I'll invite a flood of questions and answers, all which cost precious time and do nothing but benefit what could be a competitor! How crazy is that?"
Another member took exception to the comment posted on MY OWN SITE! His post:
I guess Jay Fisher isn't as willing to help out as some others. Remind me not to buy anything from him, not that the knives he makes appeal to me.
How dare I not help out other makers. After all, isn't that what Jay Fisher exists for, to answer their questions and make their lives easier by giving up what he's struggled to learn over all these years? Is that so much to ask? And if my knives don't appeal to this guy, why is he even on my site looking at them? Someone went on to give the advice to use a tile saw to cut some jasper (which won't work) and I just had to step in, so I posted:
Hi, J. I'm sorry if I came off sounding negative on my site; it's just that I get an incredible amount of traffic, emails, and inquiries. My site's topping 40k hits a day now, and it's pretty overwhelming...
Please look at my gemstone knife handles page on my site. It takes a whole set of special lapidary tools to work with gemstone, and Jasper in particular is very hard, so there are no short cuts. I've seen plenty of stone ruined by guys trying to finish it without lapidary process. A tile saw that works under water will not work well on jasper, as the blade is rough, large, and water is not the right coolant for jasper. It needs to be cut under oil, and that requires a lapidary saw. You need to get a good book on lapidary carving and it's also great advice by S. to visit with some local rock and gem club and lapidaries. There are about a million little things that they can tell you about shaping, grinding, finishing, sanding, polishing, fitting, and working with stone that they would be happy to share.
The main thing you have to bring with you when talking about working with rock is ... patience!
Good luck with your project!
Jay
Then, the guy who had posted the rude comment erased it in an edit... sigh.
Another fine email:
I suppose I'll have to buy your book after it comes out.
The excerpt on mirror finishing is OK, except I don't agree with every thing you said. I started making custom knives in late 1968, and believe me there wasn't many of us. I am retired now, just playing with folders. I wonder why I never heard of you until I ran across your web site a week or so ago. I subscribed and have every issue of Blade Magazine, starting with Number One and I can't remember ever seeing your name. Oh well it doesn't matter.
Regards
Willy
I get this type of letter from time to time. There really isn't a question or inquiry here, just a half-hearted attempt at insult. Not agreeing with everything I say is okay. I don't write to forge agreements, or to meet people who believe exactly the same things I do, so we can shake hands and agree to agree, and never think, or learn, or grow. I write because this is my experience, my take on things, and perhaps it may help others to think. I myself think often when I read others' opinions, techniques, and directions. This is how I grow. It's called learning.
There is often a lot of emphasis put on magazine exposure. Blade magazine is one of the largest in their field, and the truth is, my knives have been published and featured there a handful of times, including text sections on my handmade gemstone handled knives ,mentioning my name, but I've never had a full length article. Why? Perhaps it is because I haven't pursued one. Just how important is magazine exposure? Nowadays, it's becoming less and less important. What is the most important medium for displaying fine custom work? Your looking at it right now. I talk a lot more about magazines and publications in my book. Don't bother buying it, Willy; you've never heard of me.
Dear Sir,
We are the real manufacrurer of camel and cattle bone or buffalo horn knife handle.
as opposed to the fake manufacrurer?
Dear Mr. Johan,
Johan? What? I'm Mr. Fisher! Could this mean that his letter is copied and pasted, carelessly?
And now we can make the 100%bone dyed any color on any bone.
oooo, I like florescent orange bone. Looks so natural.
We were doing the search new formula many times. But now we Are successes with 100% result.
I'm glad they finally found the right formula; we all new about dyes but didn't bother to tell them.
It will be for you very ezey for you.
very ezey, very sexezey...
Please trust me.
begging for trust... that's encouraging
Please tell me if you like any samples it. I can send
Please confirm
Best Regard Prop
Rashid malik
Haven't we heard from Rashid before?
More emails:
---
Hi jay my name is jake m., im a junior in highschool and as a project for a welding/metal works class im in we get to make a knife.
Sorry, I don't buy it for one second. All schools have voraciously banned knives from campuses after Columbine. I think Jake is flying on his own
I just some input on what style of knife to make, i want to make something that is generally very useful but could also be useful for hunting. I was thinking maybe a cattleman or a skinner but not sure. If you could get back to me on that i would really appreciate it. Oh and we are using just spring steel, and cutting torch.
Thanks so much,
Jake M.
a.k.a. "Jake Stud" on his email address... sigh
Follow Up: About a year after I got this email, I heard again from Jake. Turns out he's a very nice young man who is actually studying abroad, in a country that will let him make a knife by hand. I apologized for any embarrassment, and assured him he was very lucky to be in a place that allowed him to make a knife. Here, in the "land of the free" we do not allow our children to make, carry, or even use a knife, the most common, original tool ever conceived of and made by man. It's a sad state of reality that political correctness has prohibited responsible knife ownership and use. Good luck and wishes to Jake!
---
Jay,
Nice website and beautiful knives you have. I'm taking a Metallurgy class and have chosen knife steel as the topic for my final project. I'm looking around to see what people can tell me about blade steel. My report needs to focus on the mechanical properties (hardness, toughness, ductility, etc.) of the metals. I will be talking about carbon steels, stainless steels, and titanium. Do you have any useful information that might help me ace the project?
Uh, Matt, have you even looked at my web site?
I'll be sure to show your site as a reference (report is a class presentation with Powerpoint)!
Thanks, Matt C.
He wants me to know what format to use when I write his report for him.
Hi Jay,my name is Bryan and i have a knife i found 34 years ago when i was 6 years old.the blade is about 13 inches one side has the name GIL RUIZ and on the other side made in MLXICD.Do you think this is a mark of who made this knife.the handel is some kind of bone and the top is a meatel bird head hawk or eagal.thans for any help you can be
Bryan L.
Bryan, for a 40 year old man, you need to work on your spelling, punctuation, and spacing. Never heard of 'ole Gil. And the Roman Numeral? It's not even a valid number! I guess Gil Ruiz failed his Roman Numeral test in grade school...
NOTE: Some time after I posted Bryan L.'s email on this very page, I received this from an astute and clever man:
I quoted your letter and reply below from your "Funny Letters and Emails, Pg. 1". It struck me that his knife was MADE IN MEXICO, but stamped poorly, and he wasn't really trying to use roman numerals.
No doubt a true gem of a knife.
Thanks for the beauty of fine craftsmanship,
S. B.
Yes, I think S.B. has it right. It must be "MEXICO." I thank him for his input; mystery solved.
By the way, this kind of knife is very common; these types of knife were made for tourists from the middle of the 20th century onward, and the fittings are cast in aluminum in the shape of an eagle's head (Mexico's eagle). The handles are usually cow horn, and if the name of the country was on the blade, it was probably made after the 1960s, when knives coming into America had to have a country of origin marked on the knife. The markings on the blade are probably etched, not stamped, as most of these cheap tourist knives were. You can do a search on this very internet, and probably find a dozen of this type of knife for sale. Price and value? If it's cast aluminum and horn and in very good condition, about $25.00 US.
Now you can see why I don't bother to answer this type of email. We all know more than I ever wanted to about this cheap Mexican tourist knife and I wish I could erase the information from my head to use that bit of my gray matter for a more worthwhile purpose...
Okay, it's still good for a chuckle.
Dear Sir
I hope you are well as me. I am doing the mail many times about camel bone 100%dayed new fourmula.But I did not any response for you.
Oh, yes, I remember, Rashid.
Are you not trust me.
trust issues, Rashid?
If you like samples it. I will send.
Please, no!
I want to work with you allways.If we are with togatiher.I sure We can do anything.
Uhhh, is this a proposal?
Please want your help.
He sounds a little desperate.
Best Regards
Prop
Rashid malik
---
Dear Sirs,
Hope you are fine. Can you please offer me prices for Ivory unworked and scraped 500 to 1000 kg CNF Karachi by sea. Looking forward to hear from you.
Kind regards,
Mohammad Waseem.
Waseem Traders Lahore - Pakistan.
What are you talking about?
---
I just bought a Buck Alpha+, #193. It came with a brown, right handed sheath. I want a tighter, low profile, fitted, black, left handed sheath. How do we do this?
We don't.
Do I have to send you the knife and/or sheath? How much would you charge for the sheath?
Dean L
Don't worry your little head about that one.
---
Hi Jay
I was wandering if elephant bone ( lower leg ) can be use as handle material. I am living in South Africa and i have used elephant ivory, giraffe bone and wart hog tusks on my knifes but nrver elephant bone. I recently got hold of an elepant front bone which has been lying in the field for 50+ years. Have you ever used it ?
My name is Carlo and i would love to hear from you
No Carlo, here in New Mexico, the elephant bones have dried up...
---
This was in the title line of the email, with nothing in the text:
FIXED KNIFE BLANKS, DO YOU SELL THEM.SEEMS I CAN'T FIND A PRICING ON THEM. AND BY THE WAY WHAT A GREAT SITE. YOU ARE A MASTER.
Nothing like being screamed at in the email title...
---
Scott,
Good afternoon!!! I need to order some business cards. Please give me a call.
918-686-0**8
Thanks
Vickie F.
M******y Plus, Inc.
Accounts Payable Manager
Human Resource Manager
Scott? Vickie? Am I interrupting something? Why did I get this email at jayfisher@jayfisher.com?
When a fellow maker asked about the ridiculous comments and letters (as he was getting his share, too) I replied:
"Though there are a lot of strange and funny comments, the good ones outweigh them so much that the foolish ones are just a speck of lint on the monitor!"
And that's how it really is. Lint keeps coming, is a very minor irritation, and has no real destructive potential unless you let it build up. The only reason you have lint is because you are in action. Hopefully, what you are in action about is not to create lint, but something worthwhile. That is where my focus is, not on the lint. Though that lint can be amusing-
Dear there,
I'm your new customer from Indonesia, and i'll buy some product from you. Before i complete my payment for this order, i'll ask some question to you :
1.Could you ship your products to Indonesia ?
2.Do you accept credit ( Visa,Mastercard )for payment this order?
3.For the shipment,could you using TNT/USPS/EMS to Indonesia?
If you accept payment using credit card ( Visa/Mastercard ) ,Please give me information about your products detail is instock list and ready to ship at my country.
Reply me asap.
Thanks you for your attention.
Looking forward to hearing good news from you.
Best regards,
Sales
Another typical stolen credit card and identity theft scam. The product does not matter, just take the stolen card numbers and ship something, anything.
Here's another block of emails from folks who have completely ignored the page detailing what I do and don't do. They can't email me without seeing the page link. They must not think it pertains to their email, only those other guys...
---
hi jay bill from pendleton oregon do you sell any scales i am interested in that green malachite -let me know
bill
-your knifes are outstanding!
---
Do you know if there is a reproduction of the M2 switchblade that i can purchase, thank you in advance for your help. My email adress is t******@comcast.net.
---
Hello, my name is Angie. I was wondering if you could help me out. Do you or do you know of any place in Florida were you came make your own sword? I would like to find a place like that for a gift. Anything you can offer would be great.
Thank you for your time!
--Angie A.
---
I was wondering if you could help answer a question I have. I came across a Pocket Folding Knife, similar looking to a typical Buck Folding Knife, but the Text on the Sheath and Blade say "SPAKISTAN". Not PAKISTAN, but SPAKISTAN. I scoured the Internet looking for an answer, and all I came up with was a possible slang term for 'a newly created section of Pakistan'.??????? Hope you can provide some help.
Thanks Jay
You've got to be kidding...
---
Name of knifemaker in title of email...
Jay, have you ever heard of this knife maker ? I've seen a couple of his knives for sale recently and wondered if he has a good reputation. I believe he lives in Connecticut. Thank-you for any info you may be willing to share.
Jim
---
Jay, I got a knife billet, (3) layers of 52100, (4) layers of 5160, (3) layers of 203E, and (3) layers of 15N20. Folded 4 times to yield 416 Layer Pattern that I am going to have water jetted out to a design I came up with. I am looking for someone who will grind the edge profile and harden the blade for me. Is this something you would do, or could you point me in the right direction?
---
I am looking for a black leather sheath that will fit a 3.5" pocket knife. Belt loop or clip on. I need five for Christmas. Can you help?
--JJ
---
Hey Jay: I have some walnut knive handle blanks in three sizes and I am interested in selling them. Please contact me at my email.
---
hello mr. fisher, i am from phx,az and i own a sword cane that has an acyrlic handle. the handle broke from the base and im looking for someone to repair the damage. i was wondering if u do this kind of work or do u know someone. thank you for your time
--richard
---
Occasionally, I get an inquiry from a professional who hasn't bothered to look at the site before shooting off an email...
Dear Jay,
T******* is in the business of provider technology experts to lawyers for intellectual property law suits such as patent disputes, theft of trade secret matters, contract disputes and the like. We've been around for over 20 years in this capacity. Please see our website below.
We have been contacted by the law firm representing a defendant in a patent dispute that deals with wood chipper blade technology.; The lawyer is looking for an expert in blade geometry. I found you as a result of a Google search using the words "lathe blade geometry expert"
If this is something that you would be interested in, please give me a call and I'll tell you more.
Lee E*****
President
T*******, Inc.
Wow, the pres. himself... did he even bother to look at my site?
---
I do not know whether you are interested, but I have a Bagwell Bowie in perfect condition that I am considering selling. It is unused, and in perfect condition. I have had it (along with two other Bagwell Bowies) for about 18-24 months, but it has been packed in storage. It is about 14-15 inches from tip to tip, and it has black wood handle (with the name "Gambler" in a small gold plate on each side). The blade is silver. And the guard/hilt is brass (as are the pins, etc.). It has a quality black leather sheath, with a gold belt pin on it. It came from Ontario Knife Co., and I still have its original box If you are interested in offering it for sale on a consignment basis, please send me an e-mail to let me know the details, etc., and I will contact you. Thank you in advance for your help.
--E. C.
---
Mr. Fisher, I am writing to inquire about having a sheath made for the my Strider MFS tanto, black leather, blade length is 3.25 and OAL is 7.5". It has a Kydex but I would like a belt sheath (1 3/4" web belt) where its totally impossible for the knife to come out even if I am upside down or tumble off my mountain bike (which I ride accross post here in Kirkuk). The purpose would be everyday wear and/or camping wear (when I get back to the states). Accessibility is completely secondary as a quality. Something with redundant snaps or complete handle coverage would be fine. Attached is a picture of the knife for reference. Please let me know what I need to do to order a sheath (ie. mail knife to you) , or if you have time for the project- and approx. cost.
Thanks, CPT S.F.
---
If you happen to be reading this, and you recognize your own email, I'm sorry; I'm just demonstrating the range of inquires and interest that this web site generates. I DO feel for people who have needs in the knife world, and if they would have just gone to the "What I do and don't do" page, they might have found some helpful links that might actually get them the services they need. I'll continue to update that page for services and links as I find them.
---
Dear jay,
my name is gagandeep s*** my company name is *** EXPORTERS in india.i am a distributer of swords & daggers in india.i see you work on your website,i am intrested to do buisness with you.i want to make my own choice daggers from you.i am sending you some designs,please see in attachments.i need 500 pcs of each design.please let me know all details-prices,payment terms&dilivery times etc all details.asap
warm regards
gagandeep s***
Gangadeep has included pictures of elaborate damascus-bladed Persian daggers, fully engraved, with Arabic inscriptions and pearl and gemstone handles. He only wants 500 copies of each, and if he could pay my price I could only make his three daggers, 1500 times, and never make anything else in my lifetime. Maybe I could open a factory... He continued to send copies of his original email, so if I wanted it to stop, I had to respond:
Hello, Gagandeep. Thank you for writing.
I am not a large production shop, and make knives one at a time. No two knives are exactly alike. Individual knives of the style and quality that you have illustrated in the attached pictures would be in the price range of $3000.00 to $5000.00 US for each knife, depending on materials, finish, embellishment, and accessories. The waiting period for my work is about two years due to demand and amount of orders. thank you for your interest,
Jay Fisher
His interest seems to have died, and at least the emails stopped.
---
Title of Email:
Off to Tokyo!
Email body:
hello,
I am a chef in Toronto Ontario.... My restaurants name is C*****. Through good fortune and sticking to the basics, I was approached by G***** Knives to contribute in the design of a new line of professional chefs knives. A continuation of the G***** P** line.... Any suggestions ? The GP knives as they stand, are pretty high end... Assuming the weight and feel are there... cosmetics are the thing that'll sway the Chef Public. (the Handles) Any suggestions? or more importantly.. advice? Thanks for the consideration,
AW
How thoughtful of AW to think of me when things turn up for him. He's been asked to advise a huge company about their knives, and doesn't know that much about knives, so he goes to a professional for some free and worthwhile advice. He's not interested in my work, oh no, he just wants me to give him enough ammunition to make an impression... on my dime, time, and effort... sigh. Hey, where's MY free trip to Tokyo?
---
We approach your good self by courtesy of Internet. We are pleased to inform you that we are manufacturer (in house production) of all kind of domestic iron knives. on competitive price at desired quality. With an experience of over twenty years of manufacturing equine products and providing services to our valuable customers. Please be informed that whenever you enlist new supplier. Please add our company name in your supplier database. Please find enclose the picture of knives for your ready reference.Please note that company motto:-
1. Availability of samples 2. Competitive prices 3. No compromise on quality 4. On time delivery
We hope the above cited information are up to your desire need and specification. We are waiting for your early reply. We remain on your disposal for any further information feel free to contact us. Thank you for your time and cooperation in advance
Best Regards,
Robin Brian And Co.,
Lal Kurti Bazar Sialkot
Cantt Pakistan
Iron knives? Horse products? I included the name of the company here. Isn't it interesting to have a European or American style name for a company in Pakistan? I love the irony of the city in Pakistan too: "Cantt." Old Lal has included ten pictures of the worst sort of ugly junk ever to come out of that part of the world: knives that actually offend the eye. I won't soil my web site with the horrors, even in the interest of ridicule at the expense of others...
---
hello jay,
as a very young and hopeful teenage knife maker I admire your very beautiful craftsmanship on your many incredible designs. Would you say skill in knife craftsmanship grows in time and do you ever get that bombardment of ideas go to the job and completely lose it (or is that just me :).
blessed be,
J. M.,
England
J., you don't want to "lose it" in the knife shop; it could be dangerous. I suggest a more placid environment for you.
---
I need to find woodland camo kydex for my two sons. They want to make their own sheaths for their knives. They are 7 @ 11 both boys. PLEASE HELP!!!!!! you are my last hope!!!!!! Noone else has been able to help me. Please if there is any kindness in your heart help me with finding a stocking dealer at least. My 11 year old son just got out of the hospital for his diabetes and alomost died, so this is kinda like a "you are so brave award" if you know what I mean.
Any help would be great
Thanks, D.
Oh, come on now...
---
We R Manufacturer & supplier of all kind Imitation costume and fashion Jewelry & Handicrafts of Resin wooden Bone Brass, Cow Horn, EPNS and shell as Wooden Photo Frame, Horn Bone Scales, Wooden Coasters, Carving Incense holders, Bone Horn Blocks cylinders , Shell Bangles, Bone Horn Beads, Try tone Necklaces, Metal Bracelets, Wooden Candle holder, Horn Bone Button, spectacle frame plates, Horn Bone Blanks, Napkin Rings, Wooden Smoking Pipes, Horn Belt buckles, Shell Jeweler Boxes, Brass Ashtray, Horn Combs, Handicraft Bolls, Horn Toggles, Blunts, Bowen tips, Bamboo Handicraft, Horn Bone Bobbins, Horn Bone cuff Links, EPNS Earring, Drinking Bottle Horn, Horn Whistle, Horn Cutlery, Shoe Horns, BUFFALO Horn Powder waste, Bone Ash powder, Horn Bone Gelatin or Crushed Urea (Pls. write Handicraft in Subject)
M/s. Sixth Sense Handicrafts # Darbar, Sarai Tarin, MORADABAD, INDIA
I've got a sixth sense about this stuff, all right. Now you know where I get my handcrafted resin horn toggles and horn powder waste that I sell on this site!
---
hello mr. Fisher sorry for being so formal but thats normaly the best idea when you need information is it not. But let me get to the point my name is Jeff D. and im 15yrs old and have been fasinated with swords since i was very young, but the problem is that i havent been able to buy them so i want to make them and was wondering if you could help me learn how. I understand if you cant but would apreciate some sort of reply. I was told to email you by t*******.com and so i am. thanks for reading this if you dont reply i will try again in a month or so.
---
Do you guys purchase or know of anybody that would purchase elk teeth ivories. I have 4 sets that I would like to sell. Can you let me know? Thanks
---
I have this knife and I would like to have a matching pair for a display in my house. I am unsure who made this so I have attached some images. Do you have another like this? I would appreciate what you can do. Thank you
A.
No pictures attached... sigh
---
hi jay, my name is m. m. i live in f**** alaska on the k***** peninsula. e. c. from pennsulvania tought me how to make knives 12 years ago. i have a bader b 3 grinder. i found your web sight while researching knife handles. you know sooooo much. do you have a book for sale? i am trying to start my own knife business here. for now i am only making small skinners and camp / utility knives with bone and wood handles. o-1 tool steel. it's like i hit a plateau and dont know where to go from here? any sugestions? i guess i'll keep reading your web site. maybe i should call r.w.w. in verginia to see what he thinks. im sure you guy's have been where i am now. where to turn?
thank you jay.
---
jay, send me a small "banner" and I'll place it on www.**********.com
Can you tell me if it is possible to do the following? Instead of twisting , burning, banging into sliced shapes..........can one "anodize or chemical etch" a good looking damascus pattern onto a machined peice of metal? (Al 6061) ?? Can you tell me who can do this, or just run through real quick the process? I would be grateful, thus my offer of banner placement.
Best, D. W.
He thinks if he offers a link on his site, I'll "run through real quick the process."
---
Hello Jay
On a recent fishing trip i met a guy who helped me get a shark off my line with the most amazing comabt knife i ever say, it was made out of kevlar or some kind of polymer, but he put it up to the side of this sharks neck and ran it down to the tail in a quick motion, and all you heard was a zip and the whole guts fell out, ever since i've been looking for one of these and not able to find it. I was told that this knife was a special ops, it was about 10 to 14 inchs total lenthand looked like a combat or survival knife.
do you do knives like this kind, i do alot of salt water fishing and have destroyed many knives due to the salt water, also a kevlar or polymer knife would be a cool colection piece thank you
D. P.
---
Hi there Jay…
My Name is F., I am a jeweler…I know my trade well, I would say without arrogance I am in did world class jeweler.. In any case, I visited you site for the first time just looking for a sculpture I once saw...I came about jay's knifes and cot curious.. I was amazed to see a one man workshop so full, You definitely have all the toys there…maybe one or two are missing….But honestly, you gona tell me out of knife making you put all together? I mean that is a big workshop…here in NYC that is a lot of toys for a one man operation… As I said, I am so curious….did all that came just out of making knifes?...I mean maybe I'm in the wrong business….but what do I know?....maybe knifes sale right? Please don't get me wrong Jay…I'm only curious….honestly.
--F.
Toys? This is a professional business, and I treat it as such. Perhaps that is your problem, F.
---
hi jay i have an interests in knives so im making this inquiry im interested in the rambo 2 type knife could you do something like this for me along with the appropriate sheath? im retired from the nypd and would like to include the nypd logo in the design of course i would provide a picture of an nypd emblem there will be no hurry with this im just throwing it out to see what you think i probably wouldnt be able to pay for it until may any help or ideas would be helpful,
thanks jay,
tom
---
Hey Jay,
I was just wondering what all materials do you have available or could get to put on a sheath. I am interested in python and caiman croc. Both are very interesting. If you can get both, could you possibly put the python skin in pieces, like to where it has a unique design to it. I have an example of the python pieced together. It's item B*********X at s************.com. It's a pair of boots.
Thanks,
Colby
---
Jay, do you have any knife sheath patterns? I am a ivory handle knife maker with knives and no sheaths! Need to start making them...............revamping my web site now, but take a look..........
thanks, E.M.
---
Mr. Fisher,
My father recently past away and in his belongs I found five (5) daggers made by Wilkinson Sword for the American Historical Foundation. The cases all state "The World War II Victory Collection". The five titles are "The Battle of the Bugle", "The Battle of the Rhineland", "Victory in Europe", "D-Day" and "The Desert War - North Africa". These daggers are beautiful and are in excellent condition and I have been attempting to fine out any information I can on them. I have very little info from all I have contacted - made by Wilkinson Sword for the American Historical Foundation in 1980-82, original price $295, made with the finest of materials, 24-carat gold plating, missing one dagger ("The Italian Campain") for a full/complete collection, they are irreplaceable, rarely ever seen for sale, no current value unknown. Most of the info I have came from a Mr. Robert Bueriein at EK Knife who was CEO of the American Historical Foundation at the time of issue but he can only work from memory, no papers whosoever. Do you know anything about these daggers? If not do you have any suggestions as to where I may try?
Thank you for your time.
P. T.
---
Hi Jay,
I'm looking for someone who can customize an axe/hatchet blade for the renaissance group I'm with. We need ten done in the next few months,
Yikes, Krista; I have a three year wait!
and I'm trying to figure out how to do so and still be cost effective.
Cheap?
I'm considering either having blades sent to someone to be etched (cheap route), or find someone who can work with us to truly do our dream of a custom hatchet (our group is "The Order of the Hatchet)
I'd heard of this mysterious order, but thought it was a myth.
I'm including an image of the crest we would like on the blade (for either version, the cheap or dream), and an image of our dream hatchet that we would also like to see our heraldry emblem on.
The "crest" was extremely complicated, with wings, and feathers, and helmets, and torches, and stars, shield, and, of course, a hatchet.
Can you do such a project? And, more importantly (to my thin wallet)... what would this run per piece? I would also like to know what the turn around time would be. To make matters worse, we are somewhat on a time crunch for determining the who/how we are going to get this done. Your prompt response would be HUGELY appreciated.
Best regards, Krista
---
Jay, I am a hobby knifemaker and want to get some of this stuff, "Blue Tough Ceramic". I hear it is hard to work with, but I want to try some. I contacted Kyocera, but had no responce from them. If you can help me locate some that woud be great.
Thank you for your time,
Michael...
---
Goodday Mr Fischer
I have just read your "Where do daggers come from?" on your web page. Seeing that "dag" means point, in some of the books I have read it is stated that some daggers were made from sword points picked up after battles.
Barnie
---
I am in the process of selling all my different collections, (historical documents, coins, stamps, etc.) and I came across these two knifes. One is an inlaid, bonehandle, double blade Austrian knife made in the late 1800's or very early 1900's. The other is a single blade knife with a raised logo which on one side says "THE BOYS OF" and on the other it reads "AMERICA". I am wondering if it is an early Boy Scouts of America knife. I am selling both but I am quite curiuos as to the value and origin of the 2nd. I do not know if you purchase knifes but I am wondering if you might be able to provide me with some information on the two knifes. I would truly apperciate any help you might be able to give.
Sincerely;
G. S.
---
If you happen to be reading this, and you recognize your own email, I'm sorry; I'm just demonstrating the range of inquires and interest that this web site generates. I DO feel for people who have needs in the knife world, and if they would have just gone to the "What I do and don't do" page, they would have found some helpful links that might actually get them the services they need. I'll continue to update that page for services and links as I find them.
Jay,
I know that you are an incredibly busy man, so I just want to say in advance that you do not need to take the time to reply to this!
I just wanted to say that:
1. Your work is astonishing. I am amazed at the quality and depth of your artistry in all areas.
2. I am not in a position to be buying right at this moment (although I'm tempted to max out a credit card and just walk away with Pacifica), but believe me, I plan to turn into a good customer sometime in the next couple of years!
3. I think I laughed more at your "what I do and don't do" and your "emails (from morons)" sections more than I have laughed at anything in a while...and I read a lot of humor.
4. Please take care of your health, as I need to you be around for a few years to keep making your works of art. My husband and I are both knife buffs, and my father-in-law is a knife fanatic. As you know, quality is hard to find in this area any more...and your kind of quality may be unmatched in this day and age. Take your vitamins!
Thanks again, and looking forward to working with you in the future. But, wait - shouldn't I send you some comic books to show you the kind of work I want?
Sandra
Thanks, Sandra!
Folks, I couldn't make this stuff up! Want more? Try Page Two here!
---