Tactical, Military, Combat Knife Care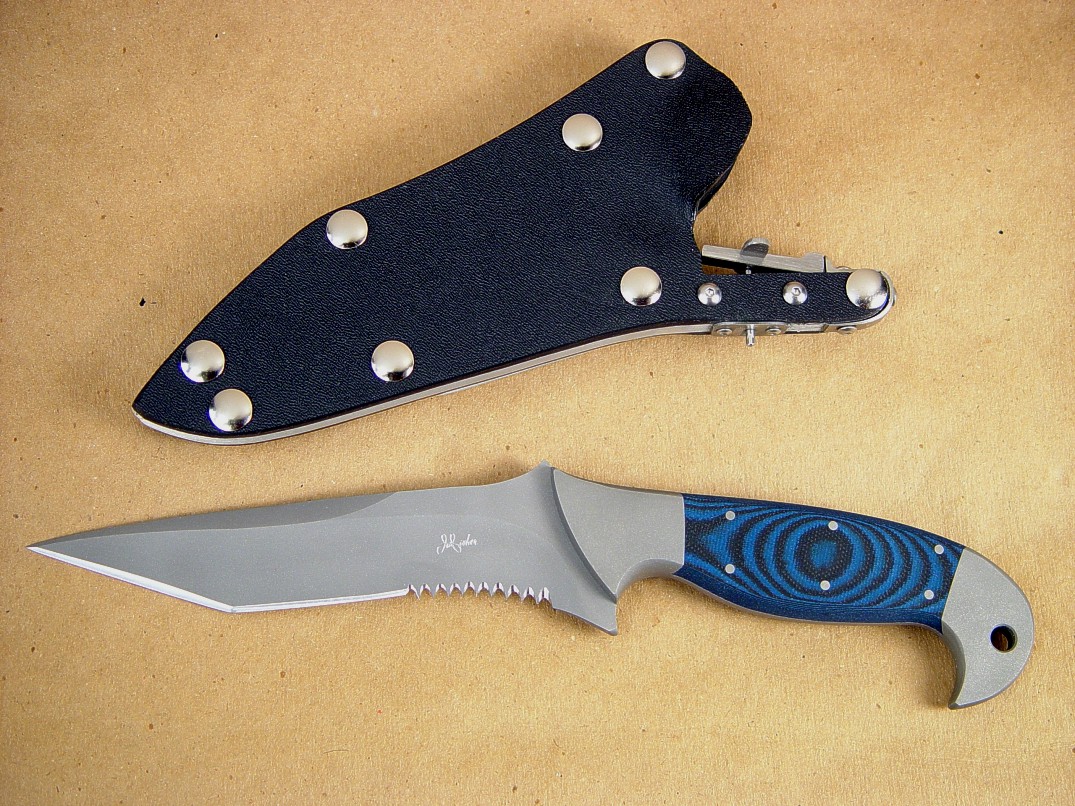 ---
The first version of this page was short and sweet, with the standard list of do's and don'ts for the care of one of my typical tactical knives that I hand out with each knife purchase. When I did the website rebuild, I decided to go into much greater detail on this page, to provide a clear and concise reference for protection of your investment and tool. From the simple axiom of keep it clean, dry, and sharp, this page evolved into discussion of points of value between oils and proprietary waxes, among other topics. My hope is that this page is considered a worthwhile reference and service to my knife client and knife community, an important part of what I do as a professional knife maker.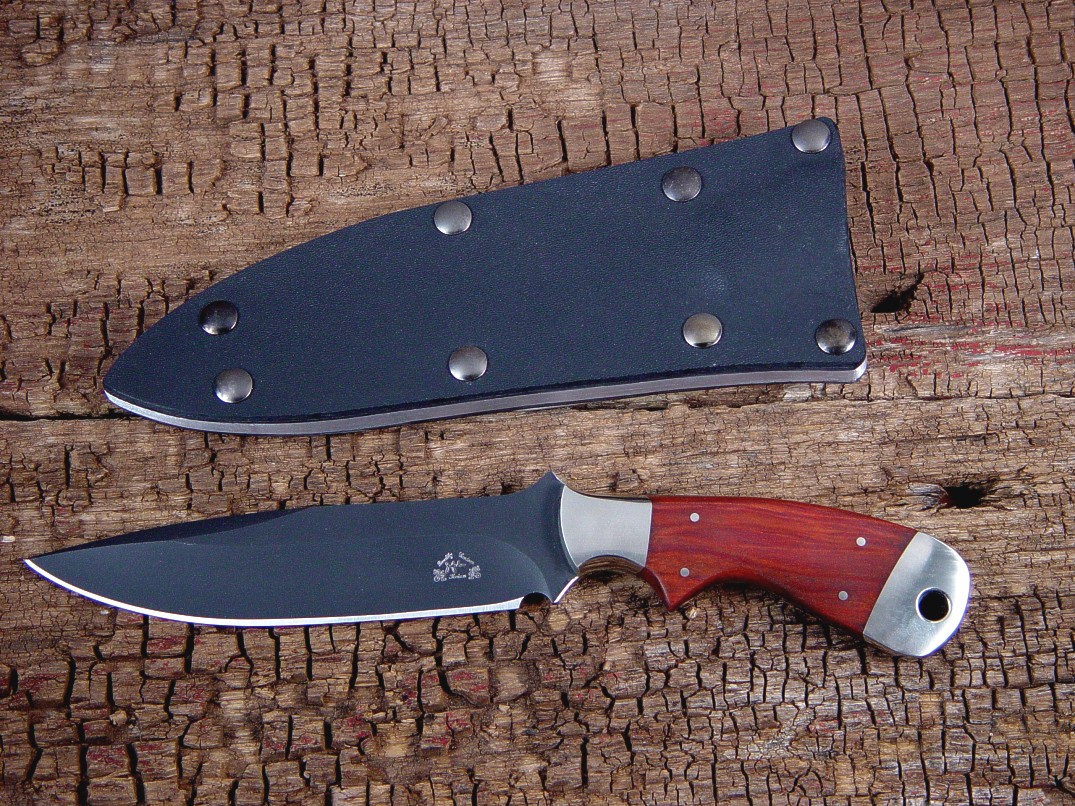 ---
The most important rule to remember is:
Do not store the knife long term in the sheath.
Long term storage in the knife sheath does not allow the metal to breathe, and condensed moisture can accumulate in the sheath body no matter the climate or environment. This will lead to rusting and pits on every type of knife steel. If the knife is to be stored, keep it near the sheath, but not in the sheath, in a stable, dry environment. I talk about this subject in great detail at this bookmark on my FAQ page.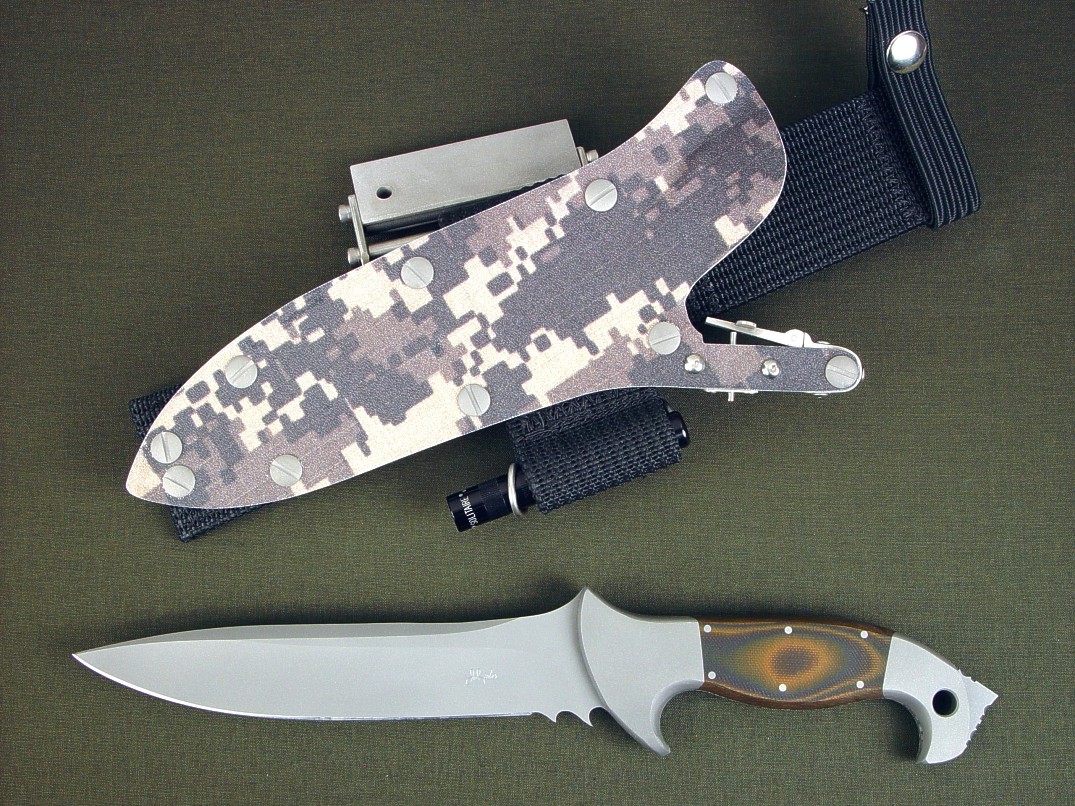 ---
The expectations of life depend upon diligence; the mechanic that would perfect his work must first sharpen his tools.
--Confucius
The only way to have a worthwhile combat, tactical, rescue, and service duty knife that is up to the task is to keep it ready. Ready means sharp, clean, maintained, and prepared for immediate action, perhaps in defending your own life.
Thankfully, modern tactical and combat knives are made with durable, tough, and reliable modern materials (or should be) that are fairly easy and simple to maintain. Below is a more detailed version of the standard list of details that I typically hand out with each tactical and combat knife I make, with some current bulleted and clear points to keep your investment, tool, and weapon in the best shape.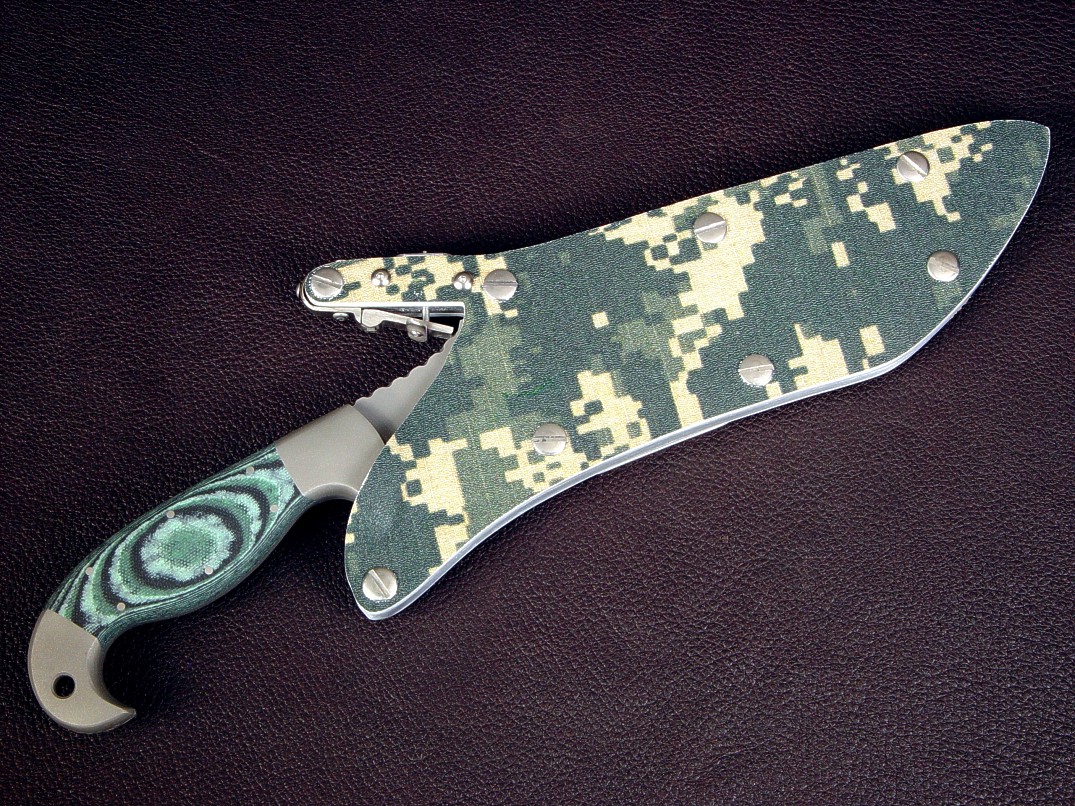 ---
Though specific care is listed above, I think it's important to offer some suggestions in cleaning the knife and sheath that will make it easier to maintain the value, finish, and longevity of the knife as a weapon and tool.
Mild Soap and Water: make sure that this is the strongest cleaner you use on your knife and sheath. A half of a teaspoon of dishwashing detergent in a quart of warm (not hot) water is as strong as is necessary. You can dedicate a worn toothbrush to your knife care kit, and after thoroughly wetting the dirt and soil, the toothbrush can scrub away any debris. The toothbrush does not scratch the steel, but the soil and dirt may, so be carful here and rinse away as much as you can without scrubbing. This doesn't usually matter with satin finished or bead blasted knives, but mirror finished knives can be scratched with the quartz that is in sand. Never use a wire brush.
Do not use any solvents: Though it may be tempting to use brake cleaner, mineral spirits, denatured alcohol, gun solvents, or other chemical solvents, do not use them. They can attack the bonding and bedding agents of the knife handle, and pull resins, oils, and waxes from hardwoods, causing them to shrink. Don't use them on the sheaths either; if your kydex is standard camouflage or Digi-camo patterned, these solvents will dissolve the color right out of them! Of particular interest to my military and law enforcement clients who use firearms: never use any chemical cleaners used for firearms on your knife! Military grade solvents like Mil-Spec CLP cleaner have chemicals that dissolve carbon to remove crud from gun barrels, and this will attack the carbon in the steel blade, actually dulling the cutting edge and etching the surface of the steel blade!
Never use any compounds to clean the knife or sheath: It may be tempting to use rubbing compound, polishing compound, or restorative compounds, but if it has the word "compound" in the name it definitely has abrasive particles in suspension, either silicon carbide, aluminum oxide, garnet, quartz, or iron oxide. These will abrade the surface of the knife, possibly ruining the finish. Don't use them.
Never use Steel Wool or Scotch-Brite

®

or any abrasive pads, papers, wheels, or any surface conditioning abrasives or pads of any kind on the knife. Though they may be fine for a glass baking dish or your tailpipe, you certainly wouldn't use them on your chrome plated bumper because they will fog and scratch the surface. Same for your knife; don't use them.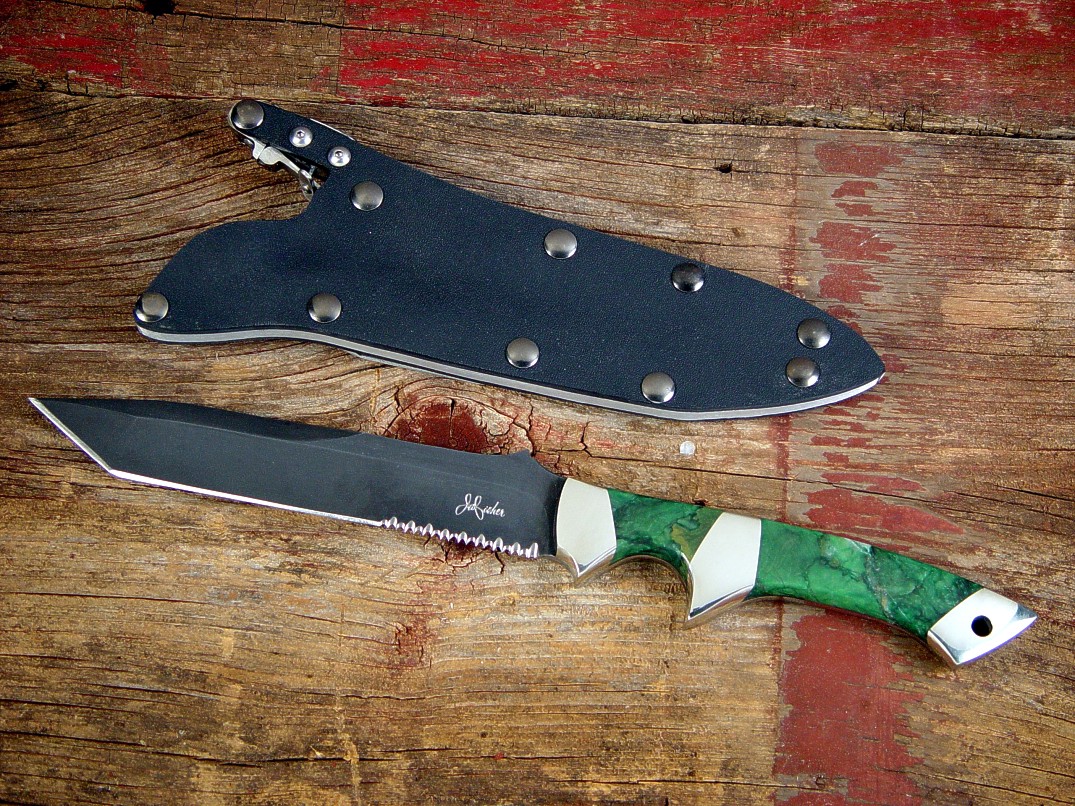 ---
I think it's important to understand the difference between oiling and waxing the knife blades, handles, sheaths, components, and accessories. We all have the image of the warrior oiling his blade in the firelight, keeping in clean and slick for the upcoming battle. Of course, we also have the image of him sharpening it on a rock-
Neither of these practices are recommended. In my upcoming book, I go into where this practice and image comes from, but for this tactical knife care page, I just want to cover the basics. The clearest way is a comparison table:
| | |
| --- | --- |
| Oil | Wax |
| Oil is wet. | Wax is dry. |
| Oil is short lived, and distillate oils like WD-40 actually evaporate over time | Wax is-long lived and lasts a very long time. |
| Oils can be easily removed by ordinary soaps and even salty water. | Waxes can not be removed by ordinary soaps and salty water. |
| Oils transfer to anything they touch: skin, objects, and other components. | Waxes do not transfer, and stay where they are applied. |
| Oil contains petroleum distillates which chemically react with plastics, epoxies, and adhesives. | Wax contains lipids and typically long-chain stable molecules that have little reaction potential. |
| Oils are sticky and thus tend to hold dirt, dust, and debris. | Waxes are slick and smooth, and do not hold or grip dirt, dust, and debris. |
| Oils will dry out, making them more sticky. | Waxes are already dry, so do not change. |
| Oils can easily be rubbed off by normal physical actions. | Waxes can not easily be rubbed off, and are actually smoothed and polished by normal physical actions. |
| Oils are easily removed by other chemicals and solvents | Waxes are not easily removed by chemicals and solvents. |
| Oils are distillates, chemically and industrially produced. | Waxes tend to be natural, produced by plants and animals. |
| Fine, museum grade collections are never oiled. | Fine, museum grade collections are typically waxed for long term preservation. |
| Oils are easy to apply. | Waxes are more difficult to apply, and must be rubbed out and polished. |
| Oils are common and inexpensive | Waxes are more expensive, but a little goes a very long way. |
---
It's easy to see why I prefer waxing knife blades, sheaths, and components. Please make the effort to acquire a good wax for your care kit, and apply it at least once a year. Work the wax into the crevices around the blade to bolster or blade to guard junction, and keep a light coating on the blade. It will add tremendously to the long term protection of the knife.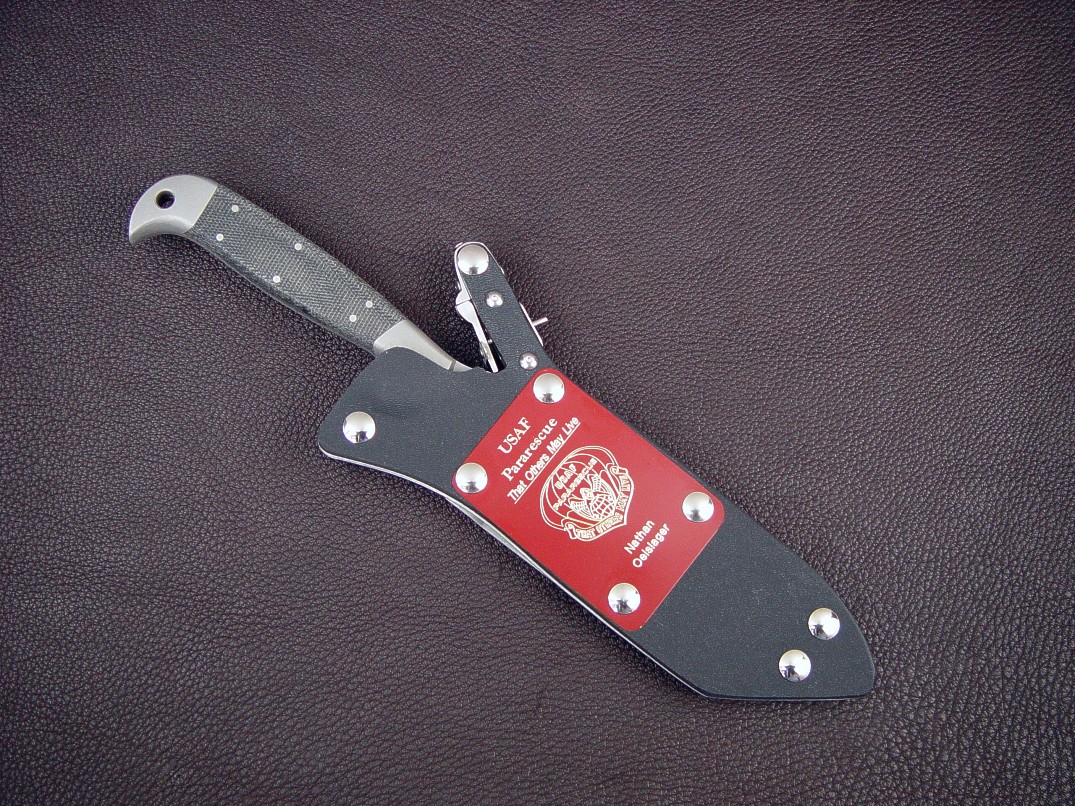 ---
My military, combat, tactical, and service duty professional knives are made the best that I can make them, but where you take your knife and how you treat it may have an effect on its ability to work for you when you need it. Extremely high heat can affect the temper of any blade, so, obviously, don't stick your knife in a fire or heat source. Knife temper starts to change over 300° Fahrenheit (150° C), and epoxies, bedding agents, and manmade handle materials start to break down at 325°F (160° C). In short, anything above boiling is detrimental to a knife.
Sheaths are even more sensitive. Leather stiffens, dries, and shrinks above 150°F (65°C), so you can see that leaving the leather sheath in the bright sunshine of a car window will definitely have a negative affect. After overheating, leather can not be "brought back" to its previous condition. Kydex is more forgiving, but any high temperature exposure above 200°F (90°C) can cause this thermoforming material to soften. On the other end of the scale, kydex can become brittle below 0°F (18°C), so avoid shattering blows when the sheath is this cold.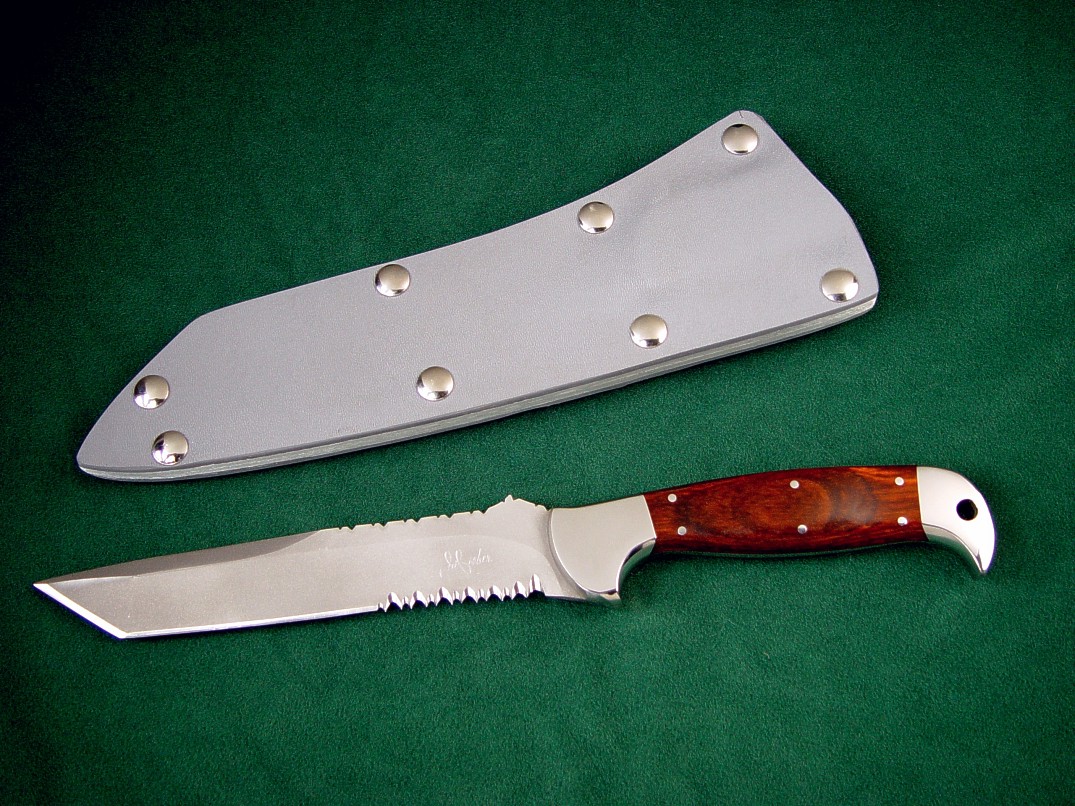 ---
Unlike a knife collector who has stored his blade for years in a closet without looking at it and then discovers to his horror that the blade has rusty pits deep into the mirrored finish, the tactical combat knife is more often used, carried, and exposed to the elements. It is in the visual field of the soldier, rescueman, or law enforcement professional fairly often (or should be) and so he can keep an eye out for indicators of future problems.
Corrosion: if corrosion starts to appear, this will show up in several places. Hands are usually acidic, and corrosion can start to show on the tang of a full tang knife. Any discoloration of the tang indicates the knife should be cleaned, dried, and waxed at the first opportunity. Darkening at the cutting edge may appear more frequently, as the knife blade cuts corrosive materials, tissues, or objects, and has the cutting edge surface and relief more abraded. This is usually nothing to worry about and will disappear with the next sharpening.
Sheath Rubbing: if you notice an area on the sheath that has rubbing, be sure and check your rig, mounts, and equipment. Though kydex is durable, it is a thermoforming plastic, and can be abraded and worn, weakening it. Make sure your mounting method keeps the sheath as close as possible to your body.
Sheath Fasteners: If you've changed the orientation of the kydex tension fit aluminum belt loops, straps, or plate, be sure and check the Chicago screws for tightness.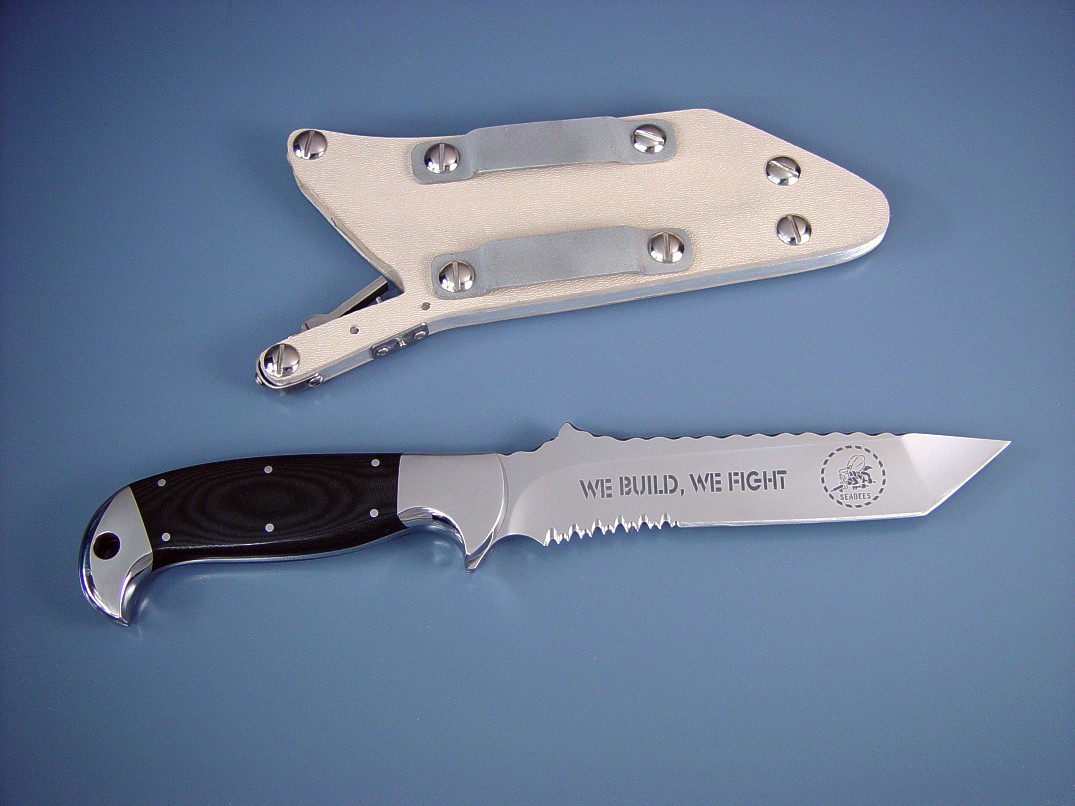 ---
You can sharpen your knife. Sharpening the knife is one of the most critical operations a knife owner is expected to perform. There are some important things to understand in the world of fine and custom handmade knives that can help tremendously with sharpening the blade.
First, it may help to know that every knife dulls. There is no such thing as a blade that does not dull, unless it's a blade that is never used. No matter how hard the steel is, no matter what the alloy, no matter how it is used, eventually it will dull. Humanity makes no knife that never, ever dulls. All knives dull because they have thin cutting edges, and force and abrasion are applied directly to that edge in many hundreds or perhaps thousands of pounds per square inch. Even the hardest material we know of, diamond, will wear down at an edge. Knowing this, it's clear that if you use your knife, you will have to sharpen it. Clearly, you can dismiss any claims by any maker or manufacturer of knives that they never need sharpening.
High alloy, stainless, hypereutectoid steels hold better edges at a high hardness than most other steels commonly used for knife blades. If you have one of mine, you've got a very good start on holding the edge for a longer time than any medium, low carbon, hypoeutectoid, or lower alloy steel. If your knife made by me is cryogenically hardened and treated, it is in the best condition the steel can possibly be, holding an edge for as long as possible. Even though the hardest and most wear resistant steels will wear, it's an extremely good start to have one of my knives.
Sharpening is not complicated! While the constant drive to sell sharpening products, devices, equipment, and methods can be confusing, please know that sharpening a simple hand knife is, well, simple. All you have to understand is the idea of an acute angle. What these angles are and how to apply them to a cutting edge is not complicated; it's extremely simple. Understand that companies selling equipment to sharpen knives are making money by complicating the process, suggesting that you purchase their product to make sharpening simpler and somehow better. This is not the case; they are simply selling their product.
There is a classic, clear, and simple method to sharpen knives available in print, and it takes about a half of an hour to understand. Once you read it, you'll know exactly how to sharpen every knife you may have, and you'll probably be eager to do it. While you may read or see that the method is "dated," "old," "folksy," or described by other terms, know that the guy who wrote this simple text was a sharpening consultant to industry, including the meat packing and textile industry for 40 years. I know of no current professional who has had such experience in the field, and many years ago, he wrote a clear and simple text. You need to get this book and read it. It's The Razor Edge Book of Sharpening by John Juranitch (ISBN-10: 096660590X), (ISBN-13: 978-0966605907). You can find it on Amazon and many other online sources; just plug the title or numbers into any search engine. It's about $20.00 and it will be worth every penny. Once you have it, you'll have a simple, clear understanding of how to sharpen your knife. If I thought I could improve on this method, I would, but even in the most modern technology cutting edges, there is nothing that is as clear and simple as John Juranitch's method for the knife owner and user.
You need a good stone. I use the word stone, but know that I'm talking about a whetstone, a sharpener, bench stone, and a hone. If you have one of my knives, I will suggest the investment of a diamond abrasive stone. These are steel or plastic-bodied blocks, with nickel plating adhering industrially grown diamond particles on the surface. The best of these are made by DMT (Diamond Machining Technology). The diamond stone is expensive, but it will probably be the last stone in any particular grit that you will ever buy. It will not cup, wear down, or clog. It does not require water, oil or any liquid. It's durable, solid, and wide enough to assure that your blade will not become wavy, which happens with point contact sharpeners like rods, steels, tubes, shafts, or cutters. Sharpening by hand will make sure the blade is never microscopically heated at the cutting edge, something all motor-driven edge grinders do, no matter how much water is used, and no matter what the company selling these sharpeners claim.
Two grits are necessary for complete sharpening, and only one grit is required for simply sharpening an existing edge without relieving. A very coarse grit is used to establish the relief, and a fine grit to apply the cutting edge. I usually recommend DMT's "Extra-Extra Coarse" (120 micron or 120 mesh) for the relief, and DMT's "Fine" (25 micron, 600 mesh) for the cutting edge. You'll understand more once you read Juranitch's book, and may wish to purchase other grits for your specific desires. The only difference and change to Juranitch's method is the development of diamond abrasive technology, which was not widely available at the time he wrote the book.
Knife makers, distributors, hobbyist makers, and enthusiasts can get very complicated about cutting edges. They suggest ridiculous complexity, paper wheel abrasives, motor-driven polishers, complicated angle-establishing jigs, holders, and guides. You don't need any of these. As a knife client, you deserve to know the clearest, simplest, most reliable and proven method to sharpen your knife, and it's been established many, many years ago. Do you honestly think that we have improved on a method that industry uses to dispatch thousands of miles of cloth, material, and textiles? Do you think that packing plants have some complicated and lengthy process to separate billions of pounds of meat from bones? Meet the clearest method and the guy who advised them in a classic, reasonable process that anyone can understand. Get the book, read it, practice on some of your older, cheaper knives, and be amazed by what you can do!
I have no relationship whatever to Juranitch's book, his family, or endorsement of any kind, just like I have nothing to gain by recommending DMT for diamond sharpening stones. These are the methods I use, they work, and I simply suggest them because my clients deserve a reasonable, reliable, and simple method to sharpen and maintain their knife's cutting edge.
Note on serrations: If you have to sharpen serrations on your blade, I've included a simple system to sharpen the serrations I make on my knives on a special section about sharpening serrations on my "Serrations" page.
Need Details? More about knife owner sharpening on my 'Knife Care" page at this bookmark. For more advanced details about sharpening, please read my "Sharpening and cutting edge types; Refinement of sharpening by the knife owner" on my Knife Care page.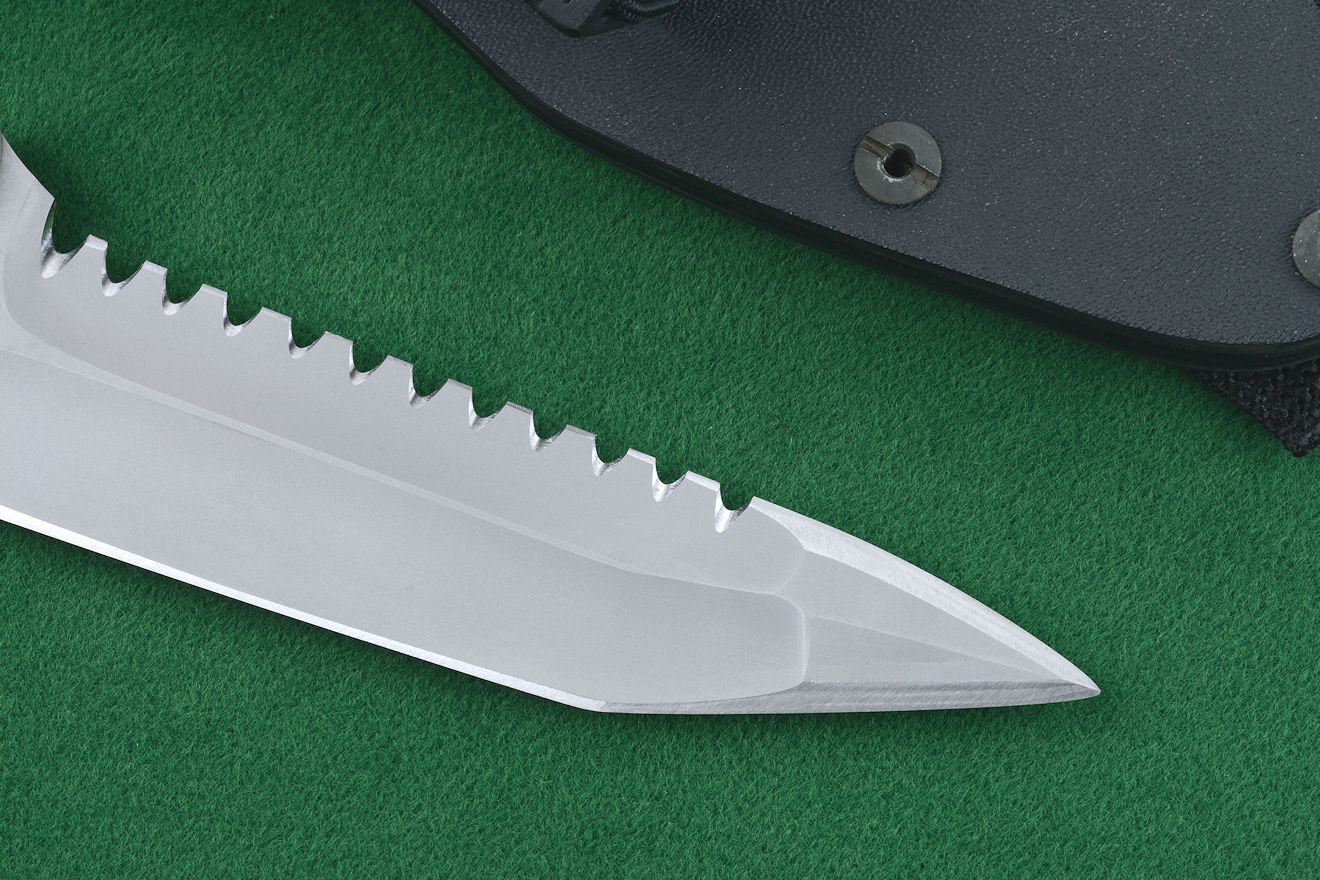 More
about this Ari B'Lilah
---
Knives may be commemorative models, that is, embellished with either machine or hand- engraving, etched, and electroplated or electroformed with other metals.
Machine engraving, hand-Engraving, or etching on blade: There is no specific care required for machine engraving on the knife blade, but debris may be removed by a wetting in mild soap and water, and scrubbing with an old toothbrush. Apply wax to preserve.
Electroplating or electroform on blade: I electroform (heavy, thick, multi-component electroplating) dissimilar metals on some knife blades. The harder metals like nickel are very tough and durable, but gold, copper, green gold, rose gold are softer metals and can be rubbed off after years of polishing. Clean lightly and never use any compound or abrasive cleaners, keep waxed.
Sheath flashplates: Some of my commemorative or service duty tactical and combat knives have machine engraved or etched flashplates on the sheaths. The flashplates are easily removable, and are typically removed and set aside for the knife's retirement display. This also allows the sheath to have a more subdued appearance. The flashplates are either acid etched nickel silver or brass, or machine engraved lacquered brass or aluminum. All types of flashplates are easily scratched, so please be careful. A wetting with mild soap and water and and cleaning with a soft cloth is advised, not a brush. Wax as with the knife blade.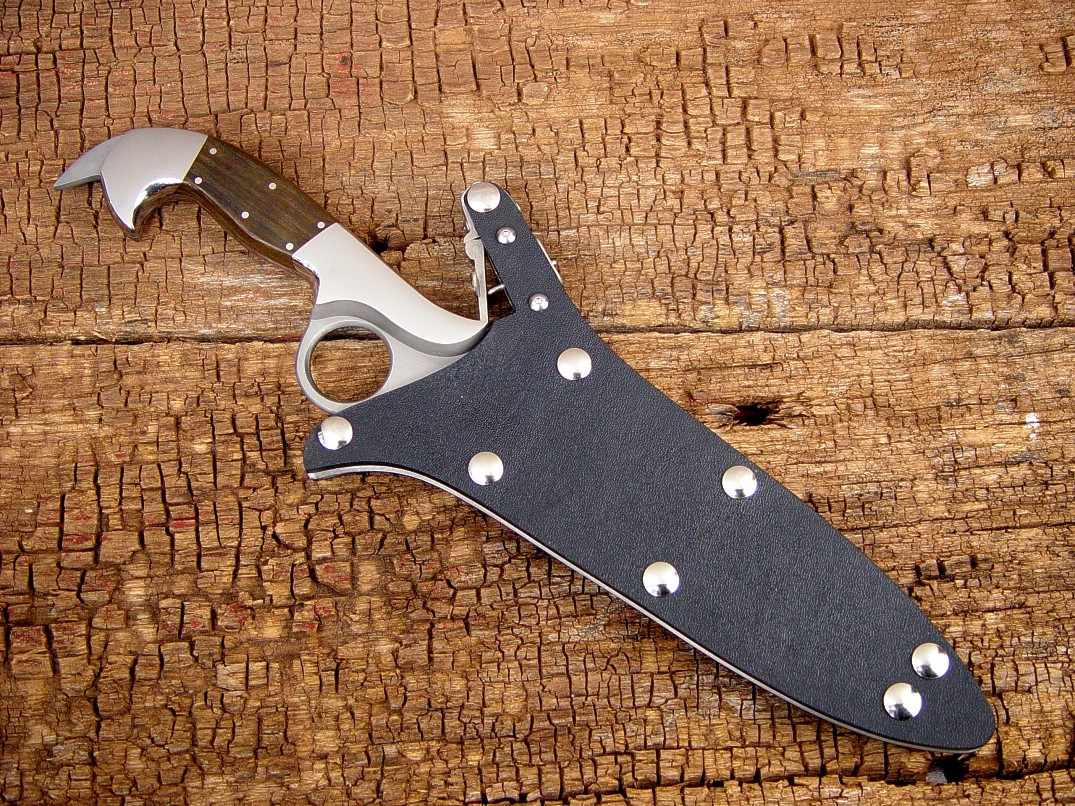 ---
The basic rules for any knife care are posted on my Knife Care page, and here's a quick review:
The weakest part of any knife is usually the tip, which happens to be the most abused part! Take care of the point, and the rest of the blade will follow.
Never throw knives, unless specifically designed for that use. I don't make throwing knives.
Never use knives to pry, dig, or chop. Get a pry bar, shovel, or axe instead.
Do not leave knives and sheaths in direct sun or high heat. Ultraviolet light oxidizes woods and bleaches the color out of some gemstone. Heat bakes the protective oils out of most hardwoods and weakens adhesive bonds. Prolonged exposure to the sun and heat can also destroy knife sheaths.
To clean, hand wash blades when necessary with non-abrasive gentle detergent, rinse well and dry, then polish blades and fittings with good quality polish like Simichrome

®

. Avoid abrasive cleansers or textiles.
Clean handles and sheaths with damp cloth and buff with soft dry cloth. A light coat of Renaissance Wax or Briwax can bring back luster. Do not over-wax. A very small amount goes a long way.
Do not use any kind of oil on the sheaths; this will cause them to soften, weakening their protective function, softening glues, sealants, and dyes.
Protect carbon steel and stainless steel knives with a light coating of hand-buffed wax, not oil. Oil attracts dust as well as weakens the sheath. Renaissance® wax is the best!
Some carbon steel knife blades are blued (related topic). Nitrate bluing is a very thin patina that can eventually wear away, leaving a gray metal finish. Sodium (gun) bluing is black, more penetrating, but can also eventually wear away. These are hot blues; used to temper, lightly protect, or cosmetically enhance the blades. They are rust inhibitors, not rust preventatives. Keep clean and dry, wax as above.
Chemical etching is used in the maker's mark on my mirror finished blades and for cosmetic enhancement. If you live long enough to polish away the etching without the help of power equipment, you won't have any fingertips left!
Wood handles usually benefit from a light coating of furniture wax or Renaissance® wax or Briwax

®

and a good hand rubbing.
Brass and Nickel Silver fittings can be hand-polished with Simichrome

®

and lightly waxed for protection. It is normal for some scuffing to show on the front bolster or guard, this is where the sheath holds the knife (related topic). Polish brass often, coat with wax.
For very long term storage, store your knife with the sheath, not in it! The chemicals used in tanning of leather sometimes react with moisture in the air, leading to corroding of even stainless steels! Condensation even within military grade kydex sheaths can invite corrosion. If you can't keep the knife in the open, dry air, store with photographic quality desiccant in a plastic bag apart from sheath.
Keep knives sharp. Most accidents occur when dull knives are pushed too hard. For sharpening: The Razor Edge Book of Sharpening, by John Juranitch (Warner books 38-002) or go to Knife Sharpening (related topic).
Thanks for caring for your knife!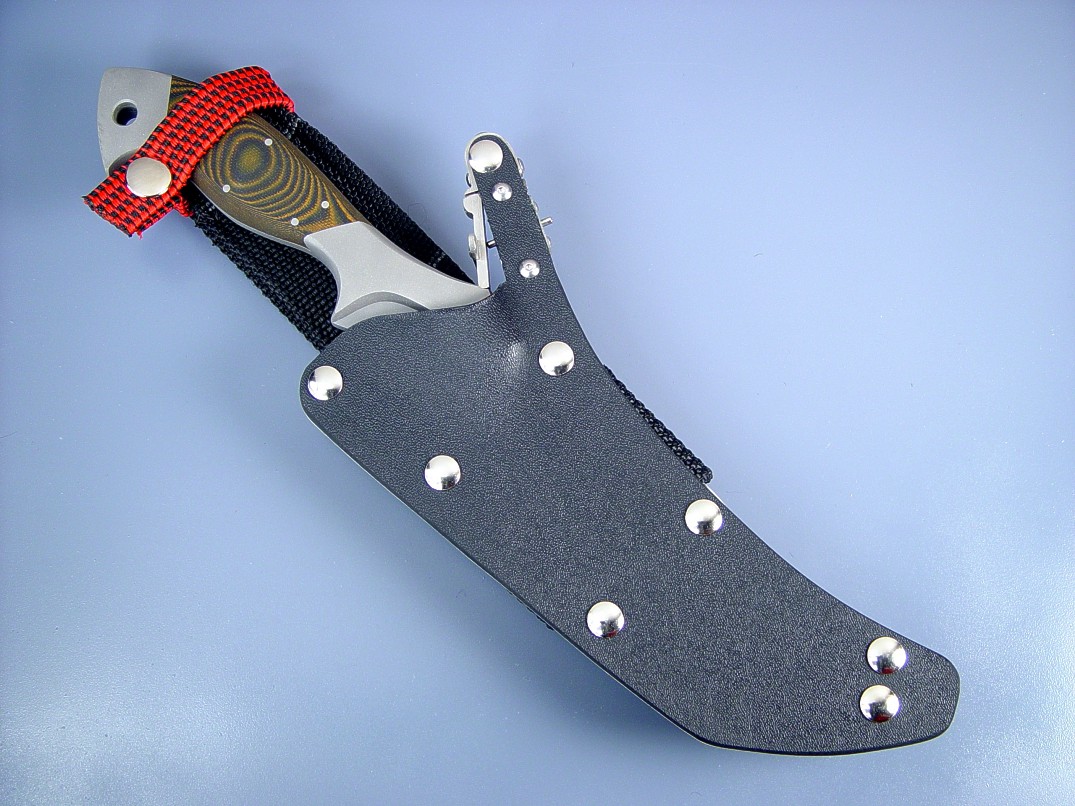 ---