Arcturus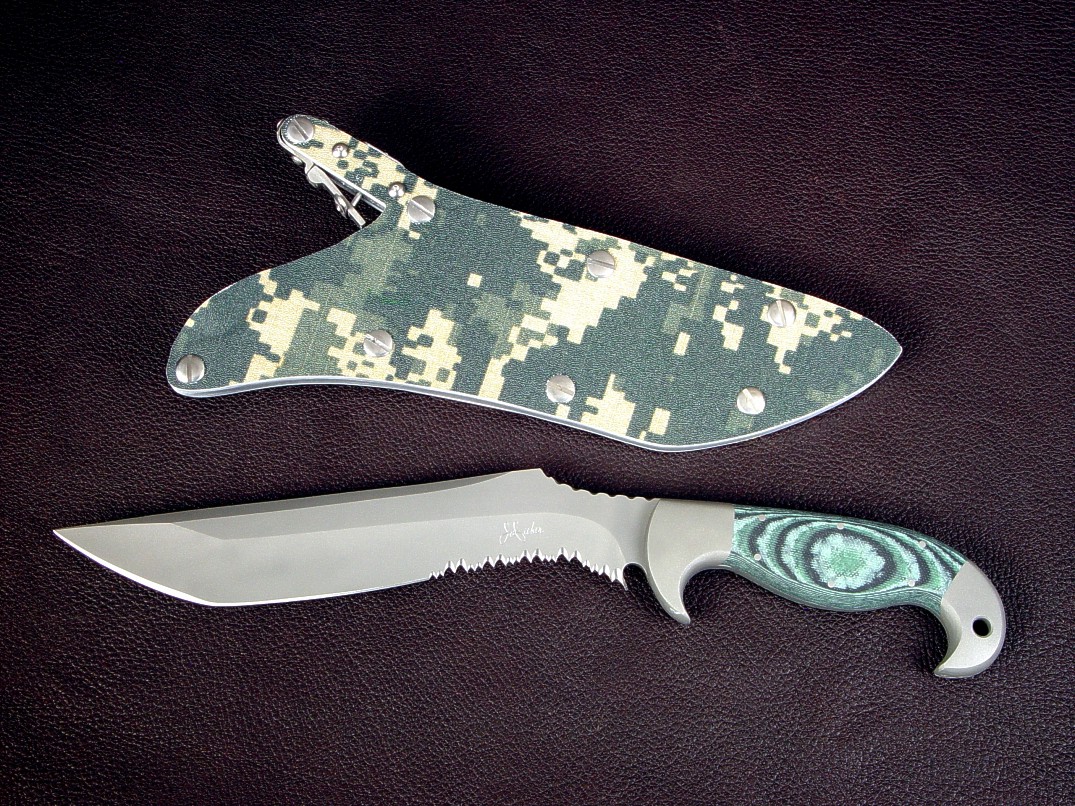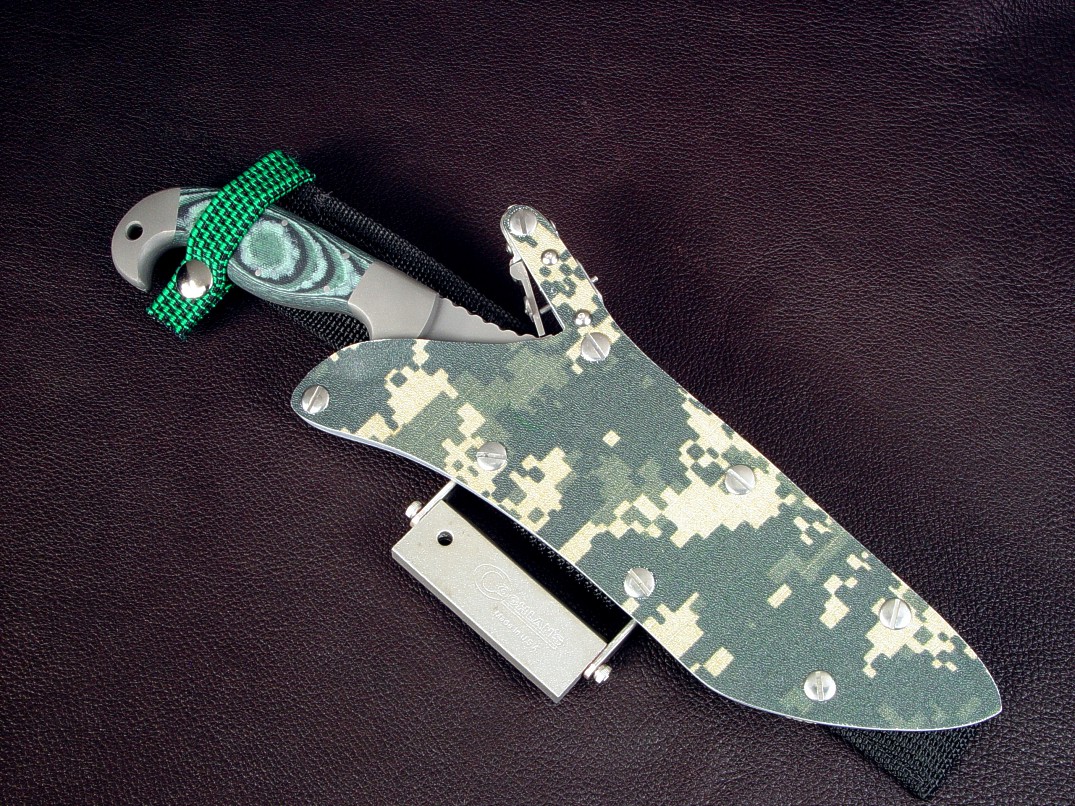 "Arcturus" Tactical, Combat, Survival Knife
Size: Length overall: 13.125" (33.3 cm), Blade Length: 8.25" (21.0 cm), Thickness: .185" (4.7 mm)
Weight: Knife: 14.8 oz. (420 grams) Sheath (with extender and accessories): 1 lb., 2 oz. (510 grams)
Blade: CPMS30V High Vanadium Powder Metal Technology Martensitic Stainless Tool Steel, Hardened and Tempered to Rockwell C59, Bead Blasted
Bolsters, Fittings: 304 Austenitic Stainless Steel, Bead Blasted
Handle: Green, Black, Pistachio G10 Fiberglass/Epoxy Laminate Composite
Sheath: Locking, Woodland Digital Camouflage Pattern Kydex, Aluminum, Stainless Steel, Polypropylene and Nylon belt loop extender with Firesteel/Magnesium fire starter, Fine DMT diamond pad sharpener
Knife: The Arcturus is a vicious and dangerous professional grade tactical combat knife which doubles as a survival tool. Named for the brightest star in the constellation Bootes, Arcturus has a unique and spiderlike quality. A blend of tanto, khukri, and aggressive toothed character, this Arcturus has some neat and useful features. Start with the blade. I made it from CPMS30V, Crucible Particle Metallurgy's high technology powder martensitic stainless tool steel with three percent vanadium. The powder technology allows a more even and higher alloy content and distribution of the vanadium, and when heat treated, it forms super wear-resistant vanadium carbides. This steel has about the same corrosion resistance as 440C, but the vanadium carbides give it higher wear resistance at the cutting edge. This tough blade is thinly hollow ground but with a noticeable curve of profile, for slicing ease and tactical combat keenness. The point is thin and devastating, and the blade spine is topped with a full length top swage to reduce point profile. One of the most noticeable features are the 2.5 inches of my Canine Rip Tooth Serrations. These are devastatingly aggressive serrations, and the super wear resistant blade should hold the edges and points extremely well. They're placed at the recurve area of the blade, which, when hollow ground like this Arcturus, is very thin indeed. Just above this area the spine thickens at the thumb rise, which allows the user to apply great cutting force. The spine of the knife is fileworked throughout the fully tapered tang with a serpentine pattern, and the handle is deeply sculpted and shaped for a form that positively locks the knife in the hand in either forward or reverse grip. The bolsters are heavy 304 high chromium, high nickel austenitic stainless steel for supreme corrosion resistance. The front bolster fully covers the forefinger quillon, and the rear bolster does the same with the addition of a 1/4" chamfered through-tang lanyard hole for extra security. The bolsters are dovetailed and bed a pair of bold green, black, and pistachio G10 fiberglass/epoxy laminate composite handle scales, which are very tough, hard, wear resistant, and waterproof. The entire knife and handle are bead-blasted for glare reduction and easy care, while offering an increased purchase on the handle. This is a very comfortable knife to hold, with the balance point just at the front bolster quillon.
Sheath: Previewing my new Woodland digital camouflage Kydex ,I've made one of my fine locking, waterproof tactical sheaths for this knife, the best tactical combat knife sheath made anywhere. While most makers use a single thickness kydex (.060"), this kydex is (.125"), twice that thick for strength, durability, stability, and longevity. The MARPAT (Marine disruptive Pattern camouflage) is dye-printed into the surface of the white kydex which is hot-formed over a 5052H32 corrosion resistant, high strength aluminum welt frame, secured with solid 304 stainless steel Chicago screws and waterproof cement. The sheath has all stainless steel locking components in 302, 304, and 316 austenitic stainless steel for low-care, high corrosion resistance, and durability while positively locking the knife in the sheath. Even the machine screws and reinforcements are stainless steel. 1.75" wide belt loops are die-formed, in high strength, corrosion resistant 5052H32 aluminum, and are reversible for versatile wear in any position. The belt loops can also be relocated at the sheath tail, for inverted wear in a variety of positions.
Accessories: I decided to go all out on this sheath, and included one of my new survival, CSAR sheath belt loop extension accessories with new and added features and devices. The polypropylene accessory is waterproof, durable, and extremely stout, and allows the locking knife sheath to be worn in a more traditional belt position. The extension is mounted with 304 stainless steel straps and machine screws attached to the existing stainless steel Chicago screws, and the assembly is stiffened by multiple zigzag nylon stitching to prevent the extension from folding, bending, or collapsing when the knife is extracted from the sheath. The belt loop is over 2 inches wide for the widest of belts, and has a top placement shock cord with snap retention to prevent the knife handle from flopping around during active movements. The shock cord is not for retention of the knife; this is done with the stainless steel sheath lock. At the back of the extension I've created a custom fit pocket for a DMT (Diamond Machining Technology) Mini-Sharp diamond-nickel abrasive hone, to bring up the cutting edge in the field with ease. These are great tools that can re-sharpen or just touch up even the hardest tool steel edges, even on this high vanadium tool steel, as they are surface bonded with diamond abrasives. I included a red (fine) grit sharpener on this extension. The pocket for this tool is cleverly situated at the sheath back and against the body, and the sharpener can not be removed unless the sheath is off the body and the Velcro closure is open. I also added a specially modified critical survival component to this accessory: the Firesteel/Magnesium block with custom fittings. The block is waterproof and durable, with soft magnesium that can be easily shaved off with the knife blade, and a Firesteel striker to ignite the magnesium shavings when placed into tinder to start a fire. A unique addition to this commonly found block is the stainless steel rod guard. This minimizes the possibility of the Firesteel contacting any other metals and causing accidental sparks and ignition when the accessory is worn or removed, guards the knife tip (or swage) when the blade is dragged over the Firesteel, helps concentrate and guide the spark direction, and offers a variety of mounting options, besides on the sheath extender's industrial strength Velcro straps. Being all 304 stainless steel, it will not corrode or rust. Learn much more about these critical accessories on a special page on my site. Mounting, care, and use instructions are posted there.
A unique, extremely aggressive khukri-tanto bladed knife in super wear-resistant high vanadium powder technology stainless steel with all the accessories and features needed for combat, tactical use, and survival.
Thanks, T.A.!
Jay,
Just walked in a few minutes ago ... knife was waiting for me when I arrived, and I must say at first glance it looked huge; however, once I took it out of the sheath it had that incredible feel that I have come to love with your knives. My PJLT Tac knife has been with me now on three different continents and it is now like and old friend. For my up coming deployment to OEF I wanted something with a little more bulk as well as something that I could carry in a survival/exfil mode...I must say this definitely looks and feels as if it has the perfect combination of length, weight, and balance to take on the most demanding tasks. I like the way you incorporated the webbing into this knife and it has the same secure locking mechanism that I have come to trust. After six months in OEF and another 60 days in Africa, I never once had the locking mechanism open while in motion. I carried it both upright and handle down on my vest and never once had a problem. I can't thank you enough Jay for your quick response and as in the past, having one of your blades close at hand is a very comforting feeling.
... I sing the praises of your knifes at every opportunity and I only wish that every soldier, airman, sailor, marine, and civilian serving this great country of ours could have the opportunity to carry one of your knives where ever they might find themselves - most especially if that brings them into harm's way.
All the best Jay to you and yours and as always thank you very much.
--T. A.
---
---