Arcturus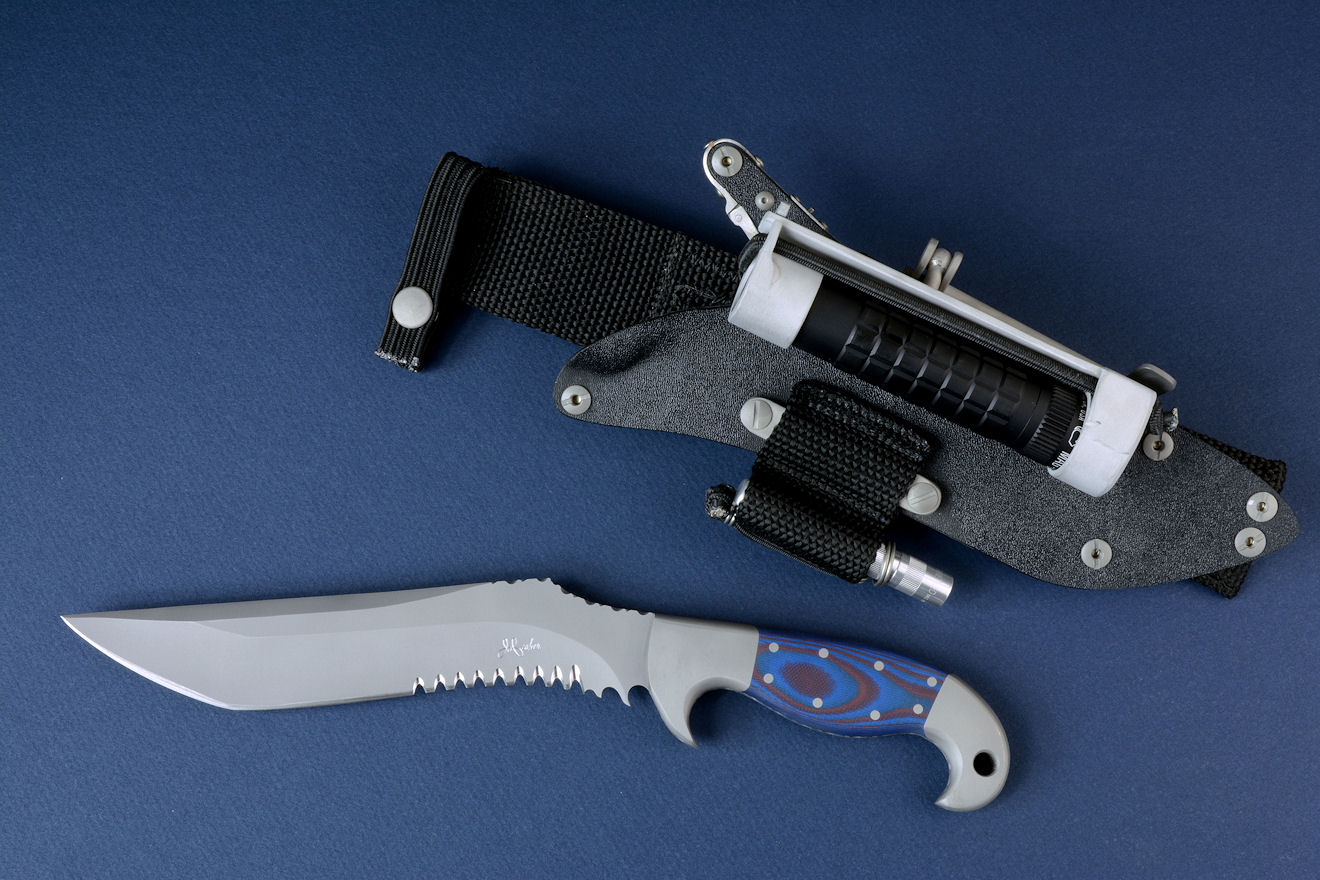 "Arcturus" Tactical Combat, Counterterrorism, CSAR Survival Knife
Size: Length overall: 13.88" (35.3 cm), Blade Length: 8.25" (21.0 cm), Thickness: .237" (6.0 mm)
Weight: Knife: 1 lb., 3.0 oz. (539 grams), Sheath (with extender, accessory package, HULA and Maglite): 1 lb., 12 oz. (794 grams)
Blade: ATS-34 High Molybdenum Martensitic Stainless Tool Steel, Hardened and Tempered to Rockwell C58, Bead Blasted
Bolsters, Fittings: 304 Austenitic Stainless Steel, Bead Blasted
Handle: Red and Blue G10 Fiberglass/Epoxy Laminate Composite
Sheath 1: 9-10 oz. Leather Shoulder, Polyester, Nickel Plated Steel
Sheath 2: Locking, Black Kydex, Aluminum, Stainless Steel
Ultimate Belt Loop Extender: Polypropylene and Polyester belt loop extender with Fine DMT diamond pad sharpener, stainless steel snap
HULA: (Holder, Universal, Lamp, Articulating) Welded and machined 304 high nickel, high chromium austenitic stainless steel, 5052H32 corrosion-resistant, high strength aluminum alloy, 6AL4V titanium alloy, Maglite MagTac series flashlight
LIMA: (Lamp Independent Mount Assembly) Polypropylene stitched with high strength polyester, 304 stainless steel fittings and hardware with Maglite LED Solitaire and stainless retainer
Belt plates, loops: 5052 H32 high strength aluminum alloy, 304 stainless steel
Lanyards: 550 Nylon Kernmantle Rope (Paracord), Nylon, ABS plastic, neoprene
Knife: A knife designed for combat, counterterrorism, rescue, survival, and emergency response, the Arcturus is named for the brightest star in the constellation Bootes. The name comes from ancient Greek meaning guardian of the bear, befitting of this extremely aggressive and powerful knife. I designed the blade as an evolution of some ancient and proven styles, namely the kopesh, tanto, and khukri. The blade has a low angle tanto forward geometry with a bit of curve to make slicing (and sharpening) simple and smooth. The blade has a complex recurve and is extremely thin as it nears the ricasso, an excellent location for my hammerhead serrations. These are effective serrations that excel in aggressiveness with non-snagging geometries, and can cut a wide variety of materials with limited tearing, ripping, and hanging. There is plenty of blade length forward of the serrations for the substantial hollow ground razor keen cutting edge. The blade point is enhanced with a two-thirds length top swage that reduces the point cross section without sacrificing strength, creating a serious piercing capability, essential in combat knives. The blade width is minimized near the grind termination, while the spine is thickest and widest at that location. This gives the knife tremendous blade strength with unique character and balance. The choil area is deeply sculpted with trapping hooks, blending into the serrations, with the hand protected by the large and effective quillon of the front bolster. The razor sharp hollow ground blade is made of ATS-34 high molybdenum martensitic stainless tool steel, which excels in high toughness (resistance to breakage) at a high level of hardness and wear resistance. This steel also has extremely high temperature resistance, keeping its temper even when exposed to 1000 degrees Fahrenheit or 540 Celsius. The super steel blade is fully fileworked with a punchy and deep vine pattern that aids in grip security extending from the thumb rise and completely around the fully tapered tang to the front quillon. The handle has very large and substantial quillons for an extremely secure grip and a substantial belly for comfort. The knife is bolstered with zero-care 304 high nickel, high chromium austenitic stainless steel, the same steel used to make stainless bolts and mechanical fasteners. The bolsters are dovetailed and bed a pair of beautiful G10 fiberglass/polyepoxide thermoset composite handle scales in a blue and red laminate. The scales are secured with eight through-tang .125" diameter 304 stainless steel pins and are sealed to the tang for complete moisture and contaminant protection. All surfaces of the handle are contoured, radiused, rounded, and smoothed for a comfortable grip in either forward or reverse style. The rear bolster has a chamfered 5/16" through-tang lanyard hole for extra security. The nicely placed thumb rise gives extra support and control for fine and controlled cutting. The significant angle of the handle to the blade gives the wrist a more comfortable position, allowing a square-fisted wrist position, reducing the possibility of strain and wrist injury. The knife has a balance point right at the front quillon, giving a great center of percussion at the angle of the two tanto edges. The knife feels easy, yet substantial in the hand, surprising for its generous size.
Leather Sheath: I included several sheath options for this package, because I've learned that versatility is critical and a necessary function of the professional knife ensemble. I've made a heavy, tough, and solid leather sheath for the Arcturus, in 9-10 oz. leather shoulder, hand-stamped in a basketweave pattern. This is made of leather that is twice as thick as most other knifemakers use. The sheath design covers the blade all the way past the front bolsters, and is designed with a top flap that covers, protects, and secures the handle with a snap closure. The flap folds back so that in right side wear, it will not snag on brush or obstacles. The sheath has a high back, to protect the wearer, and the orientation is right side edge back. I made a sturdy and wide belt loop for high durability, and it is double row stitched with brown polyester for strength. The sheath body and welts are also double row stitched for the ultimate in durability and strength. The sheath is dyed bison brown, sealed throughout, with polished and finished edges. Leather is irreplaceable in extremely cold or hot environments, and where absolute silence is needed in tactical operations with no clicking when in contact against objects, brush, people, or gear. This is as tough a sheath as possible in leather.
Locking Sheath: The sheath is a professional assembly, frankly, the best tactical sheath and accessory package made in the world. It's also an example of my commitment to making the finest combat tactical, and rescue knives and sheaths on the planet. It starts with double thickness (.125") kydex (methyl acrylate and polyvinylchloride), hot-formed over an aluminum welt frame of 5052 high strength corrosion resistant aluminum alloy in H32 hardness. The body and welts are secured with bead blasted and slotted 304 stainless steel Chicago screws for the ultimate in durability with no care and no glare. The sheath is one of my long-proven positively locking waterproof models, with all stainless steel locking mechanism and components for the ultimate in reliability and trustworthiness. Even the machine screws are stainless steel. The sheath can be worn in any position, even upside down when worn with the die-formed high alloy aluminum belt loops (included). The belt loops can be located in several positions along the welt frame and are reversible for a variety of wear options.
Accessories: This knife and sheath is made complete with my ultimate accessory package.

Ultimate Belt Loop Extender (UBLX): I included my Ultimate survival, CSAR sheath belt loop extension with outstanding and critical features and devices. The polypropylene accessory is waterproof, durable, and extremely stout, and lowers the locking knife sheath to be worn in a more traditional belt position with the knife handle at the hip. The extension is mounted with counter bored and dressed 304 stainless steel straps and stainless steel socket head cap screws attached to the existing stainless Chicago screws, and the assembly is stiffened by multiple zigzag nylon stitching to prevent the extension from folding, bending, or collapsing when the knife is extracted from the sheath. The belt loop is over 2.5 inches wide for the widest of belts, and has a top placement elastic bungee shock cord with snap retention to prevent the knife handle from flopping around during active movements. Even the dot snap assembly is all stainless steel. The shock cord is not for retention of the knife; this is done with the stainless steel sheath lock; it just stops the handle from flopping around during active moments. At the lower back of the extension I've included a custom fit pocket for a DMT (Diamond Machining Technology) Mini-Sharp diamond-nickel abrasive hone, to bring up the cutting edge in the field with ease, even on this high alloy extremely wear resistant blade. These are great tools that can re-sharpen or just touch up even the hardest tool steel edges, as they are surface-bonded with diamond abrasives. The pocket for this tool is situated at the sheath back and against the body, so the sharpener can not be removed unless the sheath is off the body and the industrial strength Velcro closure is open.
HULA and Maglite MagTac Flashlight: Included in this professional assembly is my critical offering for field use, the HULA. The Holder, Universal, Lamp, Articulating (HULA), is my answer to a call for not just a backup lamp that I've provided on previous Ultimate Extender packages, but an actual main or key professional grade lamp and mount assembly. The lamp I included is the Maglite MagTac, one of the most sophisticated and intense flashlights made today, with three modes of operation and durable construction. The lamp is a powerhouse, with ultra bright LED technology that is dependable and tough, cranking out 310 lumens, lighting up the world 600 feet away! The low power setting allows a 17 hour battery life, using CR123 lamps, the same lamps used for many tactical accessories like night vision goggles, targeting lasers, and firearm lamps. The only thing the lamp needs is a reliable, adjustable, dependable and corrosion-proof way to mount, use, and carry it on the sheath, so I designed the HULA. This special holder will hold any flashlight that is 1" by 4.75" and also accommodates the Maglite XL-100 and XL-200 flashlights that have different programmable options. The holder's lamp frame is made of welded 5052H32 high strength corrosion-resistant aluminum alloy, for the highest durability and corrosion resistance combined with low weight This aluminum is suitable for marine (salt water) environments. The lamp is held in custom made socket with a retaining cap that is maintained in a T-slot lock by the elastic tension of replaceable shock cord straps. The T-slot lock can be negotiated even in the dark due to it's simple and clever design and construction. The lamp can be turned and operated within the holder, and can even have selected modes while still in the control of the holder. One of the best features of this assembly is my exclusive ball joint and pinch mechanism. This is a very old mechanism, dating back to 200BC, where a ball sits in a dedicated socket, and is held there by the tension of a screw. The ball joint frame, ball, tangs, screw and mounting hardware are all welded 304 high nickel, high chromium stainless steel which is bead blasted for glare reduction. This is a very tough assembly that will probably outlast the knife owner. What it offers is an articulating adjustment, aiming and positioning of the lamp, while still mounted on the knife sheath, wherever the knife sheath is mounted on the body. In the traditional belt line position, the lamp can be aimed at the ground in front of the wearer (great for hiking or movement), or aimed at any object or person in front of the wearer, while freeing the hands for a weapon, tool, rescue, medical aid, or carry. Having the HULA also eliminates the need for a headlamp, a device that has its own limitations. This new development has been highly popular with search and rescue and disaster response teams and counter terrorism teams. If the wearer needs the light in his hand, he simply pulls up on the T-slot locking cap, pulls the lamp from the socket, and replaces the cap so it won't bounce around. I've done my research, and created simply the finest flashlight accessory made in the world today, custom made to mount to my locking sheaths, the best locking sheaths made in the world today. One more important point: the bolt pattern and arrangement allows the HULA to be bolted to eight positions and 16 orientations along the welts of the sheath. Talk about flexibility! There are much more to these accessories; learn about these critical accessories on a special page on my site at this link. Mounting, care, and use instructions are posted there.
LIMA Emergency Lamp Backup: An important lesson I learned from my counterterrorism unit clients is the addition of the emergency backup lamp, because any electrical device can fail, and a backup can save your life. So I included my LIMA (Lamp Independent Mount Assembly) on this sheath. This is a special socket in thick and wide polypropylene stitched with polyester for durability and rot resistance, and it accommodates a LED Maglite Solitaire. This little light puts out! At 37 lumens for over an hour and a half, it can reach out 180 feet and give you enough light to get to safety, should your HULA fail, or you decide to go lightweight without it. The LIMA is secured with a 304 stainless steel strap and screws and mounts anywhere along the sheath welts where I have the critical 2.5" spacing. The retaining strap rings are also 304 stainless, and the 3/16" shock cord is easily replaceable if needed.
Horizontal Belt Loop Plates: Answering the call of my counterterrorism and military clients, I've included a pair of horizontal belt loop plates for this knife sheath. These bolt on either side of the sheath using included hardware, and are 5052H32 high strength corrosion resistant aluminum alloy, riveted with 304 stainless steel for permanence, durability, and light weight. They allow horizontal wear of any belt up to 1.75" wide, and the sheath runs inline with the belt.
Sternum Harness Plus: The sternum harness I've included is also the result of input from my counterterrorism clients. It allows the knife to be worn, handle down, angled across the sternum, on top of any other tactical gear. This harness is made of polypropylene and stitched with polyester for rot-free, high strength longevity, and the buckles and straps are ABS plastic. The harness can be donned and doffed quickly and simply and the "plus" is the additional one inch wide stabilizing strap and buckle that creates an "X" strap around the torso. I also included some handy clips for other gear on the harness.
Flat belt strap plates: These have several uses: one is to mount the knife sheath rigidly clamped to the sternum harness, with no play. They also allow the sheath to be clamped on any gear (like PALS webbing) with a solid strap security and no sliding around (like on traditional belt loops). So they clamp the sheath to your gear with all stainless steel hardware.
Lanyards: I've included two lanyards that can be critical and necessary for retention of your knife when working in elevated locations or in marine environments. One is a SCUBA lanyard with tension adjustment and neoprene sleeve to protect the wrist. The other is an adjustable sliding paracord type, a frequent request by my tactical combat professionals. Both lanyards can be quickly and easily attached to the knife lanyard hole through the rear bolsters and tang.
Tools, Hardware, Containers, Bag, Tag: I've included all the tools, hardware, and necessary components to mount all or any combination of these accessories with your gear, on your person, and all of the hardware is stainless steel in common American Standard Sizes. Included is a screw top tin for hardware storage, a waterproof container for the larger components, and a heavy canvas embroidered drawstring bag to keep it all together. Also included is an archival engraved acrylic tag detailing the components with contact information. Instructions for the individual components are also included, as well as a list of video links that explain how to set up every single one of them! This is an ultimate system, and demonstrates my commitment to actual combat, field, rescue, and counterterrorism service in my trade.

The Arcturus is a serious, professional knife that is up to the task in any environment or exposure, with super tough heat resistant tool steel, razor keen and aggressive, a handle that comfortably conforms to the grip, with outstanding features and accessories, one of the absolute best available in the world today, an ultimate survival tool and weapon with an outstanding accessory package.
Learn much more about my Counterterrorism Knives at this link.
Read other testimonials of an earlier Arcturus I've made below the thumbnail photos on this page.
Thanks, S. H.!
---
Jay,
Received yesterday the package.....just love the feel of this tool creation you did!!!
--S.
---
Please click on thumbnail knife photos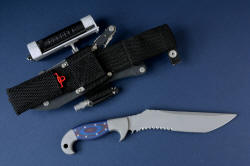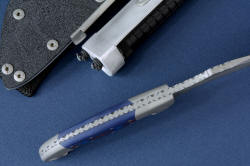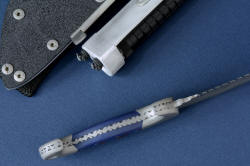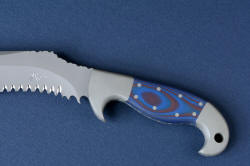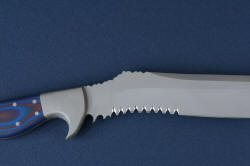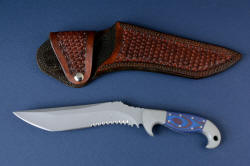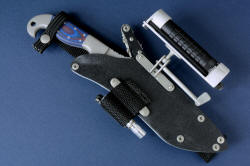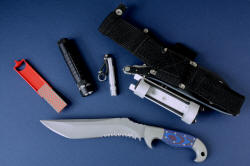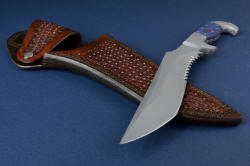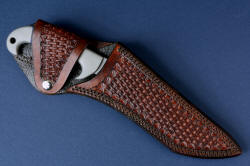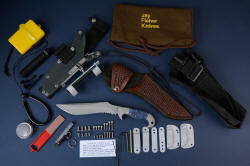 Testimonials about another "Arcturus"
Jay,
Just walked in a few minutes ago ... knife was waiting for me when I arrived, and I must say at first glance it looked huge; however, once I took it out of the sheath it had that incredible feel that I have come to love with your knives. My PJLT Tac knife has been with me now on three different continents and it is now like and old friend. For my up coming deployment to OEF I wanted something with a little more bulk as well as something that I could carry in a survival/exfil mode...I must say this definitely looks and feels as if it has the perfect combination of length, weight, and balance to take on the most demanding tasks. I like the way you incorporated the webbing into this knife and it has the same secure locking mechanism that I have come to trust. After six months in OEF and another 60 days in Africa, I never once had the locking mechanism open while in motion. I carried it both upright and handle down on my vest and never once had a problem. I can't thank you enough Jay for your quick response and as in the past, having one of your blades close at hand is a very comforting feeling.
... I sing the praises of your knives at every opportunity and I only wish that every soldier, airman, sailor, marine, and civilian serving this great country of ours could have the opportunity to carry one of your knives where ever they might find themselves - most especially if that brings them into harm's way.
All the best Jay to you and yours and as always thank you very much.
--T. A.
---
---