Argiope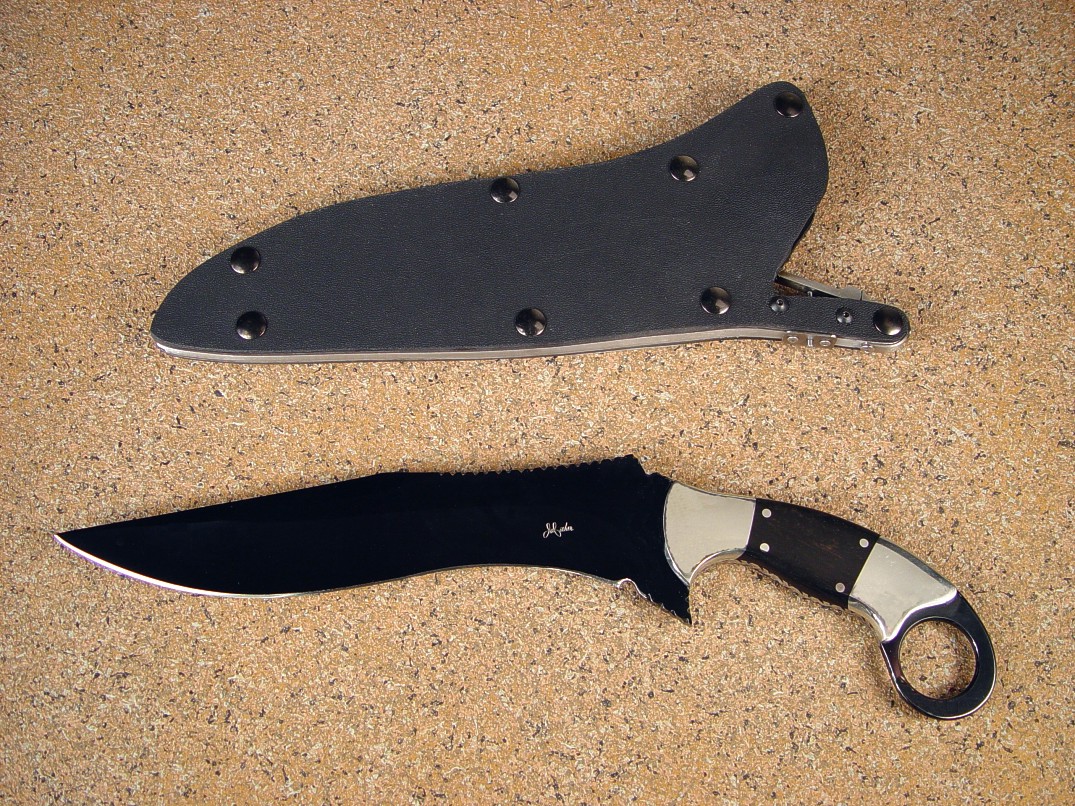 "Argiope" Fine Combat, Tactical Knife
Size: Knife: Length overall: 13.0" (33.0 cm), Blade Length: 8.25" (20.9 cm), Thickness: .243" (6.2 mm)
Weight: Knife: 16.0 oz. Sheath: 11 oz.
Blade: O-1 Tungsten-Vanadium Alloy Steel, Hardened and Tempered to Rockwell C59, mirror finished, hot blued
Bolsters, Fittings: Nickel Silver, Satin Finished
Handle: Ebony Exotic Hardwood
Sheath: Locking; Kydex, Aluminum, Stainless Steel
Details: This is one of my popular combat tactical models, with a rich mirror finish on a jet-black hot blued O-1 tool steel blade. The Argiope has a proven record in combat with my professional military clients, and the knife is full and volatile in the hand with a thick, meaty quarter-inch thick blade, and a half-length top spine swage for reduced point angle geometry without sacrificing strength. I left plenty of thickness in the deep hollow grind for good edge support, and the long recurve edge is razor keen. The blade has a mirror polish, and then a full hour of deeply penetrating sodium caustic professional hot bluing leaves a passive surface that inhibits corrosion and is midnight black. The knife has a deep forefinger quillon (when held in a traditional grip style) and the curvaceous handle melds to the hand. The filework is abrupt, deep and punchy, full along the spine and inside the handle. The rear finger ring has a 1" center for comfort, and is polished inside and out for smooth operation. This knife is designed to be pulled from the sheath in a reverse tactical grip style, with the forefinger locking the knife to the hand in a decisive defensive grip. This is a devastating weapon, and the "pistol grip" angle of the blade to handle enhances security, aiming the blade without twisting the wrist, allowing a locked, "square fist" position in use. The bolsters and pins are low care, warm-looking nickel silver with a satin finish that matches the smooth and polished surface of the Ebony exotic hardwood, dovetailed and locked under the bolster edges, pinned, sealed and secured. The bolsters are sculpted and polished on the faces for easy care.
Sheath: The sheath is one of my locking and waterproof combat grade models; I'll pit my combat sheaths against any other made for durability and quality. You can see that I take my combat sheaths seriously, with 5052H32 corrosion resistant aluminum welts .250" thick supporting the frame of the sheath, and double thickness .125" kydex (methylacrylate and polyvinylchloride) thermoformed around the knife. The locking mechanism is all stainless steel, including a stainless spring, retaining plate, fasteners, and lock and anchor tang. The entire sheath is secured with hardened blued screws and Chicago screws, with die-hardened and formed aluminum belt loops.
This is a fine combat grade weapon, custom made for a great client.
Thanks, P. F.!
Jay,
Argiope is a remarkable weapon. When I first saw it on your web site I knew that I would like the radical orientation of the blade to the hand. But that did not prepare me for the feel of the knife. It fits perfectly into my grip. It feels like an extension of my arm. I am not an expert, but I have handled a fair number of knives and swords. I believe this is only the second time I've held one that is truly balanced, but it goes beyond that. The beauty of the weapon, the way it meets the hand, and the balance, are all part of something more. It's almost as if it has a soul. That must be why it has a name. I own other weapons, and I have always sought quality. Argiope, however, owns me. I'm just it's keeper for a time.
Thanks doesn't cover it,
--P.F.
P.S. I'll have another order for you shortly.
---
---