Argyre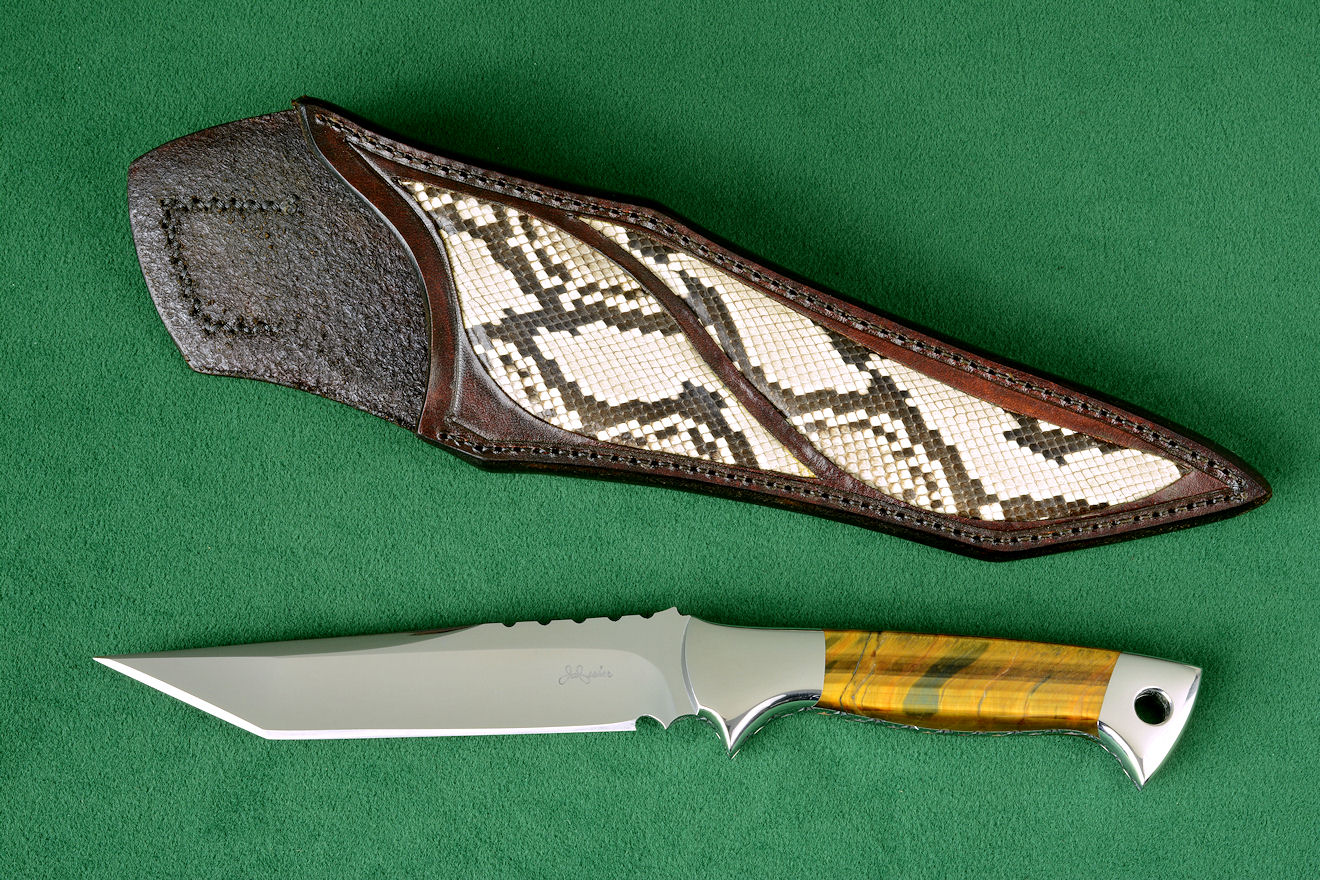 "Argyre" Fine Handmade Custom Knife
Size: Knife: Length overall: 12.25" (31.1 cm), Blade Length: 6.5" (16.5 cm), Thickness: .220" (5.6 mm)
Weight: Knife: 14.5 oz. (411 grams) Sheath: 7.2 oz. (204 grams)
Blade: 440C high chromium stainless steel, hardened and tempered to 59.5HRC, mirror polished
Bolsters, Fittings: 304 Austenitic Stainless Steel, mirror polished
Handle: Tiger eye Quartz Gemstone
Sheath: Hand-carved leather, hand-dyed, inlaid with Python skin
Knife: A great knife for a great client, Argyre is the name of a mythical island of silver, from Greek and Roman mythology. The brilliant silvery color of chromium is at the forefront of this Argyre, in bright mirror polished high chromium steel. My client requested 440C high chromium martensitic stainless steel for the blade, for its great durability, edge holding, and beauty with the high corrosion resistance that only high chromium steel alloys can offer. With 17 percent chromium, this is a very hard and corrosion resistant blade suitable for a very long life; typically, knives made of this steel last for generations with little care. I hollow ground the tanto style blade with a deep and accurate hollow grind, creating a thin and long-lasting cutting edge, yet backed it with a thick and substantial spine. The blade has an aggressive angular point and a half-length top swage that reduces the point cross sectional thickness while preserving good spine strength. The knife has full filework around the fully tapered tang with my sunrise pattern: deep, punchy, and well executed. The knife is bolstered with zero-care high nickel, high chromium 304 austenitic stainless steel, the same steel used to create high strength, corrosion resistant nuts, bolts, and fasteners. The bolsters are rounded, contoured, radiused and polished for comfort and smoothness, and the rear bolster has a chamfered 3/8" lanyard hole so my client can have extra security when needed. The knife is handled with Tiger Eye Quartz gemstone, a silicified crocidolite that has a well established following and reputation in the gemstone world. The Tiger Eye exhibits a beautiful chatoyancy (cat's eye) effect when turned in the light, and these large scales of the gem are quite striking from any angle. The gem scales are bookmatched, and a nice vein of metallic hematite girdles the handle for visual interest. The golds, yellows, and bands of blues give the handle a handsome appeal, and the gem is polished and very smooth and comfortable throughout. The knife feels solid and formidable in the hand, with the balance point at the forefinger placement.
Sheath: My client requested a sheath with snakeskin inlays, so I created this one in 9-10 oz. leather shoulder, hand-carved, hand-dyed to a dark brown, inlaid with Python skin. The sheath is stitched with brown polyester for strength and water resistance, and the inlays are in the front, back, and even in the large belt loop. The sheath is sealed with an acrylic gloss sealer, waxed and hand buffed for resistance against the elements and beauty.
This is a unique, handsome, robust knife with great character and feel, a great addition to any collection and a pleasure to use and own.
Thanks, S. Y.!
It's here!!! I absolutely love it!!!
Thank you so much.
--S.
---
--And a follow up:
Hello Mr. Fisher,
Everyone says the same thing, "That's not a knife, it's art work" People like the sheath as much as the knife!!!
Very happy with it.
Thank You,
--S.
---
---