"Ari B'Lilah" Counterterrorism Combat Knife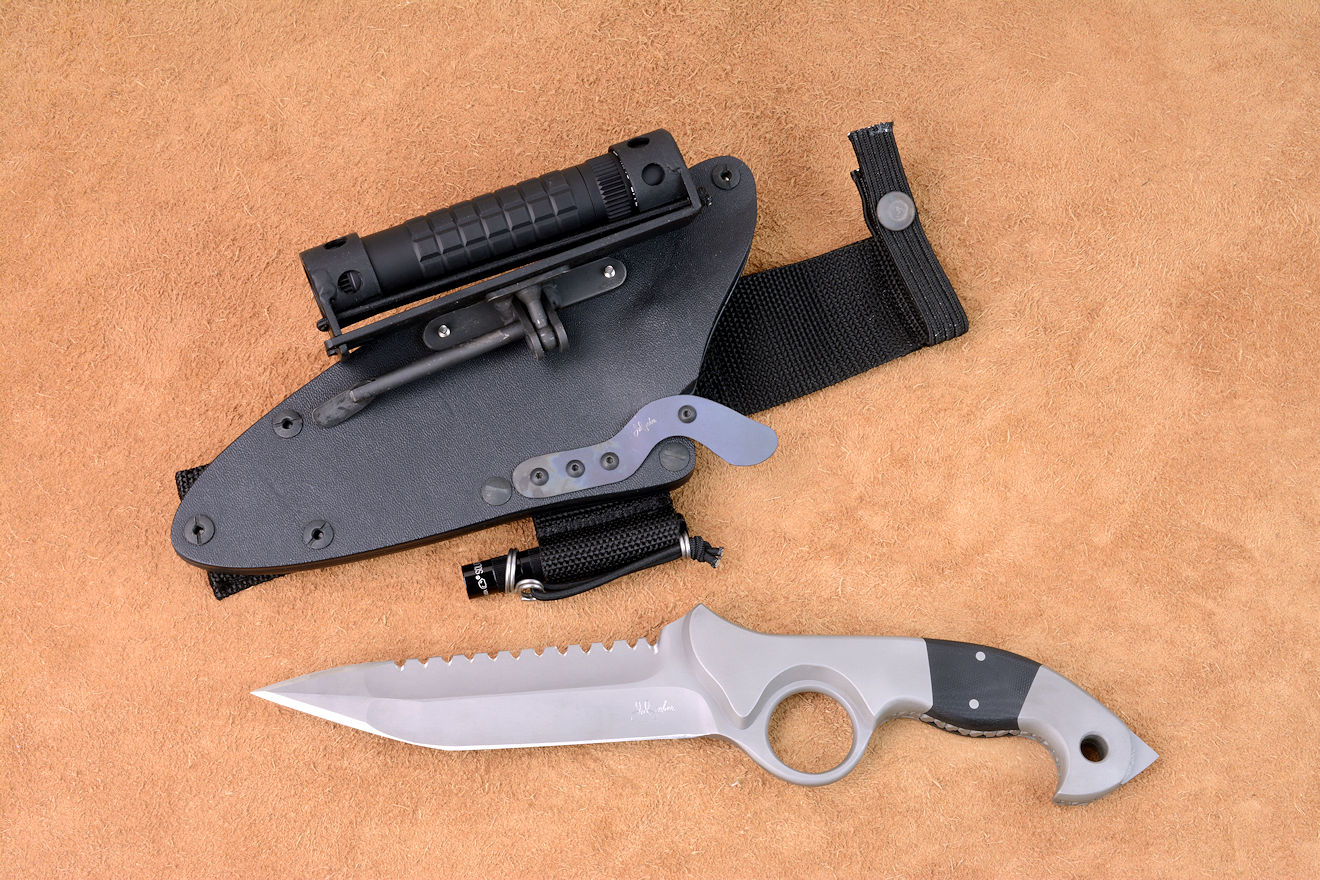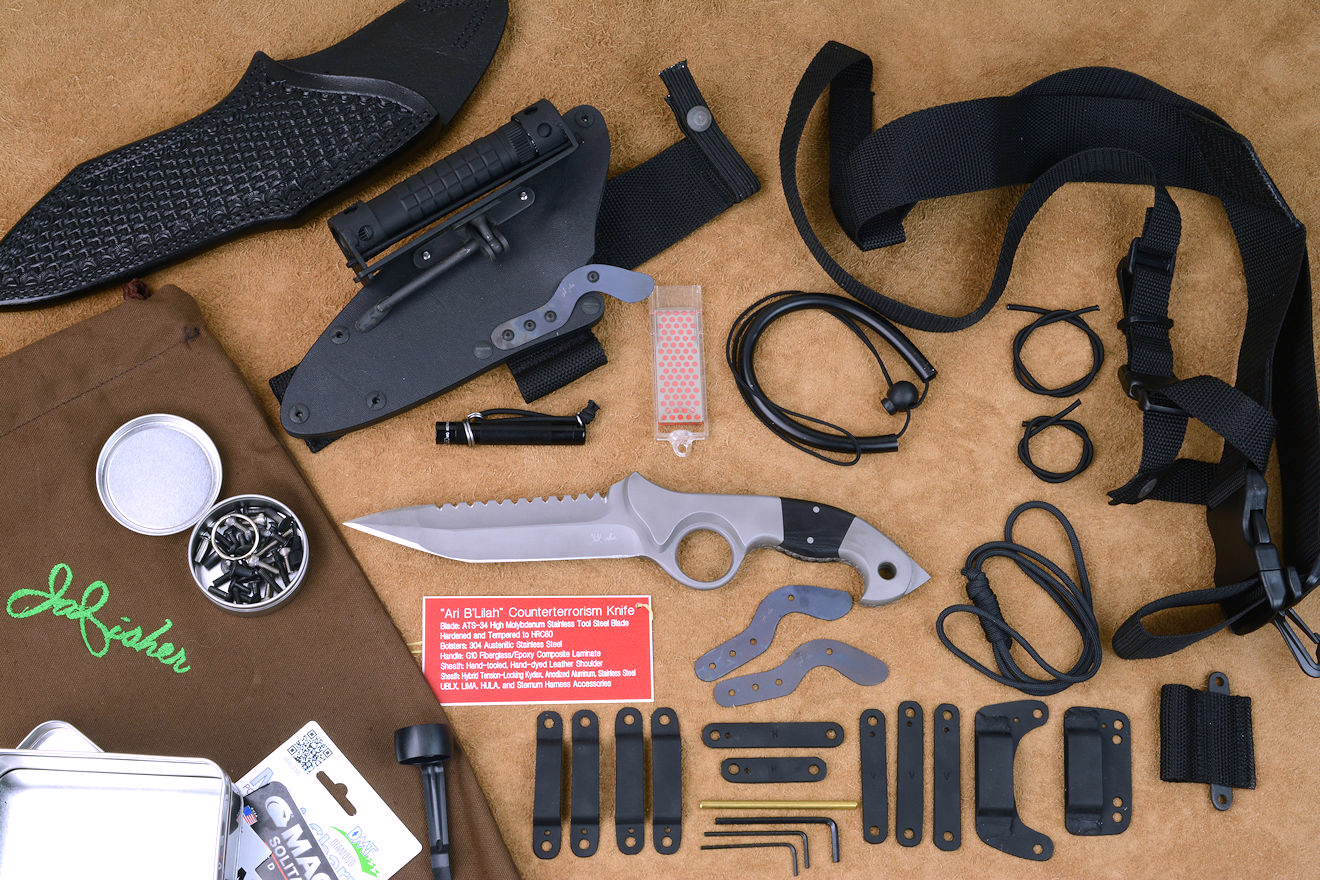 "Ari B'Lilah" Counterterrorism Tactical Combat Knife
Size: Length overall: 12.25" (31.1 cm), Blade Length: 6.0" (15.2 cm), Thickness: .234" (5.9 mm)
Weight: Knife: 1 lb., 4.0 oz. (539 grams), Sheath (with HULA, LIMA accessories and UBLX belt loop extender: 1 lb. 9 oz. (709 grams), Sheath (leather): 8 oz. (227 grams)
Blade: ATS-34 High Molybdenum Martensitic Stainless Tool Steel, Hardened and Tempered to Rockwell C60, Media Blasted
Bolsters: 304 High Nickel, High Chromium Austenitic Stainless Steel
Handle: G10 Fiberglass/Epoxy Composite Laminate
Sheath 1: Hybrid Tension-Locking in Black Kydex, Black Anodized Aluminum Alloy, Blackened Stainless Steel, Anodized Titanium
Sheath 2: Hand-tooled 9-10 oz. Leather Shoulder
Knife: "Ari" is the Hebrew word for lion, and the lion is the sign of the tribe of Judah and Jerusalem and is even called the Lion of God. Made for day and particularly critical night operations, this knife is the Ari B'Lilah (lion by night), and is one of the most sophisticated and unique counterterrorism knives in the world. Unlike most knives, this knife was created with the direct input of professionals of a top Israeli YAMAM counterterrorism unit, widely recognized as the most elite and effective counterterrorism unit in the world. This is a knife designed for the most serious of action. It's a great honor to have the input, guidance, and direction of these professionals, who requested a series of extremely efficient, well-designed and constructed, lethal combat knives with some special features, built to the highest standards possible: what I'm known for in tactical combat knives, sheaths, and accessories.
In this Ari B'Lilah, I made the blade of ATS-34, a high molybdenum and high chromium martensitic stainless tool steel, chosen for its extreme toughness and wear resistance, high durability, and high temperature resistance. The blade of the Ari B'Lilah is double-edged and hollow ground; the main cutting edge is hollow ground with a 3" diameter wheel and the top edge with serrations is hollow ground with a 3" diameter wheel. This is an extremely difficult grind profile, and the purpose is to create two complimentary edges, both yielding extremely thin and razor keen edges with a high longevity while preserving a good cross-sectional thickness of center spine to support thrusting and the point. The point of this knife is critically strong; it is a very ancient design called "armor piercing." This is not for piercing today's armor, but for piercing chain mail of old: interlocking metal rings woven into a tough mesh. This is the strongest possible point that will still offer extremely sharp and lethal penetrating potential, resisting any tough or hard materials such a thrust could encounter without breaking. The point is carefully hand-ground at the maximum edge angle (25 degrees) possible that can still provide a keen and slicing single-bevel cutting edge. The geometry of the point is a solid "diamond" (in cross section), as tough and lethal as a knife point can possibly be. The point is created by an interrupted hollow grind; the transition to strong point is well-matched and supported by the full thickness spine running down the center of the blade. The main non-serrated cutting edge is thin and keen; the top edge is designed with my Hammerhead serrations, which are extremely tough and aggressive, with reduced snagging and wide transitions between concavities and segmented edges. The blade is hardened and tempered to RC60 for great hardness and wear resistance, and high toughness (resistance to breakage) that this steel is known for. The grinds on the blade are accurate, concise, and with nicely radiused grind terminations for great transfer of energy without stressing the blade-to-handle ricasso area while a very long supportive spine runs the length of the blade. The ricasso is kept very short, and is heavily reinforced with a substantial front bolster, sculpted, rounded, contoured, and finished in 304 stainless steel. This is the same steel used to make tough nuts, bolts, and fasteners; it's an austenitic stainless steel high in nickel and chromium, and is a zero-care stainless steel. The front bolster is contoured around a 1.11" (2.82 cm) diameter forward finger ring, which is rounded and radiused for comfort and smoothness. The finger ring offers maximum security between the hand and the knife, essential in the most critical of counter-terrorism and combat tactical offensives. This is a feature that is key in cementing the hand-to-knife grip. The forefinger and thumb grip between the thumb rise and the finger ring, and this reinforced area is key to the control of the knife. The ring and thumb rise allow tremendous force to be applied to the blade where it is needed. The handle scales are black G10, a fiberglass reinforced epoxy composite that is one of the most durable and dependable manmade handle materials on earth. The handle scales are dovetailed and locked and bedded under the bolsters, secured with heavy 304 stainless steel pins. The handle shape is comfortable and extremely secure, with deep quillons, good belly, and slope for the heel of the hand that makes the knife an extension of the arm. The tang is fully fileworked with an bold and well-defined chevron-flag pattern for increased purchase and handmade signature. The tang is fully tapered, with plenty of thickness at the butt for a substantial stout talon (skull crusher or persuader) also applicable for non-lethal inducement. Additional uses for this feature include glass breakage, breaching, and hammer-clawing for material destruction for entrance. The heavy rear bolster is significantly mounted to the tang, and has an extra-large 3/8" through-tang lanyard hole for super security when working elevated or near water or in special circumstances that require insurance against dropping the knife. The large lanyard hole is chamfered and dressed smooth for abrasion reduction of the lanyard and is easy and fast to thread. The center of balance of the knife is exactly at the finger ring, for perfect control. The knife feels extremely solid and durable in forward grip; and in reverse grip, with the small finger threaded through the ring and the thumb over the heel with the tip at the talon, the knife feels robust and tough.
Sheath 1: The sheath is one of my hybrid tension-locking models, originally made for my skeletonized knives, but specially adapted to this fully bolstered and handled knife. This is a proprietary design, the best possible sheath of its type available in the world today. Actually, it is the ONLY type of this sheath available in the world today! The sheath is built of double thickness (.125" thick) kydex (methyl acrylate and polyvinyl chloride) over a welt-frame of black anodized 5052H32 corrosion resistant high strength aluminum alloy. I've meticulously anodized

all

of the aluminum surfaces, even through holes, of each welt component, mount, fitting, and fixture for extremely high durability, ultimate corrosion resistance, strength enhancement, and muted appearance. If you're not familiar with anodization, it's a chemo-electric process that creates a near-ceramic hard surface on the aluminum alloy, a surface that increases wear resistance tremendously, and a surface that can accept permanent dyes that are sealed in place. For my black kydex sheaths, the anodized aluminum color is black for low reflectivity and matching appearance. For high durability, the anodized surface is a full 1 mil thick. The sheath is bonded with waterproof cement and bolted together with all blackened 304 stainless steel Chicago screws for zero care and extreme corrosion resistance while being dark and non-reflective. The tension-lock sheath comes with two pairs of belt loops (footman's loops) that are die-formed and anodized 5052H32 aluminum alloy. One pair is high profile for .250" x 1.5" belt sizes and the other pair is low profile for thinner .190" x 1.5" sized belts. The belt loops are able to be moved to multiple locations as well as either side of the sheath frame. On this particular knife, the belt loops have 10 different locations with multiple combinations for versatile wear. I also include heavy vertical/horizontal clamping straps in anodized aluminum that allow the sheath to be rigidly clamped to belt, webbing, PALS (Pouch Attachment Ladder System), straps, body armor gear, and anywhere there is a need. Also included are reversible horizontal belt loop plates, to allow the sheath to be worn horizontally along the belt line. Included are vertical clamping straps of anodized 5052 aluminum, and horizontal clamping straps as well. These allow rigid clamping of the sheath to webbing and gear in virtually any orientation, with all the clamping hardware included. All of the mounting assemblies are reversible, as is the spring retention for the tension-lock sheath, so the versatility of this sheath is unsurpassed. It's also completely and absolutely waterproof, for zero worry about exposure. The knife can be unsheathed by finger pressure against the spring tab, or by a hard pull in an emergency. Included are two extra titanium springs, so my client can choose the tension he desires, light, medium, or heavy, depending on the gear he mounts it to, the angle and orientation, and his personal preference for a pull-to-release tension. What a versatile package!
Sheath 2: This knife package also includes a basketweave pattern hand-stamped leather sheath, made of 9-10 oz. leather shoulder, dyed black and sealed. The sheath was included for quiet operations, when moving against hard objects (concrete or stone) could telegraph a position through noise. It's also useful for traditional and conventional wear options. The sheath has a double belt loop with high and low mounting positions, and the belt loop is double-stitched throughout with the toughest polyester thread that is water and sunlight resistant. The knife fits deep and secure into the sheath, with the handle exposed and the back of the sheath protecting the wearer. The entire sheath assembly is double-row stitched for extreme durability. The sheath edges are dressed and smoothed for comfort; the entire sheath is sealed with acrylic for water resistance, permanence, and longevity.

Accessories: This is an example of my commitment to the entire knife experience, from design to working service, with some of the finest professional knife users in the world. Since the bolt pattern of the sheath matches my 2.5" bolt pattern for my accessories, most of my accessories can be used on this sheath, including any new ones I develop. At the request of the counterterrorism professionals, this knife comes with a full bunker of my attachment, wear, and useful accessories, including:
Ultimate Belt Loop Extender for lowering the knife handle position to the belt line and mounting the diamond pad sharpener and the Maglite Solitaire LED. It's made of nylon and polyester, and will support the weight of several men.
Horizontal Belt Loop Plates (for horizontal belt or webbing wear), in black anodized 5052H32 aluminum alloy
Flat mounting straps (for rigid clamping to webbing, belts, or gear in vertical or horizontal orientation) in black anodized 5052H32 aluminum alloy
Sternum Harness Plus (for wearing the knife diagonally, handle down, across the sternum, with full torso reinforcement straps)
LIMA and Solitaire (Lamp Independent Mounting Assembly with Maglite® Solitaire LED emergency back up light) and blackened stainless steel mount
HULA and MagTac (Holder, Universal, Lamp, Articulating, a fully functional main lamp with Maglite MagTac extreme intensity tactical flashlight) frame in black anodized 5052H32 aluminum alloy, articulating mount in blackened, non-reflective stainless steel
Lanyards (Adjustable 550 cord and SCUBA rated)
All necessary stainless steel hardware, fittings, fasteners, and tools for mounting, moving, and adjusting, all exposed screws and fittings are blackened for flat, non-reflectivity
Replacement shock cords for HULA and LIMA
Containers: Tin-steel storage container for loops, LIMA, and Tools, can for screws and hardware, heavy stitched embroidered canvas drawstring bag
Archival and Instructions: Detailed Bio, Care Sheet, materials sheet with instructional video links, instructions for sharpener, Maglite MagTac and Solitaire, Archival co-extruded acrylic information plate


Learn much more about my Counterterrorism Knives at this link.
This is an extreme use, highly engineered and intelligently developed tactical combat knife and weapon, with the toughest, strongest penetrating point possible, and one of the finest tactical combat weapons made in the world today, specifically made for the world's most elite counterterrorism units. It is a great honor for me to make these knives, respecting the very ancient and most crucial relationships between weapons maker and warrior.
---
Dear Jay,
I finally found some time to write back to you. The parcel was opened by the authorities and resealed. They certainly checked it judging by the way they put the various pieces back together. They were probably as astonished as I was when they held this knife in their hands. You describe it on your web page and many customers confirm the experience in writing but unless you touch and feel a Jay Fisher knife you don't really know what this all means. I will recommend those knives to everyone that I trust to own such a wonderful piece of art. I came to you not because of what I wanted but because of who you are. This quote is true for me too and I am not disappointed. I am really happy to have had the chance to meet you through the internet and also talk to you.
When I hold that knife in my hands I know why the best soldiers and rescue services trust it. Having been both a soldier and a fireman for many years I have a lot of appreciation and understanding for the quality and "finesse" of that knife.
Dear Jay thank you for making me a member of your client base. There are many more thoughts that I would like to share with you but for now I just want to express my gratitude for your outstanding service (many businesses could learn from you and you could add client relationship expert to your credentials) and your high quality art work
kind regards,
M.
---
---