Aspen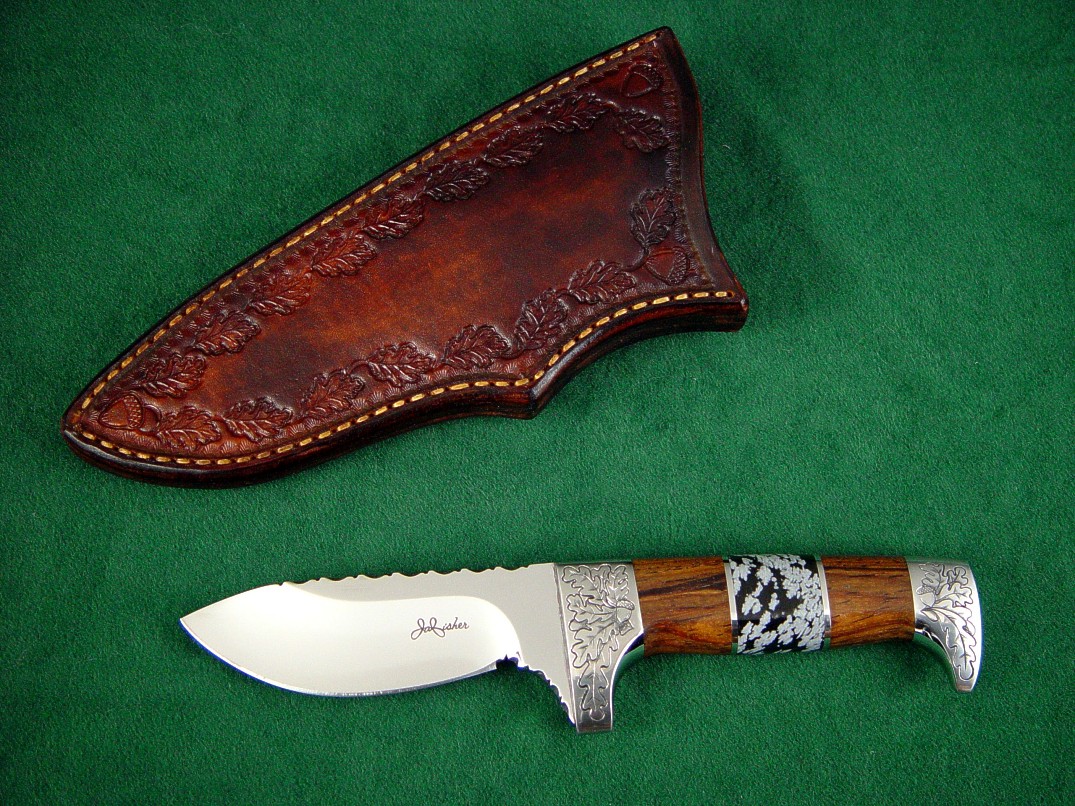 Aspen
Older/Early Works
Size: Length overall: 8.1" (20.6 cm), Blade Length (to guard): 3.8" (9.6 cm), Thickness: .1875" (4.7 mm)
Weight: Knife: 8.8 oz. Sheath: 4.5 oz.
Blade: 440C High Chromium Stainless Steel, Hardened and Tempered to Rockwell C59, hollow ground, mirror polished
Guard, Pommel, Spacers: 304 Austenitic Stainless Steel, hand-engraved bright finish
Handle: Polished Snowflake Obsidian Gemstone, Cocobolo Exotic Hardwood
Sheath: Hand stamped and tooled Leather
Knife: The Aspen is a classic North American style of hunting and field knife, and this one was commissioned by a client for his use and investment. The blade is 440c high chromium martensitic stainless steel, hollow ground and mirror polished. The blade has a full, deep belly and large hollow grind, for keen sharpness throughout the sweeping curved blade. The point is slightly dropped for easy insertion in the sheath and point strength. The blade is fully fileworked with a deep vine pattern on the spine and at the choil. The knife is a hidden tang model, so has a substantial guard and pommel with large quillons to protect the hands in use, made of high chromium, high nickel 304 austenitic stainless steel for zero care and high longevity. In keeping with the North American theme, I hand-engraved oak leaves and acorns on all four guard and pommel faces. The design goes well with the Snowflake Obsidian gemstone in the handle, bordered by 304 stainless steel spacers and Cocobolo hardwood. The gem and stone handle are carved and finished in the round to a high polish, for a comfortable, full, rounded feel.
Sheath: the client requested a hand-tooled sheath, so I followed the oak leaf pattern into the sheath stamping and tooling, making the sheath out of 9-10 oz. leather shoulder, dyed medium brown, hand-stitched with polyester sinew, lacquered and sealed.
A very nice knife to last through generations.
Thanks, R. S.!
Jay,
I received the knife on Saturday. I am very happy. Outstanding work. I would love for you to do another piece for me in the future.
Thanks again Jay,
R. S.
---
---