Azophi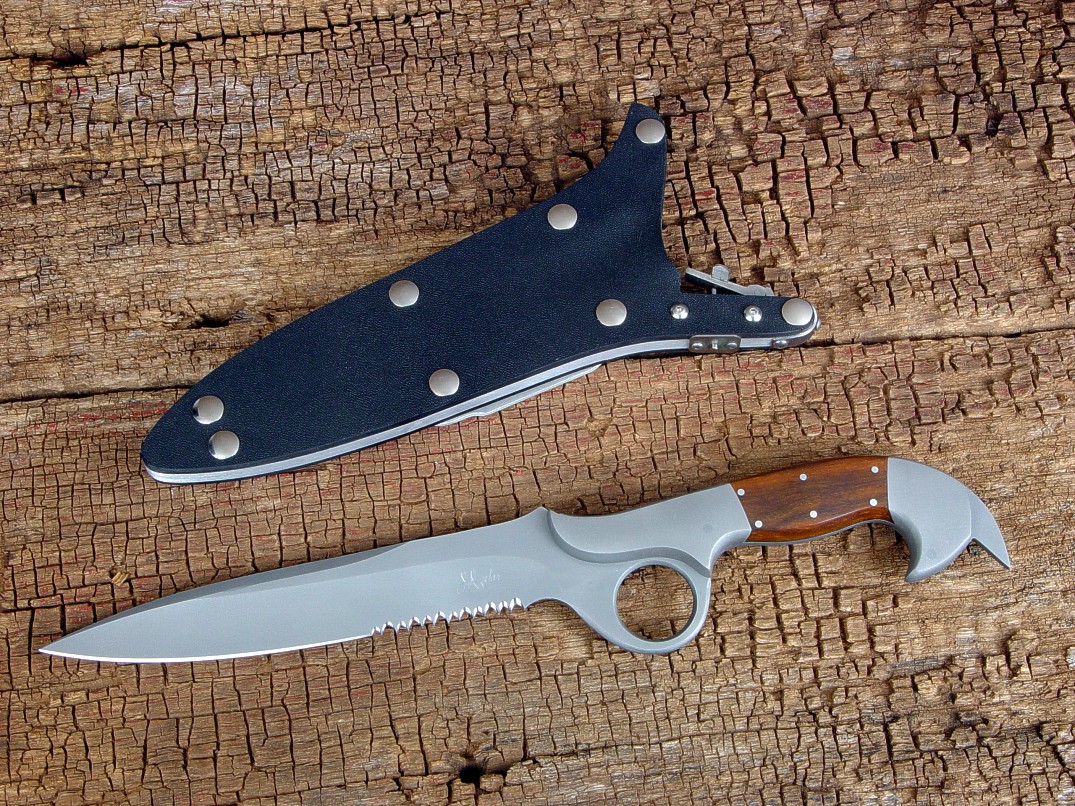 "Azophi" Tactical Combat Knife
Size: Length overall: 13.0" (33.0 cm), Blade Length: 7.0" (17.8 cm), Thickness: .170" (4.3 mm)
Weight: Knife: 15.0 oz. (425 grams) Sheath: 9.8 oz. (278 grams)
Blade: ATS-34 High Molybdenum Martensitic Stainless Tool Steel, Hardened and Tempered to Rockwell C59
Bolsters, Fittings: 304 Austenitic Stainless Steel
Handle: Lignum Vitae Exotic Hardwood, the heaviest, hardest, densest wood on earth
Sheath: Locking Kydex, Aluminum, Stainless Steel, Nickel Plated Steel
Knife: The Azophi is named for a lunar crater and an ancient astronomer, and is an unusual and unique style of knife pattern. The blade is seven inches long, with a third dedicated to my vampire rip teeth serrations that eat through many materials and even the very hardest wood. The blade is thinly ground from ATS-34, a high molybdenum stainless tool steel that has exceptional toughness in thinner cross sectional areas. The point is very aggressive, thin enough for piercing, yet very durable. I bead blasted the blade, spine, and fittings to minimize reflection or glare. The blade spine has a two-thirds length top swage to decrease point profile and increase penetration geometry. The hollow ground blade is razor sharpened with a single bevel cutting edge. The blade has a full, one inch diameter contoured and radiused finger ring to lock the knife to the hand, and the thumb rise is well supported by the long, sculpted front bolster pair for a wide ramp at the thumb to apply considerable pressure if needed. The handle shape is comfortable and well sized, with a substantial rear hawk's bill quillon to secure the hand. At the butt of the tapered tang is a serious talon, also called a skull crusher and cat scratcher. This can be used to apply non-lethal pressure to the enemy, and is canted at a forward angle, squaring the wrist joint position when the knife is held in reverse grip. It's also angled toward the enemy in forward grip. The talon is extremely well supported by the meaty rear bolster, multi-pinned for absolute permanence. The bolsters are zero care 304 austenitic high nickel, high chromium stainless steel, for the most durable, long-lived, and corrosion resistance of any bolster materials. They are dovetailed and bed a pair of pinned and solid Lignum Vitae hardwood handle scales. If you're not familiar with Lignum Vitae, you should be, as this is the hardest, toughest, strongest, and most dense hardwood on earth! Lignum Vitae is so hard, tough and heavy, it sinks like a stone in water, and is used as waterproof bushings and bearings onboard ships. It is naturally self-sealing and resinous, and has the greatest longevity of any wood.
Sheath: The sheath for this knife is one of my positively locking military tactical combat models, made of double thickness kydex, 5052H32 corrosion resistant high strength aluminum, 304, 302, and 316 stainless steel locking mechanism and components, bound with nickel plated steel Chicago screws and 18-8 stainless machine screws. The belt loops are reversible for a variety of wear positions. This is the finest locking sheath made, highly corrosion resistant, adaptable to PALS webbing and MOLLE gear as well as traditional wear mounts. The placement of the knife in the locking sheath keeps the finger ring accessible, for easy threading and security. Read more about my locking waterproof combat knife sheaths on a special page.
A modern, well-designed professional tactical combat knife, weapon, and tool, extremely tough and durable.
Jay,
The knife arrived and looks great!
Take care and thanks,
--J.
---
---