Azuma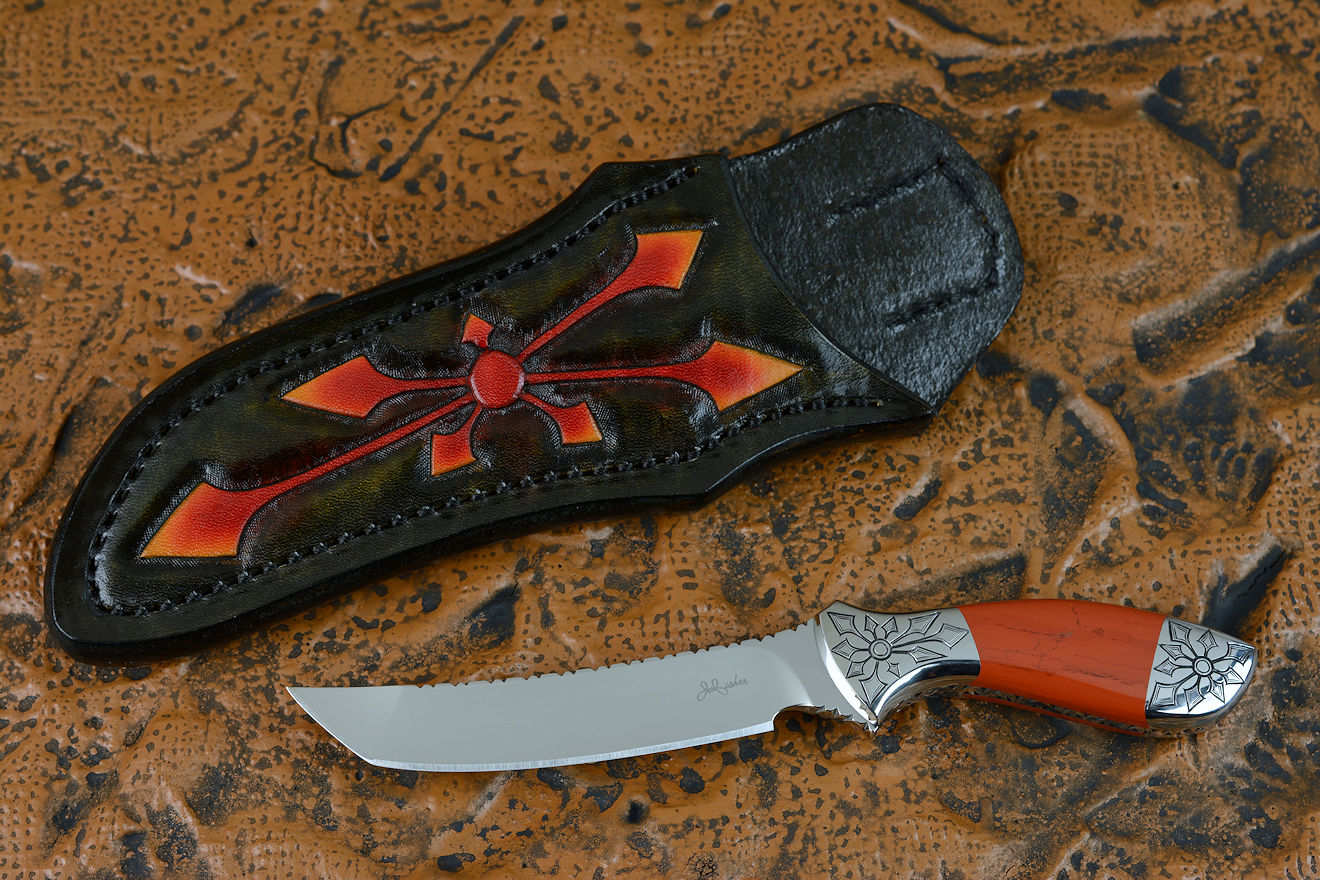 "Azuma" Fine Handmade Custom Knife
Size: Length overall: 7.5" (19.1 cm), Blade Length: 4.0" (10.2 cm), Thickness: .173" (4.4 mm)
Weight: Knife: 5.5 oz. (156 grams) Sheath: 4.3 oz. (122 grams)
Blade: 440C High Chromium Martensitic Stainless Steel, Cryogenically Treated, Hardened and Tempered to Rockwell HRC60, Mirror Polished
Bolsters, Fittings: 304 Austenitic Stainless Steel, Hand-engraved
Handle: Red River Jasper Gemstone (Africa)
Sheath: Hand-carved, Hand-dyed Leather Shoulder
Knife: This is a great new custom knife, designed and made specially for a great client. The name Azuma is the Japanese word for "east" and works great with the upswept new tanto design. My client requested a handle designed from my "Maple Seed" pattern and a stout, small, tanto blade with completely unique character. I made the blade in tremendously corrosion resistant 440C high chromium stainless steel for extremely low care or concern and incredibly long life and usefulness. This is not just any 440C; I've developed a specialized heat treatment that results in an extremely wear resistant and very tough blade. I won't give out the details of my proprietary treatment, but the overall process involves both shallow and deep cryogenic cycles, extremely long cryogenic aging times (days!) and high differential thermal cycling. This results in an astounding 440C blade, something that few have been able to achieve in 440C. I can't say enough for this treatment and the astounding results. The blade is finely ground and finished, with an upswept tanto design that offers an aggressive yet well-supported point, a secondary cutting edge at the dividing line (yokote), and a reasonable, plentiful length of keen cutting edge. The blade is fully fileworked with a pointed, geometric vine alternating pattern, and the tang is fully tapered for balance. I bolstered the knife with zero-care 304 stainless steel bolsters, which are dovetailed and dressed, chamfered and polished for a smooth, comfortable feel. I hand-engraved the bolsters with an ancient Japanese design motif, modified a bit to fit the form, with arrow-like figures rocketing from a central circle. The pattern goes well with the angular nature of the knife, the filework pattern, and the overall idea. The bolsters are dovetailed to bed beautiful handle scales of Red River Jasper gemstone from Africa, a very hard, very tough, and brilliant red stone that will literally outlast the knife. The knife feels light and weightless in the handle which is designed to be swallowed in the palm in a "three fingers" grip style. The handle is thick enough to apply good force to the blade, and the balance point is exactly at the forefinger position.
Sheath: The sheath needed to match the knife well, be sturdy and strong, while being unique and bold. The first thing you'll notice is the hand-carved pattern, the same as the bolsters, the ancient Japanese pattern in deep red with the "arrow" tips fading to a lighter golden hue. The pattern is carried on the front, the back, and even on the belt loop. I've stitched the heavy 9-10 oz. leather shoulder with durable black polyester, and lacquered the entire sheath for endurance and a smooth sheen.
This was a great handmade custom knife, with premium materials, a sophisticated treatment, and a unique and bold art form in a working tool.
Thanks, S. E.!
Jay,
Finally got to see and hold the knife in person. It is Amazing!!  It is astonishing how you can take someone's ideas and thoughts and bring it to life. It feels good in the hand and I'm sure it's going to fit every need I have. The engraving is nothing but a thing of beauty.  I truly feel this is a piece of art, not a tool. Thank you. This is something I hope to pass down from generation to generation.
--S. E.
---
---