Bulldog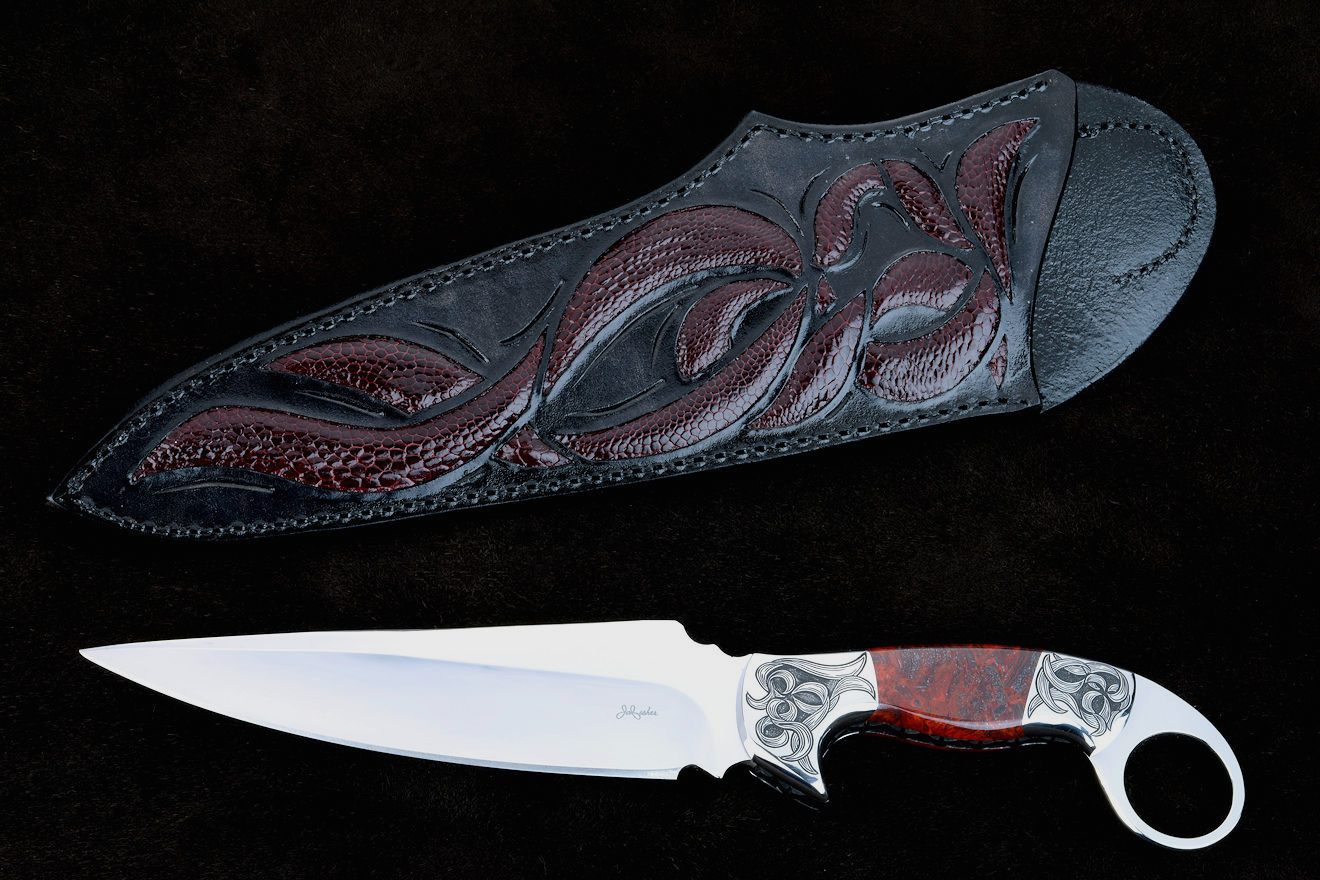 "Bulldog" Custom Knife
Size: Length overall: 11.8" (30 cm), Blade Length: 6.5" (16.5 cm), Thickness: .272" (6.9 mm)
Weight: Knife: 15.0 oz. (425 grams) Sheath: 7.7 oz. (218 grams)
Blade: 440C High Chromium Martensitic Stainless Tool Steel, Cryogenically Treated, Hardened and Tempered to 61.5HRC
Bolsters, Fittings: 304 Austenitic Stainless Steel, hand-engraved
Handle: Fossilized Stromatolite Algae Gemstone
Sheath: Hand-carved leather shoulder inlaid with Burgundy Ostrich Skin
Knife: This is a special Bulldog, custom made for a great client. The blade is mirror polished 440C high chromium martensitic stainless steel, chosen for great wear resistance and toughness, with the maximum in corrosion resistance. The blade has a beautiful matched hollow grind, with excellent depth and thinness at the cutting edge, with a substantial spine for strength and a full top swage to reduce the point profile thickness without sacrificing strength. The point is extremely acute in this design, one of the most aggressive points on any knife I make. I cryogenically treated the blade for its maximum potential, with a long cryogenic aging period for the ultimate in allotrope conversion and carbide precipitation for this steel. I followed with triple tempering with cryogenic soaking in between tempers for the ultimate in thermal conditioning and stabilization. This results in a blade with relatively high hardness and increased toughness, with a 120% increase in wear resistance over conventional heat treating and processing. Another benefit of this process is an extremely fine grain, resulting in high corrosion resistance and a beautiful polish. The blade is fully fileworked with a bold, peaking accordion pattern, throughout the fully tapered tang. The rear finger ring is completely rounded, contoured, and polished for comfort. I bolstered the knife with my signature 304 stainless steel bolsters, permanently attached with zero-clearance peened pins. This is super-tough and extremely corrosion resistant material, the same stainless steel used to create stainless nuts, bolts, and fasteners. I've hand-engraved a unique flowing and twisted ribbon pattern with deep relief, and the bolsters are dovetailed and fully dressed, rounded and finished for a seamless blend to the bedded handle scales. The handle is Fossilized Stromatolite Algae, gemstone of quartz, jasper, and hematite, and is the fossilized remains of blue-green algae that lived literally billions of years ago. The algae existed in Precambrian times, clearly some of the oldest fossilized remains of life on our planet. The reason for the red color and hematite (iron oxide) is that in those early times, the earth's oceans contained much more iron than today, and iron in accretionary sedimentation that replaces organics to create fossil minerals produces red coloring. The patterns and colors of this gemstone are striking, with clouds, swirls, and bands of red color with shiny gray hematite interspersed. The fossilized Stromatolite is hard, tough and durable with a bright polish and fascinating patterns the more it's magnified (See enlarged photos below). The knife feels solid and stout in the hand, with the balance point at the front quillon.
Sheath: The sheath for this knife needed to be complimentary, that is, as stunning and beautiful as the knife. I started with 9-10 oz. leather shoulder, though and thick, and hand-carved the inlay pattern designed to match the engraving on the bolsters exactly. The 21 inlays are burgundy Ostrich Leg skin, and the sheath body is dyed black, hand-stitched with black polyester and sealed with acrylic for longevity and resistance to aging and the elements. Even the back of the sheath and belt loop are inlaid for a complete and matching ensemble.
A stunning knife for a great client. I've included a large photo set below to share this beautiful knife and all of its aspects and components, including some 7 power enlargements for detail!
Thanks, T. G.!
Mr. Fisher,
I received my knife today. It is everything I had hoped for and then some. It is beautiful. Thank you so much for crafting this knife for me. I am sure that this is an item that will be passed on through many generations of my family. My son already has his eye on it. Once again thank you.
T. G.
---
---