Bulldog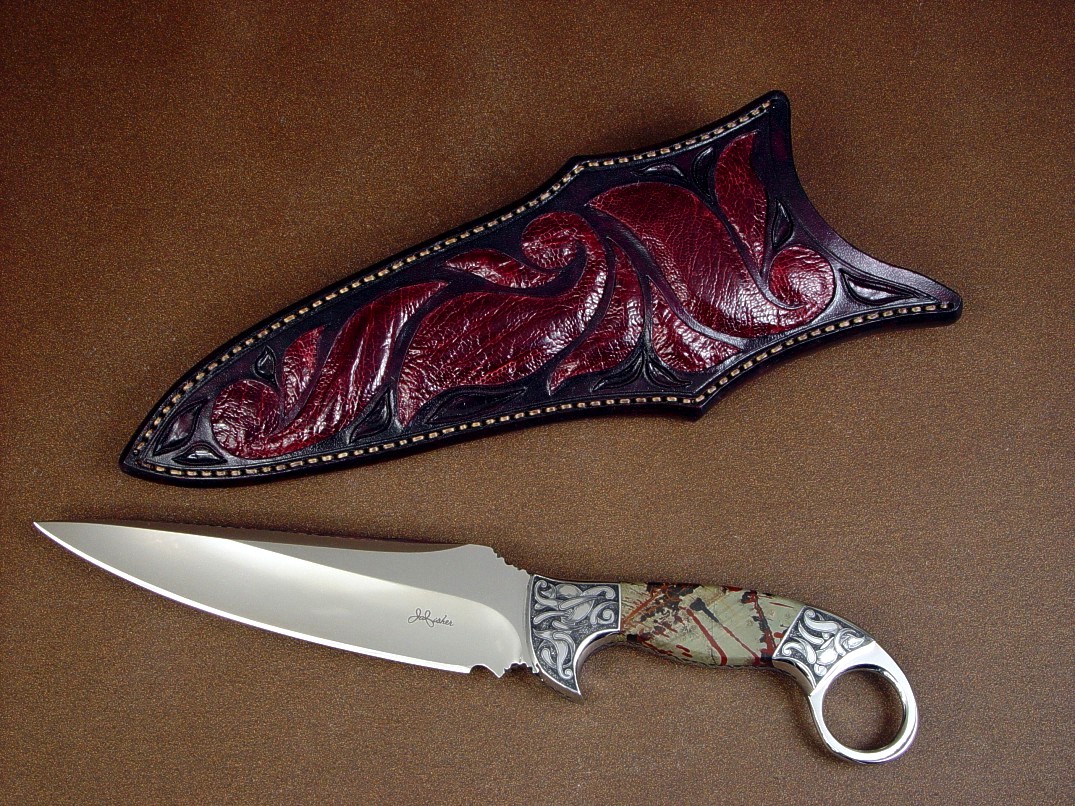 "Bulldog" Fine Handmade Knife
Size: Length overall: 12.0" (30.5 cm), Blade Length: 7.0" (17.8cm), Thickness: .277" (7.0 mm)
Weight: Knife: 16.2 oz. (459 grams) Sheath: 7.2 oz.(204 grams)
Blade: 440C High Chromium Martensitic Stainless Steel, Hardened and Tempered to Rockwell C58, mirror finished
Bolsters, Fittings: Hand-engraved 304 Austenitic High Nickel, High Chromium Stainless Steel
Handle: Indian Paint Rock Gemstone
Sheath: Ostrich Leg Skin Inlaid in Hand-carved Leather
Knife: The Bulldog is a great tactical knife design, and though originally created for close quarters combat, I made this Bulldog as a fine collector's piece. The blade is beautifully hollow ground and mirror finished 440C high chromium stainless steel for the greatest longevity and best finish of the stainless tool steels. The cutting edge is a single bevel on both sides, for a super sharp and smooth edge. The grind is deep and uniform, with nicely radiused grind terminations and is very well matched. The blade has a full top swage and substantial thumb rise, and is over 1/4" thick for great strength. The tang is fully tapered and has deep and punchy filework from the thumb rise to the choil. I left the finger ring clear, rounded, and smoothly polished for comfort, inside and out. The bolsters are zero-care high nickel, high chromium stainless steel, the same stainless steel used to make corrosion resistant nuts, bolts, and fasteners. This very tough stainless is hand-engraved in deep relief; I created a pattern of scrolls and leaves that matches the sheath inlays, and splashes that match the patterns on the gemstone handle scales. The bolsters are mirror polished and dovetailed, bedding a pair of unique Indian Paint Rock gemstone handle scales. Indian Paint Rock comes from the Nevada desert, and it is claimed to be limited in supply since the area of Death Valley where it originates was turned into a national park. The gem is a hard, compressed and metamorphosed fine sandstone, silt, or mudstone, with areas high in iron (red) and manganese (black) which seem to be painted on but are actually inclusions in the rock. These colored areas take a bit more polish than the grayish substrate rock which is satiny and smooth. This is the first Indian Paint Rock handle I've made and possibly the first knife ever to have this handle material. It's striking and abstract, and I wonder just what geologic and mineralogical processes created it. The rock feels great in the hand; the handle shape and contours are very comfortable and with the knife weighing over a pound, it's a solid and substantial piece of art.
Sheath: The sheath is as elegant and finely made as the knife. I chose a complicated scroll and leaf pattern, hand-carved, hand-tooled into 9-10 oz. leather shoulder dyed in a black cherry tone, and hand-stitched with a tight spacing of polyester sinew. The sheath has 20 inlays of burgundy Ostrich Leg skin to compliment the gemstone handle, and is smoothly contoured at the edges, lacquered, and sealed.
A beautiful rich and bold looking knife for the collection, unique and striking.
Thanks, T. S.!
Hi Jay
...what a beautiful piece of work. Much heavier in the hand than I expected and actually much larger too for some reason. That is one serious knife. I love the filework on it, really makes the whole thing pop.
--T.
---
---