Cassini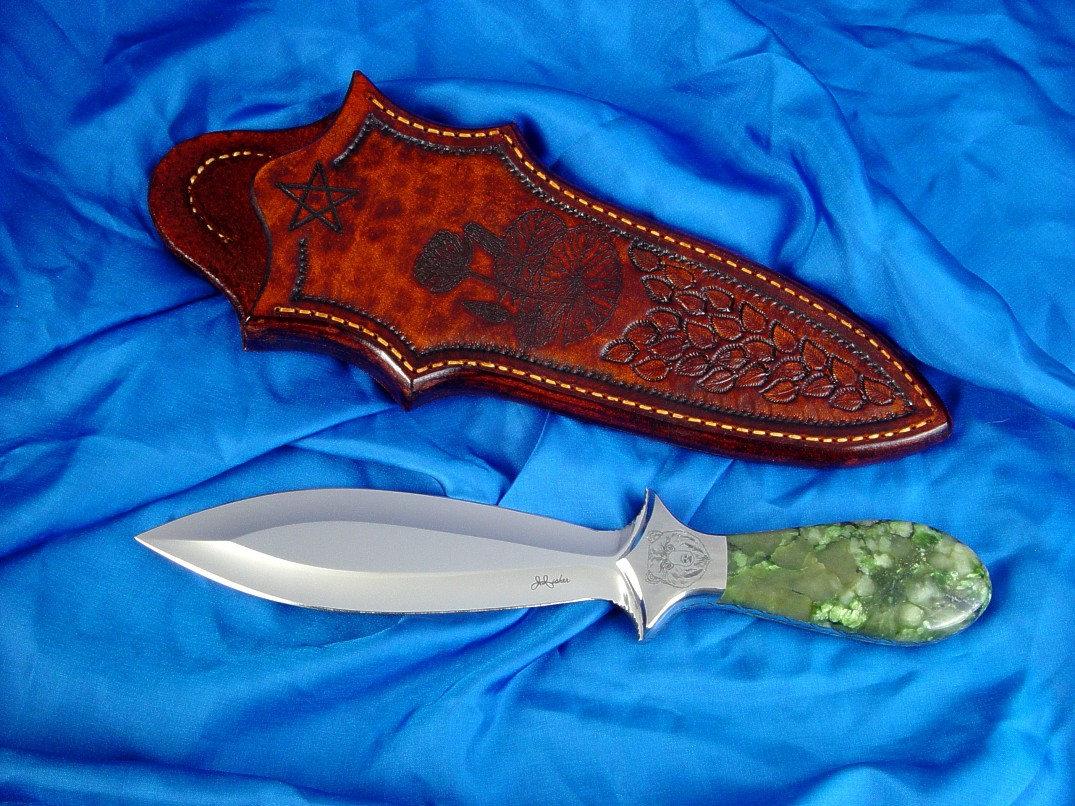 "Cassini" fine Athame Dagger
Size: Length overall: 10.5" (26.7 cm), Blade Length: 6.25" (15.9 cm), Thickness: .1875" (4.7 mm)
Weight: Knife: 12.5 oz. Sheath: 6.5 oz.
Blade: 440C High Chromium Martensitic Stainless Tool Steel, Hardened and Tempered to Rockwell C59, hollow ground and mirror polished, custom etched
Fittings/Bolsters: 304 Austenitic Stainless Steel, mirror polished, hand-engraved by Jay
Handle: Polished British Colombian Nephrite Jade Gemstone
Sheath: Hand-Carved Leather, hand-stamped, engraved
Knife: This is a custom made dagger (athame or athane) for a special client who requested specific embellishment and details. The blade is hollow ground with a 3" contact wheel, to preserve solid spine strength yet have clean and crisp hollow grinds balancing the framework of the blade, with custom etching at the client's request. The tang is full, and fully tapered for good balance, with clean vine filework along the tang. The 304 high chromium, high nickel austenitic stainless steel bolsters are sculpted in the front faces, and spread across the quillons for a wide, solid presence. They are fully dovetailed and hand-engraved in tiny detail with the client's animal characters. The shape of Cassini is comfortable and full in the hand, the sculpted round handle is solid and thick, made of polished British Colombian Nephrite Jade gemstone, beautiful and tough.
Sheath: The sheath for this knife is hand-carved, hand-stamped and tooled, and custom engraved with the client's symbols, in 9-10 oz. leather shoulder.
A beautiful athame dagger!
Thanks, N. S.!
Jay, Thank you so very much for this wonderful piece of art. It's more beautiful than I had imagined, and the jade is perfect! It's more substantial than any of the other athames I've had, and it fits wonderfully in my hand.
Bright blessings to you and yours,
--N.S.
---
---