Concordia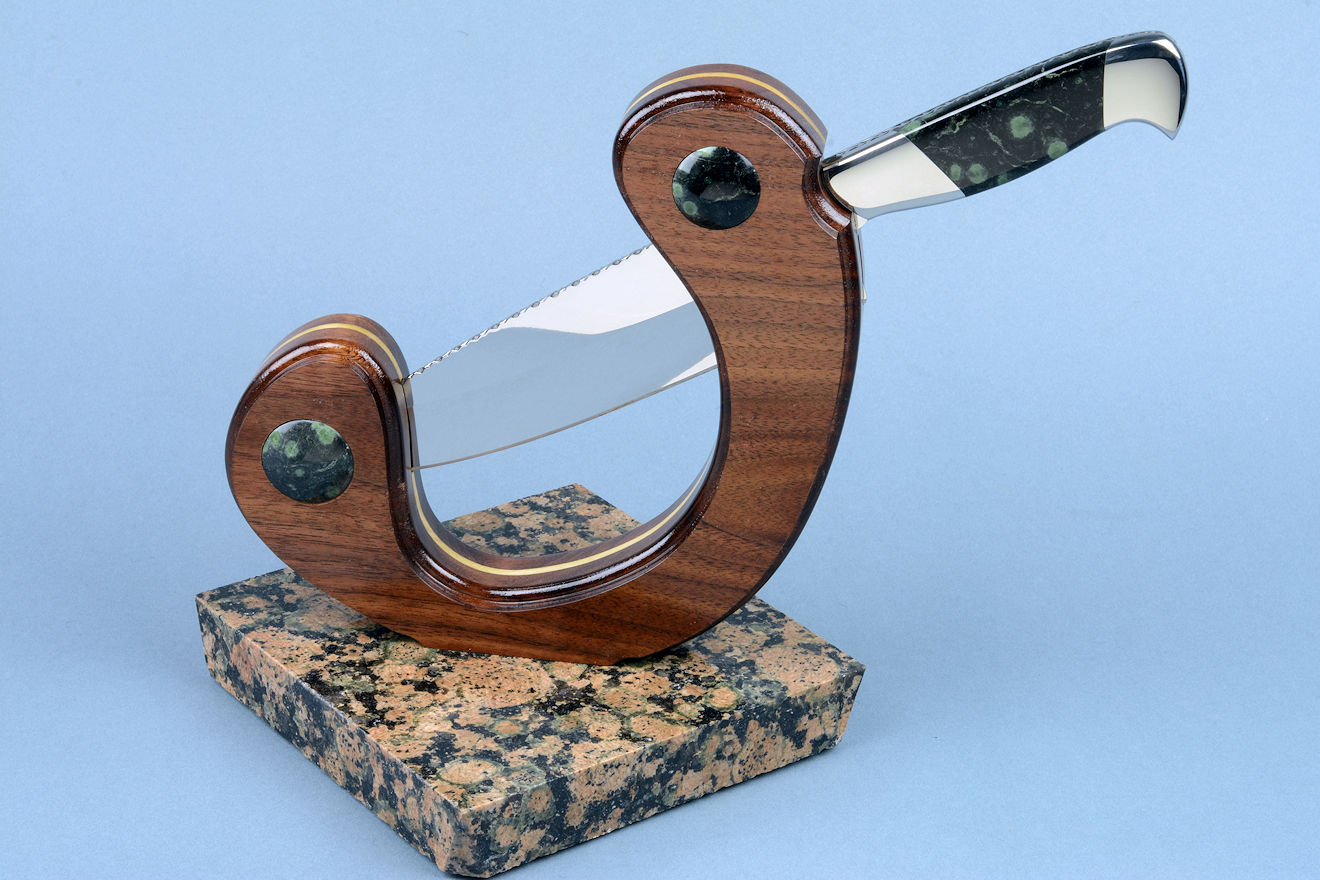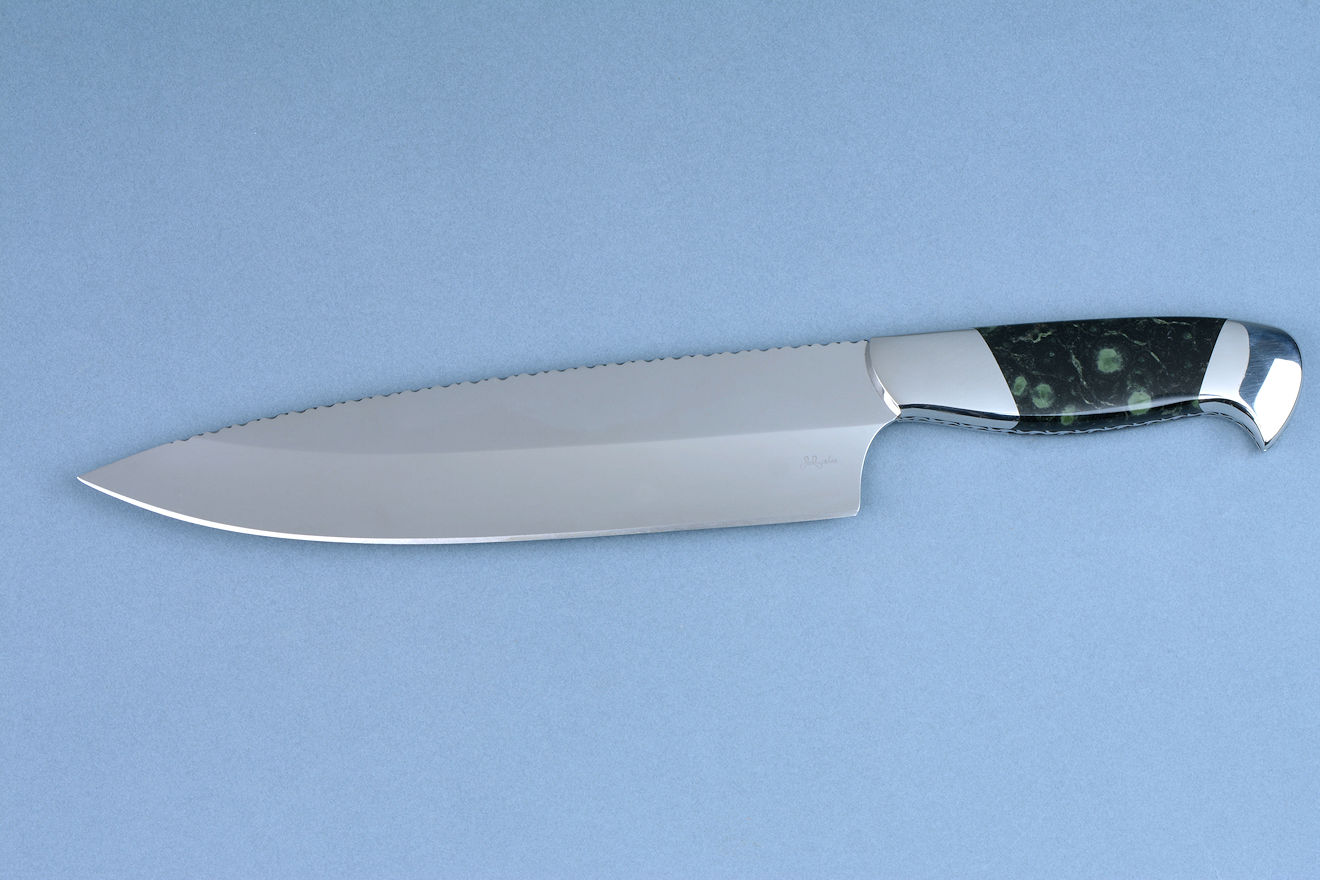 "Concordia" Fine Custom Chef's Knife
Size (Knife): Length overall: 13.5" (34.3 cm), Blade Length (at cutting edge): 8.5" (21.6 cm), Thickness: .132" (3.4 mm)
Size (Stand with knife): 10.5" (26.7 cm) tall, 9.5" (24.1 cm) wide, 12.0" (30.5 cm) long
Weight: Knife: 14 oz. (397 grams) Stand: 6 lbs.(2.7 kilograms)
Blade: 440C High Chromium Martensitic Stainless Tool Steel, Cryogenically Hardened and Tempered to Rockwell C60, mirror polished
Fittings/Bolsters: 304 Austenitic Stainless Steel, mirror polished
Handle: Polished Nebula Stone Gemstone
Stand: American Black Walnut, Poplar, Baltic Brown Granite, Neoprene Feet
Knife: The Concordia is named for the Roman goddess of harmony, and this Concordia was custom made for a very special client. It's a large chef's knife, classically designed and made for the most demanding use while being original, unique, and beautiful. I made the blade in 440C high chromium stainless steel, with a deep and full hollow grind for an incredibly thin cutting edge and plenty of flat spine to support it, while being lightweight enough to use comfortably. The point has a bit thicker geometry than the belly and heel, for good durability and piercing. I've cryogenically treated the blade, with a long cryogenic soak for the greatest conversion to martensite, and profuse carbides for extremely high wear resistance. The blade was double tempered with sub-zero soaking in between for great thermal conditioning and excellent toughness. This is the best condition this steel can possibly experience in its treatment. I've fileworked the blade completely, with a clean vine pattern, and the tang is fully tapered for balance. The knife is bolstered with zero-care 304 high nickel, high chromium austenitic stainless steel, and the bolsters are dovetailed to bed a pair of Nebula Stone gemstone handle scales. Nebula stone is an extremely rare gemstone, which comes from one source in the world and is a combination of the minerals Acmite, Riebeckite, Anorthoclase, Zircon, and Quartz. This is the third knife I've made with this special gem, and therefore the third knife in the world with a Nebula Stone handle. This gem is hard, heavy, and has a smooth lustrous polish, with bright green nebula-like orbs floating in black space filled with stars, and rings of green ribbons shaped like the shock wave of stars being born. All surfaces of the handle are radiused, contoured, polished, and smoothed for a comfortable grip, and the knife has a neutral balance with the fulcrum point at the front bolster face.
A knife this bold had to have a commensurate stand, and I wanted one that followed the design motif throughout. I created the stand in American Black Walnut and American Poplar hardwoods, with curved sculptural hardwood form that holds the knife with the handle in an accessible and ready position on the counter, proudly displaying the gemstone. I coated the hardwoods with a light lacquer for a nice finish with easy cleaning and rich tone. The stand sockets the point and edge, with a good opening to display the mirror-polished beauty of the cryogenically treated stainless steel. I added four polished cabochon accents of Nebula Stone inlayed in the stand, and mounted the hardwood to a base of Baltic Brown granite with stainless steel screws. I chose the Baltic Brown granite because it has round orbs throughout, and hints of green that fuse the entire design of the piece together. I chamfered the corners of the base for visual accents, and inlayed neoprene feet in the bottom so the piece rests stable without scratching any surface. The artist's signature plate is mounted on the bottom. Baltic Brown granite is extremely tough and very hard, and the mass of the base keeps the knife solid and firm, and the work will be stunning on my client's counter or furnishings.
A classy, elegant, unique, and useful work of custom art for the chef and his domain. I enjoyed making this beautiful ensemble, and know that my client will enjoy many decades of its presence and use in his family.
Thanks, E. B. !
Hi, Jay!
My apologies, things have been crazy over the holidays here. Between waking up to my son, my girl, and the knife on Christmas Eve, I had more reasons than any man needs to keep a smile glued on my face for my birthday. That's pretty sweet timing for a 5 year commission :).
I'll write a better review when I'm back at a computer, but I friggin' love the knife. In fact, we're weighing out placing another commission, provided you don't mind having 3 of your beauties end up in the same collection!
I hope you and your family had a blessed holidays, as well.
Cheers, E.
---
Please click on thumbnail photos
I've taken plenty of photos of this piece to examine from every angle: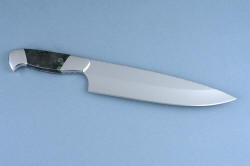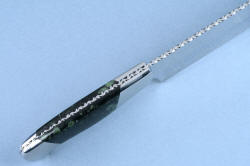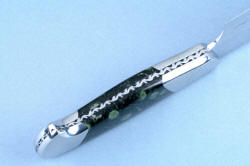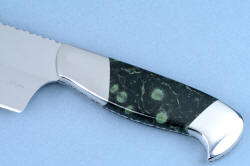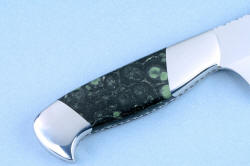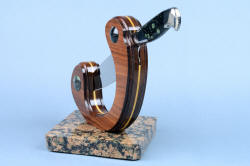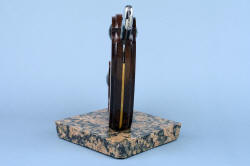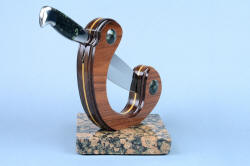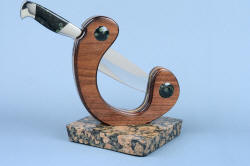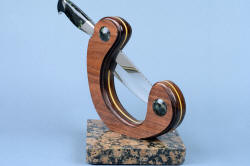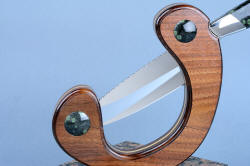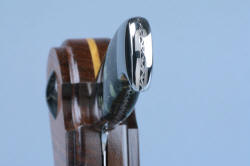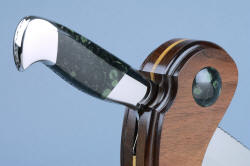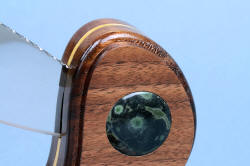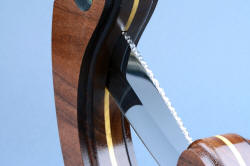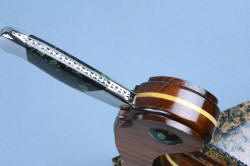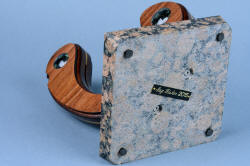 ---