Cyele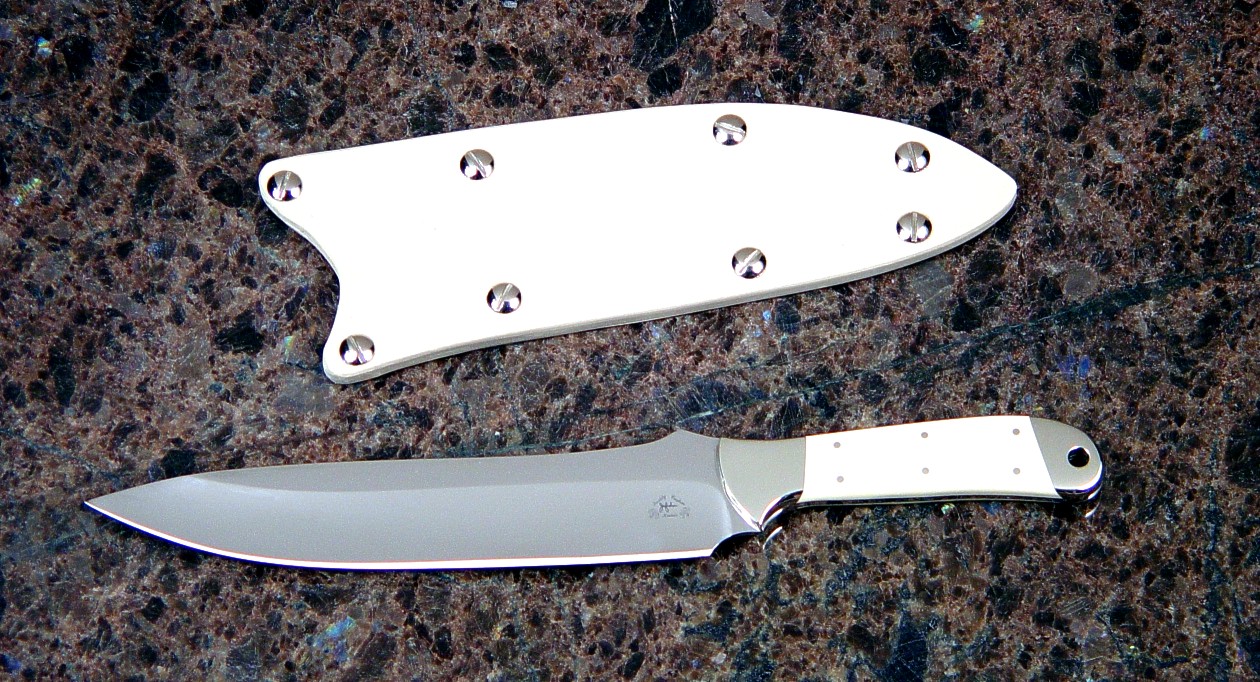 "Cyele" Professional Restaurant Grade Chef's Knife
Size: Length overall: 12.25" (31.1 cm), Blade Length: 7.6" (19.3 cm), Thickness: .125" (.32 cm)
Blade: 440C High Chromium Stainless Tool Steel, Hardened and Tempered to Rockwell C59, mirror polished
Fittings/Bolsters: Nickel Silver, mirror polished
Handle: Polished Ivory Micarta (Phenolic)
Answering requests for restaurant grade Chef's knives available for my clients, the Cyele is an example of reasonable knives made to excellent standards with a lightweight zero care handle, more modest than gemstone and tough as nails. This design was specifically made for such a purpose, with clean, fine lines and a graceful comfortable handle. The blade has serious cutting geometry, made of dependable, fine martensitic tool steel with great wear characteristics and high stainless corrosion resistance. The blade is thin, and the grind is incredibly pointed and sharp, with a deep thin hollow grind that I'm known for. Some clients have called my grinds so thin that they are transparent, which is exactly what you would want in a fine Chef's knife. The thin grind will offer easy sharpening, with very long life of the blade, probably several generations. I have a a knife in my own kitchen with the same grind geometry, I sharpen it once or twice a year, and it is 18 years old and I see no end to its thin, useful edge. I wanted to make this knife restaurant grade, with the toughest, most resistant, reasonably priced handle material there is, the same material I use on so many of my military combat knives. I chose ivory micarta, a phenolic with a long history of durability, high density, and is completely waterproof and dent resistant. It has the added feature of not getting slick or slippery when wet. The micarta is ivory colored, for a nice clean look that can even be scrimshawed or engraved. The fittings are nickel silver, a good, durable white metal that changes very little over time and has a warmer color than the bright blue of high chromium stainless steel. The knife has no filework on the handle or blade spine, no areas where food could hide, and that feature along with the entire polish allows very easy cleaning; usually only a simple rinse is all that is necessary.
The knife comes with a double thickness tan colored kydex slip sheath that protects the blade from other tools, and protects you from the razor keen cutting edge. That way, the knife can be easily stored in that special drawer, without taking up precious counter space and getting dinged and dulled by other kitchen tools. This type of sheath is a clean, simple, no nonsense solution for protecting and storing your investment.
I have restaurant clients that request this very same type of knife for professional daily use.
Thanks, D.C.!
Dear Jay - just a short note to let you know that my Cyele arrived yesterday and I put her right to work prepping dinner.
My initial impression is one of lovely lines, nice balance, and great artistry in her design and fine craftsmanship in execution. I own a number of custom kitchen blades, and your Cyele is a standout in every respect.
Many thanks, Jay - and my deepest appreciation for your skill.
--Doug Cremer
---
---