Cygnus-Horrocks Magnum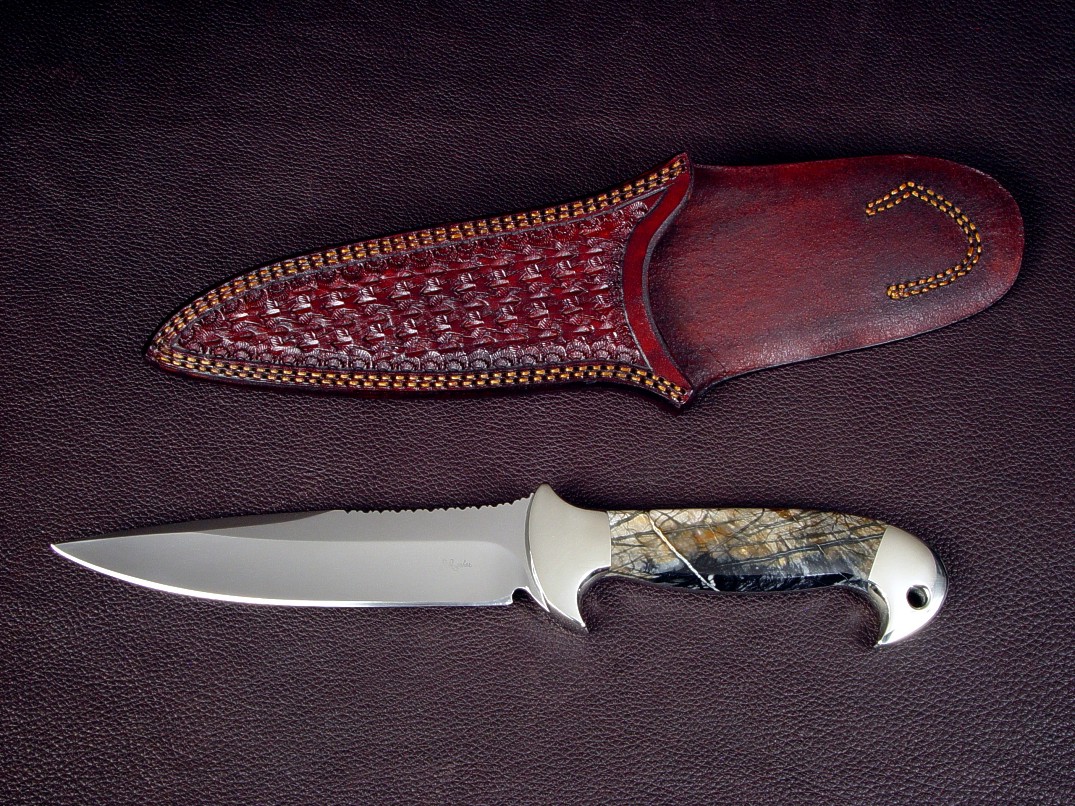 "Cygnus-Horrocks Magnum" Custom Knife
Size: Length overall: 13.0" (33.0 cm), Blade Length: 6.8" (17.3 cm), Thickness: .207" (5.3 mm)
Weight: Knife: 1 lb. 2.5 oz. (525 grams) Sheath: 6.4 oz. (181 grams)
Blade: 440C High Chromium Martensitic Stainless Tool Steel, Hardened and Tempered to 58HRC
Bolsters, Fittings: Nickel Silver
Handle: Picasso Marble Gemstone
Sheath: Hand-stamped and tooled leather shoulder
Knife: This handsome knife was custom made for a great client. It's based on my Cygnus Horrocks pattern, a very popular knife style with a large and meaty blade and handle. I started with nearly quarter inch thick stock of high chromium 440C martensitic stainless tool steel, hollow ground with crisp, deep grinds nicely matched from side to side and mirror polished throughout. The blade is fileworked all along the spine and into the handle area with a punchy, masculine pattern. The blade has a half-length top swage to reduce the point cross section without sacrificing strength, and a substantial thumb rise for control. The knife is bolstered with heavy nickel silver bolsters which are warm and smoothly mirror polished, with nicely contoured and finished surfaces at the quillons and rise, and a 5/16" chamfered lanyard hole at the rear bolster. The bolsters are dovetailed and bed a pair of large and beautiful Picasso Marble gemstone handle scales. When sedimentary limestone metamorphoses, it becomes marble, a tougher, harder crystalline calcareous rock with calcite, dolomite, and other inclusions. Picasso Marble is from Beaver county, Utah, and has a distinctive, bold, and rich color set. On this knife, it has a warm, smooth polish and feel with scenic forms and images throughout. The handle is custom made for my client, large and meaty, and feels robust in the hand with the balance point just behind the front bolster dovetail.
Sheath: The sheath for this knife is heavily constructed of 9-10 oz. leather shoulder, hand-stamped and tooled with a weave and tuck basket weave pattern, dyed medium brown, and hand-stitched throughout with double row stitches in polyester sinew. Even the large belt loop has double row stitching, and the sheath is lacquered and sealed throughout.
A warm, robust, and handsome custom handmade knife.
Thanks, H. L.!
---
Jay,
I just wanted to thank you for the beautiful knife. I think your choice of handle was perfect. Every time I look at it, I see something new in the pattern, and the colors are so unique! As always, the workmanship is superb and the file work really adds to the project. I've got the Cygnus-Horrocks displayed along with the Mercator and Alegre and they look great together. Thanks again for the gorgeous work!
H.
---
---