Deimos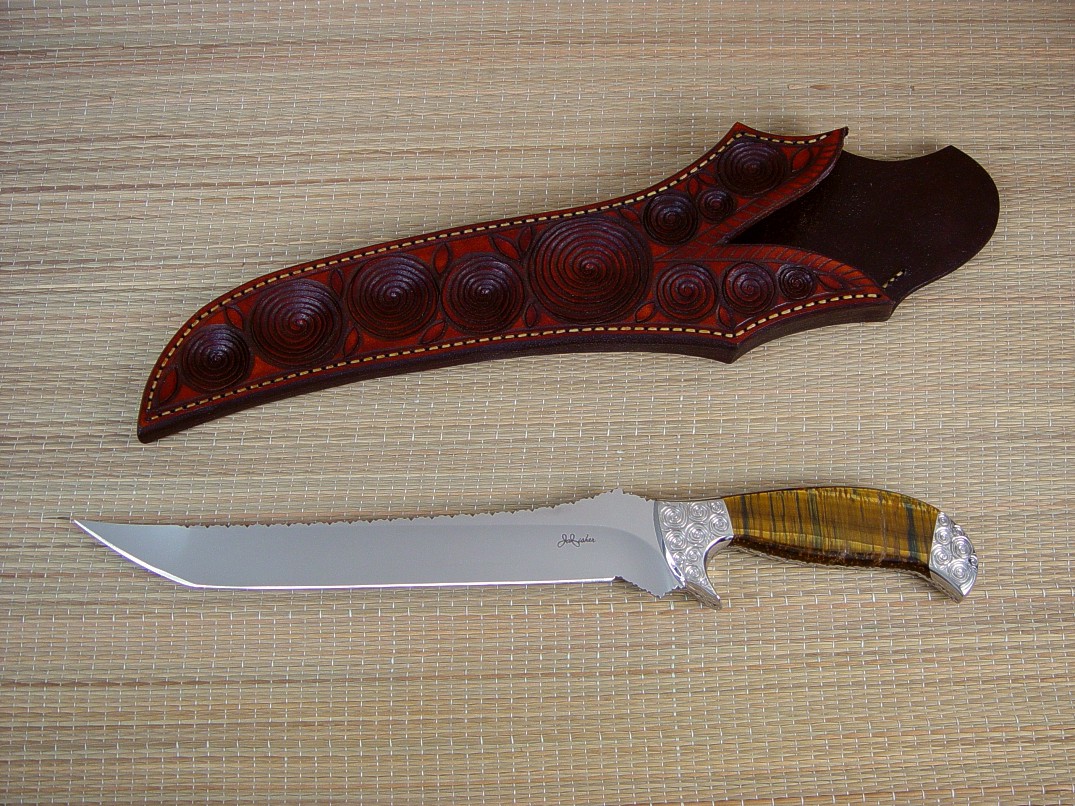 Deimos
Size: Length overall: 14.0" (35.6 cm), Blade Length: 9.0" (22.3 cm), Thickness: .250" (.63 cm)
Weight: Knife: 16.0 oz. Sheath: 8.0 oz.
Blade: 440C High Chromium Martensitic Stainless Tool Steel, Hardened and Tempered to Rockwell C59, hollow ground and mirror polished
Fittings/Bolsters: 304 Austenitic Stainless Steel, mirror polished, hand-engraved by Jay
Handle: Polished Bicolored Blue-Gold Tiger Eye Quartz Gemstone (silicified Crocidolite)
Sheath: Hand-Carved Leather
Knife: Named for one of the moons of Mars, this tactical style collector's knife is worthy of the title. Deimos has a sweeping curved tanto style blade with graceful, elegant, yet substantial weight and form. Weighing in at a full pound, the quarter-inch thick blade is strong and stout, with full spine thickness nearly to the tip. The deep hollow grind is well-matched side to side and very clean, the edge is an absolute razor. I did a nice geometric, staggered balanced filework fully around the blade from the point, through the handle, to the choil. The tang is tapered, but left with plenty of thickness to support the hefty blade. The bolsters are 304 high nickel, high chromium austenitic stainless steel, and I've taken many hours to hand engrave a Celtic spiral and leaf pattern on them, a bright engraving with polished bolster faces. With the high chromium content and gemstone, this is a piece that will hold its appearance for generation after generation. The bolsters are dovetailed and hold a pair of silky bicolored Tiger Eye Quartz gemstone handle scales, an absolute favorite of men's jewelry. The gem is deeply chatoyant (the cat's eye effect) in thick banded layers across the handle that a still photo can not illustrate. Tiger eye is semi opaque to semi translucent, tough and hard, and the lively and lustrous bands of light seem to move across the surface. Some of this Crocidolite is blue (thus bicolored), for striking contrast. Though there are some inclusions in the stone, the gem is solid and permanent. I was lucky enough to find pieces large enough for this wide, thick, and substantial handle, and took great care in orienting the gem on the handle for the greatest display of chatoyancy. The handle feels fantastic in the hand, comfortable and solid, and I'll be using this handle shape again. The front quillon protects the hand well, and the swell at the rear of the handle helps to counterbalance the significant blade, while the thumb rise guides and supports the grip. The word that comes to mind when I hold this knife in the hand is "Mighty."
Sheath: The sheath for this knife had to compliment, yet not overshadow the knife. I carried through the Celtic spiral design, and it ended up being a significant project, and I've got over eight hours painstakingly hand-carving the sheath, front and back, holding scalpels and wearing an Optivisor. An ambitious project that was well worth it; one of the finest sheaths I've ever made. It's got a wide belt loop for left side, right hand cross draw wear. The leather is dyed a rich reddish brown color to accent the Tiger Eye; it's hand-stitched in accurate, uniform spacing, deeply lacquered, edge smoothed, and sealed.
Thanks, D. T.!
Jay,
Once again your skills and craftsmanship in knife making have yielded another wonderment of our Earth's minerals, PHOBOS! It is not only a most beautiful Jay Fisher knife, but its edge, balance and form make it a fearful weapon.
Many thanks for giving me the chance to own it.
--D.T.
---
---