Desert Wind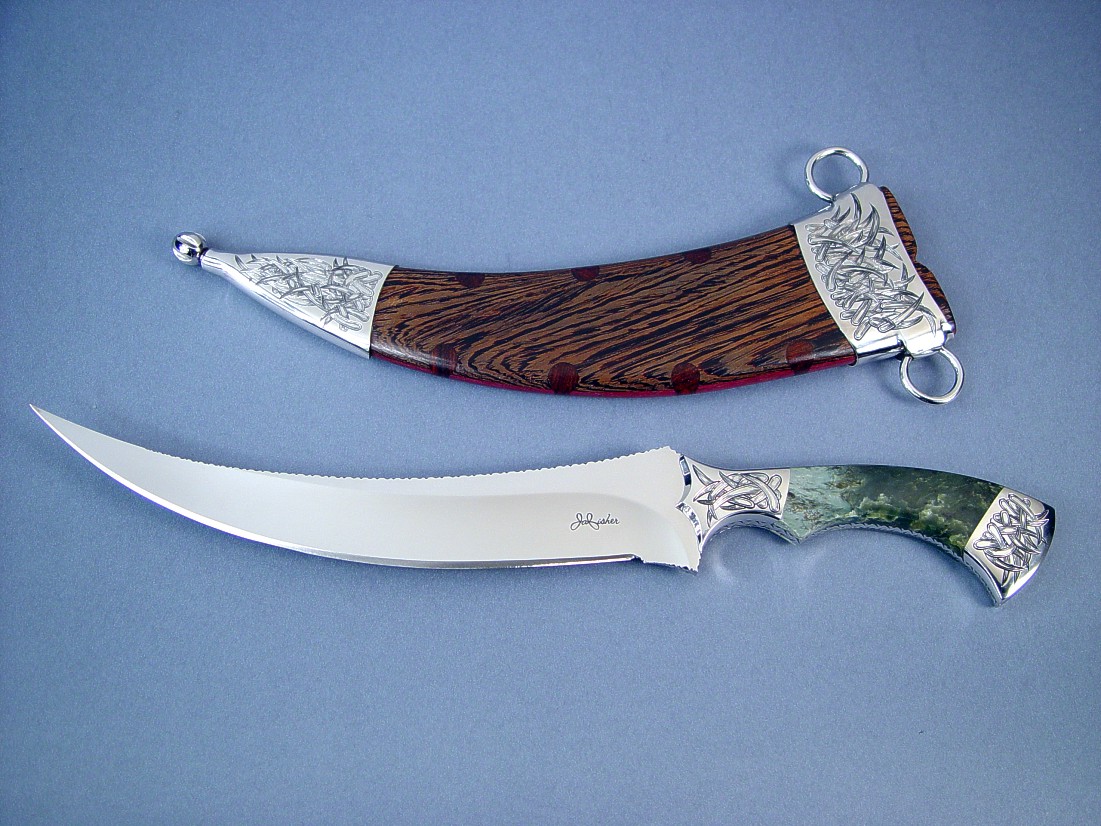 "Desert Wind" Persian Dagger
Size: Knife: Length overall: 12.75" (32.4 cm), Blade Length: 8.0" (20.3 cm), Thickness: .180" (4.6 mm)
Weight: Knife: 10.0 oz. Sheath: 4.3 oz.
Size: Stand: Height: 11" (28 cm), With Knife: 15.5" (39.3 cm) Width: 12" (30.5 cm), Depth: 5" (12.7 cm)
Weight: Stand: 7.6 lbs.
Blade: 440C High Chromium Martensitic Stainless Tool Steel, Hardened and Tempered to Rockwell C58, Mirror Polished
Bolsters, Fittings: 304 Austenitic Stainless Steel, Hand-engraved
Handle: Mossy Nephrite Jade Gemstone
Sheath: Wenge, Cocobolo, Purpleheart (Amaranth) Hardwoods, Hand-engraved 304 stainless steel
Stand: Purpleheart Hardwood, Engraved Black Galaxy Granite
Knife: A study in graceful lines, curves, and unique materials, this Persian dagger style blade is a work of edged art. The Desert Wind has a finely hollow ground blade in high chromium 440C martensitic stainless tool steel for the greatest finish and longevity of any blade steel. The profile of the blade is a acute trailing point, characteristic of ancient Persian design styles. The blade has a razor-sharp single bevel edge, and full filework that is proportionally graduated from tip to choil. What this means is that the filework spacing, size, and density is faithfully proportional to the thickness of the blade and tang along its length. This is a very difficult process, and you simply don't see it done on most knife blades by any maker. The filework is meticulously defined in every inch, with a compressed vine pattern. The fully tapered tang is bolstered with front-sculpted, hand-engraved 304 stainless steel bolsters. The pattern echoes the curvature of the blade in interlocking and overlapping forms reminiscent of leaves of grass or entwined thorns. The bolsters are dovetailed to bed a pair of beautiful book-matched Mossy Jade gemstone scales. The jade changes from creamy pastel green to deep, rich dark green with interesting patterns of black dendrites deep in the stone. The finish varies from satiny smooth to bright and glassy. The jade is tough and durable; the handle is comfortable and nicely shaped, with perfect balance at the forefinger.
Sheath: The sheath is an independent work of art, a hard sheath characteristically traditional on this type of knife. I carved the sheath body from Wenge hardwood which has an interesting figure of contrasting black and brown, spaced it with Purpleheart (Amaranth), and secured it with Cocobolo pins. The design style dictated a sheath chape, which is used to secure, harden, hang, protect, and finish the hardwood sheath. There are two parts, the chape mouthpiece, and the chape tail. I created these in 304 stainless steel. This is not soft or malleable metal which can corrode, tarnish, or easily scratch. This is hand and hammer-planished, formed, forged, and welded austenitic stainless steel with 20% chromium and 8% nickel. This chape, just like the knife bolsters, will never corrode, change, or move. In addition to the difficult construction, the chape mouth and tail are mirror finished and hand-engraved with the same pattern as the bolsters. Very few people in the world hand-engrave 304 stainless steel as it is incredibly tough. At the chape mouthpiece, I added hand-formed suspension rings, and at the chape tailpiece, a solid 304 stainless steel milled finial. The chape is permanently mounted to the hardwood body, which is smoothly sanded, waxed and polished for a warm, satiny finish.
Stand: It had to be an elegant stand for this great knife, so I hand-carved a wide block of Purpleheart (Amaranth or Violetwood) hardwood into a slotted, carved, serpentine form to cradle the knife blade at the tip and along the cutting edge. Purpleheart is bright purple when newly cut, and in time will darken to a dark violet-brown. The Amaranth is difficult to work with, but takes a fine smooth finish and is very stable. I mounted a special hanger for the sheath, which holds the sheath at the same angle as the blade. The knife can also be displayed hanging in the sheath. To compliment the design, I diamond-engraved the same pattern on the Black Galaxy Granite stone base as is on the rest of the knife and sheath fittings to bring it all together. The Black Galaxy Granite has bits of micaceous copper inside, and is polished on the surface and flat finished on the sides. It is heavy and stable, with solid rubber feet permanently mounted in the bottom to protect furniture. The knife is very stable in the slot, and the sheath hangs securely on a grooved peg.
I've included lots of pictures of this unique work of art. Please enjoy them!
Thanks, J.L.!
This is a beautiful art piece that my son and I will be very proud to own.
Jay, thank you for showing what is possible for a man to accomplish.
--J.
---
---