Elysium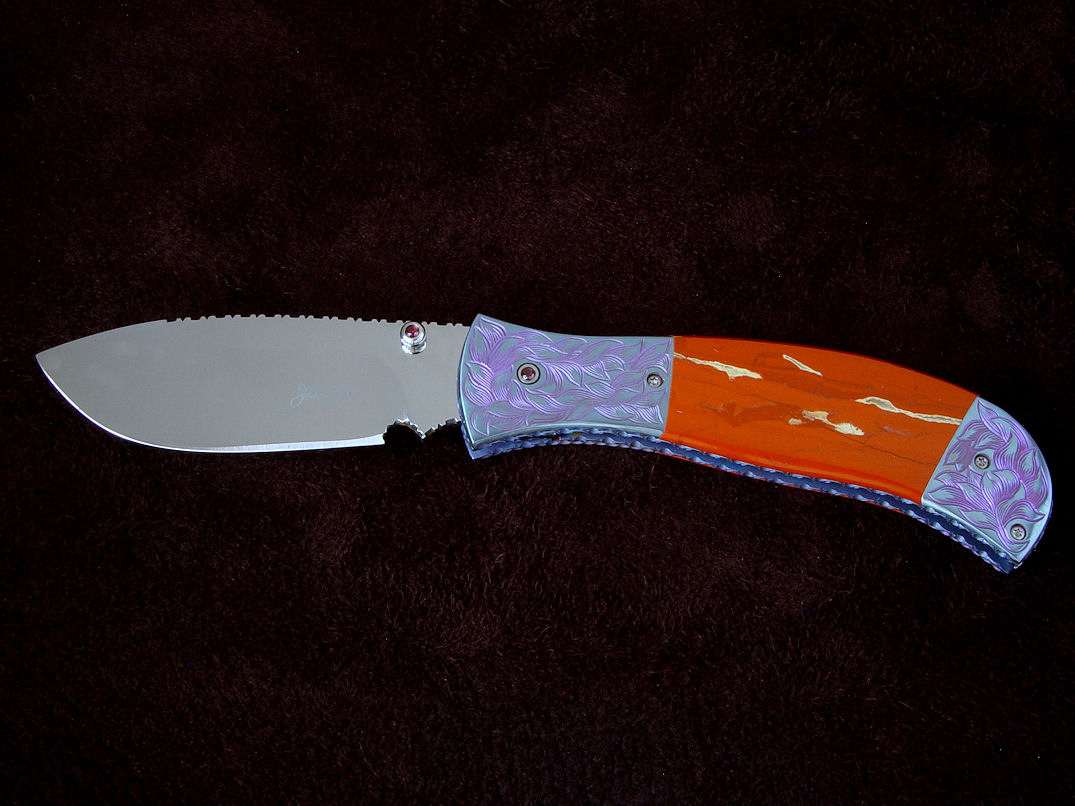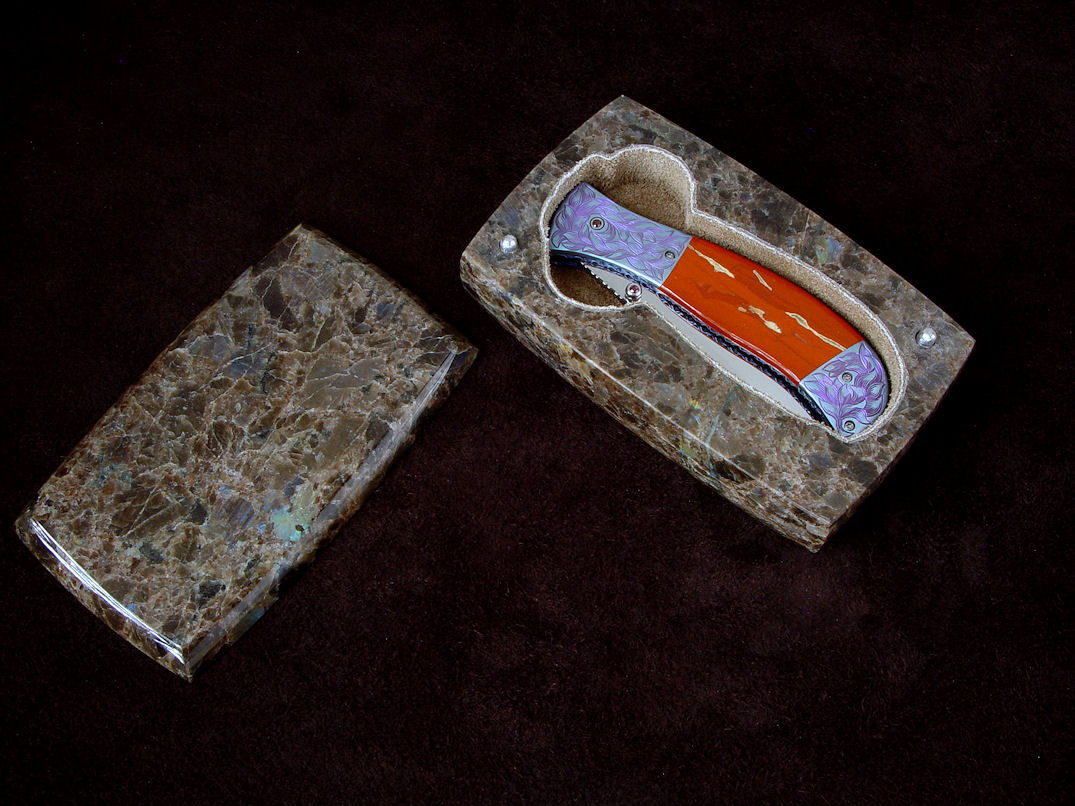 "Elysium" Fine Handmade Folding Knife
Type: Liner lock folding knife in stone case
Size: Length overall open: 7.0" (17.8 cm), Length overall closed: 4.125" (10.5 cm) Blade Length: 3.0" (7.6 cm) Blade Thickness: .120" (3.1 mm)
Case size: 5.0" (12.7 cm) wide, 3.0" (7.6 cm) deep, 1.3" (3.3 cm) high
Weight: Knife: 3.8 oz. (108 grams) , Case: 1 lb. 4 oz. (567 grams)
Blade: ATS-34 high molybdenum stainless tool steel, hardened and tempered to Rockwell C59
Thumb Studs: 304 Stainless Steel set with Faceted Rhodolite Garnets
Bolsters: Hand-engraved selectively anodized 6AL4V titanium
Liners: Anodized 6AL4V Titanium
Handle: Polished Red River Jasper Gemstone
Case: Blue Eyes Anorthosite, suede leather, neoprene feet
Knife: Perhaps one of the most striking folding knives I've made to date, this Elysium is named for a volcanic region on the planet Mars, which is named for the ancient Greek final resting place of heroic and virtuous souls. The knife design is curvaceous and inviting, the blade has a teardrop belly and drop point that yields a deeply hollow ground razor keen blade. The blade steel I chose for this knife is super-tough ATS-34, a high molybdenum tool steel that is strong and wear-resistant even when ground very thin. The blade is completely fileworked in an offset staccato pattern from spine to sculpted choil, and even the inside of the spine spacer of the handle has complete and detailed filework with a mirror polish. The spine is also hardened and tempered ATS-34 stainless tool steel. On the spine are handmade turned and polished thumb studs that I created in 304 stainless steel, inlaid with faceted Rhodolite Garnet gemstones. The knife has bolsters of hand-engraved 6AL4V titanium, a very tough, springy and strong lightweight metal that is typically used on the liners and spring locks of my folding knives. For a unique and striking effect, I hand-engraved the titanium, which was a laborious process, and then selectively anodized the pattern. This can only be done with chemical anodization, which is a detailed practice. First, the entire bolster with engraving is completed, and then the entire surface is chemically anodized to yield a surface of titanium dioxide, creating the color interference pattern seen as lavender. Then, the surface is hand-rubbed away, and the next anodization step yields the color interference pattern seen as blue-gray on the remainder of the bolster. This optical interference is the same as seen in an oil slick or soap bubble, but it's in metal and permanent. It's a lot of effort to yield a lasting, beautiful, striking, and unique finish that is durable and stable. As with all of my finishes, only harsh abrasion will remove it. The bolsters are fileworked on the inside, where they are attached to the liners; in fact, there are literally hundreds of file cuts applied to this creation of metal and stone. At this bolster-liner junction, the surfaces are also selectively anodized to bring out the filework pattern in lavender. The liners are meticulously fileworked 6AL4V titanium also, anodized to a deep cobalt blue which compliments the vine filework. The 304 stainless steel pivot is set with a faceted Rhodolite garnet as well, and the screws are 304 high nickel, high chromium austenitic stainless steel. The handle scales are dovetailed and bedded, made of shocking red and yellow Red River Jasper from Canada. This is a true jasper, a microcrystalline opaque quartz that has been fused and metamorphosed deep under the earth's crust for millions of years. The veins in the gemstone range from yellow to clear quartz with even a few bits of pyrite. This is a very hard, tough, and durable gemstone, and will outlast all of the metal on the knife with little or no care. The knife feels light and tough in the hand and the action is smooth, clean, with the lock-up solid and secure.
Case: I wanted a special sarcophagus for this knife, an everlasting and durable stone case that would last as long as the knife and protect it with beauty and original style. I created this stone case in Blue Eyes Anorthosite, a plutonic rock composed of coarse-grained labradorite feldspar with pyroxene. This stone comes from Nain on the coast of Labrador in Canada, and has distinctive schiller, or labradoressence, the play of light in the feldspar crystals that yields flashes of intense blue and green color that change depending on the direction and intensity of the light. I spent considerable time cutting, lapping, carving, shaping, finishing, and polishing this stone to come up with a form and finish that is deserving of this fine and striking knife. The finish is luxuriant and smooth, the case is lined with suede leather to protect the knife and has convenient finger cutouts to easily remove the knife from the case. The lid is polished inside and out, and has keyed holes that engage 304 stainless steel studs for a matched fit. I inlayed neoprene feet in the bottom so the case can safely rest on any surface without scratching.
Sheath: My client requested a sheath commensurate to the quality of the knife, so I constructed a vertical mount, tension fit sheath with a snap flap. The sheath is hand-carved leather shoulder, 9 - 10 oz. thick, with 12 inlays of red rayskin. The inside is lined with brown suede leather, and the snug fitting knife is protected. The belt loop is just over 1.5" and the structural stitching is done with black polyester. The suede edges are hand-stitched with a blanket (overlap) stitch pattern to protect the wear areas from separation and abrasion. The sheath is dyed a medium brown and sealed for preservation and protection.
A stunning and original investment grade work of knife art, in bold materials and execution for the collector.
Thanks, D. F.!
Hi Jay.
I just received the knife. It is single-handedly the most beautiful piece of art that I own. I am so grateful for your work. The sarcophagus, the sheath, and the knife are all independently beautiful pieces.
Once again I cannot thank you enough.
--D. F.
---
Just another quick note to let you know that I am just loving carrying my new knife. It's such a beautiful piece of artisan work.
Thank you again.
--D.
---
---