Gemini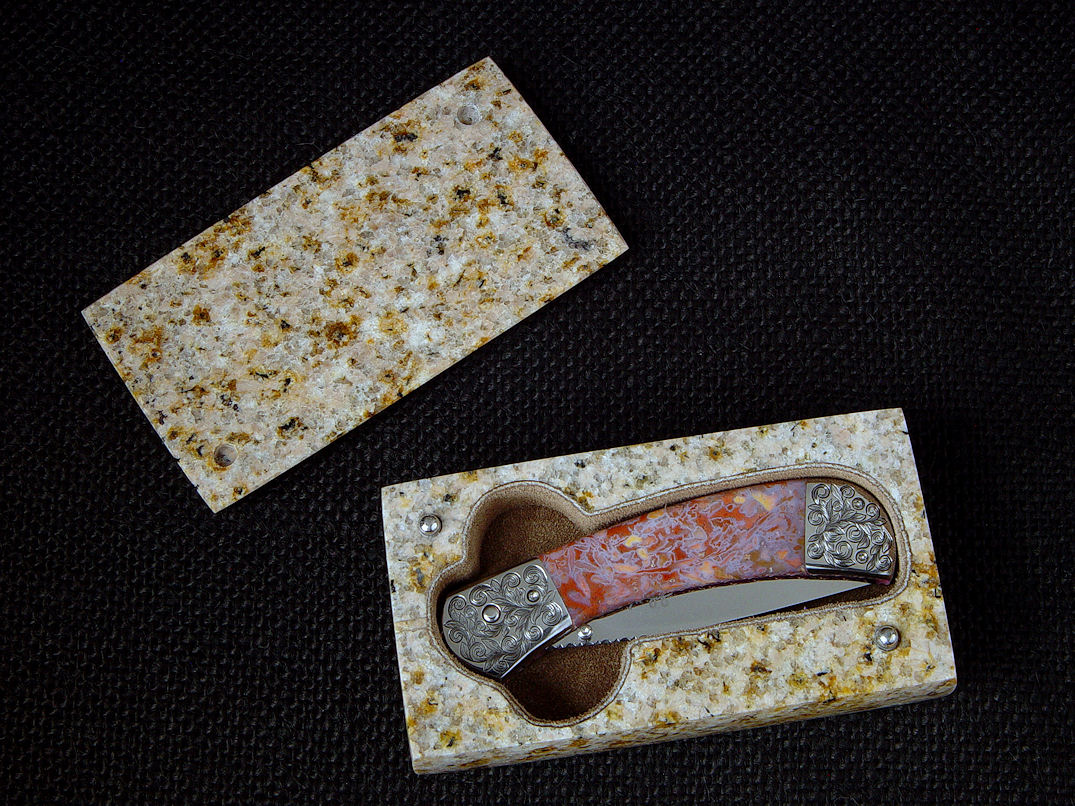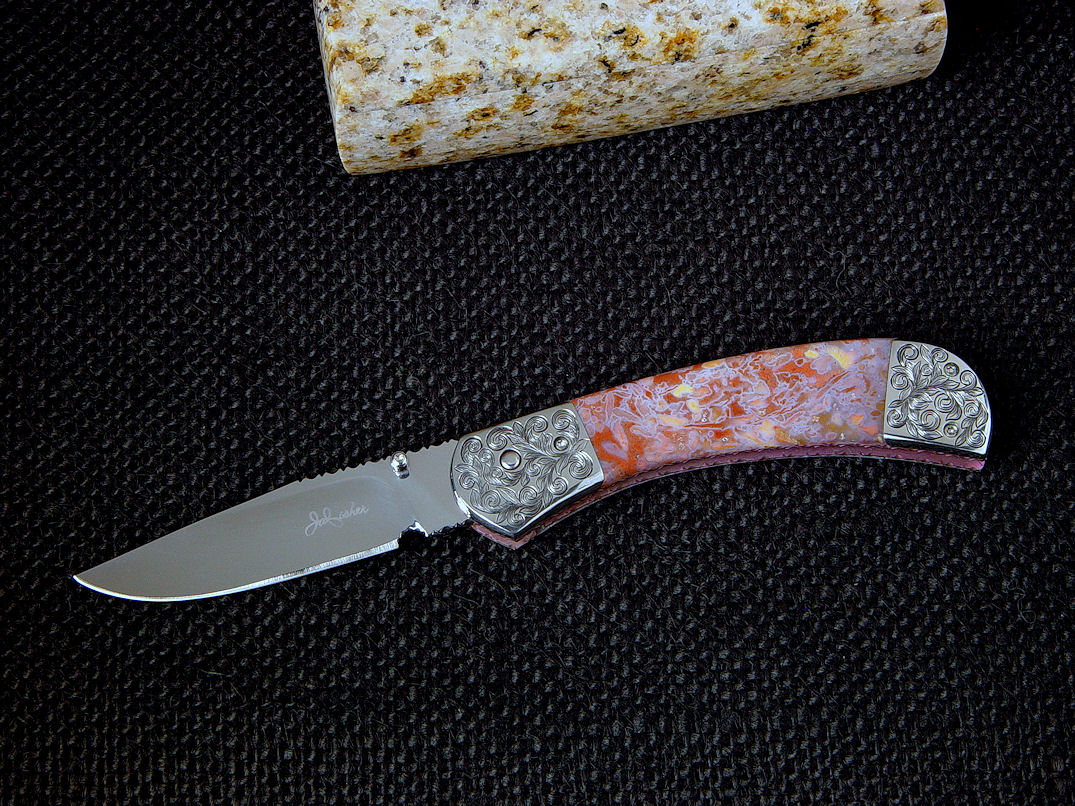 "Gemini" Fine Handmade Custom Liner Lock Folding Knife
Type: Custom Liner Lock Folding Knife
Size: Length overall open: 6.625" (16.8 cm), Length overall closed: 3.875" (9.9 cm), Blade Length: 2.75" (7.0 cm), Blade Thickness: .1155" ( 2.9 mm)
Weight: Knife: 3.5 oz. (99 grams), Case: 1 lb. (454 grams)
Blade: 440C High Chromium Stainless Tool Steel, Hardened and Tempered to Rockwell C58, hollow ground and mirror polished
Liners: Fileworked and Anodized 6AL4V Titanium
Bolsters: Hand-engraved 304 Austenitic Stainless Steel
Handle: Polished Confetti Agate Gemstone
Case: Crystal Yellow Granite, Suede Leather Liner, Neoprene feet
Knife: The Gemini is a great folding knife, named for the constellation in the night sky. This Gemini was custom ordered by a great client and patron, and it was an honor making the knife for him. The blade is made in hollow ground, mirror polished 440C high chromium stainless steel, graceful and clean, with full vine filework throughout and matched 304 stainless steel thumb openers for left or right handed operation. The knife is a liner lock type, and I fully fileworked and anodized the 6AL4V (aluminum and vanadium alloy) titanium liners with a rose color to nicely compliment the gemstone handle scales. The bolsters are made of 304 stainless steel, as are all of the machine screws, pivot, fasteners, and components. This is a very tough austenitic stainless steel in high nickel and high chromium for the greatest longevity with zero-care. The bolsters are polished and hand-engraved with a detailed and full scroll pattern. The bolsters are dovetailed and bed a pair of polished Confetti Agate gemstone handle scales. This agate is extremely hard and tough, a highly durable gemstone of unique and striking character. This gemstone comes from the Chihuahua, Mexico region and is a unique brecciated and metamorphosed microcrystalline quartz with fantastic patterns, colors, and arrangements. Bright red forms are outlined in rose and pink borders, with yellow highlights all fused into a matrix of clear to translucent crystalline pockets. This is a fascinating stone to examine under magnification, and is smooth and comfortable to the touch. It is surprisingly hard to carve, shape, and polish, and will literally outlast the knife! The knife feels smooth and solid in the hand, the operation is clean and even with a solid lock and gentle detent pressure when closed.
Case: A knife of this jewelry quality needed a special place to rest, a sarcophagus both unique and commensurate with the knife. I hand-carved, shaped, lapped, and polished this case of Crystal Yellow Granite from Gujarat, West India. This granite has light yellowish-pink hues in bright light that compliments the agate knife handle well. This is a tough and hard granite composed of quartz, feldspar and mica. It has no veining and has a uniform finish, and I lapped and polished it throughout, even on the inside surfaces. The inside is carved to accept the knife, with finger cutouts for easy removal, and is lined with tan suede leather for protection of the knife. The lid has keyed holes which engage 304 stainless steel buttons. I inlayed neoprene feet in the bottom so the case can safely rest on any surface.
A special ensemble of stone and metals; a work of knife art.
Thanks, G. D.!
Hi Jay,
I did receive the knife and have been so busy showing it off to many of my friends that I neglected to send you an e-mail. I love the knife and agate handle. As always, you have created something I will cherish. You are the greatest.
--G.
---
---