Gemini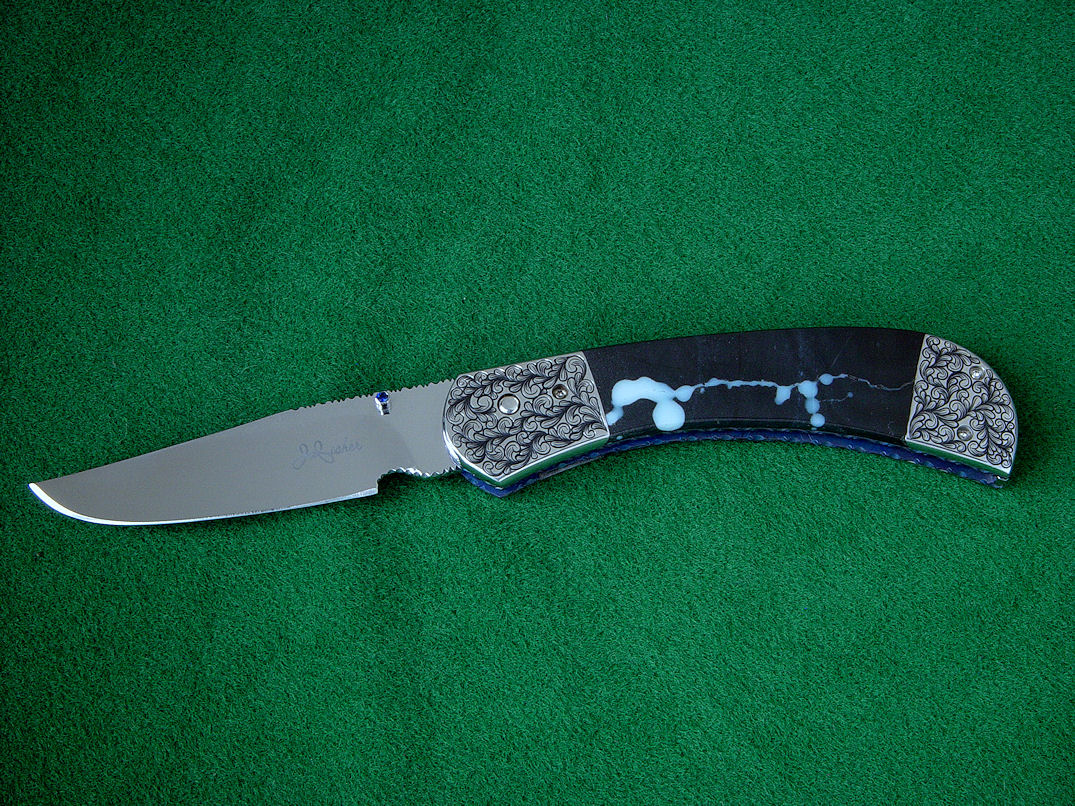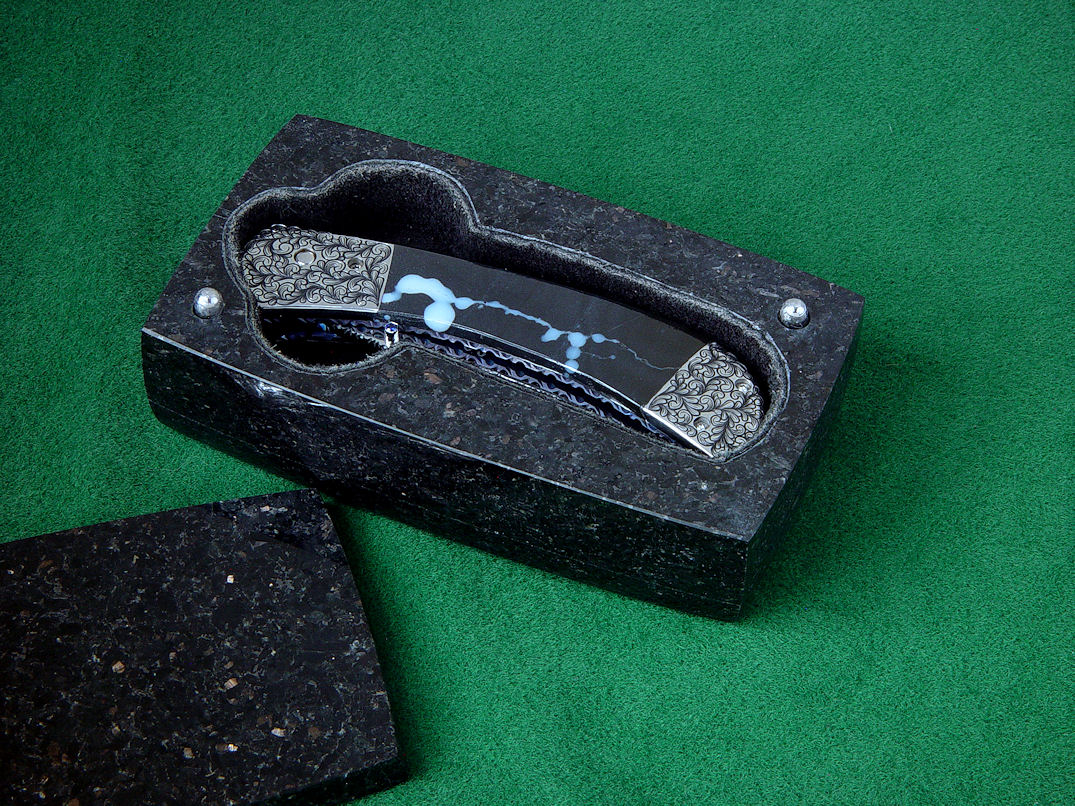 "Gemini" Fine Handmade Folding Knife
Type: Liner lock folding knife in stone case
Size: Length overall open: 6.625" (16.8 cm), Length overall closed: 3.875" (9.9 cm) Blade Length: 2.75" (7.0 cm) Blade Thickness: .113" ( 2.9 mm)
Case size: 4.5" (11.4 cm) wide, 2.5" (6.4 cm) deep, 1.3" (3.3 cm) high
Weight: Knife: 3.5 oz. (99 grams) , Case: 1 lb. 1 oz. (482 grams)
Blade: Mirror polished 440C high chromium stainless tool steel, hardened and tempered to Rockwell C58
Thumb Studs: 304 Stainless Steel set with Faceted Blue Sapphires
Bolsters: Hand-engraved 304 Austenitic Stainless Steel
Liners: Anodized 6AL4V Titanium
Handle: Polished Moss Agate Gemstone
Case: Black Galaxy Granite, suede leather, neoprene feet
Knife: This Gemini is one of my popular folding knives for good reason. The knife has attractive lines in a great design, and is outfitted with premium materials, embellishment, and finish. This Gemini has a cleanly and accurately hollow ground and mirror polished 440C high chromium stainless tool steel blade, razor-sharp. This is a beautiful steel that is highly corrosion resistant, very tough, and very wear resistant. This is why this steel is my most often requested stainless tool steels and is suitable for all types of knife, from combat and tactical weapons to high art sculptural pieces. This Gemini has full filework in a small cross and arrow pattern, that extends from the blade spine through the spacer spine of the handle, to the sculpted choil, and is even on the inside of the handle spacer: all mirror polished and finished in high detail. The blade has a pair of petite thumb studs made in 304 stainless steel, and I set them with fine 2 mm sapphires to compliment the blue of the liners. The liners are 6AL4V titanium, chosen for its great toughness and light weight, and I fully fileworked them with a detailed vine pattern, and then anodized them for a wear resistant finish of cobalt blue. The knife is bolstered with zero-care 304 high nickel, high chromium stainless steel for the greatest longevity and strength, and I spent considerable time hand-engraving the bolsters with a very small and detailed scroll pattern with rounded and droplet forms to match the design and color pattern on the gemstone handle scales. 304 stainless is a very difficult material to hand-engrave and this is why you will rarely see it on any knife. It is the same stainless steel used to make highly corrosion resistant and super-tough bolts, nuts, and fasteners, and all of the fittings, internal parts and machine screws of this knife are 304. This is why I prefer it on my knives; simply put, it is a far superior, premium material that others do not use because of the difficulty of working with it. The bolsters are dovetailed and bed and lock a pair of unusual and unique gemstone handle scales. These are Moss Agate, an extremely tough microcrystalline quartz that is rare in this color or pattern. So rare is this type of Moss Agate that this is the only piece I've seen large enough for a knife handle, and I doubt I'll ever see more! This means a lot, considering I've made literally thousands of gemstone handled knives, more than any other maker on earth. One wonders about the environment, exposures, and time that it took to create this droplet pattern in the highly contrasting colors of this stone. The agate is hard, tough, and durable, and will easily outlast the metal components of the knife with little or no care. I cut, shaped, ground, and polished it to a bright, glassy finish that feels wonderful and smooth. The knife is easily opened and unlocked with the thumbnail, and the action is smooth and tight.
Case: It was an easy choice to create an everlasting sarcophagus both unique and bold for this Gemini and I chose Black Galaxy Granite from India. I took considerable time to cut, carve, shape, grind, lap, polish, and finish this case. This is gabbric anorthosite, and is a hard, tough, and very durable granite. It has inclusions of bronzite (enstatine) which create a coppery spangled reflection in the light which varies depending on the angle and light. This is a beautiful granite, with no veining and a uniform finish, lapped and polished throughout, even on the inside surfaces, and it feels great to the touch. The inside is carved to accept the knife, with finger cutouts for easy removal, and is lined with black suede leather for protection of the knife. The lid has keyed holes which engage 304 stainless steel studs for a matched fit. I inlayed neoprene feet in the bottom so the case can safely rest on any surface without scratching.
A classy, well-made, beautiful, and attractive investment knife for the collector stored in a fitting and perpetual stone case.
Thanks, G. L.!
Dear Jay,
Just a quick note to let you know that the Gemini arrived yesterday in excellent condition. Sufficed to say, it certainly exceeded all of my expectations in terms of design, aesthetics, workmanship, fit, and finish, and I am completely delighted with it.
My thanks to you again for another wonderful knife to add to my small collection.
(By the way, the packaging you employed was exceptional - I truly believe that FedEx could have played soccer with that package without inflicting any damage whatsoever to the contents.)
--G.
---
---