Gemini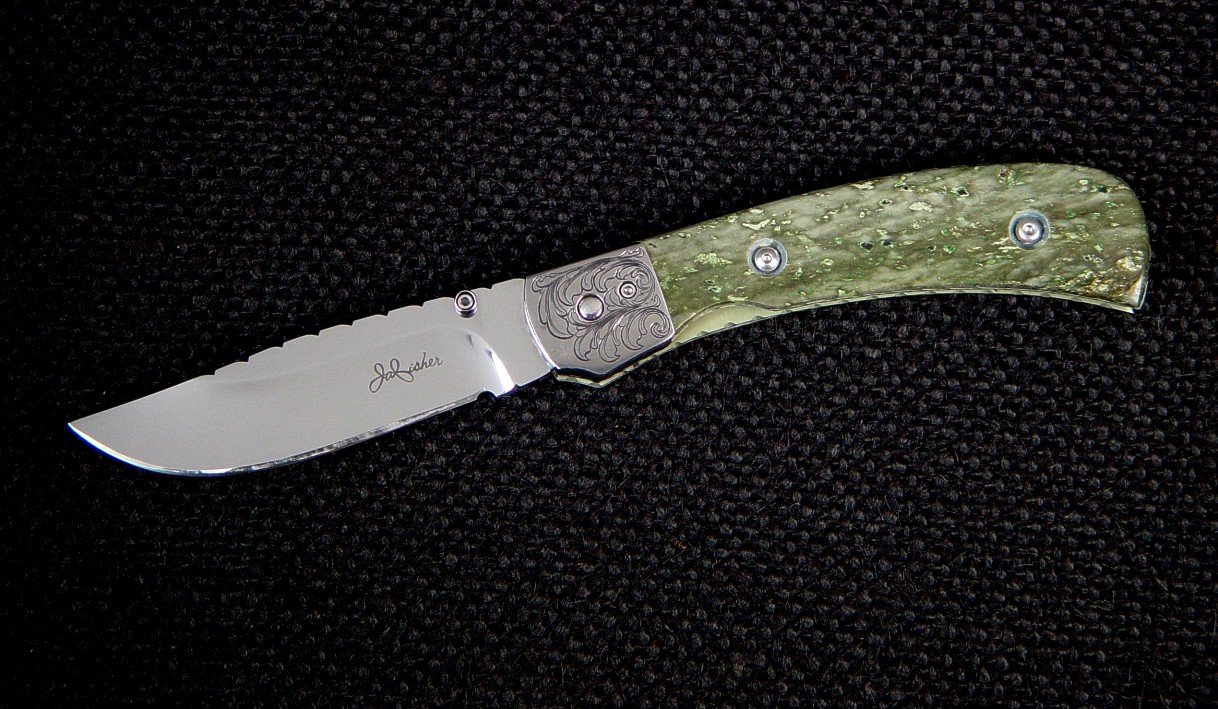 Gemini Liner lock folding knife
Size: Length overall: 6.7" (17.0 cm), Blade Length: 2.8" (7.2 cm), Length Closed: 3.8" (9.7 cm), Thickness: .125" (.32 cm)
Weight: Knife: 3.4 oz.
Blade: 440C High Chromium Martensitic Stainless Tool Steel, Hardened and Tempered to Rockwell C59, hollow ground and mirror polished
Fittings/Bolsters: 304 Austenitic Stainless Steel, satin finished, hand-engraved by Jay
Liners: Green-gold anodized 6AL4V titanium, fully fileworked
Handle: Polished Nephrite Jade Gemstone
Knife: This is an intricately made custom liner lock folding knife, a fine collector's work of art that fits in the palm of the hand. The style is my popular Gemini design, and I made this one with a mirror polished, hollow ground 440C high chromium martensitic stainless steel blade, with fully engraved filework in my "speed" pattern extending into the 440C spacer, and extending to the inside of the handle. The spacer, like the blade, is hardened and tempered for great strength, wear resistance, and corrosion resistance. The blade opens smoothly with 304 stainless thumb studs, small and polished for a reduced, comfortable profile. The knife is bolstered with 304 stainless steel, and I've engraved a light, accurate leafy pattern that goes well with the jade. The jade is nephrite jade, from a residual boulder deposited in Wyoming in the last ice age by a glacier. The handle is well-secured with 18-8 stainless steel screws to the liners. I fully fileworked and anodized the 6AL4V titanium liners with a golden-green color that blends seamlessly with the handle material. A very fine, investment grade folding knife.
Thanks, M. P.!
Jay,
My Dad received the knife and is very pleased. It exceeded his expectations and he's very happy to own a Jay Fisher folder.
Thanks much and take care,
M.
---
---