Grim Reaper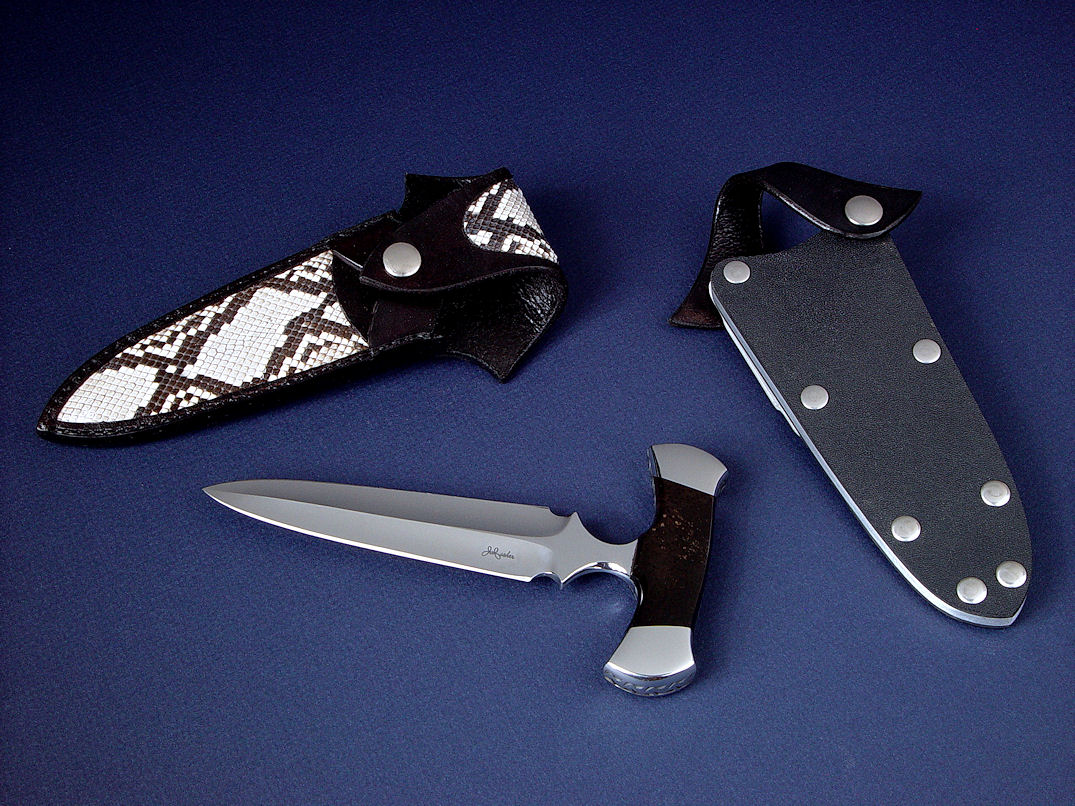 "Grim Reaper" Push Dagger
Size: Length overall: 7.5" (19.1 cm), Blade Length:5.5" (14.0 cm), Thickness: .240" (6.1 mm)
Weight: Knife: 10.2 oz. (289 grams) Sheath, Kydex: 8.8 oz. (250 grams), Python/Leather: 4.5 oz. (128 grams)
Blade: ATS-34 High Molybdenum Tool Steel, Hardened and Tempered to Rockwell C60
Bolsters, Fittings: 304 High Nickel-Chromium Stainless Steel
Handle: Petrified Palm Wood (Jasper) Gemstone
Sheath: Kydex, Aluminum, Nickel Plated Steel, Leather Retainer
Sheath: Python Skin Inlaid in Hand-carved Leather Shoulder
Knife: The Grim Reaper is a great push/punch dagger, with a design that is combat-proven in OIF and OEF. This Reaper is made of ATS-34 high molybdenum stainless tool steel, chosen for its great toughness and high wear-resistance. ATS-34 also has extremely high heat resistance, and will not change temper unless exposed to over 1000 degrees Fahrenheit. The blade is long, double-edged, and double hollow ground with a tight radius, 3" contact wheel for a very strong and thick spine, yet very thin and razor-keen cutting edges. The knife has a devastating point, true to the history and use of the push dagger. The blade is beautifully mirror polished, with crisp, clean matched grinds, well-radiused grind terminations, and high corrosion resistance. The high hardness (60 Rockwell on the C scale) is possible because of the improved and excellent toughness of this fine modern tool steel. Being ground from thick 1/4" stock, the center neck at the ricasso supports the long blade well, while the contouring and polishing of the surfaces mean a comfortable feel for this substantial knife. The full width tang is milled to balance the weight of the dagger exactly at the neck. I fully fileworked the tang with a deep, bold vine pattern, and the mirror finish is easy to maintain, with high corrosion resistance. The handle is bolstered with zero-care 304 high nickel, high chromium austenitic stainless steel, the same steel used to make highly corrosion resistant stainless steel bolts and fasteners. The tough bolsters are dovetailed and bed a pair of very hard; and fascinating Petrified Palm Wood Jasper gemstone handle scales. Fine petrified Palm wood is highly desired by lapidaries, because it has distinct and identifiable grain pattern. These scales I've cut on the end grain, so you can see the very characteristic dotted pattern of the wood, with inclusions of some lighter tan colors and even a few tiny red (iron bearing jasper) dots. The dark intricate dots remind me of a black jungle jaguar, and the Palm Wood undoubtedly originated in the jungle, millions of years ago. The jasper is very hard, tough, and has a glassy polish that is smooth and inviting to the hand. The handle will outlast the knife and sheaths and me (and you), too! The knife feels solid and stout in the hand, and the handle shape at the bolster profile is just right for the thumb.
Sheath, Kydex: The first sheath is one of my kydex tension fit models, in double thickness thermoformed methylacrylate/polyvinylchloride over a 5052H32 corrosion resistant high strength aluminum welt frame, secured with nickel plated steel Chicago screws. This sheath has die-formed aluminum belt loops that are reversible and can also be moved to high-low locations on the sheath. The knife is retained with a thick 9-10 oz. leather strap that is secured with nickel plated steel snaps, secured to the sheath with stainless steel machine screws. This sheath can be worn in a variety of locations and positions, keeping the dagger ready and accessible.
Sheath, Leather: Keeping with the jungle theme, I also included a 9-10 oz., leather shoulder, hand-carved and inlaid sheath with full, beautiful Python skin inlaid panels on the front, back, and even in the belt loop. The dagger is retained with a protective flap and a nickel plated steel snap, and the entire sheath is hand-stitched with tough black nylon, dyed black, lacquered, and sealed.
A great primary edged weapon, with both tactical and legacy style and accessories.
Thanks, J.C.!
---
I just got the piece of art. The knife is bad ass. It cuts anything with very little effort. I work in building high end homes and your knife is one of the nicest workable art pieces that I have ever seen. Thank for the great knife; can't wait to see the others!
Thanks,
J.
---
---