Hestia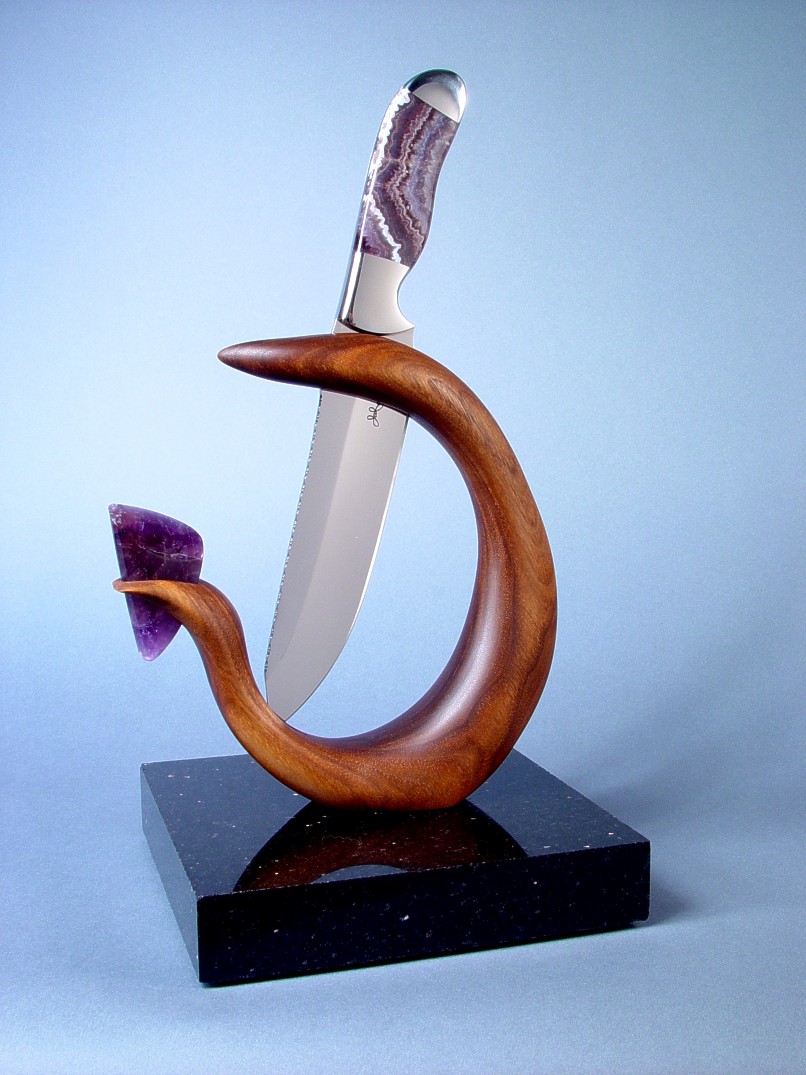 "Hestia" Fine Chef's Knife
Size: Knife: Length overall: 10.25" (26.0 cm), Blade Length: 6.0" (15.2 cm), Thickness: .130" (53.3 mm)
Size: Knife and Stand: Height: 13.0" (33.0 cm), Width: 6.75" (17.1 cm), Depth: 6.25" (15.9 cm)
Weight: Knife: 8.3 oz. Stand: 5 lbs., 6 oz.
Blade: 440C High Chromium Martensitic Stainless Steel, Hardened and Tempered to Rockwell C59, hollow ground and mirror finished
Bolsters, Fittings: 304 Austenitic Stainless Steel, mirror finished
Handle: Lace Amethyst Gemstone
Stand: American Black Walnut, Amethyst, Black Galaxy Granite
Knife: A striking display piece for chef in the kitchen, Hestia is named for the Greek goddess of hearth and home. The blade style is a clip point, for good strength at the tip in combination with a deep, thin, razor-keen hollow grind. The 440C high chromium martensitic stainless steel has some of the highest corrosion resistance of any knife steel, and the bright mirror polish brings out the character of the steel while aiding in corrosion resistance. If you already have one of my 440C blades, you know of the appearance and reputation of this fine steel. This one I've tempered to be relatively hard, for great wear resistance. I've been using my own 440C chef's knife in my kitchen for over 20 years, and it's still a great blade. Hestia's blade size is comfortable, not too large, a reasonable size for many chef's chores. I added my "Royale" filework pattern just on the spine of the knife, to aid in traction, but did not include any filework on the handle that would trap moisture or debris. The bolsters are zero-care 304 high nickel, high chromium austenitic stainless steel for strength and longevity. They're dovetailed and hold a bedded, perfectly book matched pair of Lace Amethyst gemstone handle scales. This hard and durable purple-violet gemstone has a history of being a prized and revered historic stone, chosen by kings and popes, as well as being the birthstone for February. It's one of the Bible's 12 foundation stones. Amethyst derives its color from ferric iron (how fitting for a knife handle), with some manganese and titanium. In the handle, I selected a large, arching pattern of geodic amethyst crystalline forms, with transparent purple areas and milky quartz banding with miniscule shapes and waves that beg detailed viewing with a powerful magnifier. This is a gem that has stunning character; it's more magnificent the closer you look at it. You've also noticed the solid Amethyst gem that I hand-carved and polished mounted in the stand. I've made it removable, so you can hold it up to the light and feel the weight and polish of this beautiful gem. Special note: do not keep this stone in high heat or bright light, or the rich color will fade. The handle is smooth and polished, comfortable in small to medium sized hands, but even in my large hand it feels great.
Stand: I've hand-carved and oil/wax finished a flowing, sculpted piece of American Black Walnut hardwood to hold and display the knife and the solid Amethyst gem. I wanted the piece to be very stable, so the walnut is securely mounted to a hefty block of Indian Black Galaxy Granite, which has mixed orthoclase and feldspar crystals and floating flakes of bright, shiny copper. With rubber feet to protect your counter or display area, this five pound stand is extremely stable, and displays the knife magnificently.
Thanks, T. P.!
Jay,
Hestia arrived today. I couldn't be more impressed with your workmanship. The fit and finish on this knife is superb. The balance is perfect. The hollow grind edge is razor sharp. The filework is exact, consistent and beautiful and the gemstone handle is amazing. I could not resist taking a closer look so I hit the knife with a strong broad spectrum light and examined it through a magnifying glass. The detail and pattern in the lace amethyst handle is a natural complex wonder. I will proudly display and use Hestia and try to determine which, if any, of my relatives is one day deserving to inherit this piece of knife art.
Sincerely, T. P.
---
---