Hooded Warrior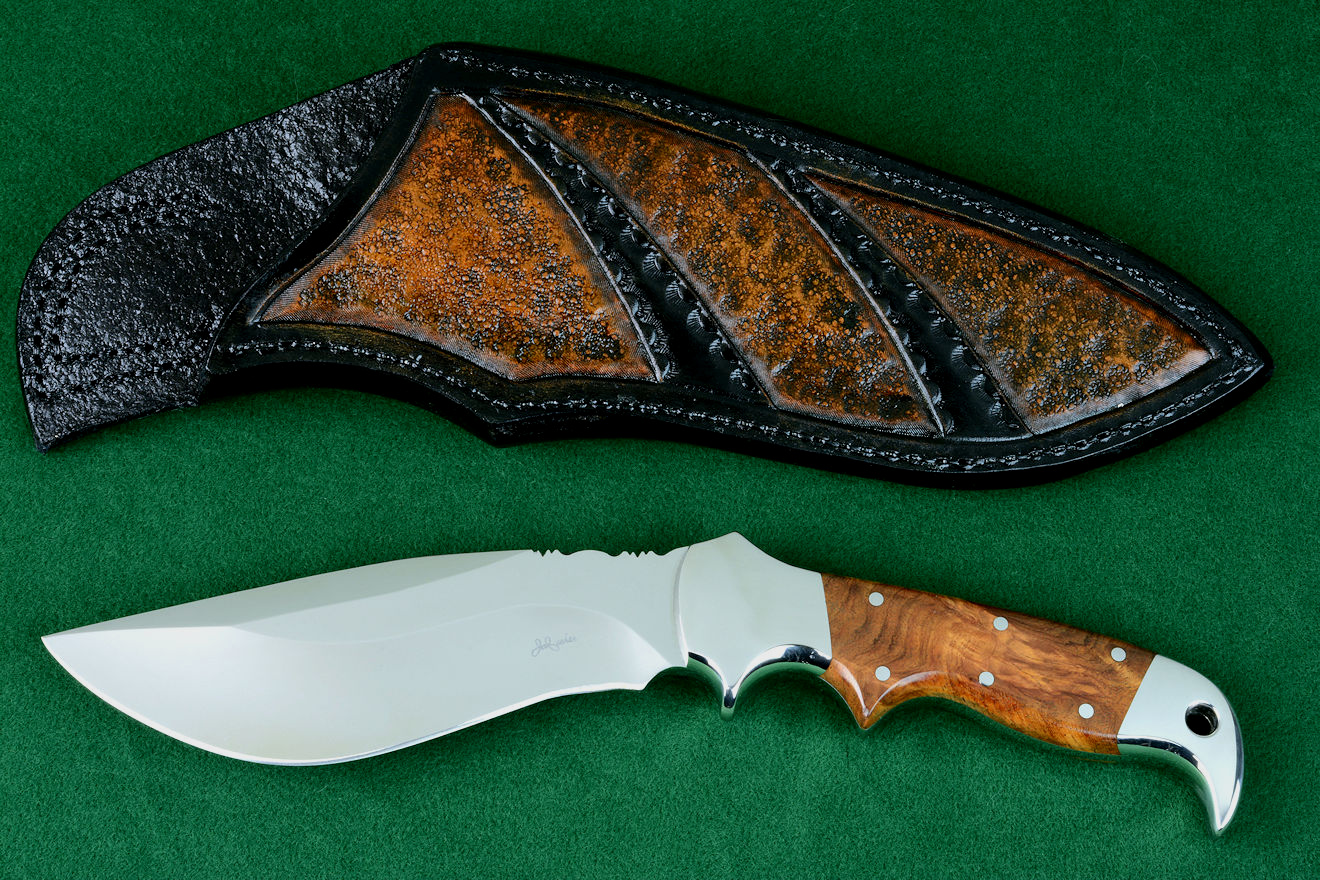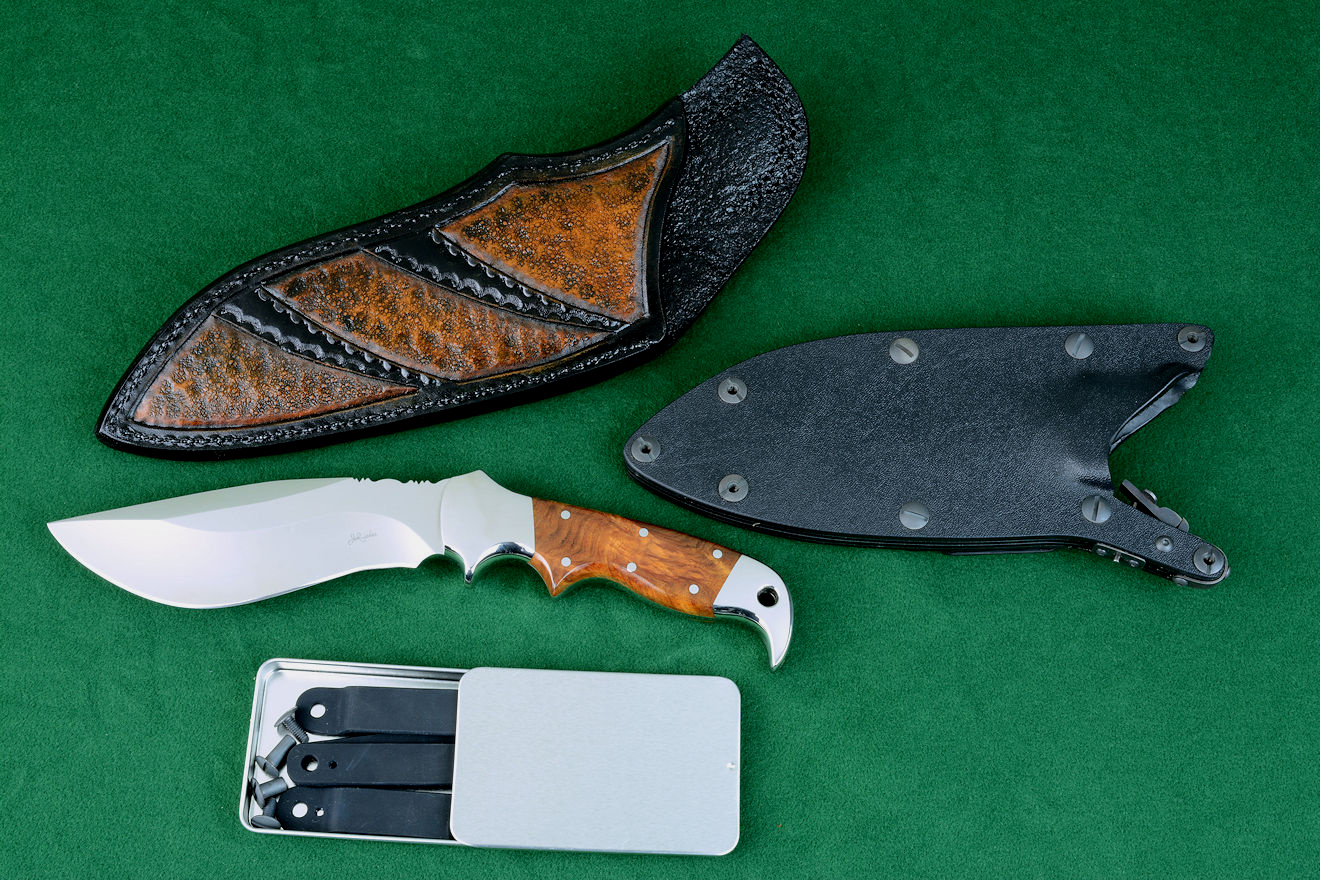 "Hooded Warrior" Tactical, Working, Collector's Knife
Size: Length overall: 10.5" 26.7 cm), Blade Length: 5.5" (13.9 cm), Maximum Blade Width: 1.75" (4.5 cm), Thickness (max): .262" (6.7 mm)
Weight: Knife: 14.8 oz. (420 grams) Sheath (Leather): 6.4 oz. (181 grams), Sheath (Locking Kydex): 10.2 oz. (289 grams)
Blade: 440C High Chromium Martensitic Stainless Tool Steel, Cryogenically Treated, Hardened and Tempered to 61.5HRC
Bolsters, Fittings: 304 Austenitic Stainless Steel
Handle: Amboyna Burl hardwood
Sheath: Hand-tooled, hand-dyed leather shoulder
Sheath: Locking kydex, anodized aluminum, blackened stainless steel
Knife: The Hooded Warrior is one of my best knives, designed with and originally made for a sniper in the 101st Airborne who served in Operation Iraqi Freedom. It's been a popular knife because it's a great style, with khukri-like recurve and a solid, sculpted and comfortable secure handle. I thought it would be great to offer one that has the tactical styling and function, but have a beautiful finish of a fine working tool, since this knife crosses so many realms from use to defense, to collection. Truly, it's a hybrid style made to function in many realms. This knife blade is made in 440C high chromium stainless steel, one of my most popular requested tactical and working knife steels because it has a great reputation of being hard, tough, extremely wear resistant with extremely high corrosion resistance, the best available in a hard and tough high alloy hypereutectoid stainless steel. I hollow ground the blade with a deep, accurate, matched grind, with plenty of spine strength for support and a thin, razor keen cutting edge. The blade has a half-length top swage to reduce point profile without sacrificing spine strength, and the blade has a very lustrous and beautiful mirror polish for not only a distinctive look but tremendously easy cleaning and extremely high corrosion resistance. I took this blade to its maximum performance level by cryogenic treatment and cryogenic cycling through the triple tempering process for the maximum conversion of martensite, maximum precipitation of chromium and iron carbides, and maximum thermal cycling for toughness and stability. This is the best this steel can possibly be treated, and that allows me to set the hardness high (at 61.5 Rockwell C) for extreme wear resistance and still have high toughness. The fully tapered tang has my "breaking wave" filework on the spine only, while the underside (or inside) of the tang is smooth for a great feel and easy cleaning. The knife is bolstered with high nickel, high chromium 304 austenitic stainless steel for the ultimate in zero-care and zero corrosion, and the bolsters are smoothed, rounded polished and finished for comfort; the rear bolster has a .250" chamfered and polished lanyard hole for extra security. The bolsters are attached with zero-clearance peened pins for absolute security and solidity, and are dovetailed to bed a pair of Amboyna Burl hardwood handle scales. Amboyna burl is a very hard, tough wood, and is listed in many sources as being the most expensive and most sought after of all burl woods. I chose and oriented a piece that offers some interesting visual features and figure, while being solid and tough for this very tough knife application. It's bedded to the tang and secured with six one-eighth inch through-tang 304 stainless steel pins for absolute permanence. All surfaces of the deeply contoured handle are rounded, smoothed, and finished, and the knife is comfortable and solid in the hand. The balance point is exactly at the forefinger location for a neutral feel.
Sheath (1): I wanted to include two sheaths for maximum adaptability and wear options. The first sheath I made in 9-10 oz. thick, heavy, hardened leather shoulder, and I hand-tooled the sheath followed by hand-dying for a distinctive look that compliments the handle. The sheath is tooled throughout, even at the belt loop and back. The belt loop is double-row stitched for durability, and the high back protects the wearer. The knife sits deep in the sheath but offers just enough handle for quick unsheathing. The entire sheath is hand-stitched with polyester sinew and sealed with acrylic for stability and resistance to the elements.
Sheath (2): The second sheath for this knife is one of my waterproof locking kydex models. This is made in double thickness kydex, twice as thick as most knife makers and companies use, and it's hot-formed to the knife. The sheath has solid aluminum welts of 5052 corrosion resistant high strength aluminum alloy, at H32 hardness, and I've anodized every aluminum component on the sheath in a flat black. That's the welts, the belt loops (two pairs: one for .190" and one for .250" belts), and the flat belt straps that allow the sheath to be fixed rigidly to all tactical webbing arrangements. The fixtures, hardware, and locking components of the sheath are all stainless steel, and I've blackened them with a passive oxide for a muted and matching appearance. This is, simply, the best locking sheath made today, and this is why these sheaths are so popular.
A tough, durable, and beautiful knife and ensemble that crosses the frontiers of working tool, tactical weapon, and collector's piece in a functional work of art.
Thanks, B. S.!
---
Howdy Jay,
Short version:
The attention paid to every detail during the creation of this package (piece of kit) is perfect. I am speechless. ~~~~~~~~~~~~~~~~~~~~~~~~~~~~~~~~~~~~~~~~~~~~~~~~~~~~~~~~~~~~~~~~~~~~~~~~~~~~~~~~~~~~~~~~~~~~~~~~~~~~~~~~~~~~~~~
More comprehensive evaluation:
The sheet of paper included with use / care instructions written by Tom Clancy sums up your blending of old school craftsmanship with modern materials. My understanding of old world craftsmanship has it's roots in my youth. My parents moved to a farm house in Eastern PA when I was eight years old. I still own that property. That house was built in the 1700's and has three foot thick hand laid stone walls, so every window sill is a place to sit, if one wishes. My neighbors are Amish and their barn burned down one fall (wet hay). Within two weeks the community had the structure replaced, no heavy equipment, just men working in the woods with women providing support. Nice way to grow up.
Back to your blades:
Willow:
As you may recall I have one of the Willow blade / sheath packages. Creating the Willow series must have been challenging, just for the tiny size alone. The comparison of the new and older sheaths also provides a historical development cycle that has moved towards more artistic/aesthetically pleasing and durable products.
Hooded Warrior:
I am trying to break through "speechless" mode. Each work you craft takes on a unique character during the process. I have seen other examples of the Hooded Warrior pattern and they differ in subtle ways. The blade is so beautiful that I'm tempted to never use it. At 61.5 HRC it should perform extremely well, yep, I can sharpen that. I've been sharpening most of my life, I now follow the recommendations of John Juranitch, I cheat a bit with a 1" X 30" grinder when I can.
The leather sheath is perfect for display or dress wear. I have no idea where I would don that tool in a more formal setting, I think you get my drift. Set aside the fact that I avoid "formal" stuff. Not my cup of tea.
The field sheath speaks differently to me. That sheath is for me, a working man. The blade and sheath are a team. I do not know of any other craftsman that marries the blade and sheath this well. I wish to thank you for allowing me to purchase this package. This is a most suitable piece of kit for my future needs.
This is my Hooded Warrior.
There are others like it.
This one is mine.
I sincerely thank you.
That is all.
B. S.
---
Howdy Jay,
This evening I wore the piece of kit for the first time (Hooded Warrior).
Dude, you knocked it out of the park.
This assembly fits like I was born with it.
That is all.
B.S.
---
---