"Hooded Warrior"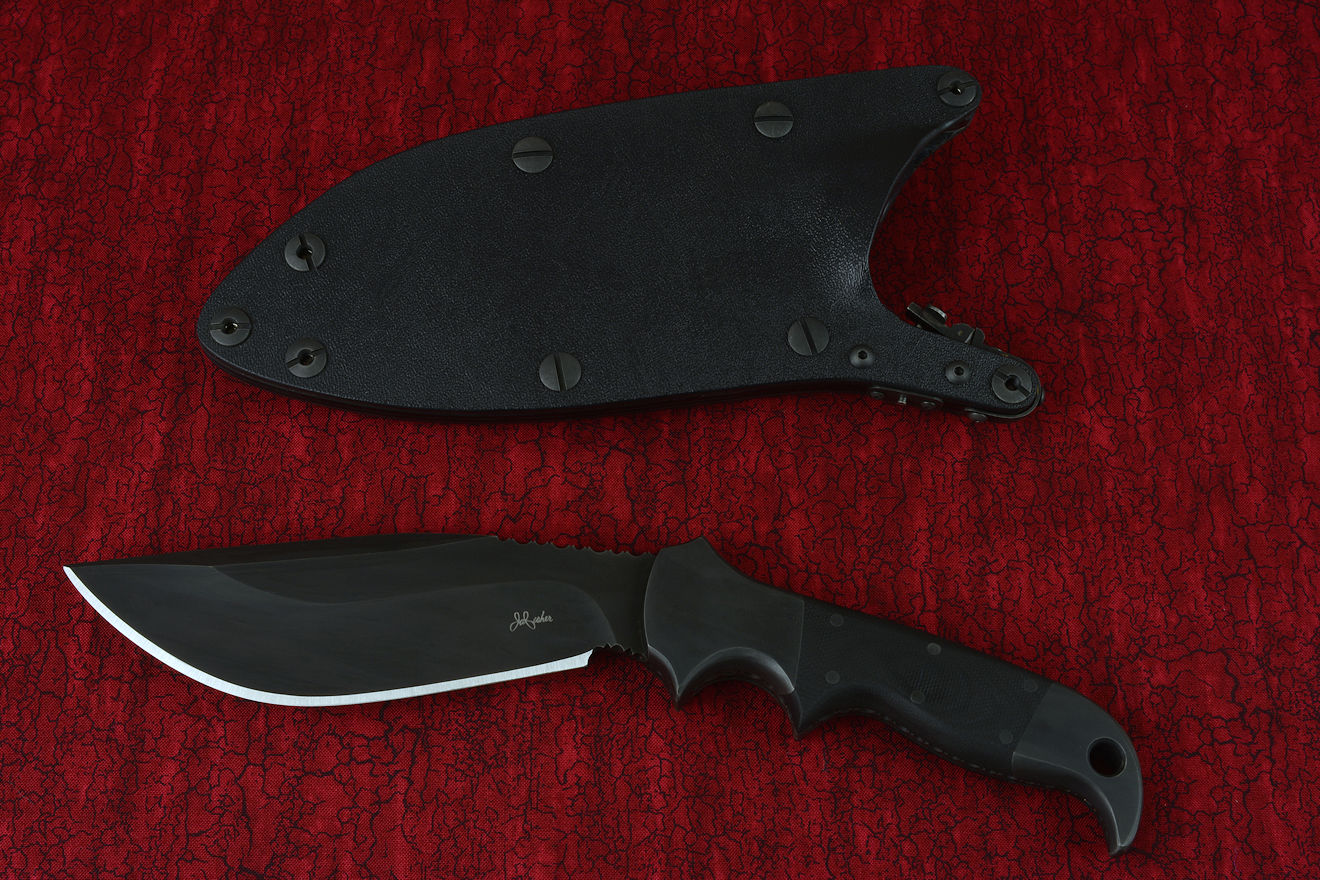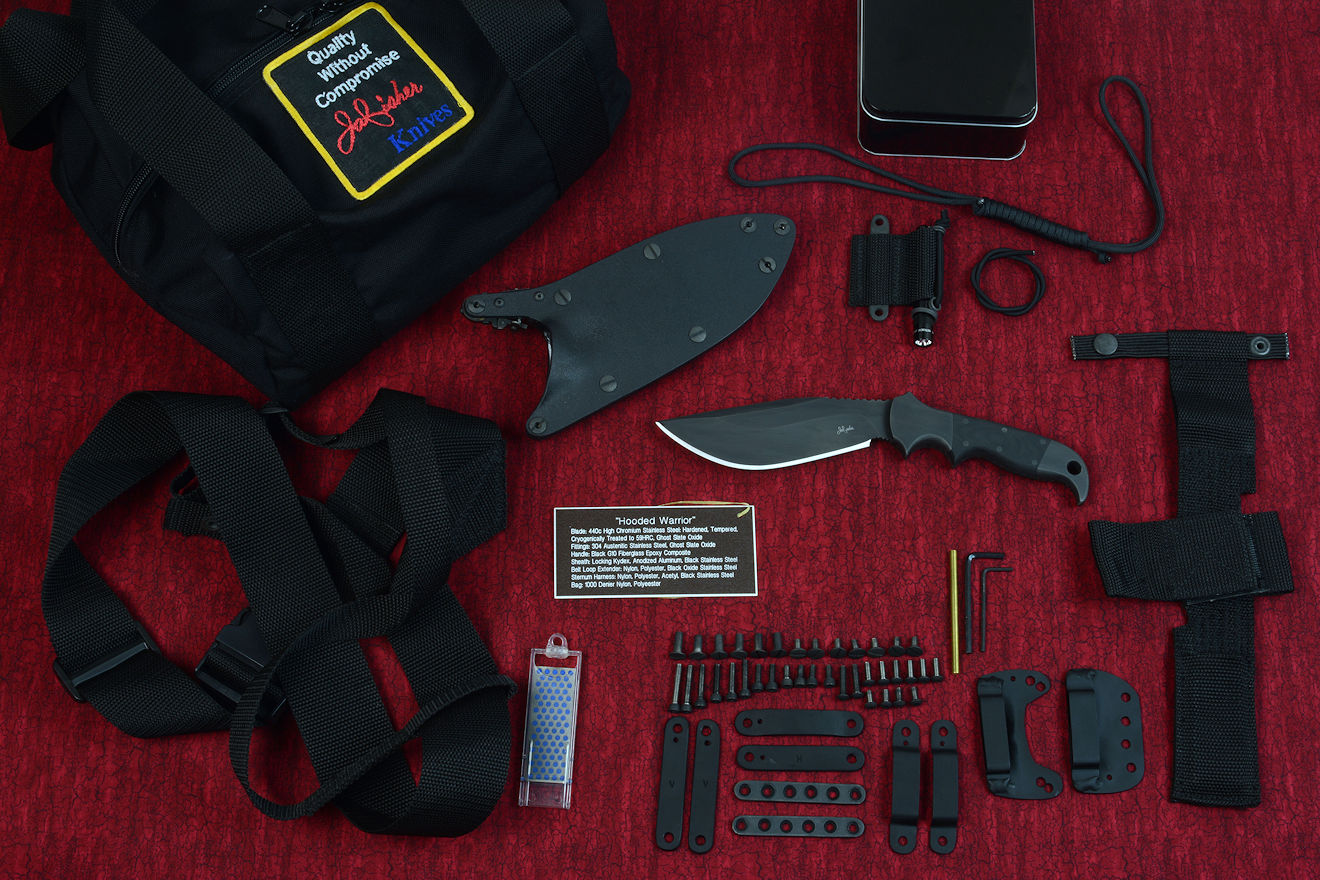 "Hooded Warrior" Tactical Combat, Counterterrorism Knife (Shadow Line)
All Matching in non-reflective flat black camouflage
Size: Length overall: 10.5" (26.7 cm), Blade Length: 5.6" (14.2 cm), Thickness: .208" (5.3 mm)
Weight: Knife: 13.3 oz. (377 grams), Sheath: 10.3 oz. (292 grams)
Blade: 440C High Chromium Martensitic Stainless Tool Steel, Hardened and Tempered, Cryogenically treated to Rockwell C59, proprietary surface oxide treatment "Ghost Slate."
Bolsters/Fittings: 304 High Nickel, High Chromium Austenitic Stainless Steel, proprietary surface oxide treatment "Ghost Slate."
Handle: G10 Fiberglass/Epoxy Composite
Sheath: Locking in Black Kydex, Black Anodized Aluminum Alloy, Blackened Stainless Steel
Accessories:

Belt Loop Extender: black polypropylene, nylon, polyester, blackened stainless steel, DMT diamond sharpener
Sternum Harness Plus: black polypropylene, nylon, polyester, blackened stainless steel
LIMA: (Lamp Independent Mount Assembly) Polypropylene stitched with high strength polyester, 304 stainless steel fittings and hardware with Maglite LED Solitaire and stainless retainer, all blackened
Belt plates, loops: 5052 H32 high strength aluminum alloy anodized black, 304 stainless steel, Blackened
Lanyards: 550 Nylon Kernmantle Rope (Paracord)
Duffle Bag: 1000 denier Cordura® nylon, waterproof polyurethane coated, nylon, polyester, closed cell foam

Knife: The Hooded Warrior is a great knife, originally designed for a sniper in the 101st Airborne for his use in combat, the design is one that I've made a variety of ways, because its a fantastic knife. This is a knife that is used by my counterterrorism professionals as well as in military combat, combat search and rescue, and Principal Security Details. The blade design has a lot of belly and plenty of point, with an aggressive top swage that reduces point profile without sacrificing strength. This Hooded Warrior is fully treated and equipped; I've made the blade in 440C extremely high chromium martensitic stainless steel for the ultimate in extreme corrosion resistance and high wear resistance with very good toughness throughout. This is not just any 440C blade; I applied my best and most detailed heat treating process with an extremely long 60 hour cryogenic soak. Heat treatment alone on this knife takes 15 steps and 95 hours, including triple tempering with deep cryogenic thermal cycling between tempers cycles. This creates an extremely strong, tremendously wear resistant, and extremely corrosion resistant stainless tool steel; with complete martensitic conversion, carbide precipitation, and fine asperity, simply put, the best it can possibly be for any knife. The blade is razor-keen and it premium condition to remain so for the longest time and heaviest use possible. The blade has a fully tapered tang with full filework for handmade distinction and improved grip control, and the knife is bolstered with zero-care high nickel, high chromium 304 austenitic stainless steel. You wouldn't immediately recognize the all stainless steel build in the black treatment, but this is an entirely waterproof knife, suitable for marine applications. The rear bolster has a large 5/16" diameter chamfered lanyard hole for security when needed. Six through-tang 304 stainless steel pins secure the dovetailed and bedded G10 fiberglass/epoxy composite handle material, and the entire knife has my "Ghost Slate" non-reflective darkening finish for subdued appearance and low reflectivity. This is not a coating, paint, or plating, this is the very surface of the stainless tool steel. Make no mistake, this is a highly corrosion resistant stainless steel assembly suited for marine salt water exposures, yet is blackened and stealthy, suitable for combat, survival, law enforcement, protective detail, and even counterterrorism operations. Read more about my "Shadow" line of knives. The handle has a great form, and the hand positively locks into the curves for maximum control. The knife feels extremely well-balanced and quick in the hand, lightweight with substance, and the balance point is exactly at the forefinger placement in forward grip. The knife grips well in reverse, as well, with the thumb easily wrapped over the handle butt to apply force.
Sheath: I've included my best locking tactical sheath, the very best locking sheath made in the world today. It's made of double-thickness black kydex, bonded and sealed over a frame of black anodized 5052 H32 corrosion-resistant, high strength aluminum alloy. The near-ceramic hard coating on the aluminum is permanently dyed black and specially sealed against fading even in long-term ultraviolet sunlight exposure. The sheath is built with all 304 stainless steel hardware and fasteners, and with an extremely corrosion-resistant 316 stainless steel locking mechanism for reliability, no matter what the sheath is exposed to. The sheath is sealed with waterproof bonding and the inside is permanently coated and prevents the blade steel from contacting any metal of the welt frame. The lockup is quick and secure, solid and strong, so the knife can be worn in any position, even upside down. This is absolutely, positively, the very best locking sheath made in the world. The sheath frame features my integrated spacing so that my accessories and mounts can be used (below). The sheath is entirely reversible for a huge variety of wearing options with the equipment included.
Ultimate Belt Loop Extender (UBLX): I included my Ultimate survival, CSAR tactical, and counterterrorism sheath belt loop extension with outstanding and critical features and devices. The polypropylene, nylon, and polyester accessory is waterproof, durable, and extremely stout, and lowers the locking knife sheath to be worn in a more traditional belt position with the knife handle at the hip. The extension is mounted with counter-bored and dressed 304 stainless steel straps and stainless steel socket head cap screws attached to the existing stainless Chicago screws, and the assembly is stiffened by multiple zigzag polyester stitching to prevent the extension from folding, bending, or collapsing when the knife is extracted from the sheath. The belt loop is 2 inches wide for standard tactical belts, and has a top placement elastic bungee shock cord with snap retention to prevent the knife handle from flopping around during active movements. Even the dot-snap assembly is all stainless steel and is media-blasted and blackened for non-glare. The shock cord is not for retention of the knife; this is done with the stainless steel sheath lock; it just stops the handle from flopping around during very active moments (running, climbing, crawling). At the lower back of the extension I've included a custom fit pocket for a DMT (Diamond Machining Technology) Mini-Sharp diamond-nickel abrasive hone, to bring up the cutting edge in the field with ease, even on this high alloy wear resistant blade. These are great tools that can re-sharpen or just touch up even the hardest tool steel edges, as they are surface-bonded with diamond abrasives. The pocket for this tool is situated at the sheath back and against the body, so the sharpener can not be removed unless the sheath is off the body and the industrial strength Velcro closure is open. Read more about the UBLX at this link.
Sternum Harness Plus: The sternum harness I've included is the result of input from my military and counterterrorism clients. It allows the knife to be worn, handle down, angled across the sternum, on top of any other tactical gear. This harness is made of polypropylene and stitched with polyester for rot-free, high strength longevity, and the buckles and straps are tough Acetyl plastic with 110 lbs. breaking strength. The harness can be donned and doffed quickly and simply, and the "plus" is the additional one-inch wide stabilizing strap and buckle that creates an "X" strap around the torso, to prevent movement in any position of the wearer. Even the removable X-strap assembly has a snap that is non-glare, and made of stainless steel for zero-care and high corrosion resistance.
LIMA Emergency Lamp (Lamp Independent Mount Assembly): An important lesson I learned from my military and counterterrorism clients is the addition of the emergency lamp. The LIMA is a special socket in thick and wide polypropylene stitched with polyester for durability and rot resistance, and it accommodates a LED Maglite Solitaire. This little light puts out, at 37 lumens for over an hour and a half, it can reach out 180 feet and give you enough light to get to safety, and the entire assembly is extremely lightweight and water resistant. The LIMA is secured with a 304 stainless steel strap and screws and mounts anywhere along the sheath welts where I have the critical 2.5" spacing. The retaining strap rings are also 304 stainless, and the 3/16" shock cord is easily replaceable if needed, and replacement shock cord is included.
Horizontal Belt Loop Plates: Answering the call of my counterterrorism and military clients, I've included a pair of horizontal belt loop plates for this knife sheath. These bolt onto either side of the sheath using included hardware, and are 5052H32 high strength corrosion resistant aluminum alloy, completely anodized and permanently dyed black with a near-ceramic hard surface. They are welded for durability, and light weight. They allow horizontal wear of any belt up to 1.5" wide, and the sheath runs inline with the belt.
Flat strap plates (horizontal and/or vertical): These have several uses: one is to mount the knife sheath rigidly clamped to the sternum harness, with no play. They also allow the sheath to be clamped on any gear (like PALS webbing) with a solid strap security and no sliding around (like on traditional belt loops). So they clamp the sheath to your gear with all stainless steel hardware. They accommodate any web strap up to over 2" wide. They are also 5052 H32 high strength, corrosion-resistant aluminum alloy, anodized with a permanent black color, and a near-ceramic hard surface.
High and Low-profile belt loops (footman's loops): I've included two pairs of anodized aluminum belt loops, one pair that accommodates 1.5" wide belts up to .250" thick and one pair that accommodates 1.5" wide belts up to .190" thick. They work with the integrated spacing so can be mounted in a variety of positions on the reversible sheath.
Lanyard, hardware, tools: The included lanyard can be critical and necessary for retention of your knife when working in elevated locations or in marine environments. It's an adjustable sliding paracord type, a frequent request by my tactical combat professionals. I've included all the tools, hardware, and necessary components to mount all or any combination of these accessories with your gear, on your person, and all of the hardware is blackened, non-reflective stainless steel in common American Standard Sizes. Included is screw top and snap tins for hardware storage. Also included is an archival engraved acrylic tag detailing the components with contact information. Instructions for the individual components are also included, as well as a list of video links that explain how to set up every single one of them! This is an ultimate system, and demonstrates my commitment to actual combat, tactical, field, rescue, and counterterrorism knife service in my trade.
Heavy 9" x 12" Duffle: It's important to keep everything together, safe, and accessible, and I couldn't find any duffle heavy and stout enough for the job, so I make these too! I make them in 1000 Denier Cordura® ballistic nylon, coated on the inside with polyurethane for water resistance. This is some of the heaviest, toughest material available, and I've double-row stitched all of the seams with strong, waterproof, sunlight-resistant heavy polyester thread. I've attached strong metal #8 zippers and double pulls, and reinforced the zipper ends and 2" wide polyethylene carry straps. I've even included a 7mm thick closed-cell foam inner base pad, wrapped in 600 Denier Cordura nylon in the bottom to prevent abrasion and wear. You can store paperwork and other items in the base bag. The duffle is identified with my "Quality Without Compromise" patch.
See more about all the features in this video of a PJLT (Pararescue Light) tactical combat and rescue knife. In the video, I describe the mounts, accessories, and interfacing wear assemblies that are included in this kit; the same as you will see in the PJLT kit in the video.
Designed by a professional for professional use, this is a top-of-the-line, brutally tough and ultimate corrosion-resistant, wear-resistant knife: a combat, rescue, and tactical counterterrorism knife , sheath, and accessory package that is simply the best made. This package is comprehensive, sturdy, dependable, and useable. NO OTHER SOURCE can supply what you see here, all finely handmade to mesh with your gear, your outing, your mission, and your excursion, no matter the situation and exposure. If you need one knife to last for many generations of usefulness, this is it.
Thanks, S. H.!
Just got the knife! Wow, it is so light and quick in the hand!!!
--S.
---
---