Hooded Warrior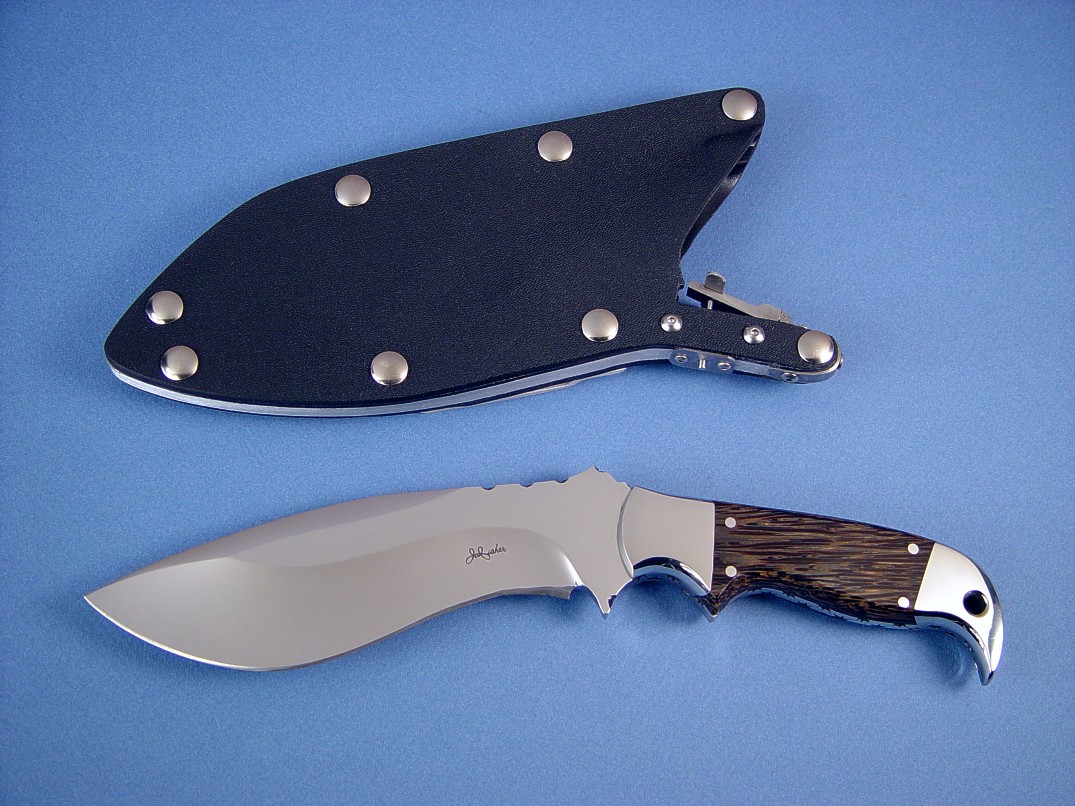 "Hooded Warrior" Custom Tactical Knife
Size: Length Overall: 10.25" (26 cm), Blade Length: 6" (15.2 cm), Thickness: .243" (6.2 cm)
Weight: Knife: 13.2 oz., Sheath: 9.8 oz.
Blade: Mirror polished ATS-34 high molybdenum martensitic stainless tool steel, hardened and tempered to HRC59
Bolsters/Fittings: Mirror polished 304 austenitic high nickel, high chromium stainless steel
Handle: Black Palm Hardwood
Sheath: Kydex, Aluminum, Nickel Plated Steel, all Stainless Steel Locking Components
Knife: Custom made for a great client, this is one of my "Hooded Warriors" at its best. The design was initiated by a sniper in the 101st Airborne, and is a great combination of a medium sized knife with a distinctive recurve, even Khukri style blade. This blade is super-tough high chrome-moly ATS-34, gracefully hollow ground and brought to a crisp, clean mirror finish. The curves are razor keen, and the top swage reduces point profile yet preserves spine strength. The thumb rise doubles as a lock tang socket for the locking sheath, and the fully tapered tang is completely fileworked around with my Sunrise pattern. The knife has a positive choil and a sweeping grind termination for even distribution of stresses. The blade is bolstered with brightly mirror polished 304 stainless steel, super-tough and corrosion resistant. The bolsters are dovetailed to hold two hard handle scales of Black Palm hardwood, the only palm wood hard enough to be used on a knife handle. It is interesting and beautiful, with small eyes spaced in with the heavy figure. The dark areas are a translucent orange in bright sunlight. The rear bolster has a 1/4" dressed and polished lanyard hole for security, and the handle is comfortable and balanced in either traditional or reverse grip style.
Sheath: The sheath for this beauty had to be one of my positively locking models, and is built of double thickness kydex over a 5052H32 corrosion-resistant aluminum welt frame. The locking components are all stainless steel, including the spring, tang and hardware for longevity and corrosion resistance. The sheath is secured with nickel plated steel Chicago screws, and has reversible corrosion-resistant aluminum 1.75" belt loops. The action of the sheath is smooth and clean, locking solidly.
A great ensemble for a great client!
Thanks, M.M.!
---
The two knives I have from you remain in service and continue to perform excellently! I have many, many jealous colleagues who lack the patience to acquire a functional work of art. It has been a few years and my knives remain in incredible shape and continue to provide amazing service.
--M.
---
---