Hooded Warrior EL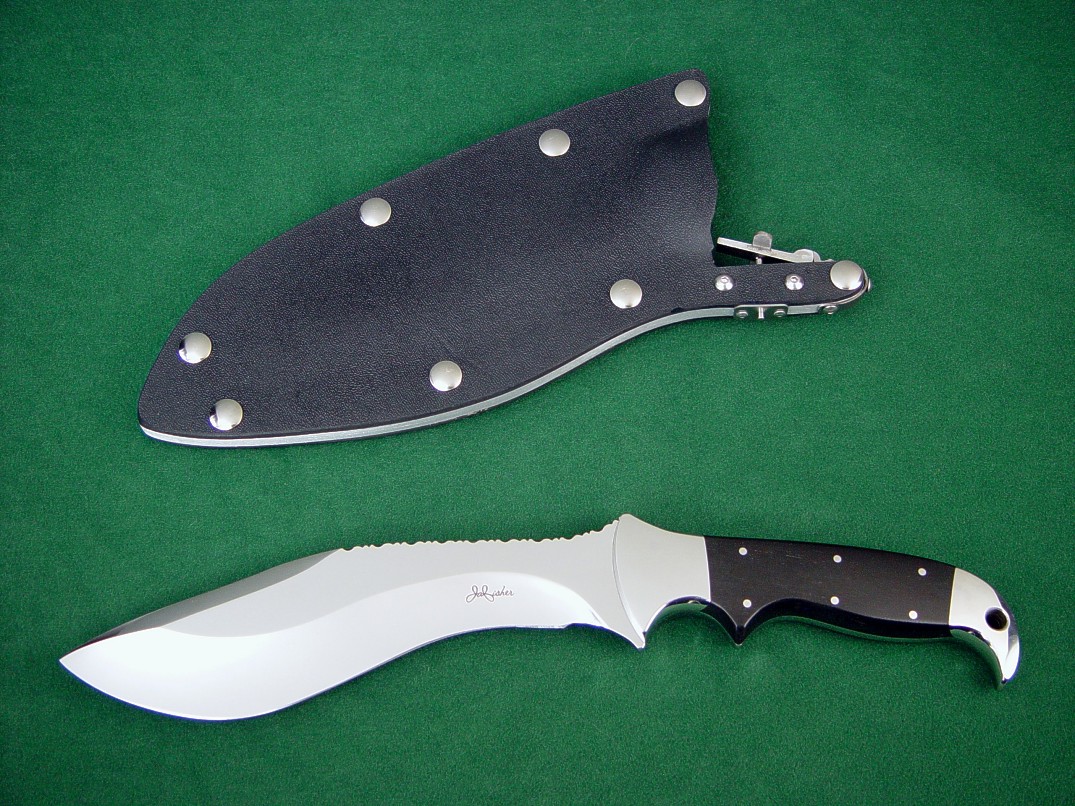 "Hooded Warrior EL" (extra length blade)
Size: Length overall: 11.75" (29.8 cm), Blade Length: 7.0" (17.8 cm), Thickness: .234" (5.9 mm)
Weight: Knife: 15.2 oz. (431 grams) Sheath: 11.5 oz. (326 grams)
Blade: ATS-34 High Molybdenum Martensitic Stainless Tool Steel, Hardened and Tempered to Rockwell C59
Bolsters, Fittings: 304 Austenitic Stainless Steel
Handle: Gaboon Ebony Exotic Hardwood
Sheath: Locking Kydex, Aluminum, Stainless Steel, Nickel Plated Steel
Knife: A great custom knife, this Hooded Warrior has extra length in the blade by custom order. This makes the blade even more Khukri-like with a substantial belly and good reach. The steel is high chrome-moly tool steel ATS-34 which has greater toughness in the thinner cross sectional areas due to the high molybdenum content. The blade is beautifully ground, with sweeping recurve and polished to a mirror finish. It has a razor-sharp single bevel edge. The Hooded Warrior has a half-length top swage to reduce the point thickness, yet has substantial meat behind the point. The blade spine has nice vine filework to aid in tactile purchase, while adding a bit of personal handmade flair. The thick blade is fully tapered at the tang for weight balance, and the handle is comfortable and well-shaped. The bolsters are clean, crisply polished 304 austenitic high-nickel, high-chromium stainless steel for zero care and great strength and longevity. They are multi-pinned for permanent attachment, and dovetailed to bed a pair of Gaboon Ebony exotic hardwood scales. This ebony is a very fine ebony, harder to find these days, and a premium knife handle material. It's warm and comfortable to grip in either forward or reverse grip styles.
Sheath: The sheath for this knife is one of my positively locking military tactical combat models, made of double thickness kydex, 5052H32 corrosion resistant high strength aluminum, 304, 302, and 316 stainless steel locking mechanism and components, bound with nickel plated steel Chicago screws and 18-8 stainless machine screws. The belt loops are reversible for a variety of wear positions.
The Hooded Warrior was originally designed by a sniper in the 101st Airborne for combat, and this knife honors that design.
Thanks, A. S.!
Jay,
Wow, what do I think? This thing is beautiful and well worth the wait. Showed it to a coworker and now he's thinking about adding his name to your knife queue. This knife now has me torn because it's more like a piece of art. When I ordered it my intention was for it to actually be used, but now I'm not so sure about that. The look of the mirror finish, the weight and feel is just awesome. The locking kydex sheath is again awesome, very sturdy and ingenious design.
Thanks again for a very functional yet decorative knife, I couldn't be happier. I just may have to order another...
--A. S.
---
---