Little Venus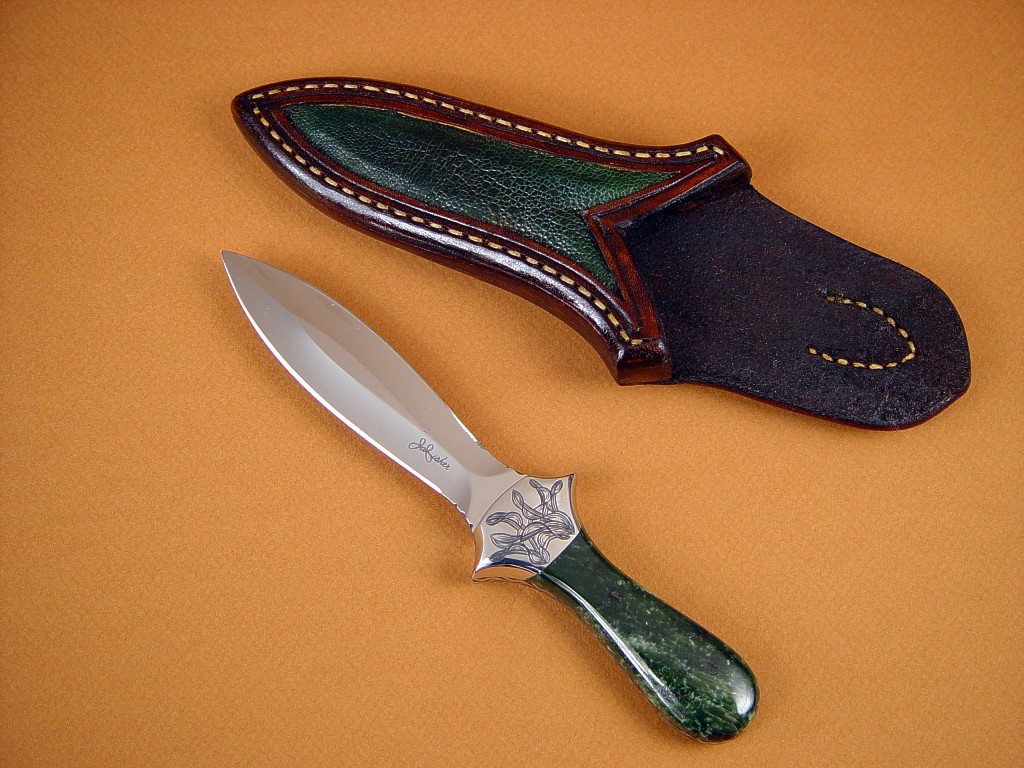 "Little Venus" Fine Dagger
Size: Length overall: 7.2" (18.3 cm), Blade Length: 3.9" (9.9 cm), Thickness: .155" (3.9 mm)
Weight: Blade: 5.0 oz. Sheath: 3.0 oz.
Blade: 440C High Chromium Martensitic Stainless Tool Steel, Hardened and Tempered to Rockwell C58, mirror polished
Fittings/Bolsters: 304 Stainless Steel, mirror polished, hand-engraved
Handle: Polished Alaskan Nephrite Jade Gemstone
Sheath: Frog Skin Inlaid in Hand-Tooled 9-10 oz. Leather
Knife: A fine small dagger, the Little Venus is a great study in symmetry for the collector. This particular model has a brightly polished 440C high chromium stainless steel blade for great longevity and beauty, hollow ground with a 3" contact wheel for a thin, serviceable edge with plenty of thick spine remaining in the flats. The matched grinds terminate in a graceful slope for strength and symmetry. The tang is fully fileworked with a vine pattern, and is tapered for balance. The dagger is bolstered with zero-care 304 austenitic high nickel, high chromium stainless steel bolsters, and I hand-engraved a twisted leaf pattern complimenting the dagger's blade shape. The dovetailed bolsters bed a pair of rich dark green Nephrite Jade gemstone scales from Alaska. This polished gem is one of the toughest gemstones known and should well outlast the knife. The handle is smooth, rounded, and inviting to the hand.
Sheath: The Little Venus Dagger needed a very special sheath, so I obtained rare green Frog skin to match the color of the Jade, and inlaid panels in the front, back, and even on the belt loop. The sheath body is carved and tooled 9-10 oz. leather shoulder, dyed a deep russet, hand-stitched with polyester sinew, lacquered and sealed.
This small knife makes a verdant and considerable statement in steel and gem.
Thanks, L. B.!
Jay,
The dagger is beautiful!
--L. B.
---
---